Trayvon Benjamin Martin was a 17 year-old Black teen from Miami Gardens, Florida.
He was fatally shot in Sanford, Florida by George Zimmerman.
---
Why?
Martin was a Black teen and Zimmerman—a self-appointed neighborhood watchdog—decided he was a threat because of his very presence and decided to confront him for being in the neighborhood. When the confrontation initiated by Zimmerman went south, Zimmerman shot and killed Martin.
Despite Zimmerman's claims, evidence in the case showed he had no authority to police the area.
But Zimmerman's case became one of the first high profile tests of Florida's "stand your ground law" that allows private citizens to murder others if they "feel threatened." Since then the law has received widespread criticism for it's biased application as well as what constitutes "threatening" behavior.

Trayvon Martin became a symbol of inequality in justice while Zimmerman became a symbol of who benefits from that imbalance. Since the murder of Martin, Zimmerman has had numerous run ins with law enforcement for domestic violence and road rage.
February 5, 2020 would have been Trayvon Martin's 25th birthday.
Many people paid tribute to Martin on the day.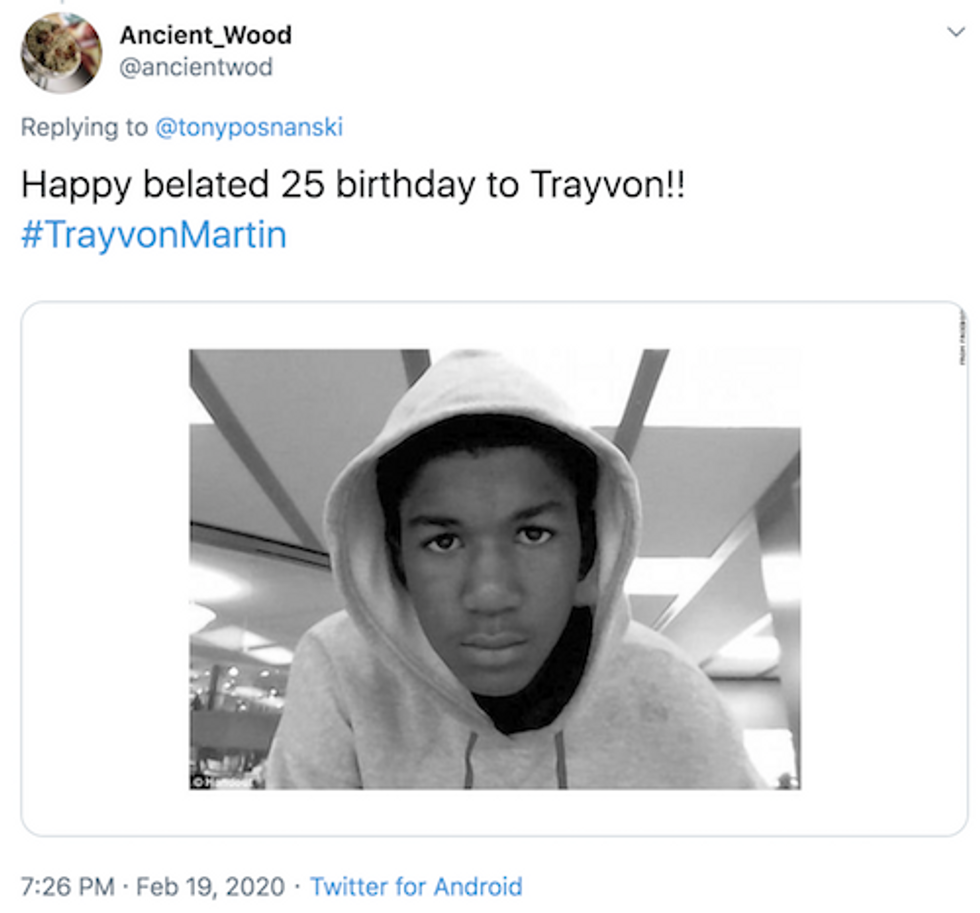 @ancientwod/Twitter
But Zimmerman was not pleased with the attention his victim received, especially from two people.
Now Zimmerman has filed a lawsuit against Democratic presidential candidates Pete Buttigieg and Senator Elizabeth Warren. Zimmerman hopes for a payday of $265 million despite neither mentioning Zimmerman by name.
Zimmerman's attorney stated:

"the two maliciously defamed (him), using the February 5th birthday of Trayvon Martin as a pretext to demagogue."
However Zimmerman found few allies or supporters online.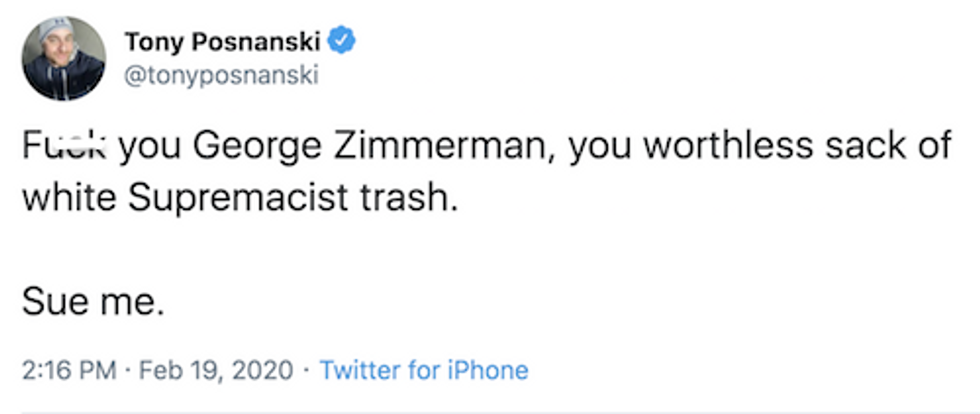 @tonyposnanski/Twitter
In his 30-page lawsuit, Zimmerman references the tweets and damage they allegedly caused him, but also made certain to include disparaging remarks about Trayvon, describing him as a gangster.
This isn't Zimmerman's first lawsuit stemming from Martin's death.
In December, Zimmerman sued Trayvon Martin's family, prosecutors and others involved in the case for $100 million over what he claims is false evidence. Zimmerman has maintained that all of the evidence which painted him in a less than flattering light was all false.
The book Rest in Power: The Enduring Life of Trayvon Martin is available here.
The documentary series of the same name is available here.