A woman got more than she bargained for after leaving a positive Yelp review following a meal she and her friends enjoyed while out at a restaurant.
The Yelper in question was TikToker @antoniaeveee, who explained the whole ordeal in a TikTok post that netted over 60 thousand views and plenty of hilarious commentary from viewers.
@antoniaeveee, who goes by simply Antonia on TikTok, told viewers she and friends drafted a glowing review of the dining experience and even offered a playful hat tip to their waiter, Ira.
"Love the atmosphere. Pretty good drinks, nice food menu."
"Ira? My king. Love you. Xoxo."
But only 20 minutes after leaving the review, Antonia was shocked to receive a rather intense message from Ira's girlfriend.

Antonia shared the message in full:
"I saw your review for my boyfriend ira and I don't really appreciate what you said calling him your king etc. I felt like it was inappropriate and a comment about his services would've been sufficed."
Ira's girlfriend then made a request.

"I don't know if he gave you some kind of impression or was flirting etc. but I'd like to know."
"If not then then if you don't mind editing the review or writing a new one that would be great. Thanks."
Antonia, like many viewers, was stunned Ira's girlfriend could be so concerned she kept an eye constantly trained on the restaurant's Yelp reviews.
Many TikTokers who saw the post shared Antonia's shock.

Courtney Paige/TikTok

Isabella/TikTok

user4372228740158/TikTok

Reese/TikTok

vivi/TikTok
Others felt sympathy for Ira.


Asher/TikTok

abs/TikTok

glavvy/TikTok

user9222303297908/TikTok
A fair amount of viewers, however, advocated for the girlfriend.
They shared their reasons and called out the other, shocked responses.


Kristen/TikTok

akaKATASTROPHE/TikTok

amanda/TikTok

user1383786073900/TikTok

user9457112756680/TikTok
The hot takes on both sides eventually led Antonia to leave her own comments.
She clarified her position and mentioned how unexpected the response had been.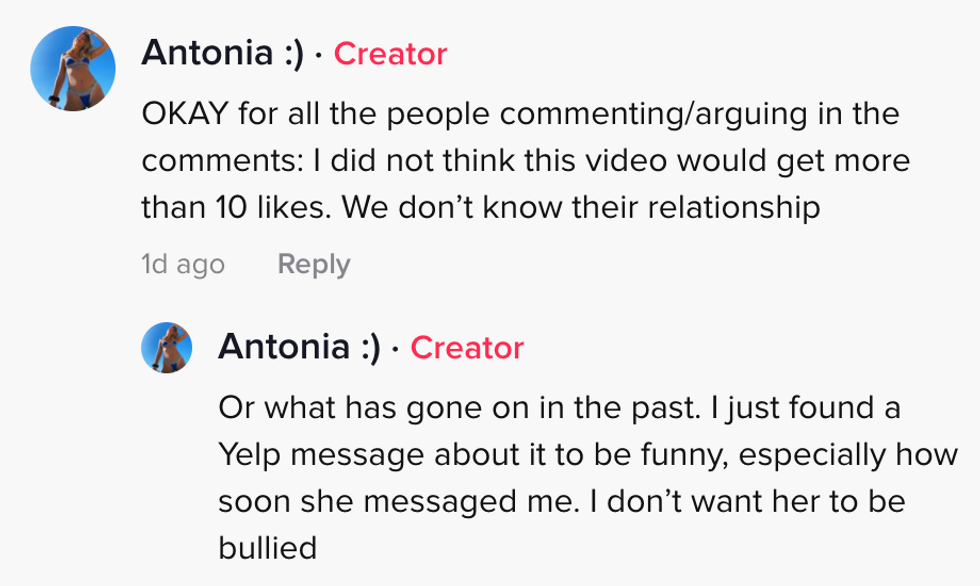 Antonia :)/TikTok
The silver lining?
No matter how you feel about her review or the girlfriend's response, Ira is one Yelp review closer to employee of the month.