Multi-Grammy winning rapper Ye called out singer Billie Eilish for allegedly throwing shade at rapper Travis Scott.
Ye is now threatening to pull out of Coachella if Eilish doesn't apologize.
Ye and Eilish were to headline the music festival in April 2022.
But that could change if Eilish doesn't acquiesce to Ye's demand for an apology after she was accused of making a dig at Scott for his Astroworld Festival tragedy last November.
During a show last Saturday night in Atlanta for her Happier Than Ever tour, Eilish halted the performance after noticing a fan in the audience was struggling to breathe.

While an inhaler was being brought to the fan, Eilish told the crowd, "I wait for the people to be okay before I keep going."
Although she didn't mention Scott by name, some people on social media interpreted her comment as a disparaging remark aimed at the rapper, whose first-night performance of the Astroworld music festival in Houston, Texas that he founded resulted in a violent crowd crush.
The tragic stampede led to the deaths of at least 10 concertgoers and hundreds more injured.

Eilish was praised for prioritizing the safety of her fans after videos from her show at the State Farm Arena in Atlanta, Georgia, on February 5, 2022, went viral.
In one of the clips, she was heard telling the distressed fan:

"Do you need an inhaler? Who needs it? Do we have an inhaler? Can we just grab one?"
As an inhaler was being brought to the fan, the singer continued:
"Guys, give it some time. Don't crowd…We're taking care of our people, hold on. I wait for people to be OK until I keep going."
Instagrammer @wishyouwerebil, who was presumably at Eilish's show that night, clarified the singer was not disparaging Scott with her "taking care of our people" comment.
"She [Eilish] didn't mention anyone. the articles put his name in this bc they need a headline, but she didn't."
"She just stated that she cares for her fans bc she does and she has been stopping shows for YEARS when she sees someone hurt. again, she didn't mention anyone else's name, this is just what SHE does."
"if this situation made you think of someone else, that's on them not her."
However, Ye could not be persuaded to believe otherwise and on February 10, he directly addressed Eilish on Instagram, writing:

"Come on Billie we love you. Please apologize to Trav and to the families of the people who lost their lives. No one intended this to happen."
Ye shared a screenshot from Instagram account @RapSeaTV, which included a caption that read:
"Billie Eilish dissed Travis Scott at her concert after she stopped the show to give her fan an inhaler! 'I wait for the people to be okay before I keep going.'"
Ye continued in his post:
"Trav didn't have any idea of what was happening when he was on stage and was very hurt by what happened, and yes Trav will be with me at Coachella, but now I need Billie to apologize before I perform."
In the comments, Eilish denied the accusation and wrote:
"literally never said a thing about travis. was just helping a fan."

@kanyewest/Instagram
Twitter was confounded as to why Ye continues to create drama.
People in the comments told the rapper to sit this one out.

@kanyewest/Instagram

@kanyewest/Instagram

@kanyewest/Instagram

@kanyewest/Instagram

@kanyewest/Instagram
Many defended Eilish.


@kanyewest/Instagram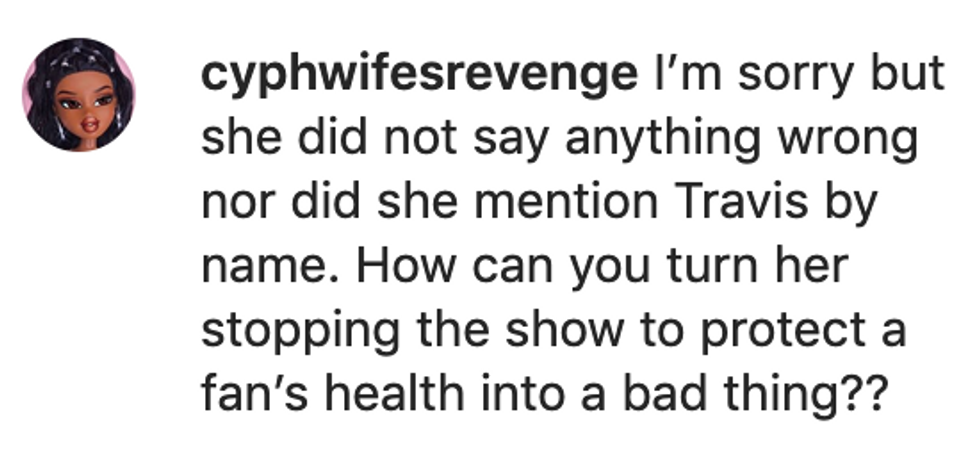 @kanyewest/Instagram

@kanyewest/Instagram

@kanyewest/Instagram
Ye's comments came after he posted a video in which he thanked Scott–whose girlfriend Kylie Jenner is the sister of Ye's ex-wife Kim Kardashian–for alerting him to a birthday party for his four-year-old daughter, Chicago West, he was allegedly not invited to.

In an Instagram video shared by Hollywood Unlocked, Ye said:
"Yo, I'm so happy right now. I just came from Chi's party and I just gotta shout out to Travis Scott for sending me the address and the time, and making sure that I was able to spend that birthday memory with my daughter to be there with the rest of the family."
A month later, Ye slammed his ex-wife and accused her in an Instagram post of trying to "kidnap" Chicago by not inviting him to her birthday party.
The accusation followed Ye lambasting Kardashian for posting a TikTok video featuring their eight-year-old daughter, North West, without his consent.
He went off on her with his trademark all-caps rant, writing:
"SINCE THIS IS MY FIRST DIVORCE I NEED TO KNOW WHAT I SHOULD DO ABOUT MY DAUGHTER BEING PUT ON TIK TOK AGAINST MY WILL ?"
Kardashian defended herself in a statement, saying:
"Kanye's constant need for attacking me in interviews and on social media is actually more hurtful than any TikTok North might create."
"As the parent who is the main provider and caregiver for our children, I am doing my best to protect our daughter while also allowing her to express her creativity in the medium that she wishes with adult supervision — because it brings her happiness."
She added navigating their divorce was "difficult enough on our children" and Ye's "obsession with trying to control and manipulate" the situation was making things worse.
The 2022 Coachella Valley Music and Arts Festival starts on April 15 and runs through April 24.
So far, there is no official word on whether or not Ye will be a no-show.