The Ryder Cup took a terrible turn on Friday when a woman was hit in the eye by a golf ball.
---
Corine Remande traveled from Egypt to see the golf tournament in Paris. She says there was no warning when American golfer Brooks Koepka hit a ball into the crowd. The golf ball flew into her eye, causing severe damage.
She said about the accident:
Doctors told me I had lost the use of that eye. It happened so fast, I didn't feel any pain when I was hit. I didn't feel like the ball had struck my eye and then I felt the blood start to pour. The scan on Friday confirmed a fracture of the right eye-socket and an explosion of the eyeball.
A spokesperson for The Ryder Cup said:
It is distressing to hear that someone might suffer long-term consequences from a ball strike. We have been in communication with the family involved, starting with the immediate on-course treatment and thereafter to provide support, helping with the logistics of repatriation, including providing a transfer for the family from Paris to Lyon. We will continue to offer support for as long as necessary.

Ball strikes are an occasional hazard for spectators but this kind of incident is extremely rare. We can confirm that 'fore' was shouted several times but also appreciate how hard it can be to know when and where every ball is struck if you are in the crowd.

We are hugely sympathetic and will do everything we can to support the spectator, insofar as that is possible under very difficult circumstances.

Koepka did go to check on the injured woman as she awaited medical attention. She is considering legal action against the tournament for not warning the crowd.
People were divided as to whether anyone could be blamed.
So much so, in fact, that there was a poll.
The results showed most people believed the spectator was at fault.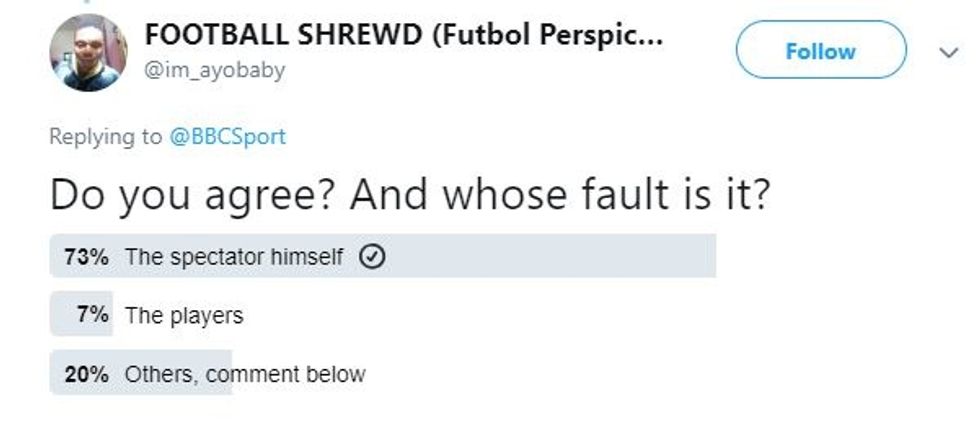 Twitter @im_ayobaby
Still people continued to debate.
Things got a bit off topic, but were brought back around.
For his part, Koepka was deeply saddened by the accident.