A woman who said she was scammed by a fake LinkedIn job posting shared with TikTok viewers the red flags to avoid after she failed to notice them.
TikToker Callie Heim–a.k.a. @callieheim–said it took her about a month to post the informative TikTok video because she thought:
"It was humbling and really embarrassing. I've been wanting to make a video about it for a while."
"I've decided I want to do that now to spread awareness and so this doesn't happen to somebody else."
Heim said she started applying for several marketing jobs and when she heard back from one she was applying for, she got excited.
Unfortunately, the potential employer wound up being a fraudster.

The fake company apparently instructed her to download a messaging app called Wire and to add a recommended individual who would be considered her point of contact.
In retrospect, she said that was the first red flag.
You can watch the first of her three videos, here.

After answering several questions, Heim received a call the next day from a man named "Thomas" who thanked her for applying and told her another person would be contacting her.
Heim spoke with this next person in a phone interview and was told she would receive a phone, printer, and laptop for the remote social media job.
She recalled:
"I'm excited. They pretty much gave me the job after a day of talking to them further which, again, is a red flag, but at the time I didn't realize."

@callieheim/TikTok

@callieheim/TikTok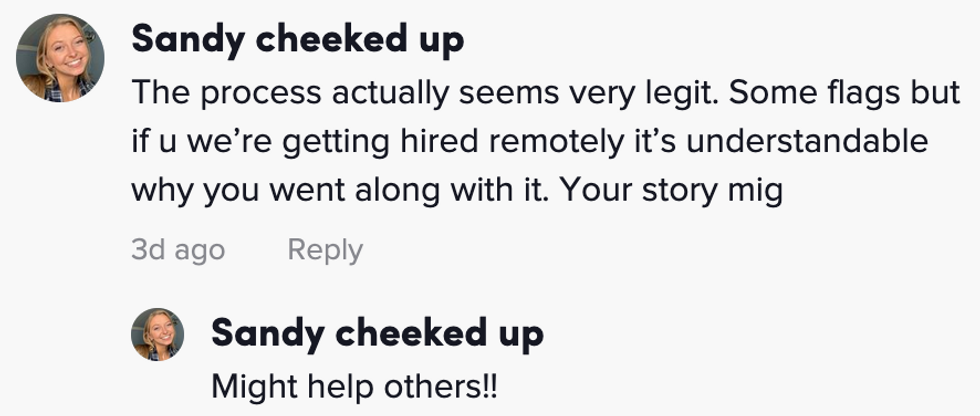 @callieheim/TikTok
In a part 2 video, Heim clarified that her being scammed by the fake job posting was not LinkedIn's fault.
"Somebody was impersonating an HR person from a company that already had a job posting on LinkedIn so they literally made their account look exactly like that one so it looked very legit."
She reminded viewers that if it's too good to be true, it probably is exactly the case.
"The pay was good. The benefits were good. The hours were good. Everything was good," she continued.
She realized things were starting to get fishy when the so-called hiring manager repeatedly mentioned the computer they would provide.
Heim was told she would be reimbursed for the new computer she would be purchasing through this company's portal.
"Immediately the alarm bells in my head were going off," she said.
She conferred with her boyfriend–who apparently works in cybersecurity–and he told her the situation was suspect.

This was after she had already turned in the requested documents, including her bank routing numbers and driver's license.
The fake company also sent her the most "Photoshopped" looking reimbursement check.


@callieheim/TikTok

@callieheim/TikTok

@callieheim/TikTok
Heim continued:
"It was definitely humbling because I had already posted on LinkedIn and was like 'oh, this is my new job.' All my old coworkers and everyone was like 'oh congrats!'"
"Yeah. It was very embarrassing."
In video 3, Heim gave more details about the fraudsters.
She said the company that "hired" her was Waymo–which involved the use of autonomous vehicles and trucks.
Thanks to her boyfriend who did some digging, Heim discovered the whole thing was a scam when he referred her to the Wire site, which stated that the most frequent scam involving the use of their platform was the job applications scam.

According to Wire, the website reads:
"Fraudsters impersonate large organizations and offer jobs or interviews over messaging platforms such as Wire."
"Most often the victim is someone who would become a remote working employee."
"They get offered the job and are then asked to buy a laptop and mobile through a portal that is setup by the fraudster under the promise that they will be reimbursed when joining the company."
"The reality is that there is no job, the interviewee never receives the laptop or mobile, and the fraudster has collected the money and closed their Wire account."
Heim, who was teaching swimming lessons at the time of the upsetting discovery, frantically ran to the bank in her wet bathing suit to close out her bank account.
Fortunately, she was able to close her account before the fraudsters were able to access her funds.
Upon reflection, Heim said she was grateful to her boyfriend who trusted his gut which in turn helped her out.

"They definitely didn't financially scam me but they did emotionally scam me."
Heim said she told friends and family she was so excited about the job, which was positive news as they all were aware of her rough year that included the passing of her mom and her cat running away.

"The best thing that could've happened to me is I get a job fresh out of college and it's something awesome and it was for a tech company, like oh my gosh, this is perfect."

"Everything was falling into place but it really wasn't. But that's okay."


@callieheim/TikTok
Heim concluded the video by saying that she learned not to post or talk openly about a new job until actually starting at the new job.

She added:

"Just be aware and be vigilant. Know that if a job is asking you to do too much during a job interview process, it's probably not good."

When a commenter advised her to check her credit report if she gave the fraudsters her social security number, she told them that was one piece of information she did not readily hand over.