A grandmother has been left paralyzed from the chest down after being thrown from a quad bike during an idyllic Greek island holiday to mark the start of her husband's retirement.
---
Then a busy chef, when Lesley Pennell, 52, of Sittingbourne, Kent, jetted to Zante on September 23, 2018, with her husband, Richard, 66, she hoped the trip would be the start of them spending more quality time together.
But just three days into the getaway, they were exploring the island's mountainous Byzantium ruins by quad bike, when Richard lost control of the vehicle and they were thrown 20ft into a ravine – resulting in devastating injuries, which left Lesley paralyzed.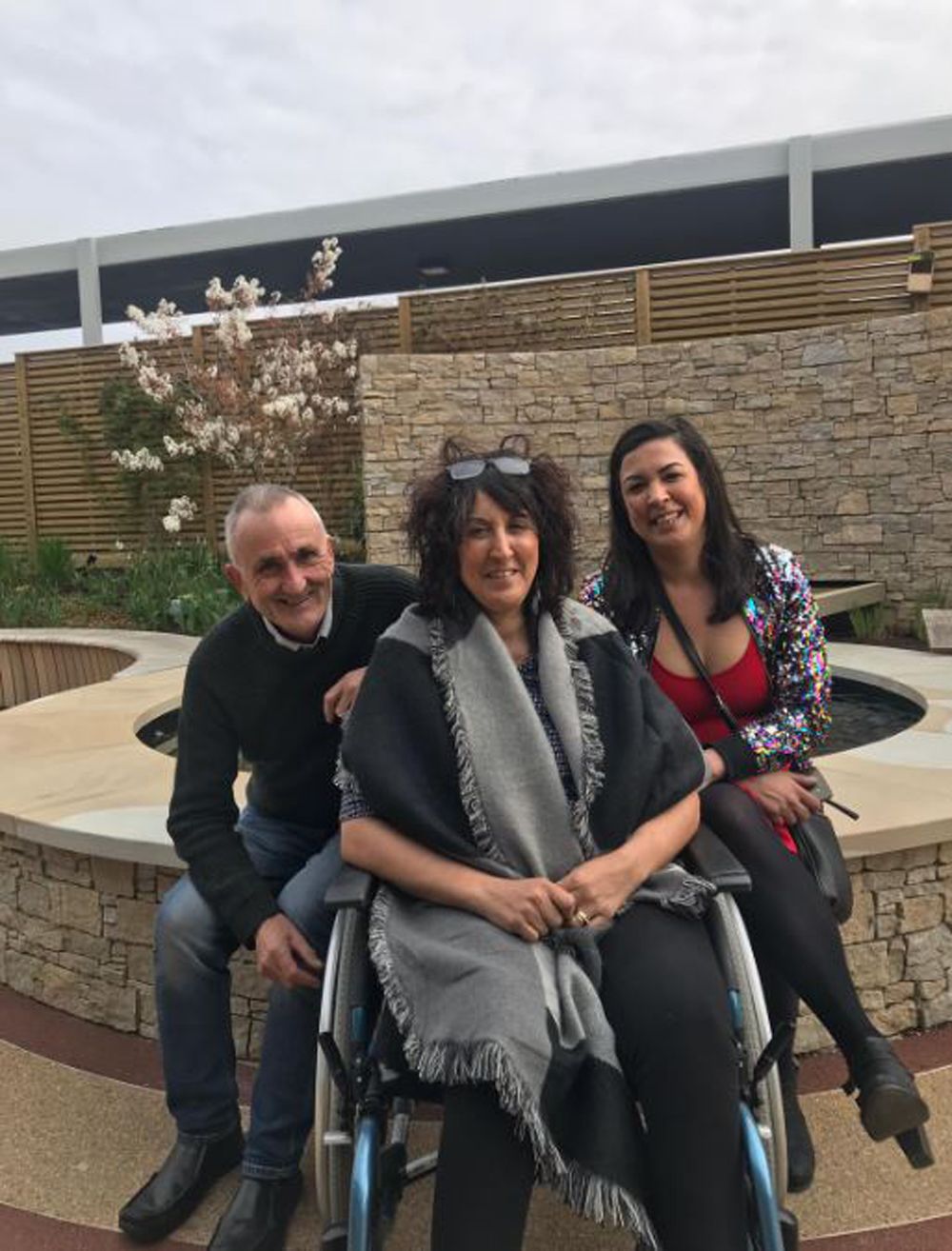 Richard, Lesley and Emily (PA Real Life/Collect)
The couple went to Zante after asking their pals Paul and Marion Whitehead if they could join them, hearing they were celebrating his 70th birthday there – only for their dream holiday to soon become a nightmare.
Lesley said: "I was flung off the bike and landed flat on my back on a bed of rocks.
"I knew something was wrong instantly. It was like an elastic band had snapped in my back and electricity was shooting around my brain."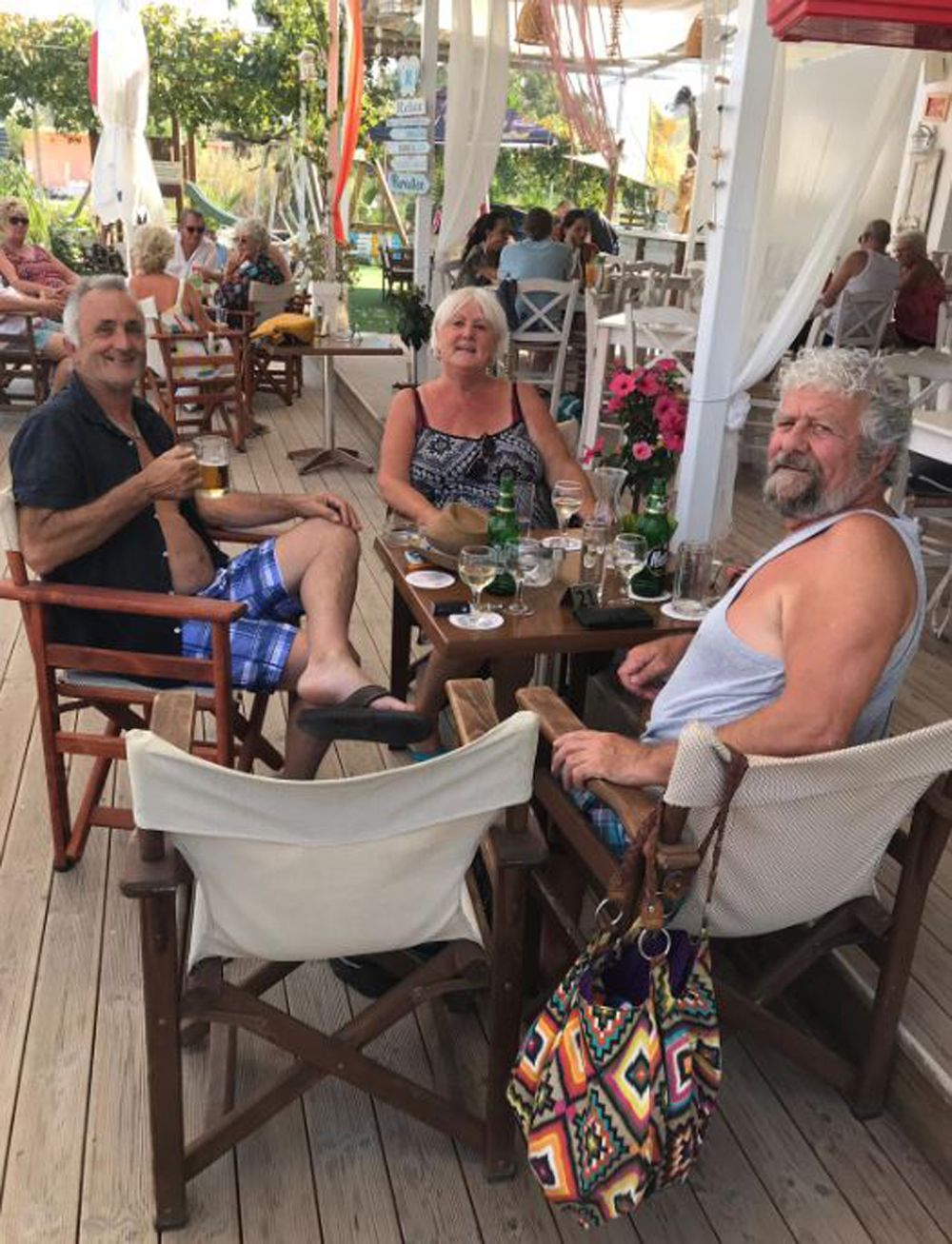 Richard, Paul and Marion (PA Real Life/Collect)
Married on August 18, 2012, after meeting on a health and safety course, in 2010, life had been hectic for Lesley and Richard until he retired from his role as supervisor for a concrete manufacturer.
But their plans for a quieter life were scuppered after Lesley – who has two children, chef Steve, 31, and ambulance driver Emily, 29, and two step-children, nursery worker Michelle Goldsmith, 45, and tradesman Glenn Pennell, 41 – was injured.
She continued: "We were heading towards an ancient monastery, along a particularly bendy road, when we just lost control of the quad bike."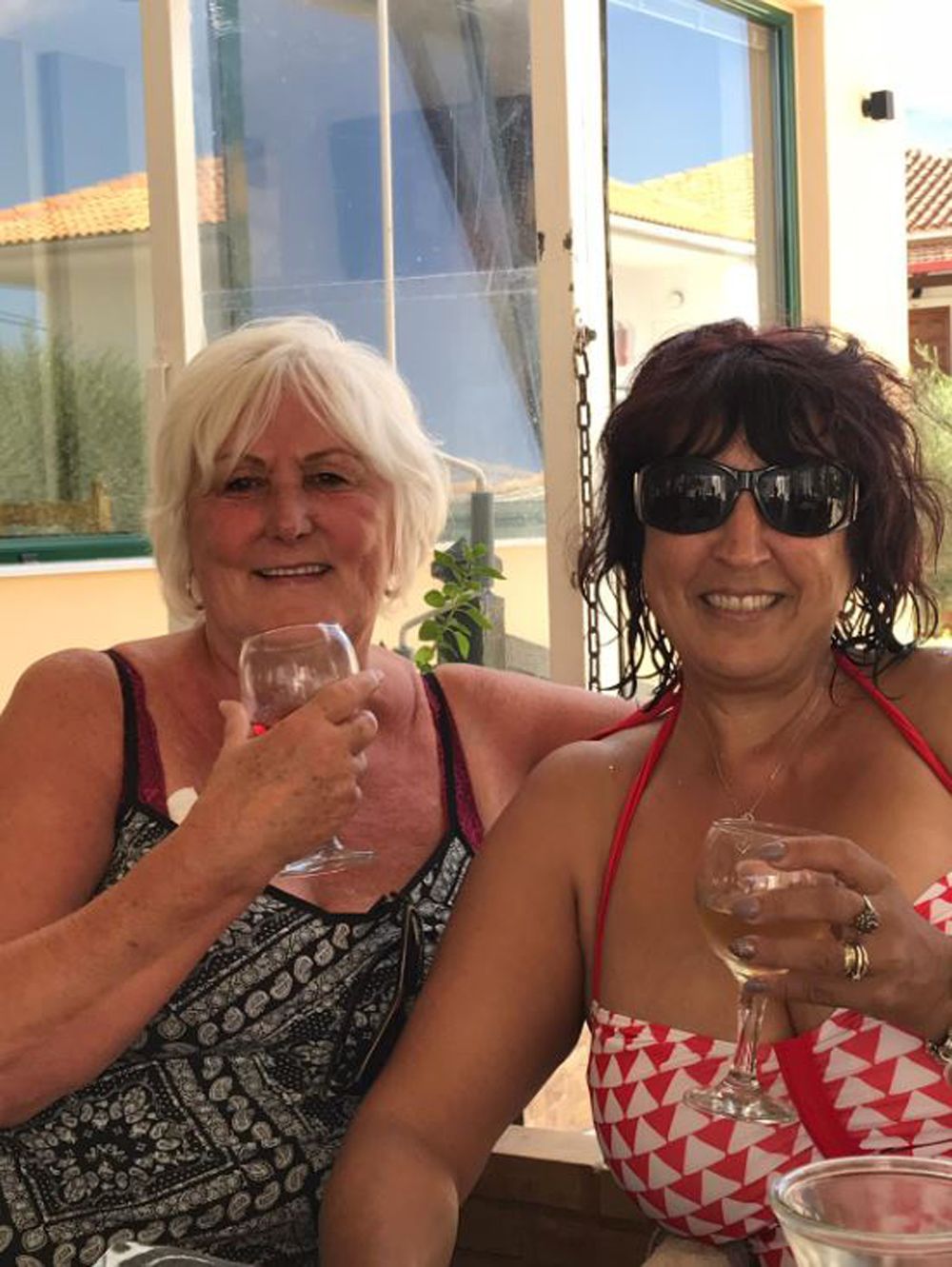 Marion and Lesley (PA Real Life/Collect)
Taken to Zante's main hospital, she was then flown to the General University Hospital of Patras in Rio, on the Greek mainland, where she received the devastating news that she would never walk again.
Treated for a collapsed lung, Lesley was flown back to the UK on a military plane, arriving home on October 18, 2018.
Under strict instruction not to try and move her body from the waist down until she was seen by a specialist, Lesley went straight to south east London's King College Hospital – facing six months of treatment before she was finally discharged.
"I will never forget that day in Greece when the doctor stood at the end of the bed, telling me I would never walk again," she said.
"I didn't get upset or cry when I was first told, but two days later, when I told my daughter over the phone and she started crying – that's when the emotions began to surface."
But Lesley is a fighter and, determined not to accept defeat, she defied all medical predictions regarding her recovery.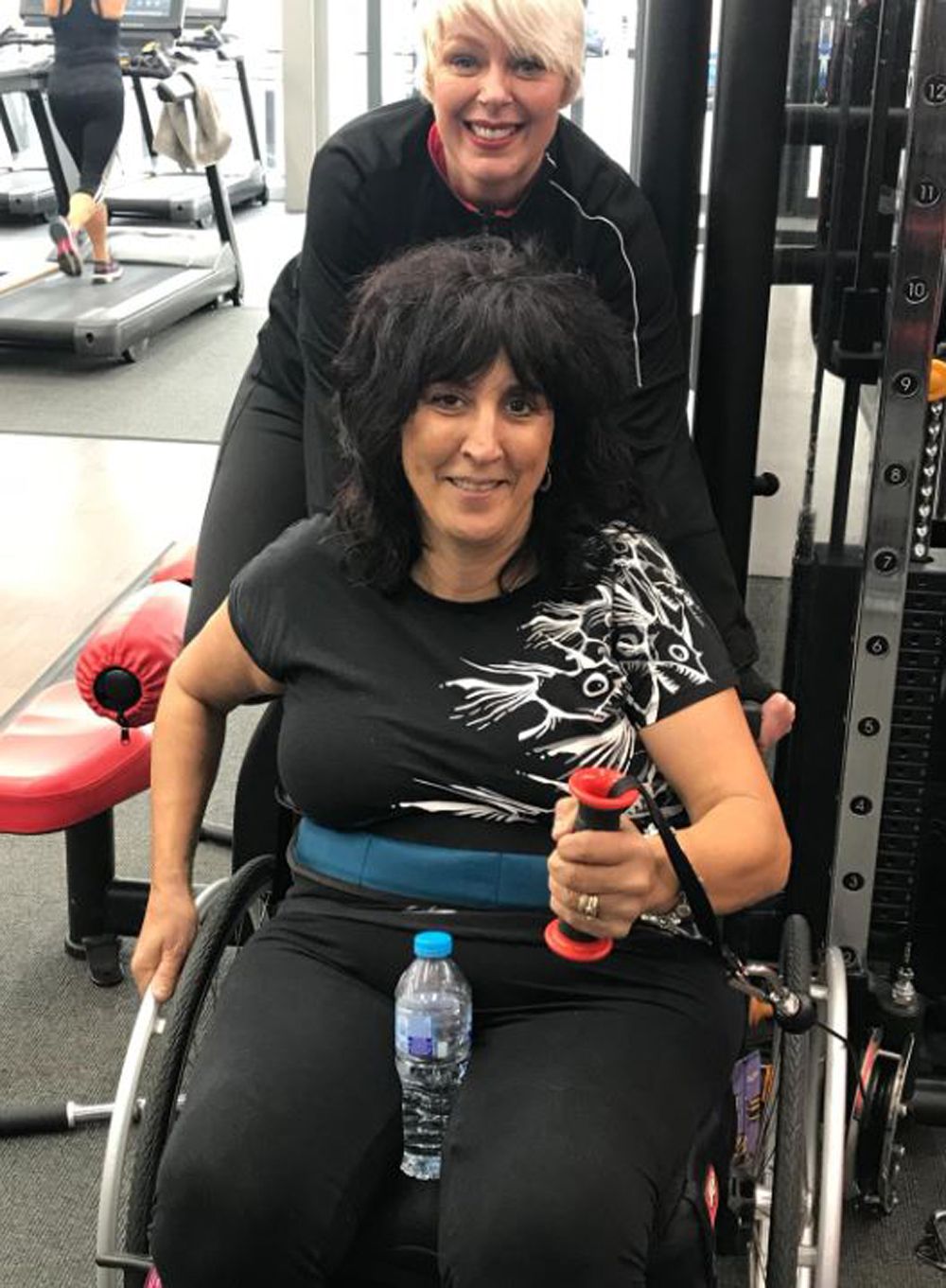 Emma and Lesley at Snap Fitness (PA Real Life/Collect)
"Luckily, once I get my teeth sunk into something there's no stopping me and, although it was hard, I got home in half the time doctors had predicted," she said.
"I never thought I'd be stuck in a wheelchair, but I refuse to be shut away because of it.
"I'm no different to the person I was before the accident, I just have to go about things a different way."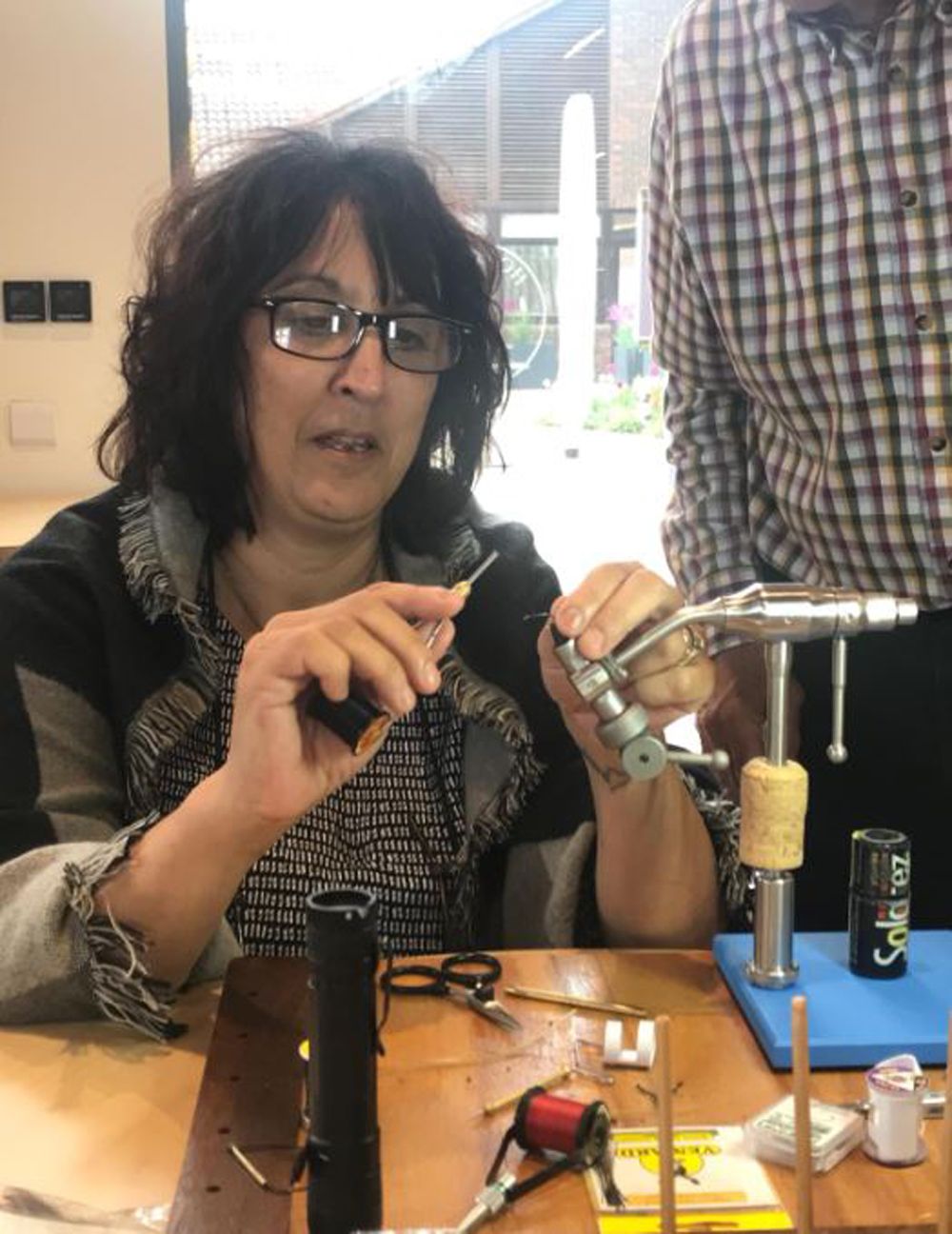 Lesley during physio (PA Real Life/Collect)
Recalling the circumstances of the devastating crash, Lesley says it had been a holiday they were both dying to go on.
She said: "We hadn't spent much time together as a couple since we got married.
"We'd been foster parents as well as working, so it had been non-stop."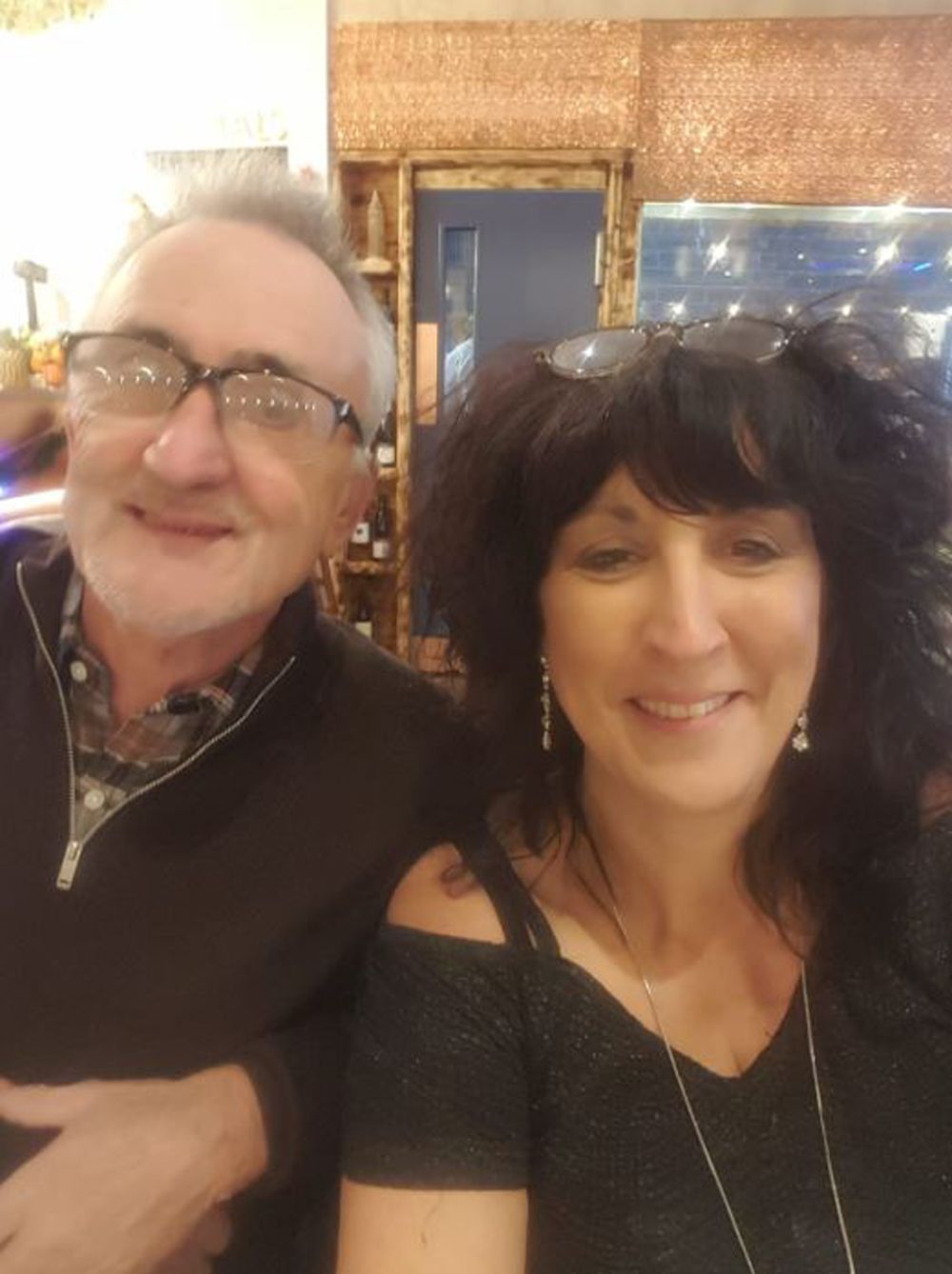 Richard and Lesley (PA Real Life/Collect)
"When we found out Paul was going to Zante for his 70th we asked if we could go, too, and, as it was one of the only Greek islands we hadn't been to, we were pretty excited," she continued.
Arriving on September 24, 2018, they enjoyed two days of "absolute bliss" on the beach, but hired a quad bike on their fourth day, when it clouded over, so they could explore the island.
"We were having breakfast in a restaurant when Richard spotted quad bikes for hire next door and suggested we go and see the nearby sights," she said.
"Not long after setting out, we came across a former olive press that had been turned into a cafe and, after stopping off for a drink, the owner suggested we go see a Byzantium monastery, just a 10-minute drive into the mountains," she added.
After looking around for about 30 minutes, the couple headed off again, which was when they came flying off the bike.
"One minute we were maneuvering around the windy roads and the next Richard had lost control and we were thrown into an olive grove," said Lesley.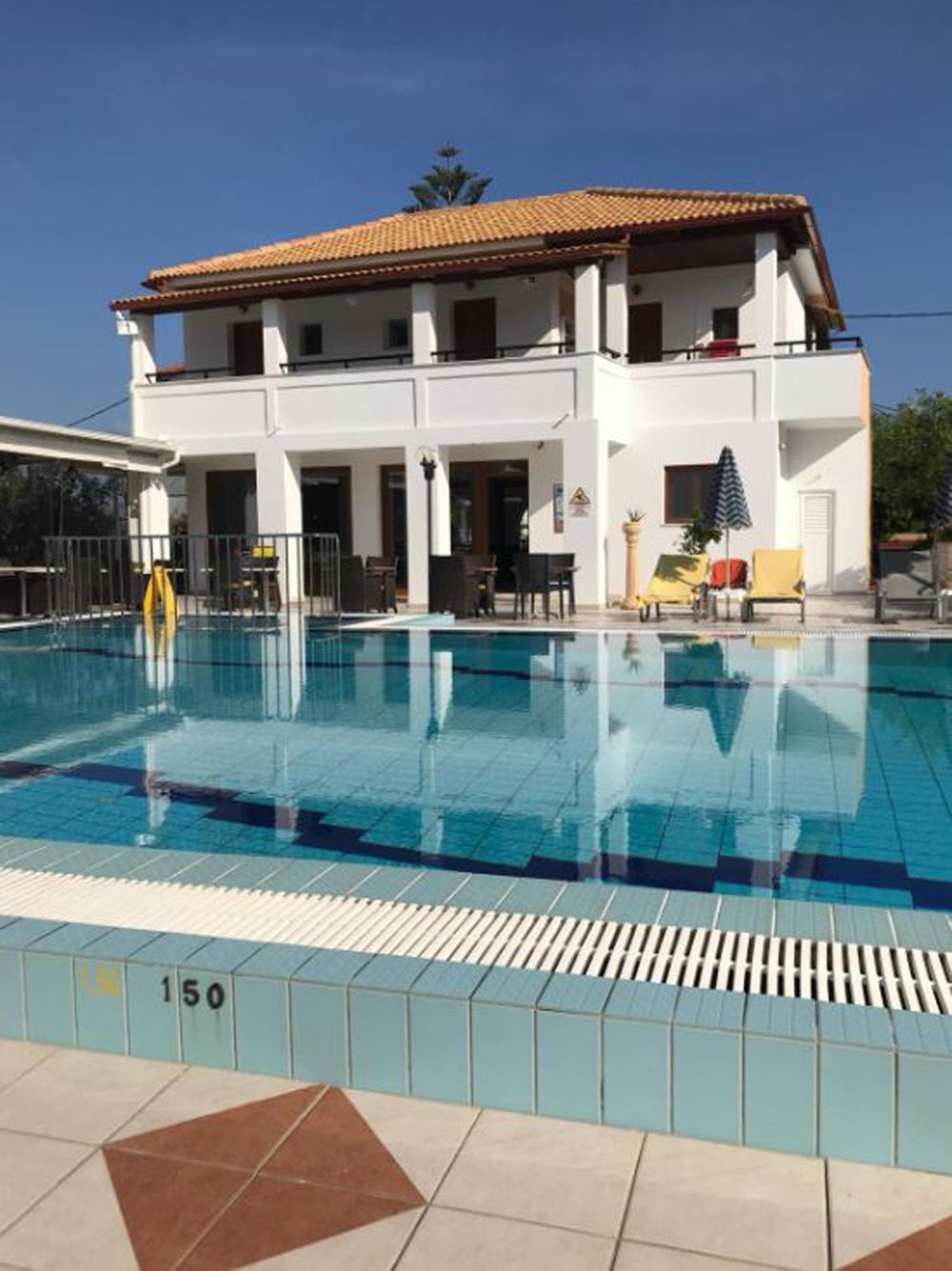 Lesley accommodation in Zante (PA Real Life/Collect)
"I called for him, but when I didn't get a response, I really started to panic. I thought he was dead," she continued.
"Eventually he called out and told me to hold on. When he came into my line of vision I could see he had badly broken his arm, as there were pieces of bone poking out of his elbow."
The quad bike wheel still spinning behind her head, Lesley told Richard she could not feel her legs, so he clambered back to the road to flag down a passing car.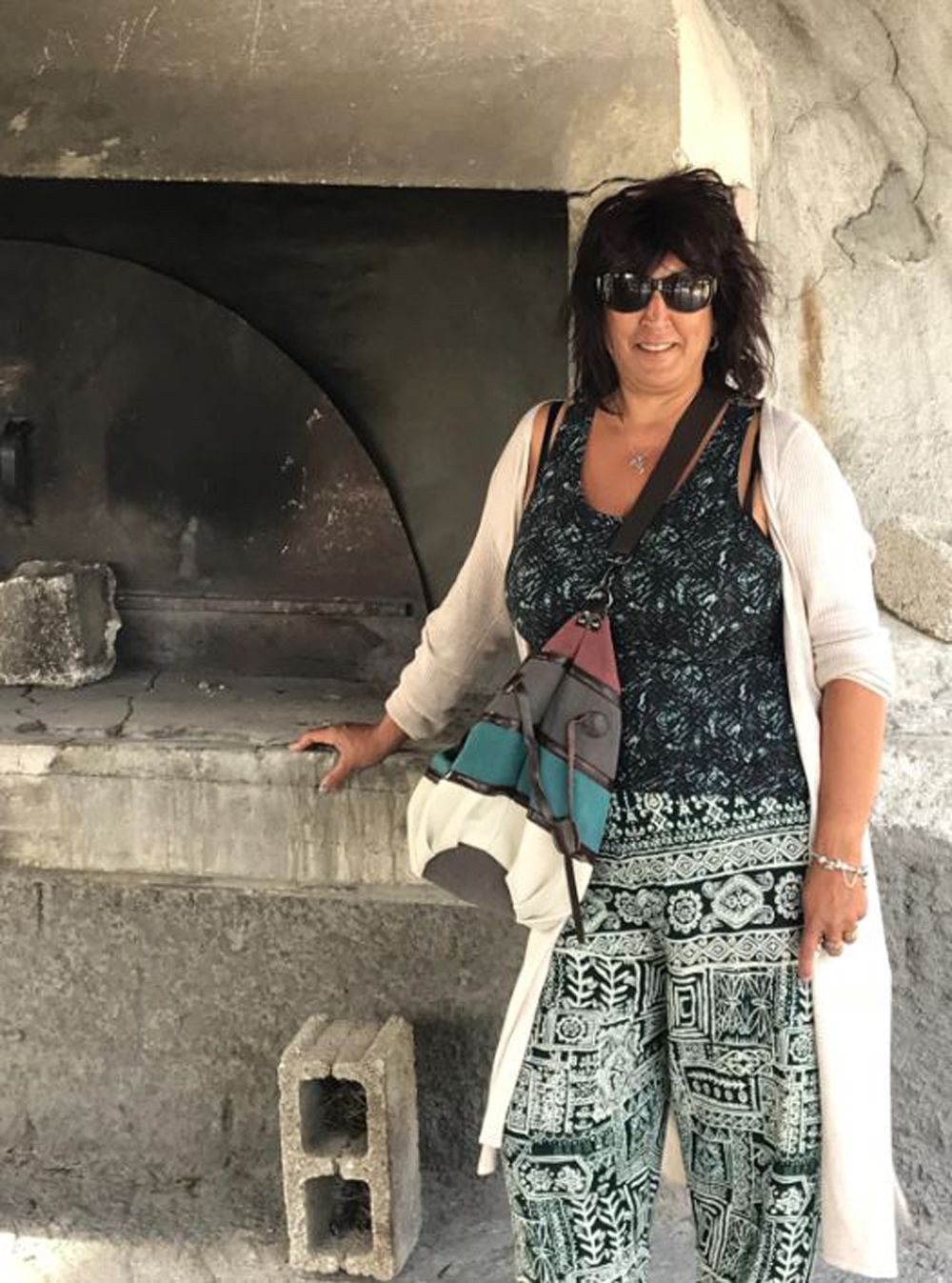 Lesley two hours before the accident (PA Real Life/Collect)
Luckily, a German couple stopped to help, but it was an hour-and-a-half before an ambulance reached them, taking them to Zante Hospital, from where she was flown to the mainland and given CT and MRI scans to gauge the extent of her injuries.
The results showed that her spinal cord was broken at the T4 bone, crushed at the T5 bone and damaged at the T12 bone.
Lesley was then told she was paralyzed from the chest down.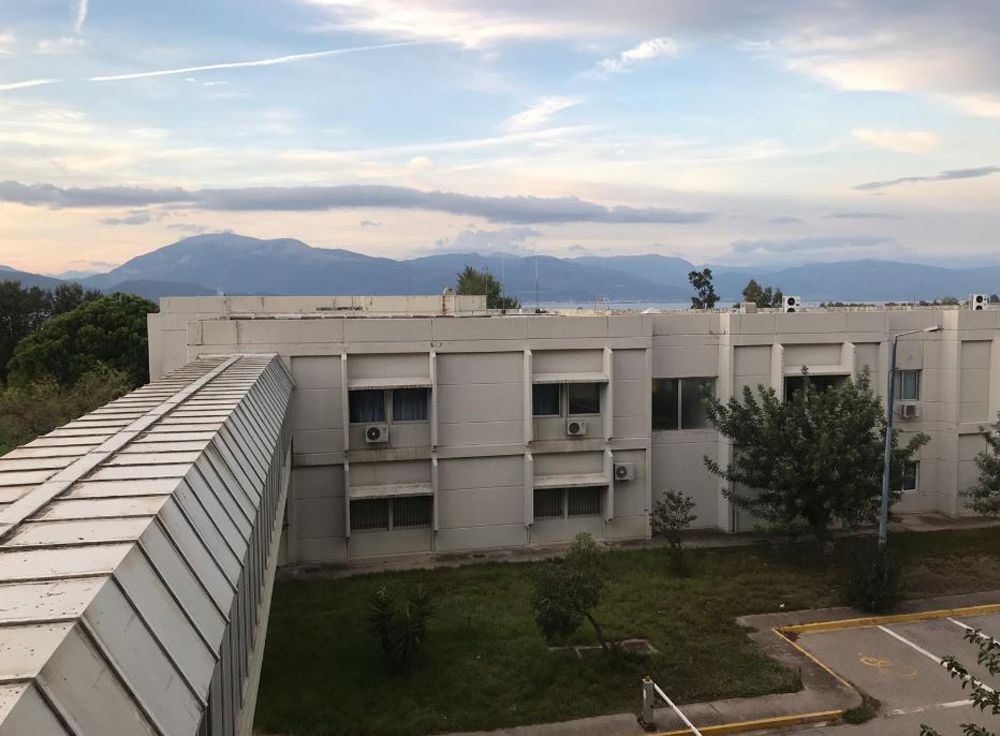 The Greek hospital (PA Real Life/Collect)
"They told me they couldn't operate and that it was basically a waiting game," she said.
"I was put on bed rest for the best part of four weeks. The only time I was able to move was to stop myself from getting bed sores, or to be helped to pass toilet movements as I'd lost control of my bowel functions.
"There was so much to take in, I don't think I could have done it without Richard by my side. He wasn't meant to stay around the clock but he never left – he slept on a deck chair right next to me."
"The children were all amazing too. From Michelle helping to organize my transfer to King's College, to Glenn and Shane – Richard's son-in-law – making the house wheelchair friendly for when I would eventually came home," she added.
Flown to Kings College Hospital on October 18, 2018, after performing further CT scans and X-rays, doctors told Lesley if she had broken her spine any higher, she would not have use of her arms.
"Where my spine broke is just along the nipple line and, for a time, my fingers were constantly numb," she said. "All I could think about was being paralyzed from the neck down and how much worse it would be."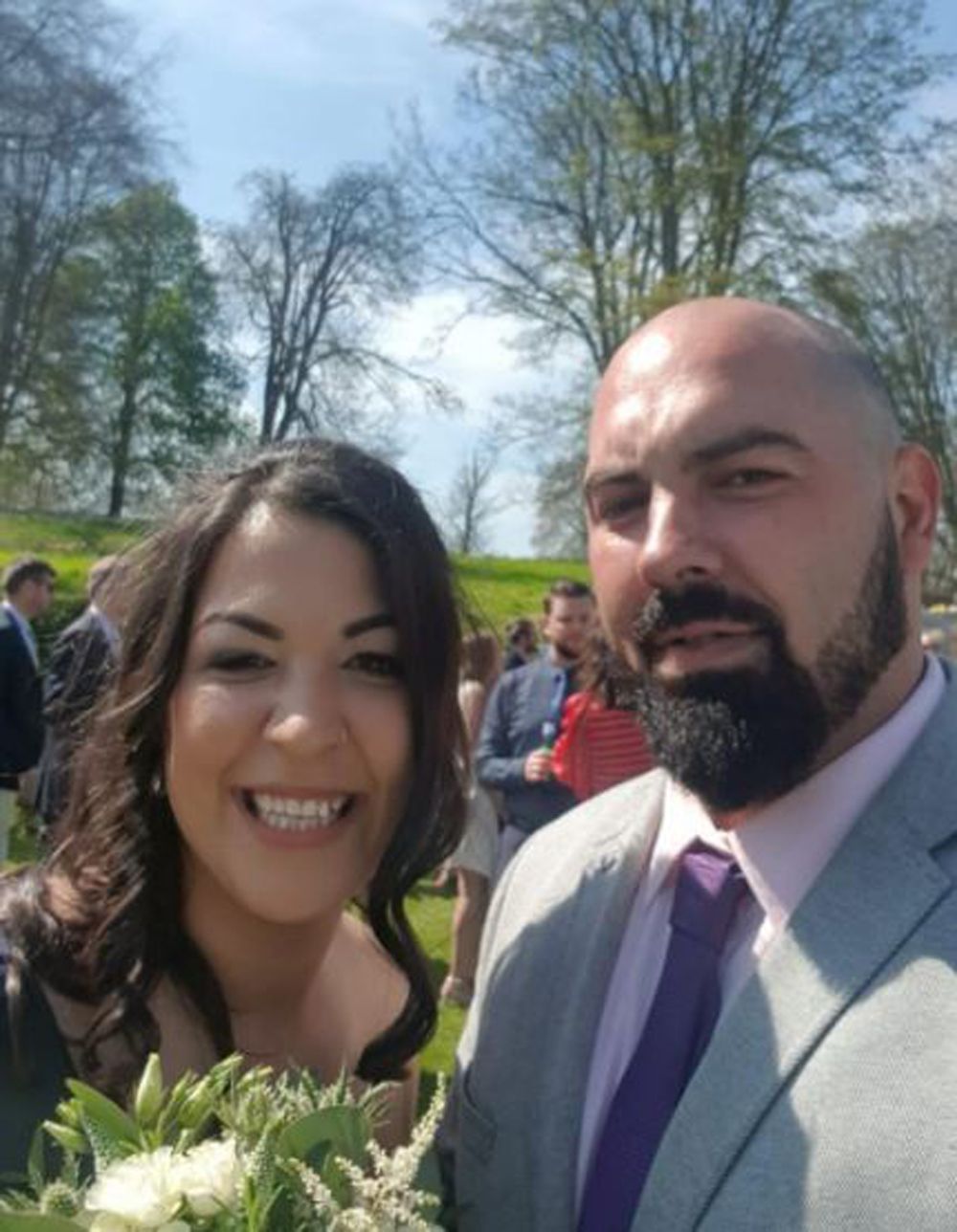 Lesley's son, Steve, and his wife, Emily (PA Real Life/Collect)
"Suddenly it felt like a blessing, being able to use my arms, compared to how it could have been," she added.
Under observation and on bed rest for a further six weeks, Lesley was transferred to Kent's Medway Maritime Hospital, to be closer to friends and family over the festive period.
"It was probably the lowest point of my life," she said. "I didn't want to live my life like this. I felt like I was the only person in the world with a spinal injury."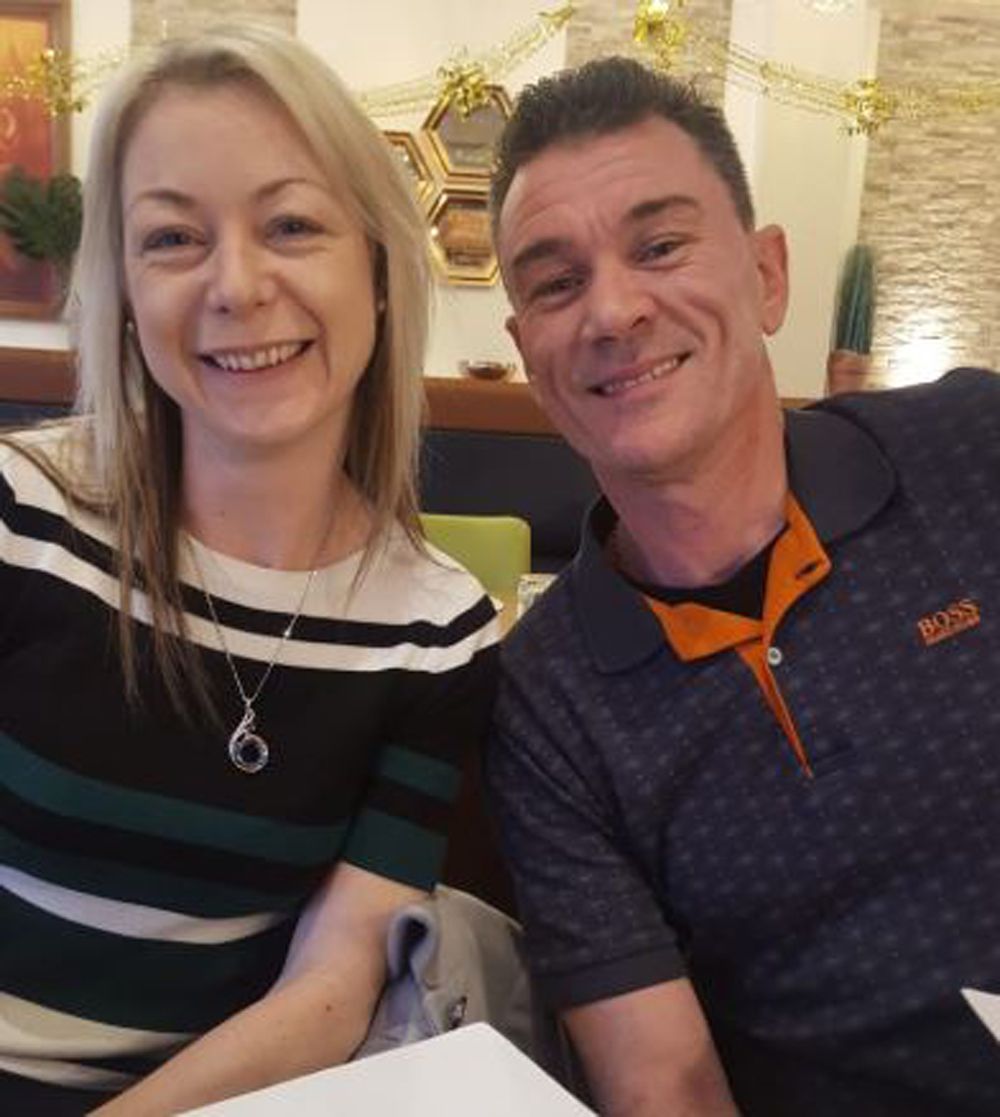 Lesley's step-son, Glenn, and his wife, Bridget (PA Real Life/Collect)
"I went from swimming three times a week and going on sponsored runs to being bed bound and unable to use three quarters of my body," she continued.
"The worst part was having other people performing my bodily functions for me. I had a catheter fitted to drain my urine and needed assistance emptying my bowels – it was so humiliating."
Refusing to see visitors on Christmas Day, apart from Richard, Lesley explained it was for the family's sake – as well as her own.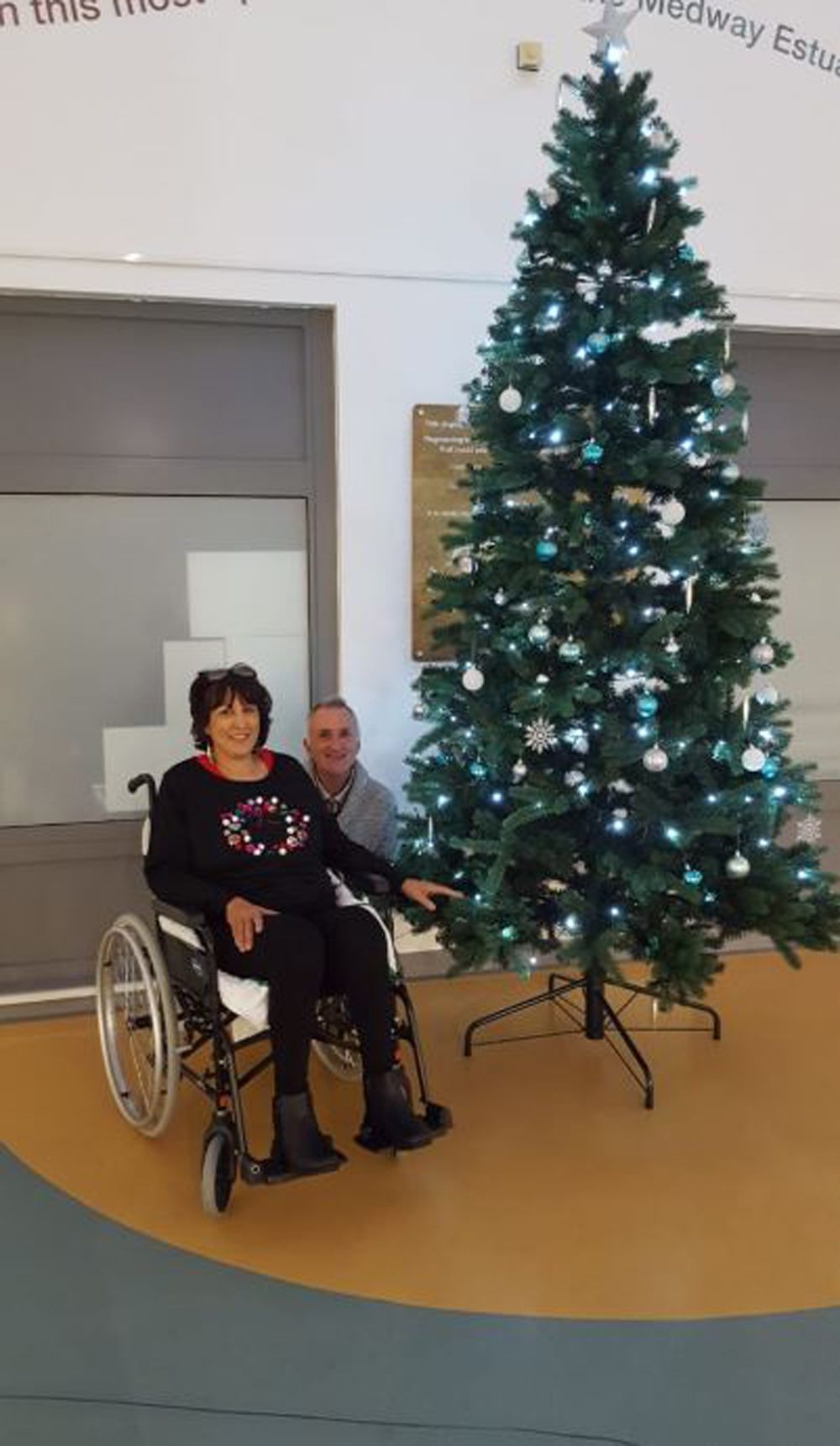 Lesley's 'worst ever Christmas' in December 2018 (PA Real Life/Collect)
"My lovely step-daughter, Michelle, brought my dinner in for me and I spent the day with Richard – that was it," she explained.
"It made me happy knowing that the rest of my family were enjoying their own Christmas and not worrying about getting here and seeing how I was.
"I still remember sitting in the hospital cafe and thinking to myself, 'I never in my life thought I'd be here.'"
Seeing in the start of 2019 in her hospital bed, on January 3, Lesley was delighted when her idol, the late celebrity chef Gary Rhodes, walked in and posed for a picture with her.
"Gary's always been my hero and as I lay in bed I was convinced I'd spotted him walking past," Lesley recalled.
"I called the nurse in and asked her to investigate. The next thing I know she was telling me Gary would be popping in to say hello any minute."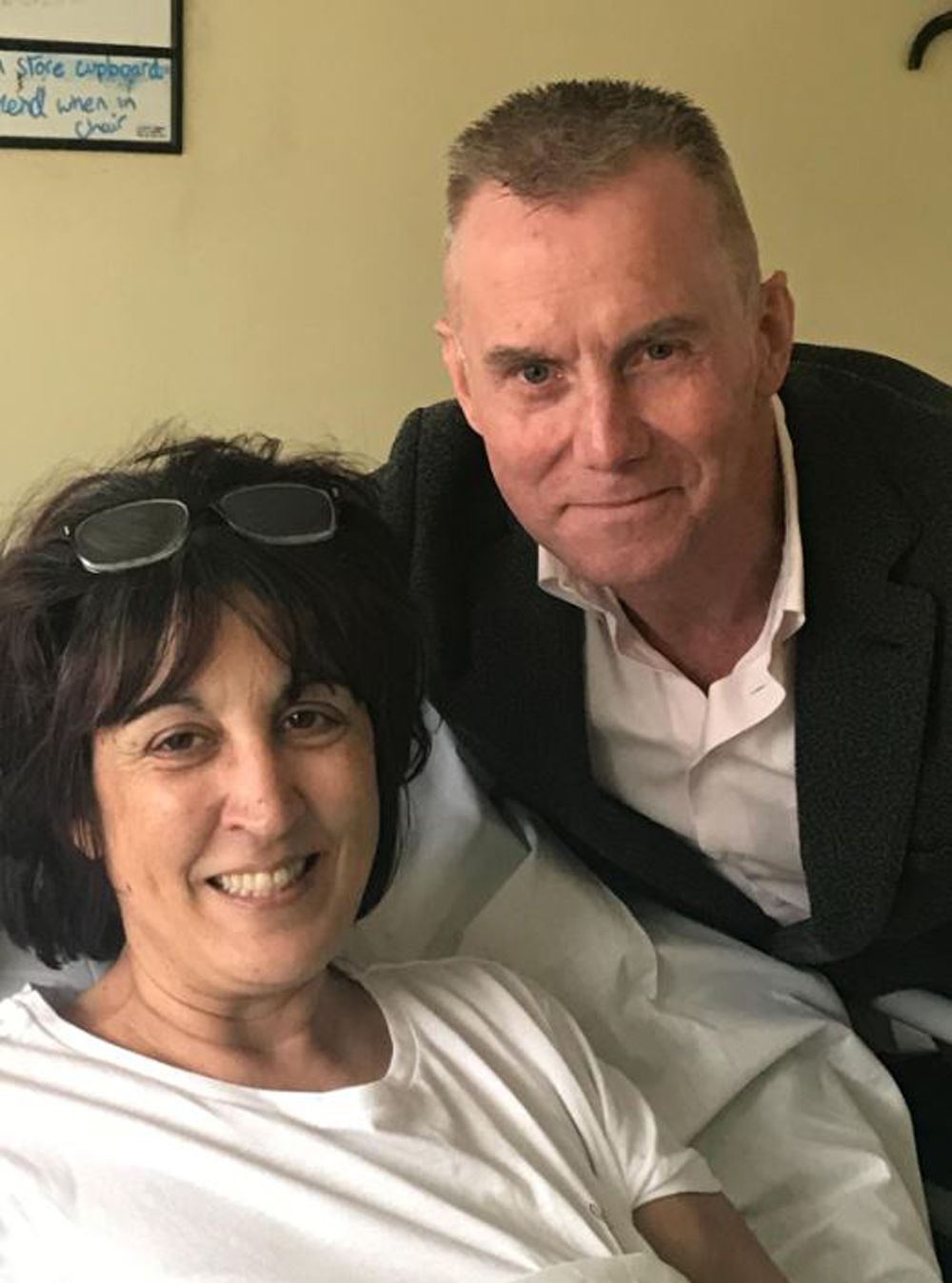 Lesley and her idol, Gary Rhodes (PA Real Life/Collect)
"I couldn't believe it. He came in and explained that he was there visiting a friend," she continued.
"He spent a good half hour talking to me about what had happened and our shared love of cooking.
"To meet him really was a dream come true and I'll always remember that day – it marked the beginning of my journey home."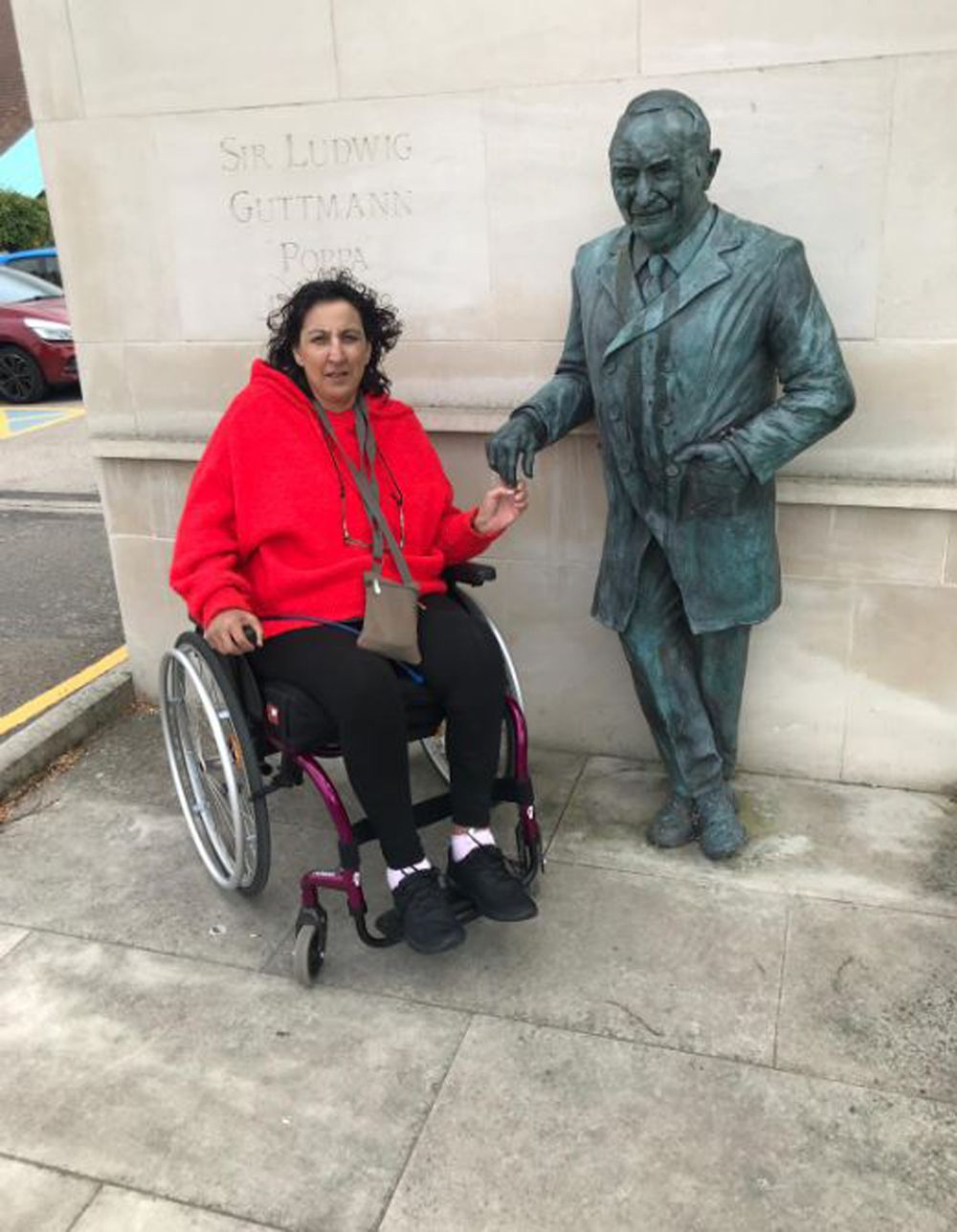 Lesley during physio (PA Real Life/Collect)
Transferred to Stoke Mandeville Hospital, in Buckinghamshire, that same day, Lesley began specialist spinal cord rehabilitation.
Taken to the hospital gym daily, to build up her strength and re-learn basic movements – from sitting up unassisted to transferring herself from her bed to her wheelchair – she began a grueling rehab regime.
"I had days where I felt like my legs and buttocks were in flames – like I was standing in the middle of a fire," she said.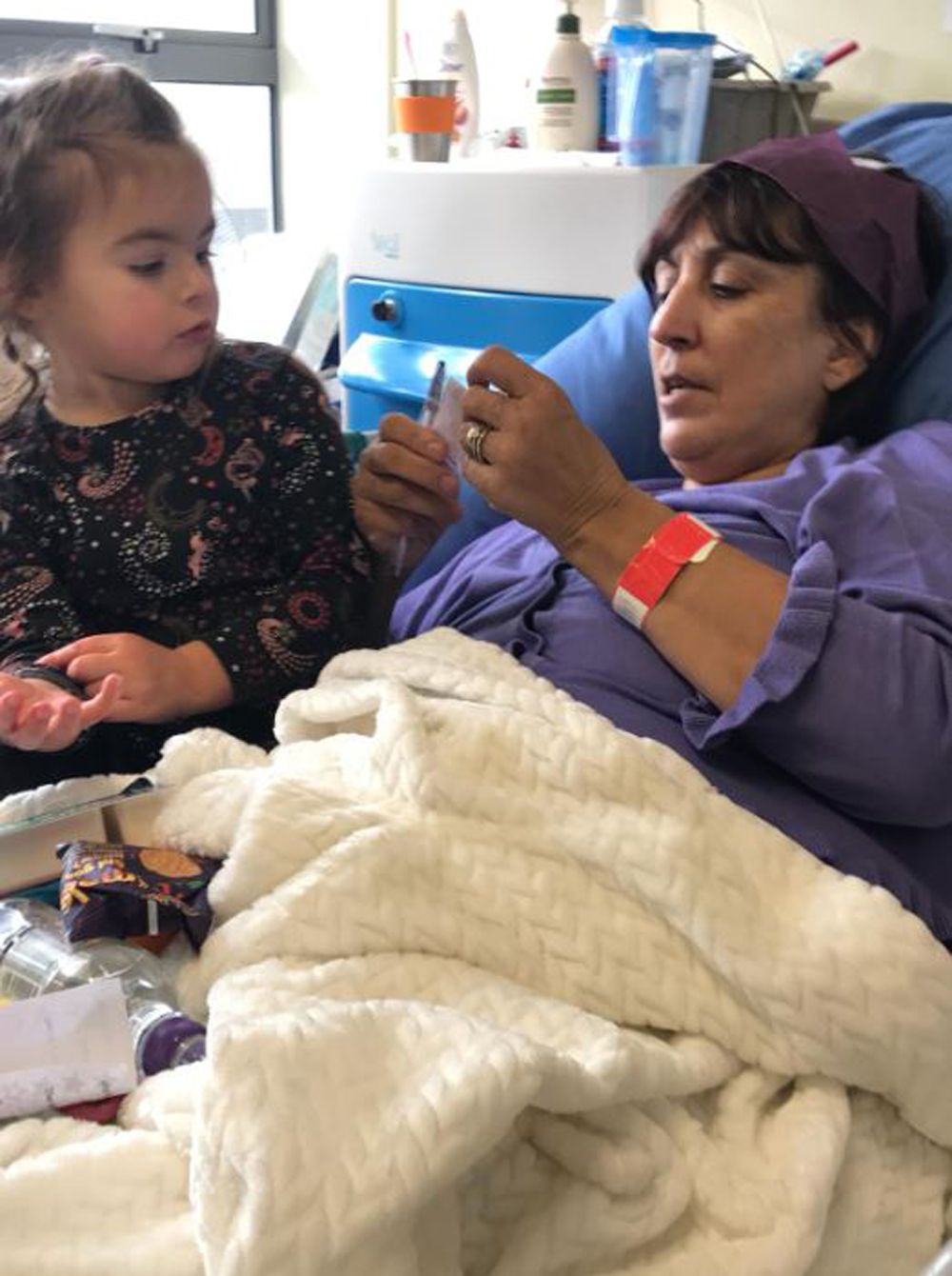 Lesley and her granddaughter, Madison (PA Real Life/Collect)
"But it was essential to get my independence back. My life had been turned on its head, I needed to learn how to get dressed and shower myself," she continued.
"Even sitting up for 60 seconds unaided was a huge achievement at the start."
Going from strength to strength, despite being told by doctors she would probably be in rehab for a year, Lesley was discharged on May 15, last year – six months early.
"I was determined not to spend another year in hospital and thanks to a good support network and my incredible husband being there every day, going home was possible," she added.
With no intention of slowing down after her incredible recovery, with the help of her chef sister, Joanne Etheridge, 49, Lesley signed up to Snap Fitness, in Sittingbourne, and before long was attending their gym three times a week.
"My old gym wasn't well equipped for someone in a wheelchair, so I ended up going to Snap Fitness – it was the best decision I ever made," she said.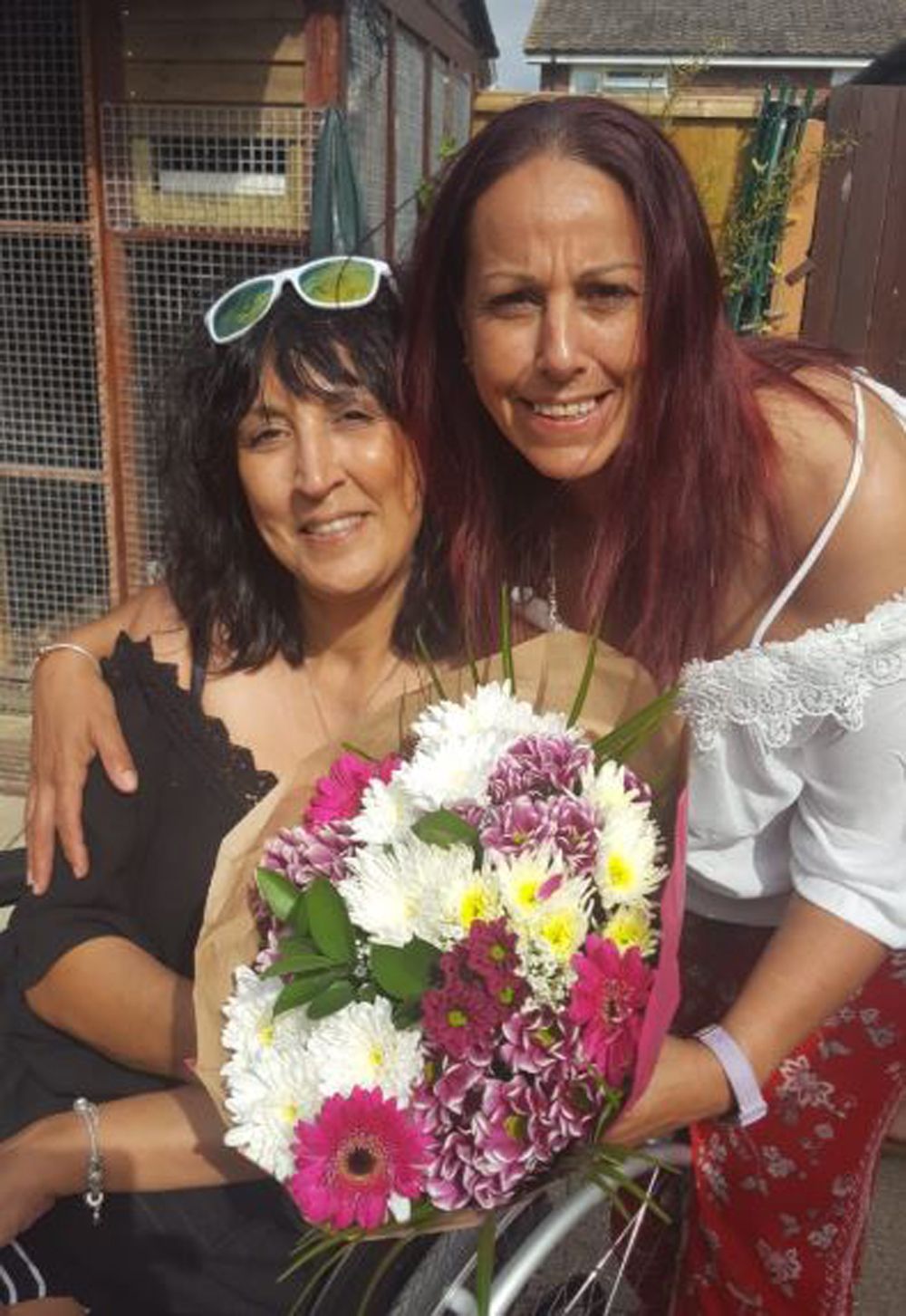 Lesley and her sister, Joanne (PA Real Life/Collect)
"Straight away I was signed up with a personal trainer, Emma Ashby, and she asked me what I wanted to get out of the sessions with her," she continued.
"I told her I wanted to be able to sit up straight in my chair and to be as fit as I can be."
Seeing a huge improvement in her core strength, Lesley has described her fitness regime as a "lifeline."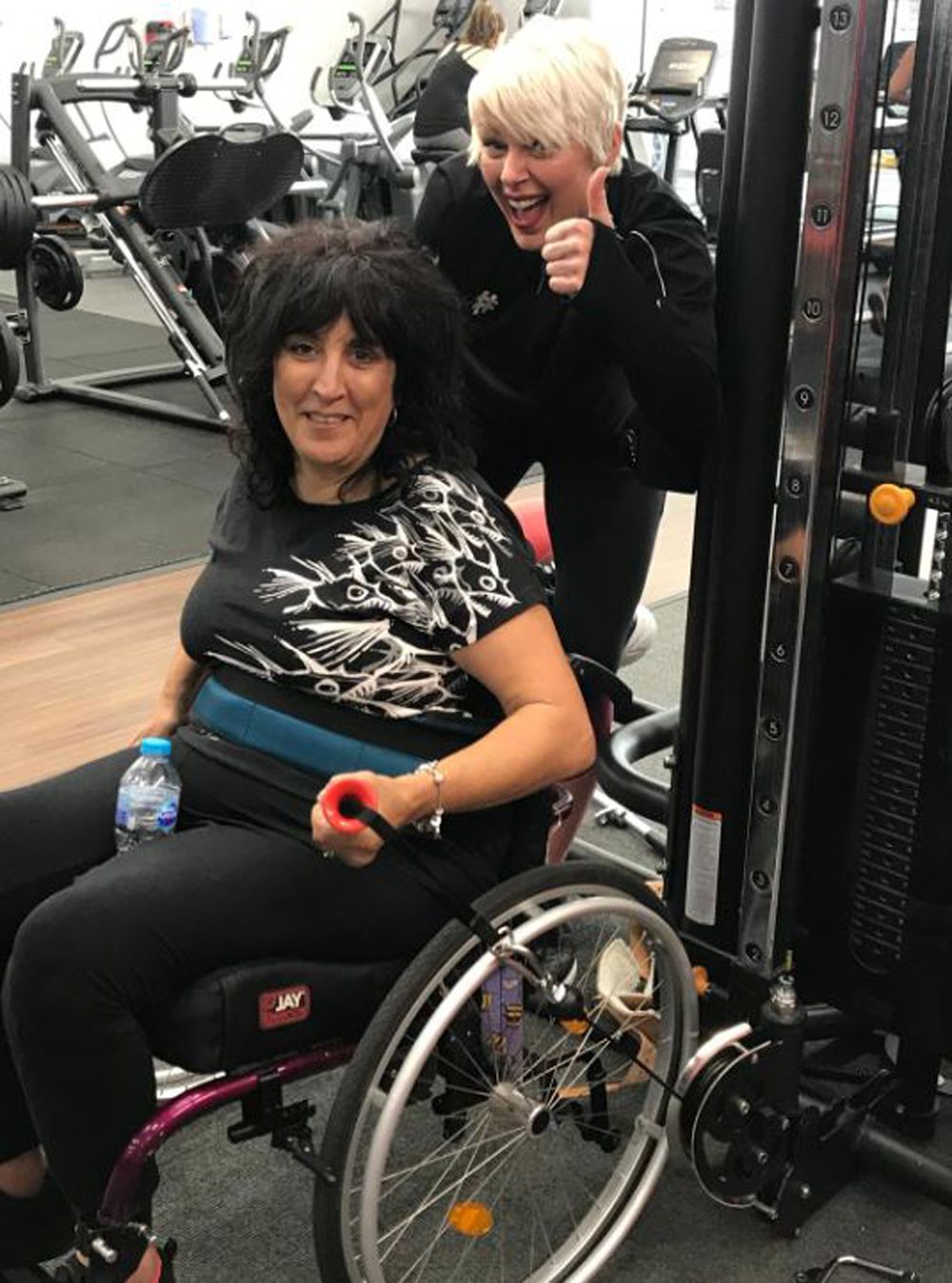 Lesley and Emma at Snap Fitness (PA Real Life/Collect)
"It's not just about the physical side of things, it's about getting back into old routines and being treated like a human being," she continued.
"People in wheelchairs don't have to be shut away. We don't want to be excluded from places just because of our disability.
"Snap Fitness is unique in the way it focuses on people's abilities, not their disabilities. Everyone shares the same mindset and the ethos that there are no boundaries."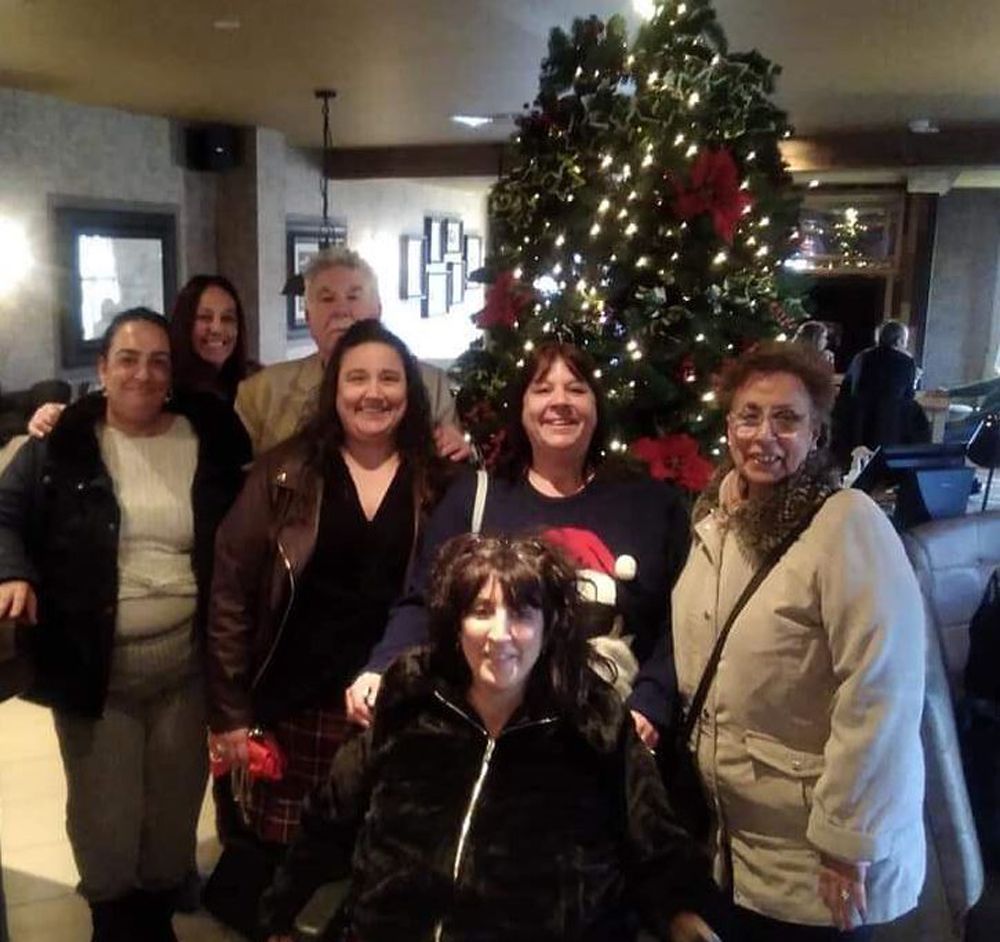 Lesley celebrating Christmas last year (PA Real Life/Collect)
And Lesley says her first Christmas at home, despite being in a wheelchair, was like a "dream come true."
She said: "Christmas really was fantastic. My children haven't had the day off in years because of their jobs as a chef and ambulance driver, but they promised to take it if I was home – and they did!
"It was the first Christmas in years we'd spent together and if it doesn't happen for another 30 years I'll always remember that day."
Now, despite her disability, Lesley hopes 2020 will also bring a return of foreign adventures and quality time spent with Richard.
"I want to be back on the beach and snorkeling again," she said. "That's why I can't wait to start swimming classes this year.
"This whole experience hasn't put me off traveling at all – things will just take more planning now."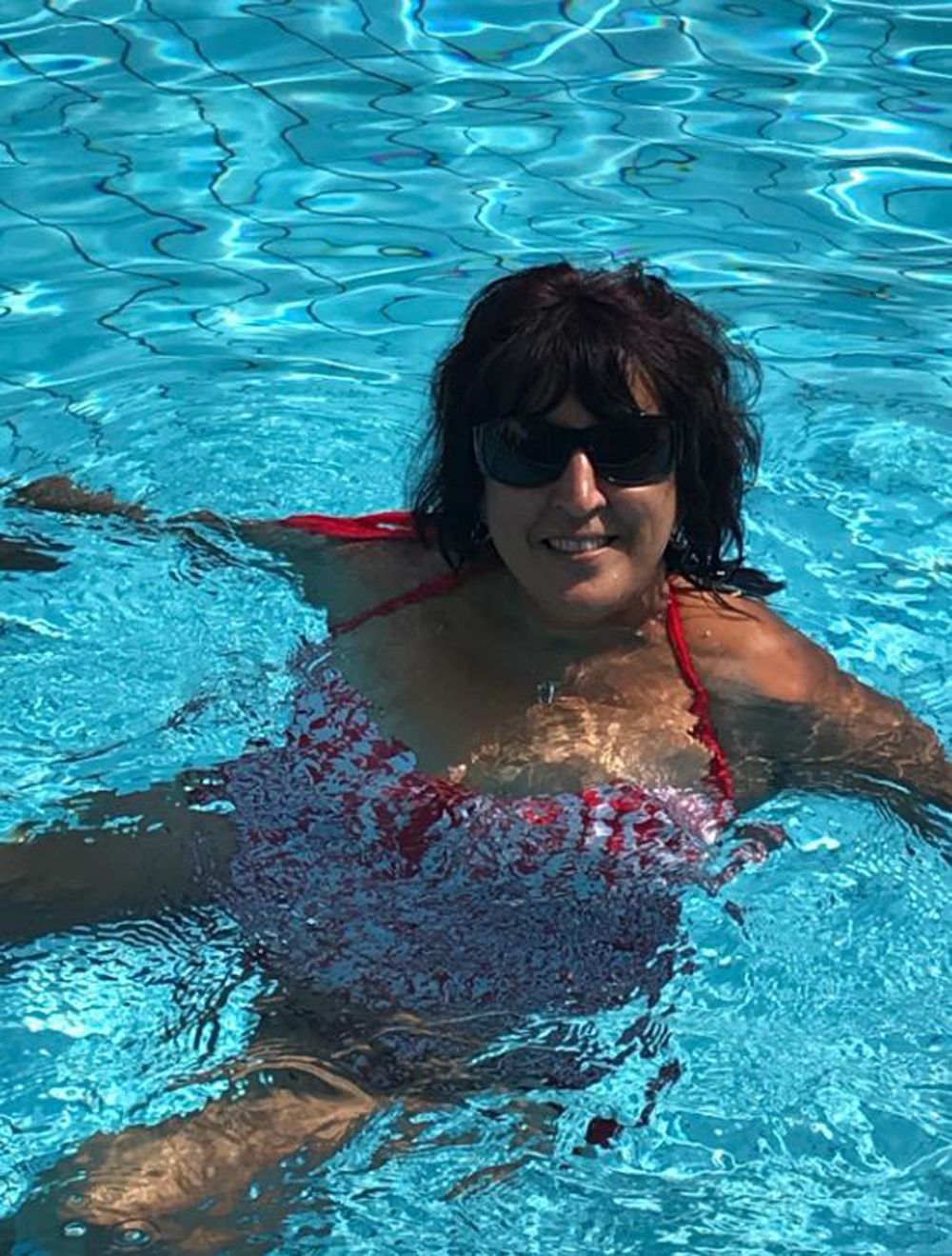 Lesley in the pool (PA Real Life/Collect)
She concluded: "I might not be able to feel the sand between my toes, but I still want to put my feet on the beach!"
To find out more about Snap Fitness UK click here.