Cancer patients have varying coping mechanisms when they're faced with the worst news of their life.
It takes every ounce of energy and will for patients to fight for their lives and for their loved ones.
For Bethany Pendergrass, who was diagnosed with breast cancer in May 2018, she channels her positivity through humor.
---
It all started when a friend told the New Mexico resident she looked similar to Maria from The Sound of Music when shaving her head following her first chemotherapy treatment.
As a joke, Pendergrass juxtaposed a photo of herself dressed as the singing flibbertigibbet with a photo of Julie Andrews bringing the hills alive in the classic musical.
She nailed it and discovered she was on to something.

Pendergrass, who is in her second round of chemotherapy, captioned the photo that kickstarted her inspirational and funny posts with:
"I believe there is so much truth in the statement, 'Laughter is the best medicine.' So, I have decided to document my cancer journey through picture reenactments. I will beat this thing, and I will keep the laughter."
Pendergrass told Inside Edition of her newfound remedy to keep her spirits up.

"I said, 'You know what? This is what I'm going to do. I'm going to recreate these pictures each week and tie it to my experience and that's going to be my journal.'"

@instabeth505/Instagram
She really is a superstar.

@instabeth505/Instagram
Pendergrass said she finds most of her costumes and props from thrift stores. Her latest post pays homage to Sandra Bullock in Miss Congeniality.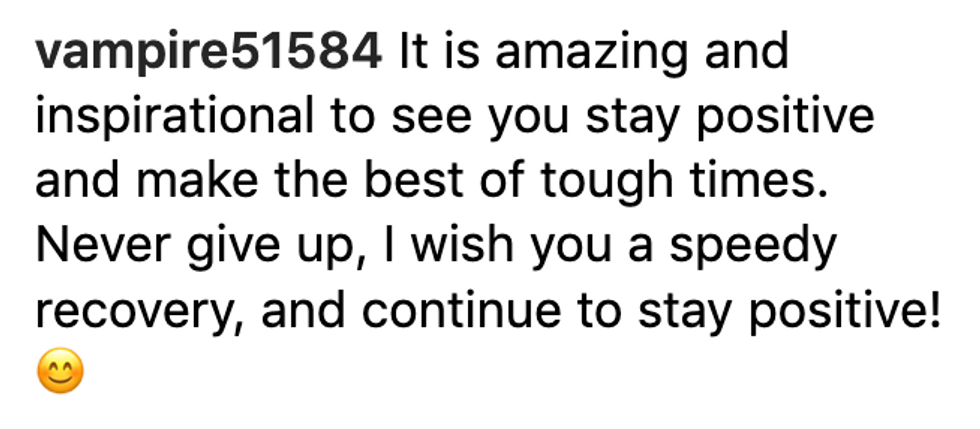 @instabeth505/Instagram
Pop cultural men were not off the table. This woman is dedicated, and the results are impressive.

@instabeth505/Instagram
Charles Addams said, "Normal is an illusion." Pendergrass expounded on how "normal" applies to her.
"My new "normal" is anything but... There are so many things that I took for granted--going outside and not worrying about the sun or heat, not worrying about the risks of infection, the taste of food, doing my hair, having loads of energy, etc."
"Every week I am adjusting to my new 'normal.' It's a rough transition and one thing is certain--I will have a new appreciation for 'normal' when all this is said and done."

@instabeth505/Instagram
Some posts were group shots and required the presence of friends and family.
Pendergrass hopes others keep their chin up and never give up.

"I just want people to remember if you can smile at the end of the day, if you can get through it."
"Things can look better again and that's my purpose behind it, just reminding myself that it's going to be OK and there's better times ahead."
This post paying tribute to a famous silent film star sums it up best.
"When there are clouds in the sky, you'll get by..." - Charlie Chaplain.
Thanks for making us smile with your inspirational posts, Bethany.
We'll be rooting for you as you continue kicking cancer's ass.