In business, they say the customer is always right. But that isn't always the case.

Clyde Cooper's Barbeque (CCB) in Raleigh, North Carolina, has been serving customers quality BBQ for 82 years and has been a staple in the community.
But the establishment was reminded that–despite of all the positive accolades and national renown for excellent barbecue–they can't please every customer.
The restaurant was given a one-star Yelp review from a woman who reportedly complained about the meat she had ordered was pink and then subsequently called the cops on them for it.
BBQ lovers know that when smoked meats are cooked and turn pink in color, they are perfectly ready for consumption.
The pinkish tinge in smoked meats is called the smoke ring. It is due to the presence of myoglobin, a compound that turns a darkish brown color when meat is overcooked.
The pink indicates the meat has been exposed to sufficient amounts of smoke to give it that wood-kissed flavor that so many BBQ connoisseurs crave.
CCB tried to explain this to Annie Cooke and even gave her chicken to appease her, but it wasn't enough to prevent her from calling 911, filing a police report, and writing a complaint on Yelp.

In her one-star review of CCB, Cooke claimed she had the "worst customer service" because the "barbecue was very pink and had lots of fat in it."
She claimed that she tried asking for her "money back or something else" but "they refused to do either."

The screenshot of her now-deleted review was shared by the restaurant owner Debbie Holt, who posted about her interaction with Cooke on Facebookon November 1.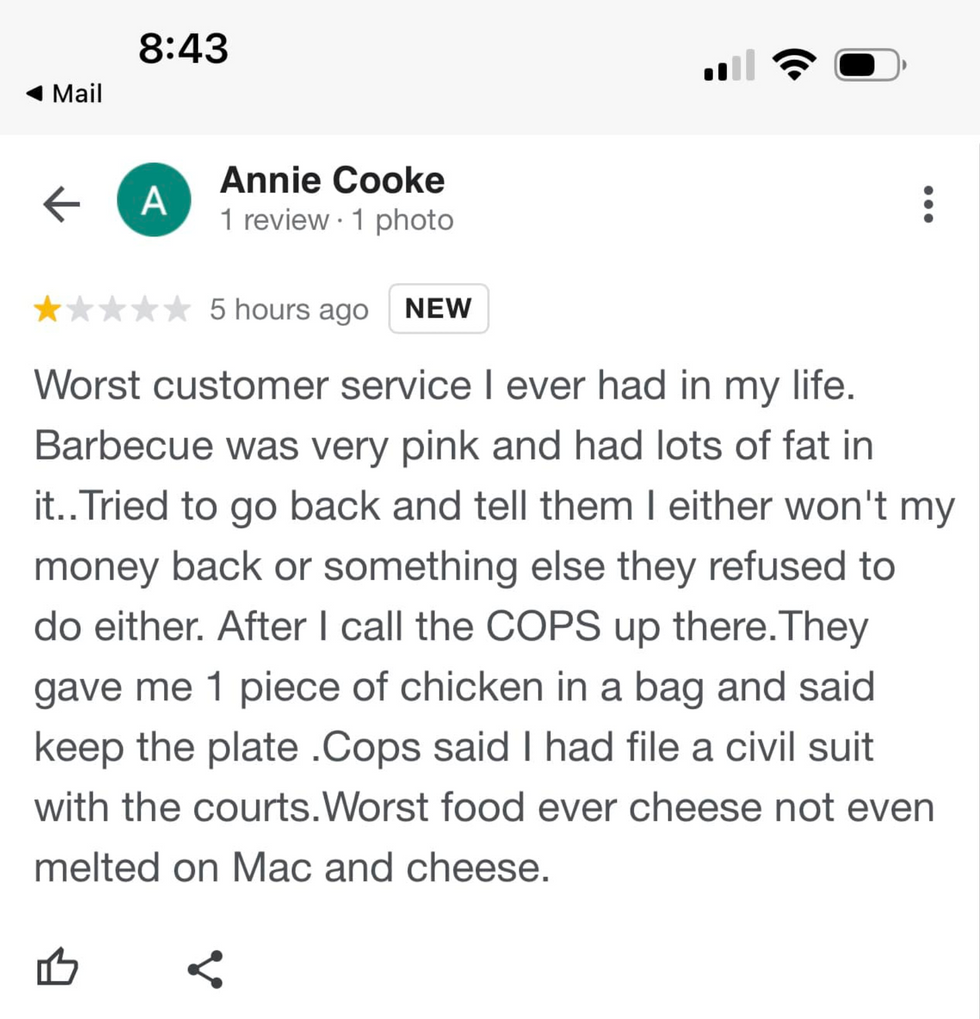 Clyde Cooper's BBQ/Facebook
Holt wrote a response calling out Cooke for wasting the cops' time to complain about a food order when the police could have tended to more pressing matters.

She continued:
"Furthermore, you were given chicken to replace the bbq and told you could keep the perfectly good bbq you thought was raw because you are so ignorant to the fact that bbq turns pink when smoked and you wouldn't listen to us trying to explain that to you."
Holt added:
"You were given that chicken before you left, and then you called the cops. Sad. Sad sad sad."
Clyde Cooper's BBQ/Facebook
If Cooke intended to smearthe restaurant's reputation with her negative review, it backfired.

Clyde Cooper's BBQ/Facebook

Clyde Cooper's BBQ/Facebook
Clyde Cooper's BBQ/Facebook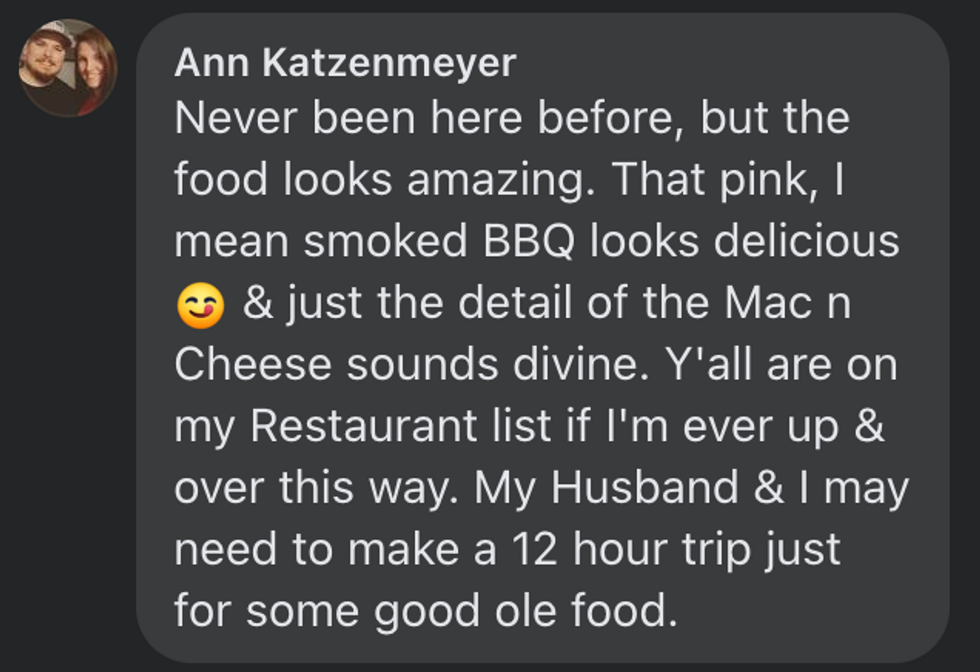 Clyde Cooper's BBQ/Facebook

Clyde Cooper's BBQ/Facebook
Clyde Cooper's BBQ/Facebook
When word got out about the skirmish, customers came out in droves, resulting in the restaurant running out of food.

The sign in the storefront window indicated some food items were no longer available, which was pretty much their entire menu.

Clyde Cooper's BBQ/Facebook
Commenting on the sudden influx of orders, CCB posted a photo of their barbecue–teasing, "Pink BBQ, anyone?"–and wrote the hashtags, #smoked and #iykyk (if you know you know).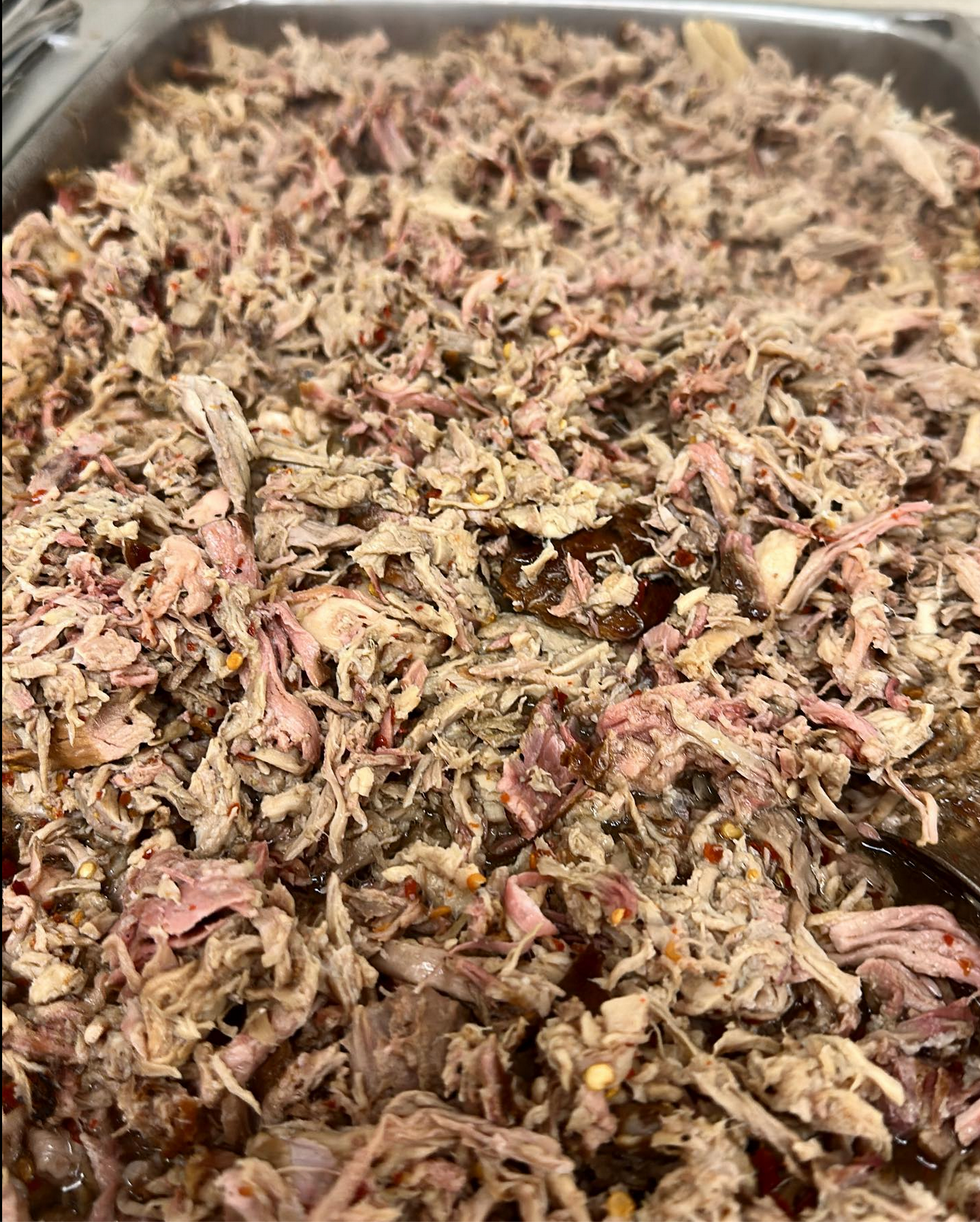 Clyde Cooper's BBQ/Facebook
According to WRAL, Cooke said she wrote the negative review because she felt the owner of the restaurant was being dismissive of her food order concerns.
Said Cooke:

"That's just the way I felt–that's the reason I called the cops, because I couldn't get my money back or I couldn't get a different plate."
Holt allegedly offered Cooke a different meal, but she refused.
That was when Cooke was given one piece of chicken in a brown paper bag instead of the whole plate of chicken she was expecting.
Holt said she tried explaining to Cooke why the barbecue was pink and the fact that her mac-n-cheese was not melted was because it was a special smoked cheddar that adds flavor.
None of that registered with Cooke. Other customers also chimed in supporting Holt's explanation.
But Cooke left and called 911.
Clyde Cooper's BBQ/Facebook
"I kind of snickered a little bit and told her, 'Honey, that's when the barbecue is smoked. It turns pink,'" Holt recalled.
"And she was insistent it wasn't done."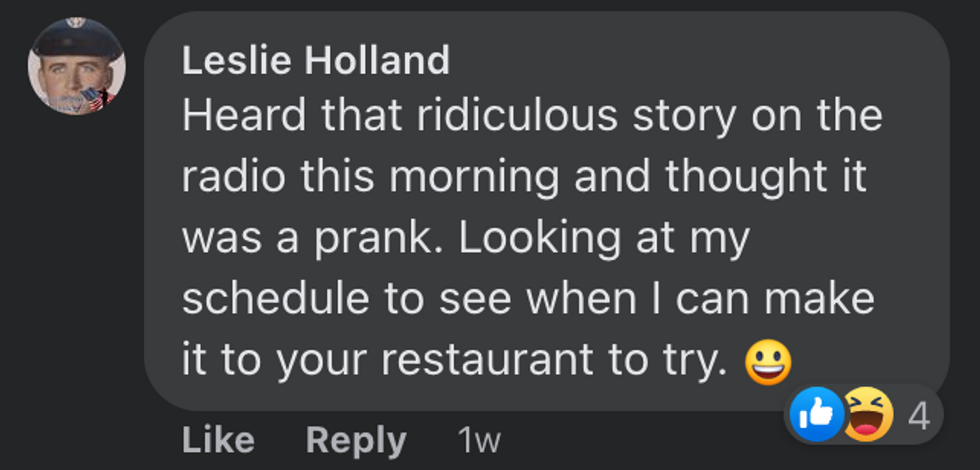 Clyde Cooper's BBQ/Facebook
In the 911 call, Cooke told the dispatcher:
"I had ordered some food from there and the barbecue is pink."
"I asked for either for them to cook it some more or exchange my order. They are saying that the meat is supposed to be pink."
"I asked for them to change my order and they said they are not giving me my money back or they are not going to trade out the food."
You can listen to the 911 call transcript in the news report, below.
Woman calls 911 to report 'pink meat' at barbecue restaurantyoutu.be
Holt continued:

"When the cop came in though, he had a cute little smile on his face and rolled his eyes, and just had his arms folded."
"I don't even think he said much to me except, 'I got you'."
Cooke is reportedly considering filing a civil lawsuit.
Clyde Cooper's BBQ/Facebook

Clyde Cooper's BBQ/Facebook
Clyde Cooper's BBQ/Facebook
In spite of all the drama and Cooke's ignorance, Holt told the news station she has no ill will towards the customer.

"Tell her to come back and I'll educate her about North Carolina, southeastern-style barbecue," Holt said of Cooke. "I'd be happy to."
WRAL indicated the last health inspection for Clyde Cooper's BBQ resulted in a score of 96.5, which is an A grade.