A Black woman was confronted by her elderly White neighbor who strongly objected to her "Tigger flag" on display in front of the house.

Tigger, the lovable bouncing tiger character from Disney's Winnie the Pooh, is apparently not everyone's cup of tea.
WARNING: Tigger trigger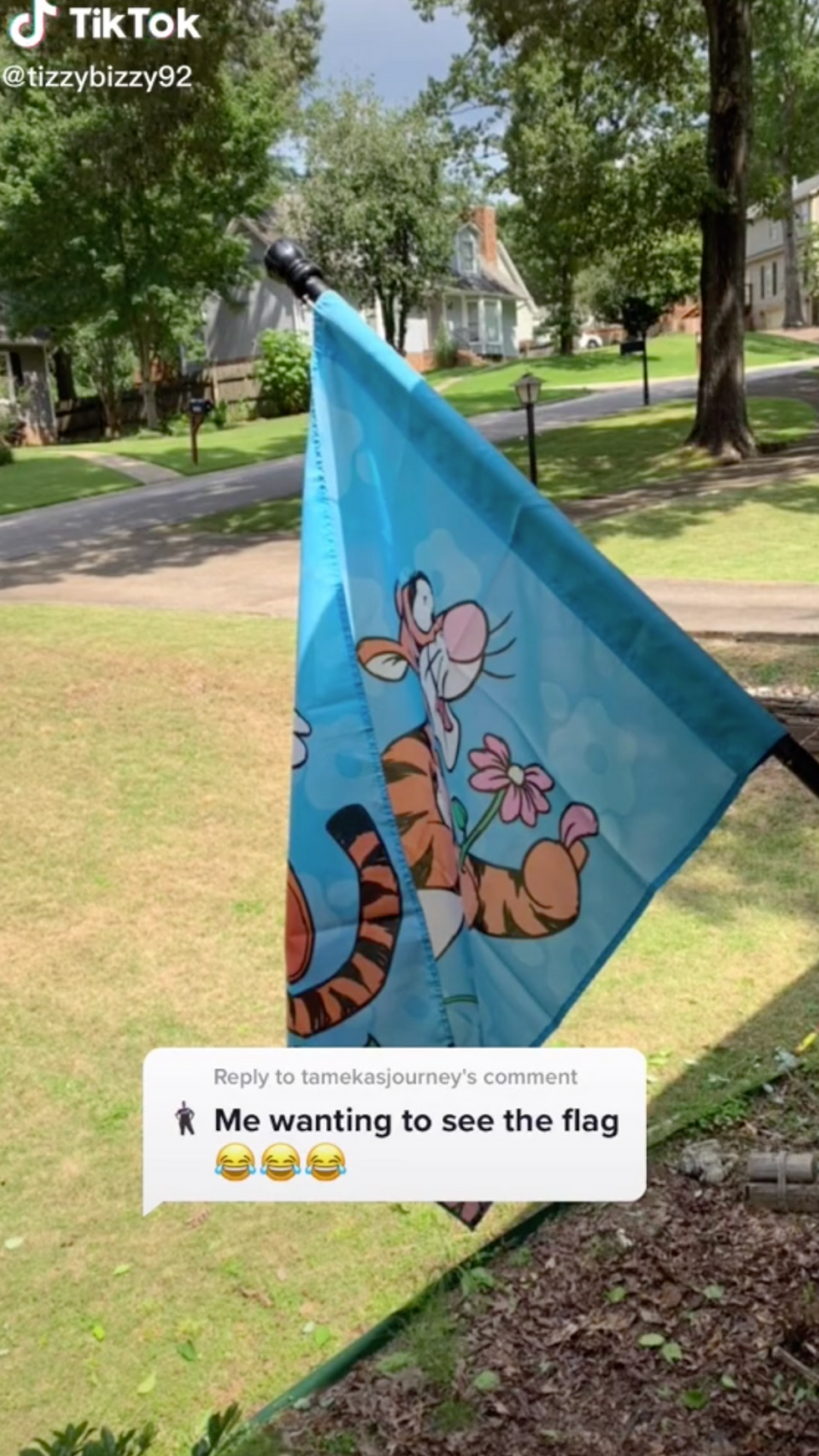 @tizzybizzy92/TikTok
And when the neighbor was asked what her gripe was with the Tigger banner, she argued it was "tacky" and that there were "rules" against such displays.

She failed to recall what said "rules" were during her complaint.

TikTok user Ambrosia, a.k.a. @tizzybizzy92, shared her home security footage of the interaction at her front door, which started with the neighbor, saying:
"I want to talk about this Tigger's flag. I don't like it."
Ambrosia said the video-sharing platform banned her entire account for initially posting the video, which she captioned it with, "Watch my interaction with a [entitled woman]."
But after Ambrosia successfully appealed it, she reposted the clip.
Ambrosia maintained her decorum the entire time and asked why this person did not like the flag.
The woman didn't give a valid reason, but she did say she thought the "American flag was real nice."
"I don't say nothin' about the shrubbery being cut, I don't say nothin' about the backyard. But now, I don't like that."

@tizzybizzy92/TikTok
Ambrosia told her that her brother was the one who hung up the flag in question.
The anti-Tigger neighbor continued expressing her opinion without offering any sort of solution to her disapproval.

"Well, I'm just telling you I don't like it," she said again.
"And we have rules. I don't want to have to go find out what they are, but I don't like that."

@tizzybizzy92/TikTok
When Ambrosia explained there wasn't a homeowner's association stipulating against the decoration of a Disney character based on a stuffed animal in the neighborhood, the woman echoed her displeasure with:
"There's rules in the community. It's called 'Williamsburg-something...' and there's rules.'"
"I'm just saying I don't like it. It makes it look tacky — it makes the neighborhood look tacky."

@tizzybizzy92/TikTok
Ambrosia, still calm, responded:
"It doesn't [look tacky], but that's okay. You're allowed your opinion."
People were impressed with how Ambrosia held her composure.


@tizzybizzy92/TikTok

@tizzybizzy92/TikTok

@tizzybizzy92/TikTok

@tizzybizzy92/TikTok
The woman bounced and said she was going to "find out" about the so-called "rules" that she couldn't come up with on the spot, earlier.
The clip ended with Ambrosia telling the woman to have a "good day" but was left hanging without a response.
"Ignored," read the text on the clip.