---
Taylor Swift took to the Saturday Night Live stage to perform her latest tunes, one of which garnered attention because of the rather unique microphone she held in her hand.
During "Are You Ready for It?"––the first of two songs she sang on SNL––the singer produced her new handheld snake mic to amplify not only her voice but also the four backup dancers in her crew. The audience both in the studio and at home were not prepared for it, as the song title challenged.
The reveal of the futuristic Blade Runner-esque set imbued Swift's set with a sense of mystery as the intro to the song reverberated through the studio. Swift swayed here and there with her arms to the side. As the dim lighting chased away her silhouette to reveal her face, she brought that mic up to her lips to begin the refrain: "Knew he was a killer first time that I saw him, Wonder how many girls he had loved and left haunted."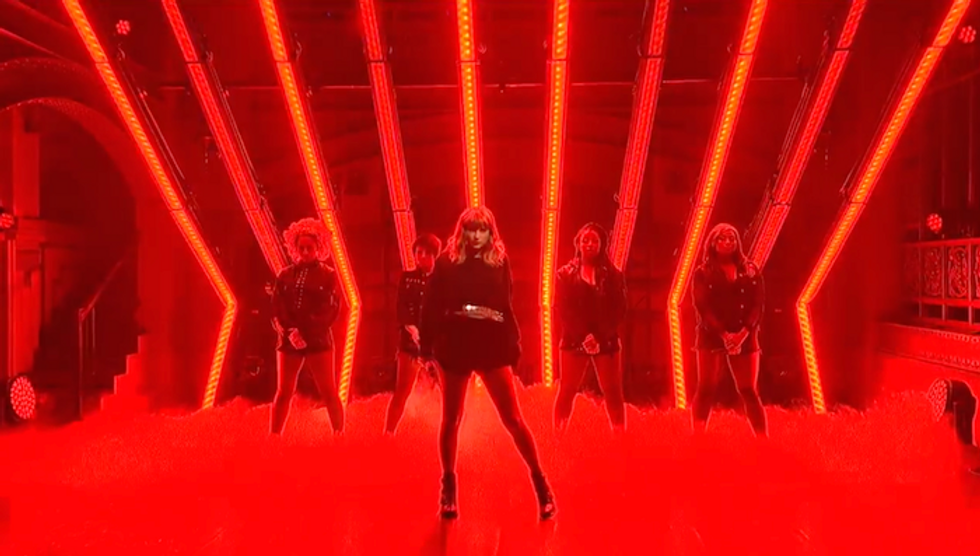 And then the camera panned closer to that eye-catching handheld mic that simulated the movement of the coil of a serpent's tail spiraling around her wrist. It was dramatic––and very appropriate for the song.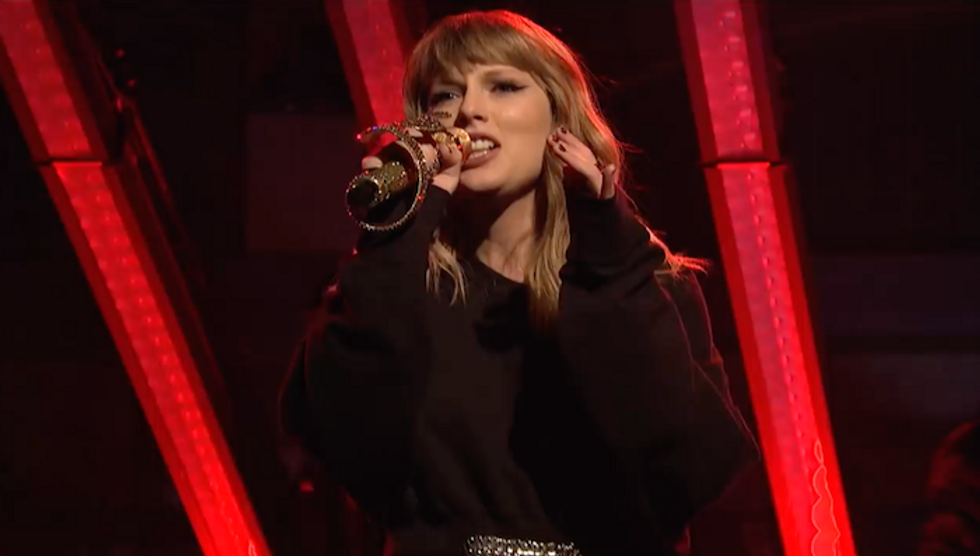 The crowd ate it up; people couldn't get enough of that snake mic as she breathed life into it:
In the middle of the night in my dreams

I know I'm gonna be with you

So I take my time

Are you ready for it?
Taylor, we are so ready for it.
@taylornation13 I AM LIVING FOR THIS ERA AND IT JUST STARTED🐍🐍🐍🐍 @taylornation13 #TaylorOnSNL

— heyy its zita :) (@heyy its zita :)) 1510465076.0
PLEASE BRING THE SNAKE MIC ON TOUR #TaylorOnSnl #reputation @taylorswift13

— emma adores taylor 💌 (@emma adores taylor 💌) 1510463662.0
Taylor isn't playing around this era and she's got the snake mic to prove it 🐍 #TaylorOnSNL @taylorswift13… https://t.co/jm2EBHk3tF

— "Are you Amber???" (@"Are you Amber???") 1510464073.0
"…Ready for It?" is the second single from Swift's latest album Reputation, and she's causing quite a stir with her first ever live performance of the pop hit. Her appearance on SNL is her first since her 2009 guest stint.
In contrast to her first number, Swift set the serpentine microphoneaside and performed an acoustic ballad of "Call It What You Want," accompanied by a cellist and four backup vocalists. And well, we call it - An unforgettable evening.
Taylor Swift is about to announce a major tour to promote Reputation, which sold over 700,000 copies since its release on Friday.
Please SHARE this with your friends and family.
H/T - people, twitter, youtube, rollingstone