Last week, news about a fatal shooting on the set of the film Rust was reported.
Veteran actor Alec Baldwin discharged a prop gun injuring Director Joel Souza and killing Director of Photography Halyna Hutchins.
More information has been shared following the incident. It revealed unsafe working conditions reported by members of the crew and prior incidents on set.
The Los Angeles Times reported the crew, including Hutchins and Souza, were setting up for a shot involving Baldwin backing out of a church and drawing a gun from his holster.
Normally, crew members would be in the video village—a space for crew to watch monitors of the scene from a distance. However, Hutchins was still setting up the shot with the camera operator on a dolly.

Baldwin had practiced removing the gun without any incident. But the second time, the gun discharged.
The gun fired a projectile that hit Hutchins in the shoulder and went through striking Souza who was crouched behind her.
This wasn't the first time a prop gun accidentally discharged on the set of Rust.
Two crew members told the LA Times Baldwin's stunt double previously fired a supposed "cold" gun. A cold gun refers to one without ammunition.

A crew member stated:
"There should have been an investigation into what happened."
"There were no safety meetings."
"There was no assurance that it wouldn't happen again."
"All they wanted to do was rush, rush, rush."
Another crew member said they sent a text to the production manager, stating:
"We've now had 3 accidental discharges."
"This is super unsafe."
There are still key details missing, like what kind of gun was used, type of projectile discharged, how many projectiles there were, who had prepared the gun for use on set and whether or not that person followed safety protocols.
It was reported Baldwin was handed the loaded gun by the assistant director and told it was safe to use. A report filed in a Santa Fe County, New Mexico court said the assistant director had no idea the gun was loaded with live rounds.
Hannah Gutierrez Reed was the armorer in charge of gun safety for Rust. Reed is the daughter of a veteran armorer and had recently completed work on The Old Way, another Western.
She has not made an official statement.
Kevin Williams—prop department supervisor at UCLA School of Theater, Film and Television—described safety precautions that should be taken when working with prop guns to CNBC.
"I can say unequivocally that a blank round versus a live round is really easy to identify in the hands of an experienced armorer or prop master."
"I can't imagine anybody would say 'whoops' and just put that in there."
Williams also shared a prop firearm should never be pointed at another actor or crew member.
If the director wants an actor to aim at the camera they need to put up a ballistic shield.
Crew members are now speaking out about their experiences on the Rust set.

The incident came just after the International Alliance of Theatrical Stage Employees, Moving Picture Technicians, Artists and Allied Crafts (IASTE) threatened Hollywood with a strike if they didn't sign on to create better working conditions for crew members.
It was reported six IASTE union crew members walked off set just hours before the shooting occurred. They had been told hotel rooms would be provided in Santa Fe near the set, but instead were then told they would have to drive 50-miles from Albuquerque each day.
Crew members were worried about accidents after spending 12 to 13 hours on set.
One coworker of Hutchins told the LA Times she advocated for better working conditions for the crew.
They said Hutchins was tearful when crew members walked off set because of safety concerns.
"She said, 'I feel like I'm losing my best friends.'"
The IASTE members reportedly spent an hour packing up their equipment then were replaced by nonunion workers.
"Corners were being cut—and they brought in nonunion people so they could continue shooting."
A producer allegedly told concerned IATSE crew members to leave voluntarily or security would remove them.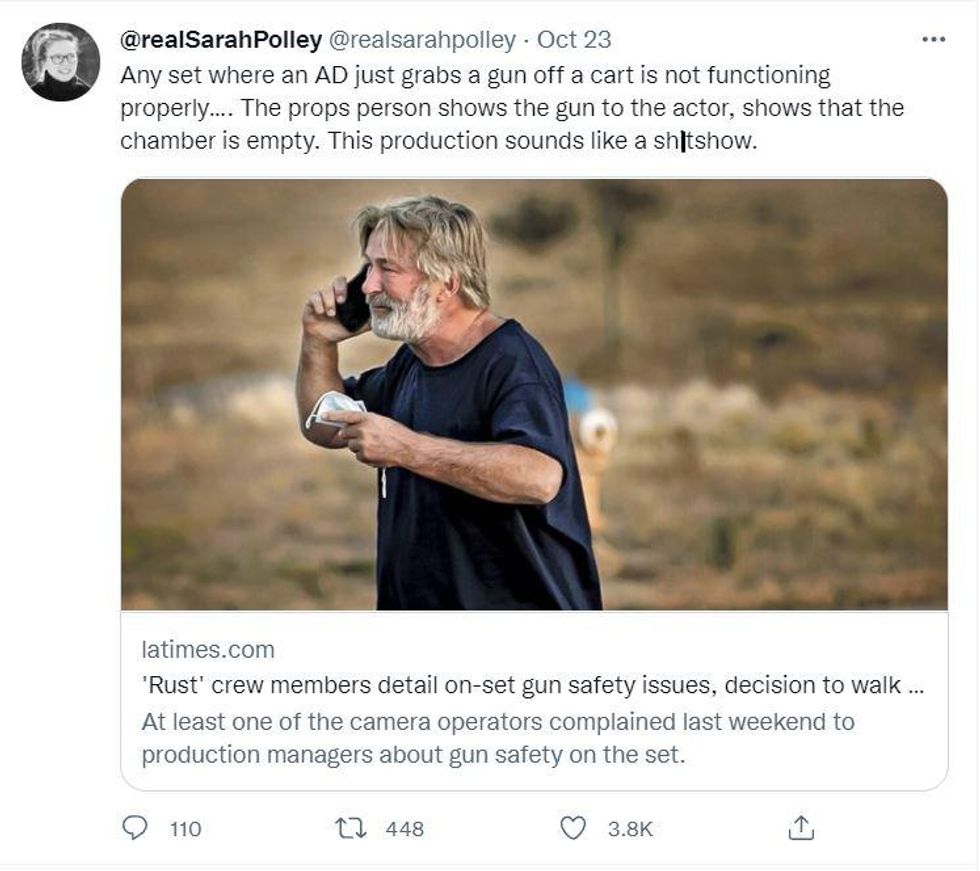 @realsarahpolley/Twitter
Now, industry insiders are calling for real guns to be banned from sets given the nature of this accident and the advancements in computer animation.

Director of Mare of Easttown Craig Zobel said:
"There's no reason to have guns loaded with blanks or anything on set anymore."
"Should just be fully outlawed. There's computers now."
"The gunshots on Mare of Easttown are all digital."
"You can probably tell, but who cares? It's an unnecessary risk."
The Hutchins family shared their thoughts about the loss of Halyna on Twitter as well.
When Rust director Souza found out about the loss of Hutchins, he said:

"She was kind, vibrant, incredibly talented, fought for every inch, and always pushed me to be better."
A production company spokesperson said they are offering therapy to everyone affected by the fatal incident.