Trolls hoping to cripple the performance of Marvel's Black Panther at the box office are spreading fakes news on social media alleging black fans of the movie are attacking audiences.
Racist trolls have stolen photos of real assault victims from different social media accounts, claiming they were attacked at Black Panther screenings, to spread their fake rumors and confirm middle America's worst fears about people who are different.
Warning: The following images are graphic.

---
Fake posts are being created to make black people look bad and the sad part of it is some people will believe them… https://t.co/WnhyinOrrw

— Trapa Fasa (@Trapa Fasa) 1518757473.0
One of the stolen images was of former White House staff member Rob Porter's ex-wife, Colbie Holderness, with a black eye.
Porter resigned from the White House earlier after allegations of domestic abuse, and the actual photo of Holderness was used to document her attacks while they were still married.
The trolls co-opted Holderness's photo for the fake post, which read:
Went to the #BlackPanther premier tonight and my wife was assaulted. Three black women approached us and one said 'This movie ain't for you white b****' and then attacked her. Security escorted us to the parking lot and we left. We just wanted to see a movie.
Fake pics claim 'racial assaults' at Black Panther movie https://t.co/i30uEdVnPN via @MailOnline These damn trolls… https://t.co/cNHrtKchac

— Truth Speaker #VetsResistSquadron (@Truth Speaker #VetsResistSquadron) 1518868989.0
Another graphic photo shows a young woman bloodied from a brutal attack, allegedly from attending the movie.
i went to see #BlackPanther with my gf and a black teenager shouted 'u at the wrong theater' and smashed a bottle on her face.
The actual photo was that of Swedish club-goer, Sophie Johansson, who was harassed by a man who made unwarranted advances and groped her at a club. When she tried to avoid further interaction, the man struck Johansson over the head with a beer bottle.
According to the Swedish publication, Aftonbladet, she said, "I thought it was (liquid) from the bottle (on my face), but then my friend said it was running blood. I ended up in shock."
Racist trolls are using google pictures of battered white women saying they were attack at the "Black Panther" movi… https://t.co/h9akT2kxrJ

— Anre' (@Anre') 1518815966.0
A picture of an 18-year-old girl, who was locked inside her apartment and battered by her boyfriend for 4 hours was re-purposed by another troll, using the caption: "I was brutally [sic] attack by some black thugs at #BlackPanther premiere because they said whites weren't allowed to watch the movie."
The outrage is understandable.
There's a bunch of people on here posting fake assault pictures and saying it was black teens at #BlackPanther showings. God I hate people.

— BLUƎ PΛLΛDIN (@BLUƎ PΛLΛDIN) 1518752164.0
But now, the trolling morphed into reverse trolling, where others are parodying the bogus and racist posts.
Was at the #BlackPanther  premiere but a group of black youths said this movie wasnt for spoilt milk Mayo crackers… https://t.co/22rbAYO8is

— freeponyrides (@freeponyrides) 1518791247.0
Unfortunately, tensions are high as the country reels from yet another major mass shooting this week. Black film-goers are encouraged to stay vigilant when attending a screening of Black Panther.
According to Buzzfeed, one troll claimed he was attacked by white men wearing "MAGA hats" in a variation of the bogus posts.
Genuine fears have started taking hold in cinemas.

I want y'all to be extra careful in the theaters this weekend. CAREFUL.

— Questlove Gomez (@Questlove Gomez) 1518751506.0
Black people around the United States, be very very careful at these movie screenings for Black Panther. These whit… https://t.co/0NSwvb5pJi

— Tariq Nasheed (@Tariq Nasheed) 1518730698.0
If a group of people are wanting to derail the trajectory of Black Panther's success at the box office, inciting fear is not going to cut it.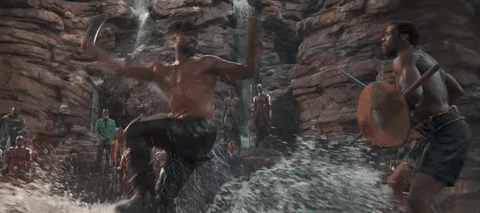 "Black Panther" is already an unstoppable force. Nice try, trolls.
The Ryan Coogler-helmed movie, with a diverse and all-star cast including Lupita Nyong'o, Michael B. Jordan, Forest Whitaker, and Andy Serkis, is already poised to become the third highest-grossing superhero movie behind Avengers ($80m) and Avengers 2 ($84m).
According to Forbes, Panther earned $75.8 million on its opening night, and an additional $25.2m during Thursdays preview.
H/T - Forbes, Twitter, Buzzfeed, Vox, NYdailynews