Viewers of ABC's Black-ish won't be seeing much of "Rainbow" around unless actress Tracee Ellis Ross gets a salary comparable to the amount of her co-star, Anthony Anderson.
Oprah's captivating speech at the Golden Globe Awards launched the Time's Up initiative that has Hollywood actresses openly discussing the gender pay disparity on social media.
According to the Hollywood Reporter, Ross's and Anderson's paychecks was a topic of a long discussion at a Time's Up meeting -- an organization spearheaded by actresses aiming to end sexual harassment and workplace discrimination.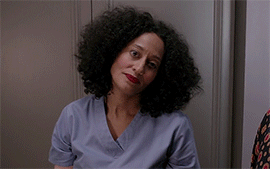 It's time for some changes.
---
THR reported:
With negotiations for the fifth season ongoing, sources say Ellis Ross feels that if she isn't brought up to Anderson's level, she may opt to appear in fewer episodes to make up the disparity by guesting on another show.
Not all members agreed Ross deserved equal salary with her Anderson. The report added:
A network source says a new deal will significantly increase her compensation and cautioned that Anderson and Ellis Ross' roles aren't equal given that he has been attached to Black-ish from the start and is an executive producer.
Most of Twitter had Ross's back.

Some people assumed Ross had the higher pay grade.

There is no Black-ish without Rainbow, and without Rainbow, there could be a dip in viewership.

Ross and Anderson starred together in the hit sitcom since it debuted in 2014, and Ross became the first African-American actress to win the Golden Globe Award for best actress in a comedy or musical TV series since Debbie Allen won recognition in 1983.

"It's my first time here," Ross began her acceptance speech, and she dedicated the award to "all of the women, women of color, and colorful people, whose stories, ideas, thoughts, are not always considered worthy and valid and important."
She added, "It is an honor to be on this show, Black-ish, to continue expanding the way we are seen and known, and to show the magic and the beauty and the sameness of a story and stories that are outside of where the industry usually looks."
However, closer inspection about the gender pay back and making some changes could do Tinsel Town some good.
But the reality is the fact that Anderson's role extends beyond his performance in front of the camera.
The topic remains to be a heated debate, and the answer is not black or white-ish.
H/T - Twitter, Essence, HollywoodReporter