Jason Momoa—a.k.a. Aquaman—surprised Dwayne "The Rock" Johnson's three-year-old daughter with the best birthday memory ever.

It all started when Johnson—who voiced Maui in Moana—proudly wished his baby girl Tiana a happy birthday in a sweet Instagram post on Sunday.
He called his adorable little angel "Loving, kind, tenacious and tough (like your mama ;)" and added his "greatest joy" was being her dad.
"I always, 'got you,'" he said before leaving followers with a funny anecdote.
"Now that she's finally starting to understand that daddy is Maui from MOANA, she has one very important question—Daddy do you know AquaMan?'"

@therock/Instagram

@therock/Instagram
Well, daddy's got connections, being a major Hollywood star and all, and little Tiana knows it.

But the surprise was yet to come.
Johnson shared a clip of himself watching Aquaman with Tiana, who was completely mesmerized watching her hero fight off the bad guys.
Setting himself up for failure, the 48-year-old papa asked his little girl:
"Is Aquaman cool? Is he the coolest? Who's cooler? Daddy?'
"Aquaman," replied Tiana before daddy barely finished his question.

Johnson wrote in another post with a picture of Tiana next to her Aquaman action figure:

"Now this is getting ridiculous...For Tia's birthday she insisted AquaMan join us for breakfast—and then after we eat, she asked daddy to draw AquaMan so she can FRAME IT and hang it up in her room."
He then referred to the DC Comics character he'll be playing in the upcoming Warner Brothers film, Black Adam, due out next year.
"Black Adam's gonna hand out a fresh Aqua A** Whuppin' if this disrespect keeps up."

@therock/Instagram
Finally in answer to Tia's wishes, Aquaman made the biggest splash with a special message Johnson shared in another video post.

Johnson filmed Tiana—joined by her older sister, 5-year-old Jasmine—watching Momoa talk on the TV screen.

"I'm sorry I couldn't be there," said Momoa, addressing the girls and adding, "but I love you and tell your papa that I love him too."
Both girls squealed in delight after watching the personal message.

Johnson wrote in the video's post:
"I had to make the call...it's what daddy's do."

@therock/instagram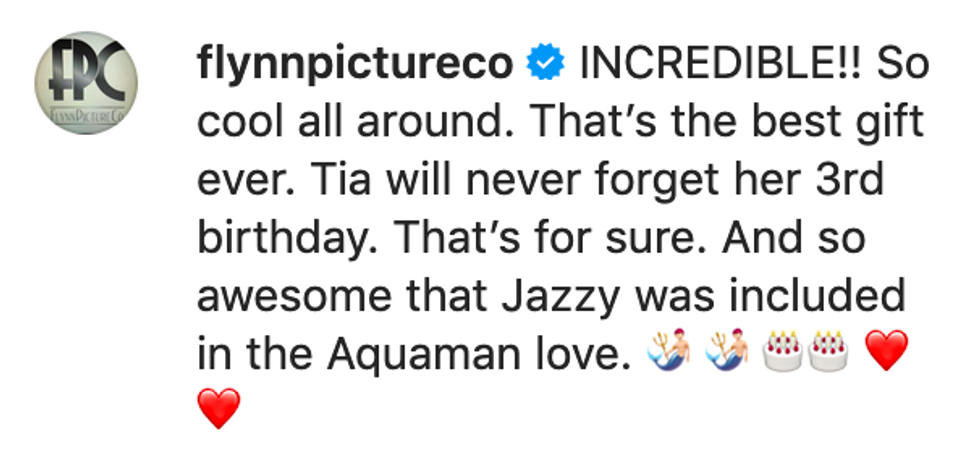 @therock/instagram

@therock/instagram
He also had some kind words to impart to his Hollywood bro.

"I can't thank my brother @prideofgypsies [Momoa's Instagram handle] enough for making this adoring 3yr old's birthday the best EVER. Her reaction is priceless and what it's all about."
"I love you back, uso and this kind of stuff will ALWAYS be the best part of our fame."
"You epitomize one of my favorite quotes, "It's nice to be important, but it's more important to be nice".
"Thanks for having my back - I'll always have yours."
Uso is the Samoan word for brother.
Momoa responded in the comments:
"What an honour. we do it for our babies. for the next generation. happy birthday baby tia see u hawaii."

@therock/Instagram
Now that's class!
Both stars share and embrace their Pacific Islander ancestry.
Johnson's mother is Feagaimaleata "Ata" Fitisemanu Maivia Johnson, part of a famous Samoan wrestling dynasty. Momoa's father is Joseph Momoa, an Indigenous Hawaiian painter.