WARNING: GRAPHIC CONTENT
A teenager has spoken candidly of her fight for life which saw her survive cancer twice, as well as a blood-clotting disorder that left her legs looking like they had been ravaged by a "flesh-eating parasite."
Now 19, Violetta Handouka's nightmare begun when she was just one and her legs swelled to almost twice their usual size.
Rushed to A&E by her mom, Artemis, 49, a media auditor, she went into cardiac arrest and had to be resuscitated before tests confirmed she had a severe Protein S deficiency, meaning her blood clots too easily.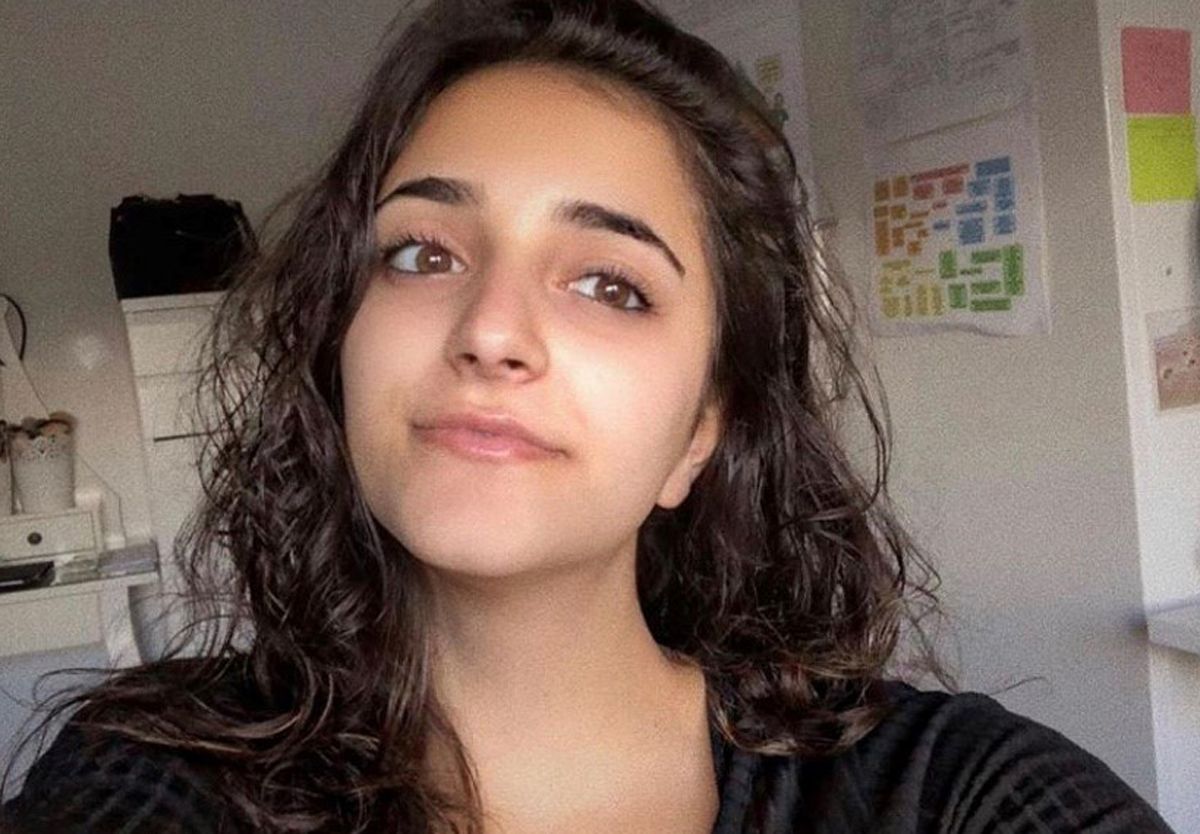 Violetta Handouka (Collect / PA Real Life)
After four months in the hospital, she recovered and lived a perfectly normal life – until being diagnosed with bone cancer aged 15, which returned in her left lung when she was just 18.
Now free of the disease for a second time following chemotherapy and surgery, Violetta, of Hanworth, west London, is looking forward to a bright future, having landed a place at Bournemouth University to study Media and Communications.
Speaking out during Childhood Cancer Awareness Month, the teenager, who lives with her mom, engineer dad Charlie, 58, and brothers, entrepreneur Mario, 24 and Elias, 22, also an engineer, said:
"I still have days where I think, 'Why has this happened to me?'"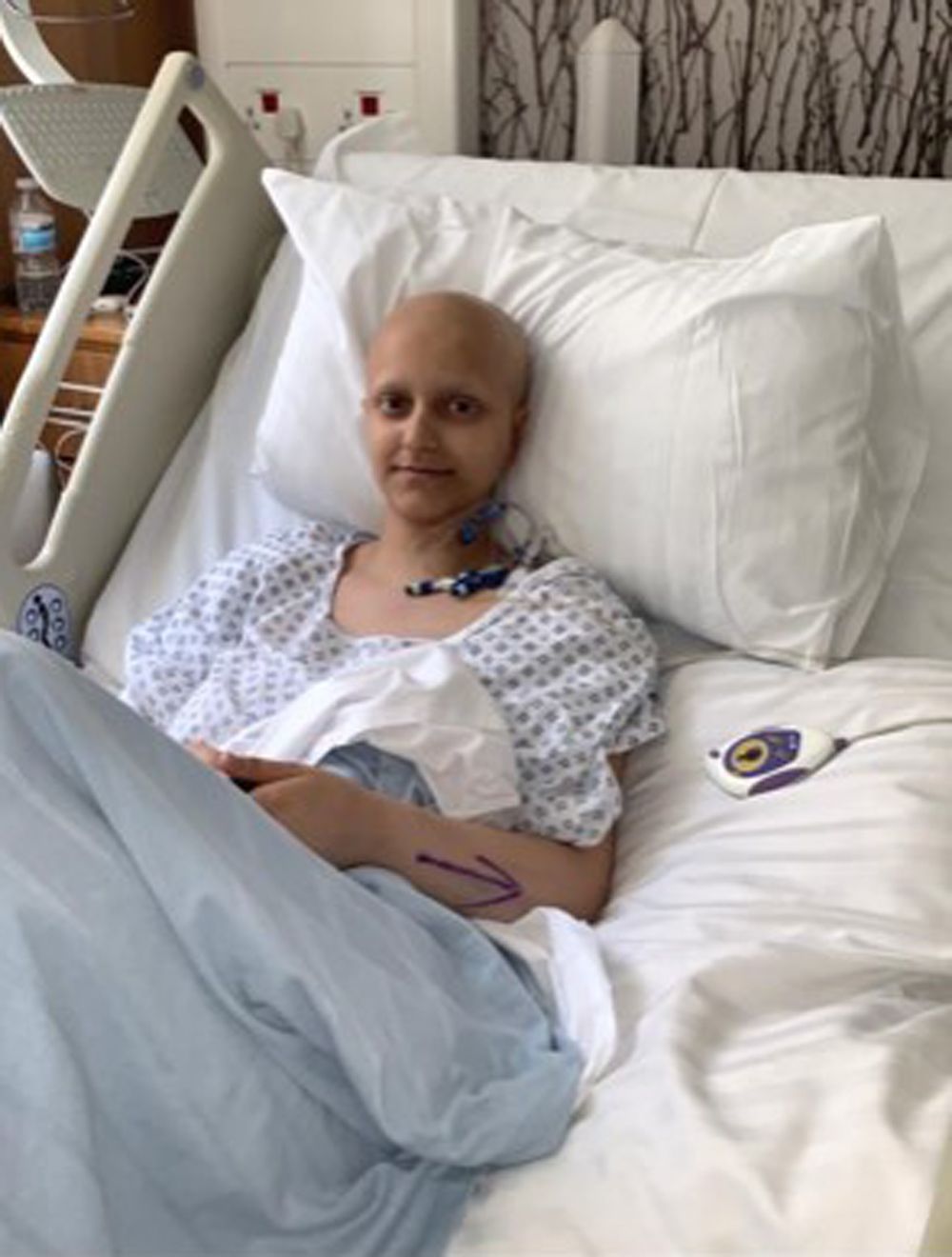 Violetta Handouka in the hospital (Collect / PA Real Life)
She continued:
"I have amazing friends and family, but none of them will ever be able to understand what it's like to live in constant fear of death – it's like it's there looming over me all the time."
"But all I can do now is make the most of life. I've beaten three life threatening illnesses and I'm not even 20 yet. If I can get through it, anyone can."
Born on April 20, 2001, weighing 6lbs 13oz, Violetta was a perfectly healthy baby.
But in January 2003, her legs suddenly swelled up and chunks of flesh began to fall away. Terrified, Artemis raced her to West Middlesex Hospital in Isleworth, west London.
She was kept in overnight while doctors battled to find out what was wrong – during which time she went into cardiac arrest and her heart stopped beating for several minutes.
After being resuscitated, she was transferred to the more specialist St. Mary's Hospital, Paddington, where a blood test revealed she had a severe Protein S deficiency.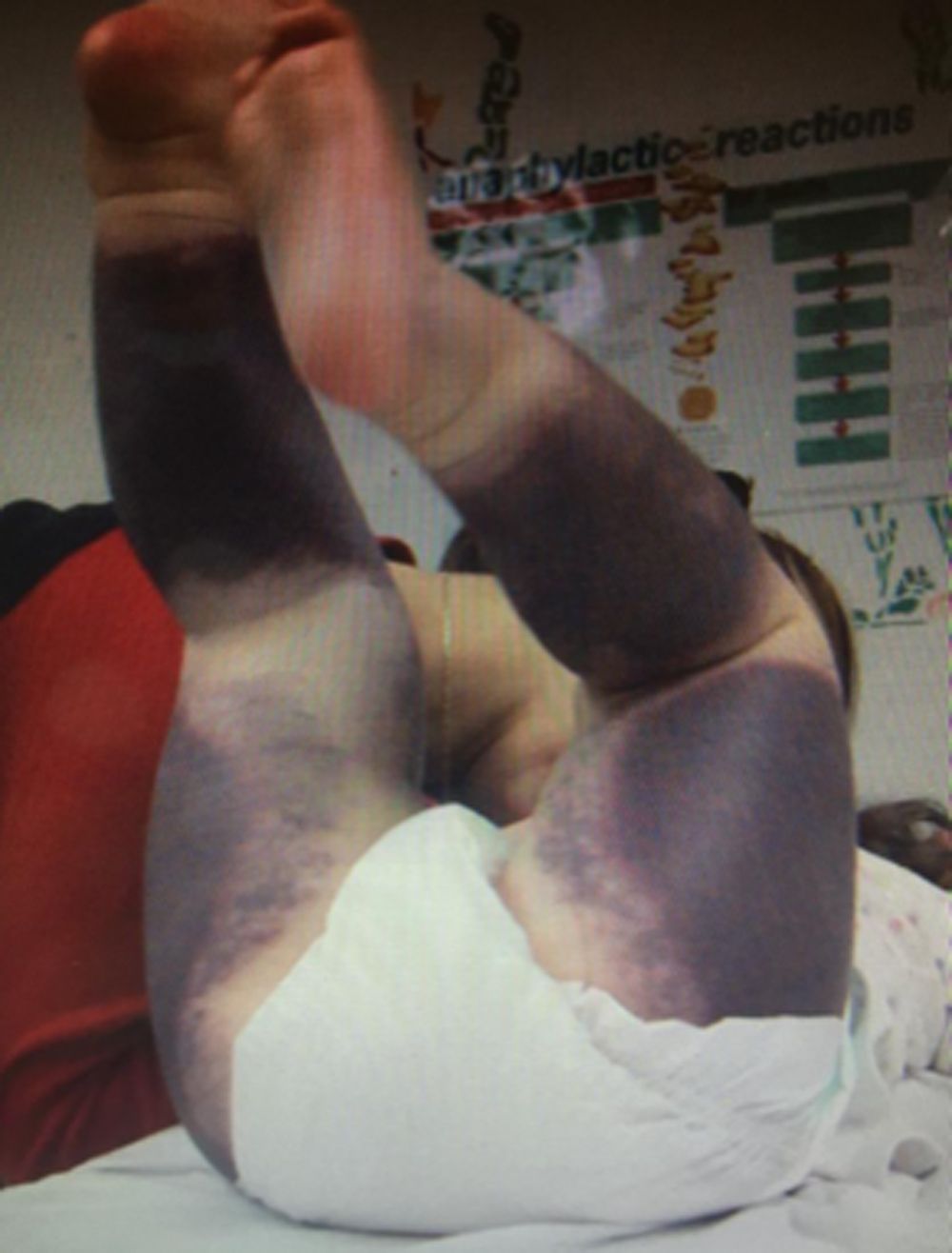 Violetta Handouka's leg after she suffered from a blood clotting condition (Collect / PA Real Life)
The blood clot that had formed as a result of the condition had, in turn, caused an embolism, blocking the main artery traveling to her heart.
Kept on life support for a month while she recovered, she also had to endure her leg turning purple where the clot had cut off the blood supply, causing the tissue to rot and die.
"When I look back on photos, it looks like a flesh-eating parasite had been chomping at the skin on my leg," she said.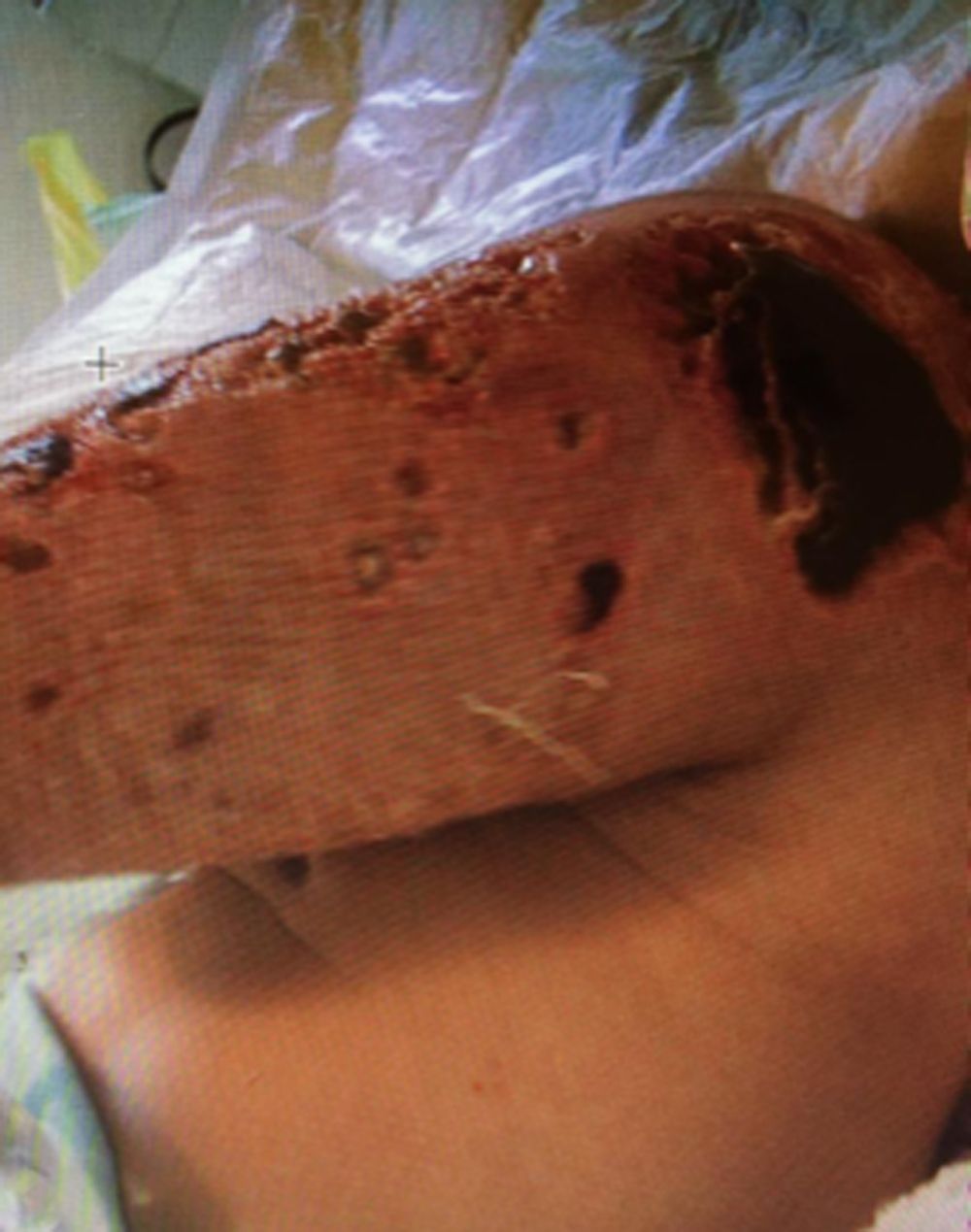 Violetta Handouka's leg after she suffered from a blood-clotting condition (Collect / PA Real Life)
After four months in the hospital, Violetta was finally allowed home.
From there, she had skin grafts on both legs, using flesh from the back of her calves and buttocks to repair the damage, as well as anti-coagulant injections every day for the next year to prevent further clots.
Thankfully, she made a full recovery and went on to enjoy a happy, healthy childhood.
What is Protein S deficiency?
Protein S deficiency is a form of thrombophilia.
If you have thrombophilia, it means your blood can form clots too easily, increasing your risk of deep vein thrombosis or an embolism.
Blood clots can be very serious and need to be treated quickly.
Thrombophilia does not have any symptoms. You only tend to find out you have it when you develop a blood clot.
But her life was turned upside down again in March 2016, when she spotted a lump below her left shin, which started to ache.
Visiting her GP, she was told it was likely growing pains and given anti-inflammation cream and ibuprofen – but still, the pain persisted.
She said:
"It was like teenage growing pains but a hundred times worse. I couldn't sleep at night."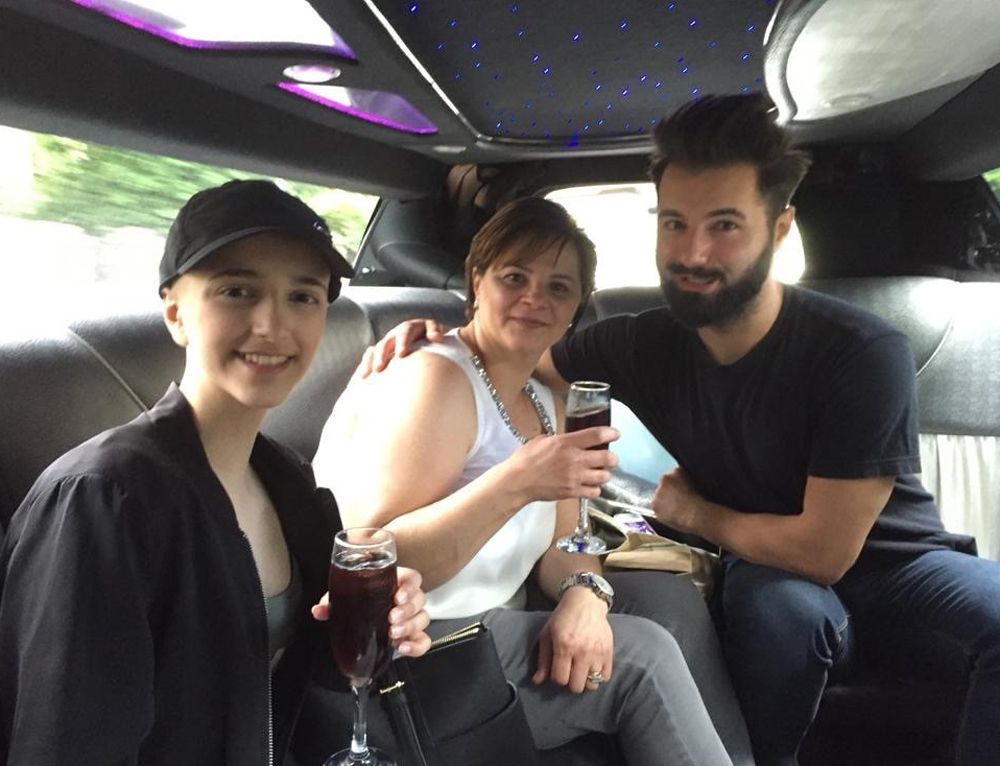 Violetta Handouka with her mom and cousin (Collect / PA Real Life)
So, in April, Violetta was referred to West Middlesex Hospital, where she had an ultrasound and MRI.
"I could tell from the doctor's reaction that something wasn't right," she said. "I don't know what came over me, I just blurted out, 'Is it cancer?'"
"I have no idea why I said that because cancer hadn't even crossed my mind before. But the doctor just stared straight at me and said, 'Possibly.'"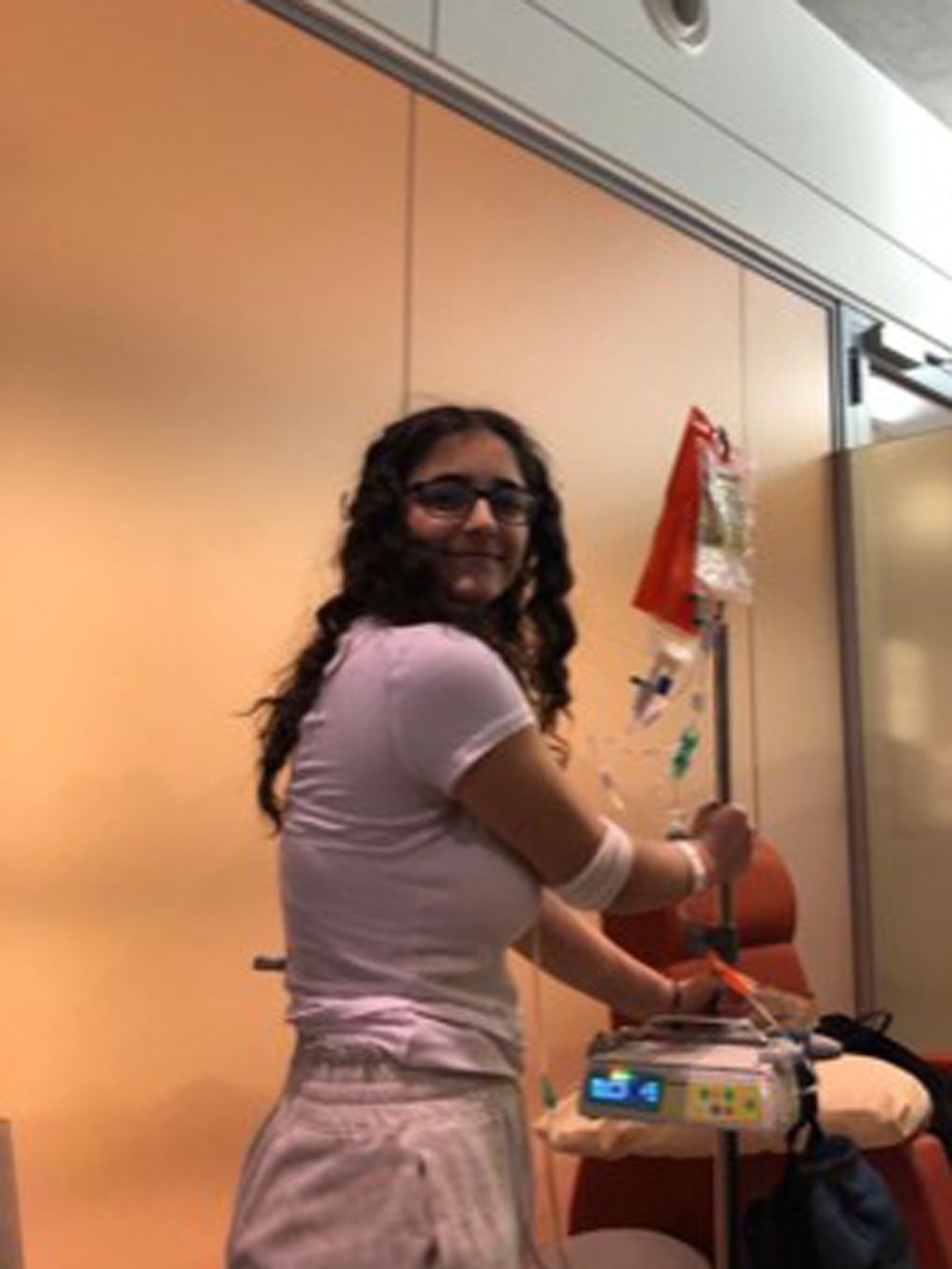 Violetta Handouka during her chemo treatment (Collect / PA Real Life)
Medics explained that the MRI had revealed a mass in her shin that resembled a cancerous tumor, but would need to do a biopsy to be sure.
Tragically, the results showed that, at just 15, Violetta had osteosarcoma – a type of bone cancer. According to the NHS, only around 30 children are diagnosed with the disease in the UK each year.
She said:
"My parents had been given my results before me, so it was up to my dad to break the news. He sat down, looking sad, and told me, 'Violetta, you have cancer, but you won't die. We'll get it treated.'"
She added:
"At first I was confused because I didn't understand why my hair hadn't fallen out yet or why I didn't look any different. I didn't know then that those things were part of the treatment and not the cancer."
"When it eventually sunk in, I just cried and cried."
Next, Violetta was referred to University College Hospital Macmillan Cancer Center in Bloomsbury, central London, where she had the first of 20 rounds of chemotherapy on May 17, 2016.
"It's a complete blur, but after my diagnosis I didn't cry once. It was like I'd become numb to my feelings," she added.
On July 16, Violetta had a four-hour operation to remove the cancerous part of her shin bone and replace it with titanium.
The surgery appeared to have been a success, but to ensure that there were no traces of the disease elsewhere in her body, she resumed chemotherapy three weeks later. Soon, treatment began to take its toll.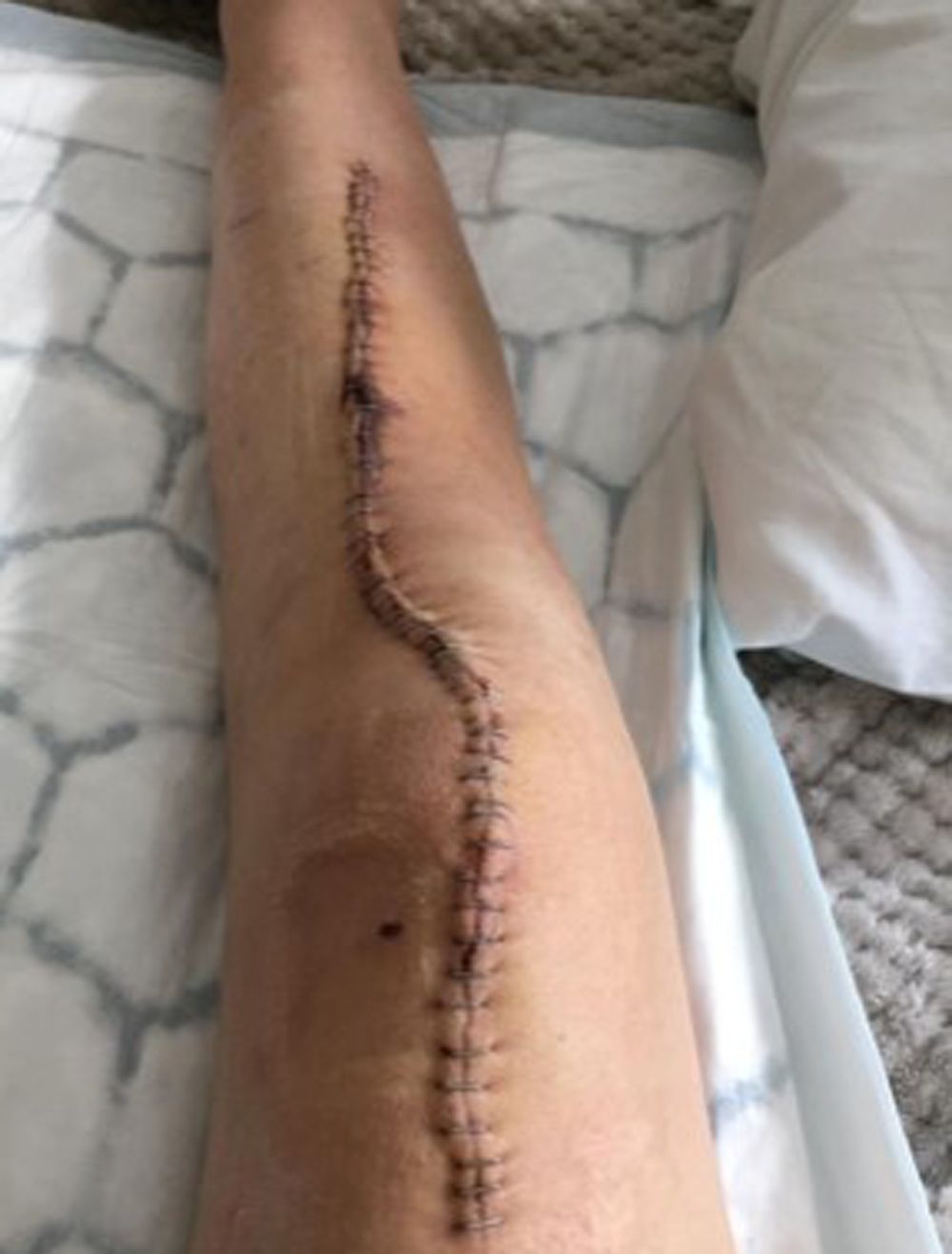 Violetta Handouka's leg after surgery to remove the tumor (Collect / PA Real Life)
Her weight plummeted from 118lbs to 70lbs, her hair fell out, her mouth became coated in painful ulcers and, too weak to walk, she often needed a wheelchair. But the hardest part for the fun-loving teenager was missing her friends.
"I felt like a sitting duck just waiting to see what would happen to me," she said. "I'd look at Snapchat and Instagram and see all my friends having fun without me."
Finishing chemotherapy in February 2017, Violetta then began taking a targeted drug mifamurtide, which boosts the immune system and helps to kill cancer cells.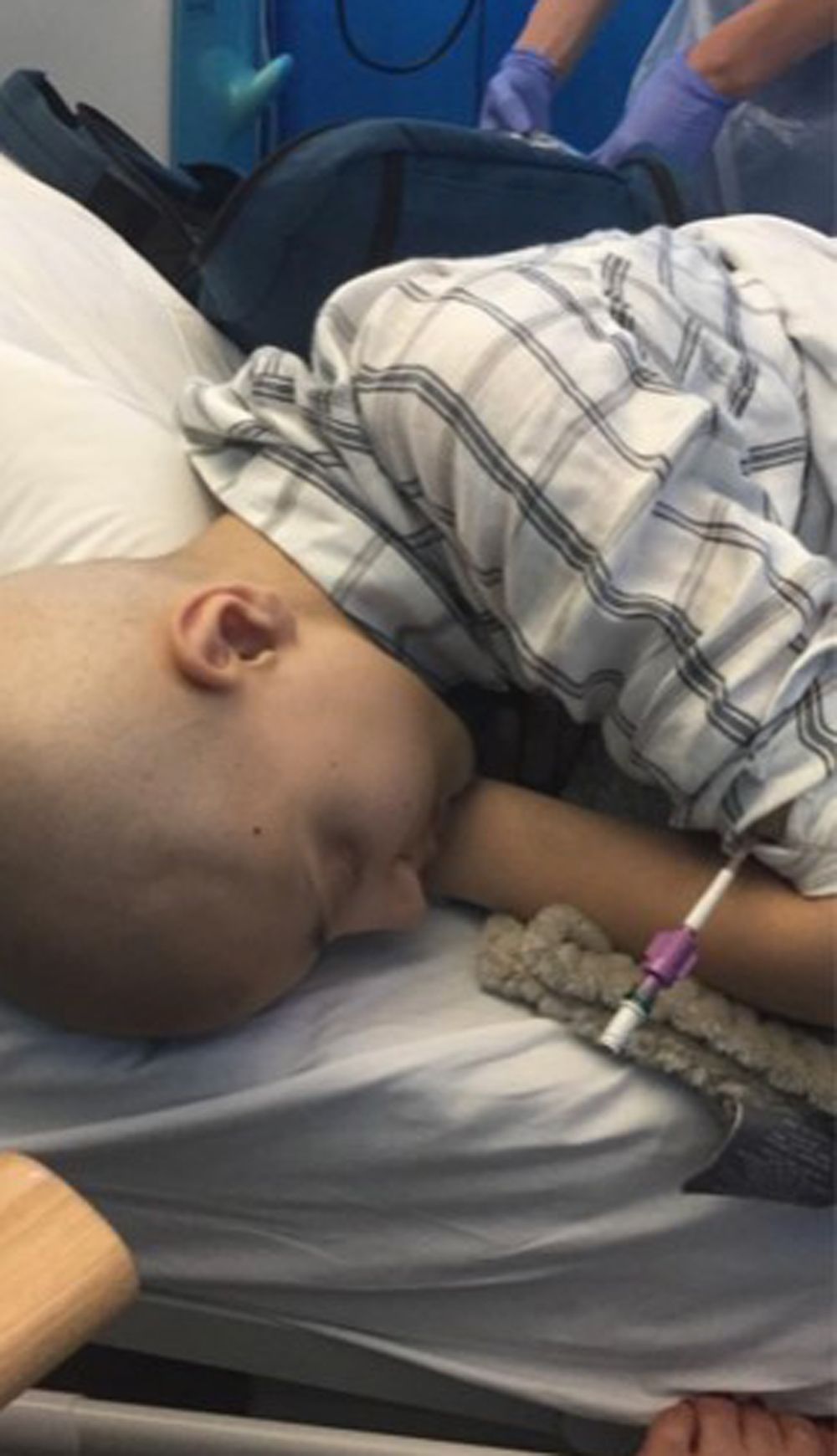 Violetta Handouka in the hospital (Collect / PA Real Life)
Over six months, she had 36 rounds, administered via an intravenous drip.
Thankfully, with no evidence of the disease anywhere in her body, she was declared cancer-free in time to go back to school in September. But she found returning to normality a struggle.
"My main worry was staying healthy and having fun. I couldn't concentrate on school or exams," she said.
Returning to the hospital for regular check-ups, they all came back clear and by September 2019, Violetta, finally felt back to her old self.
Going back to sixth form for her final year, she threw herself into studying for her A Levels in media, sociology, philosophy and ethics.
But just a month later, the teenager, who has never smoked or vaped, developed a nasty cough, which she initially presumed was just a winter bug.
"It sounded like a smoker's cough and just wouldn't go away," she said.

By November, she was so unwell that she ended up back in West Middlesex Hospital with sharp chest pains, coughing up blood. There, she was given a CT scan and X Ray which discovered another mass. This time, though, it was on her left lung.
Violetta said:
"My mum's legs just gave way and she collapsed into the chair. I was hysterical."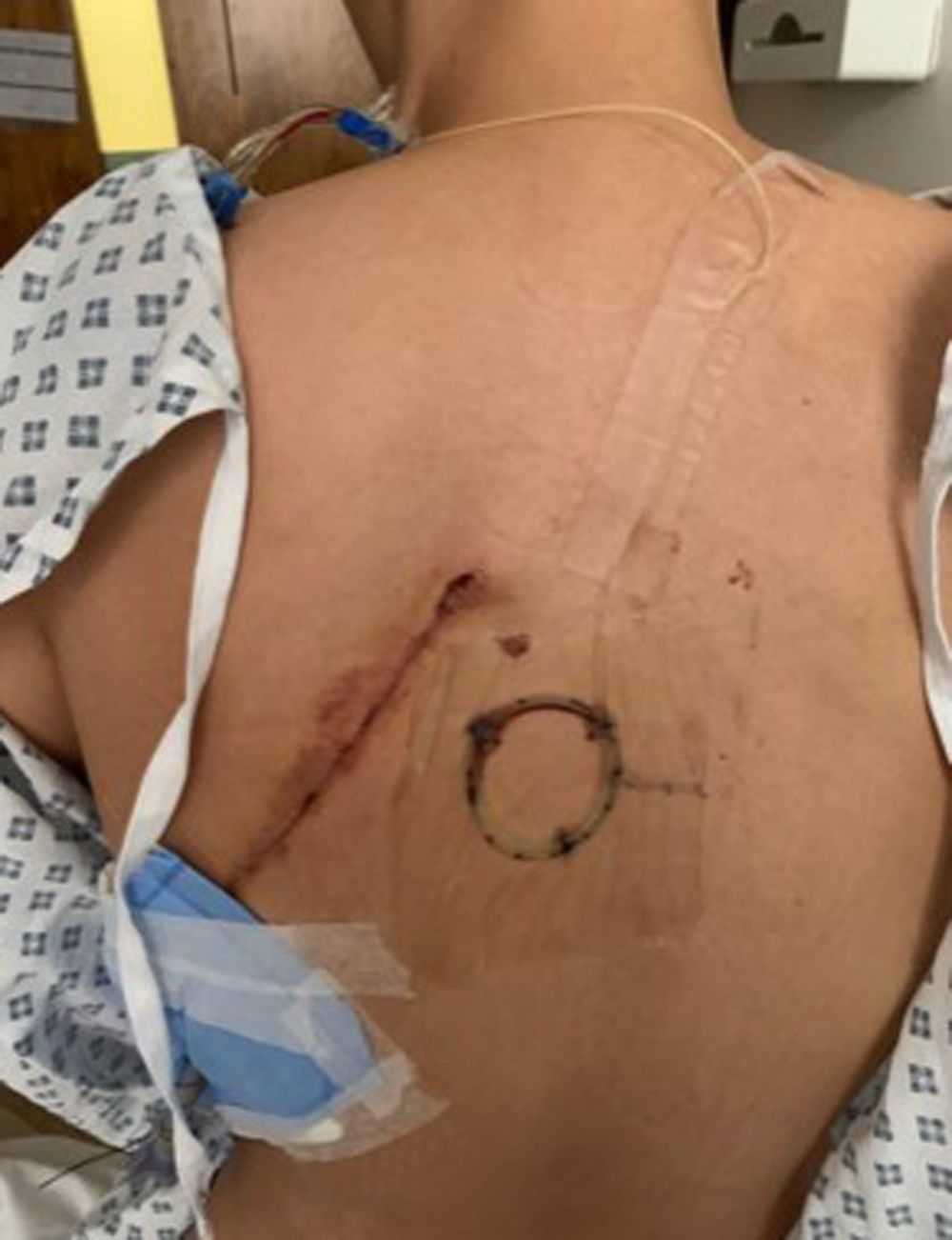 Violetta Handouka's back after surgery to remove the tumor in her lung (Collect / PA Real Life)
After further tests at University College Hospital, medics confirmed on December 23 that the mass was a cancerous tumor. Tragically, Violetta had suffered what is known as a distant recurrence – when a cancer comes back in a different part of the body, usually the liver or lungs.
She explained:
"Doctors told me that my original cancer had returned, but this time, it wasn't in my bones. It was in my lung, so essentially, I have had to deal with two different types of cancer."
"That Christmas was the worst of my life. I hated everything, I hated the Christmas tree, I hated the food, I hated all the happiness."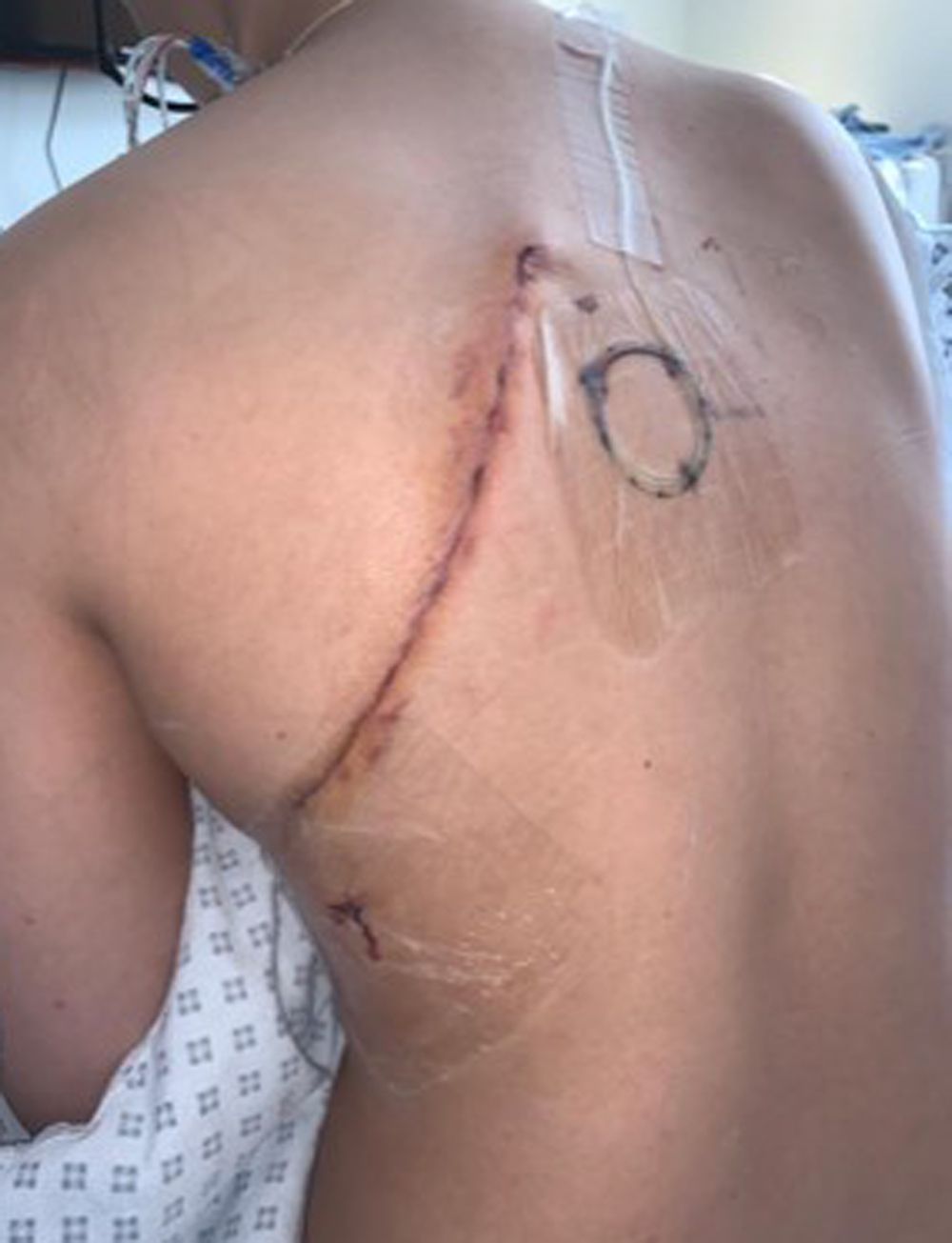 Violetta Handouka's back after surgery to remove the tumor in her lung (Collect / PA Real Life)
In January 2020, Violetta began chemotherapy, which she had every two weeks for six months.
Due to the pandemic, from February onwards, she had to isolate at home between going to the hospital to have treatment.
She said:
"I actually enjoyed the time I had at home. My family and I made the most of it. We had game nights and I taught myself how to sew and embroider."
Osteosarcoma symptoms
Bone pain, particularly occurring at night
A mass or swelling
Restricted movement in a joint
Then in May, she had the upper lobe of her left lung – where the tumor had been – removed in a five hour operation at the world-renowned Royal Marsden in Chelsea, west London.
Now, she is cancer-free once again and requires no further treatment, except for scans to monitor her progress.
"It was amazing to be told the cancer had gone, but I can never let myself be fully relieved just in case it comes back again," she said.
In August, she was delighted to discover that, despite all she had been facing, she still managed to secure a place at Bournemouth University and will begin her studies later this month.
Adding that she one day hopes to become a singer or music producer, she said:
"I try and live a normal life as possible, but I still have flashbacks. I was walking through the train station the other day and suddenly I could smell bleach and started panicking because it reminded me of the hospital."
"But university will be a fresh start and I'm really looking forward to it. Although in some ways, it's bittersweet because I'll be away from my mum. She's my best friend and does everything for me."
By speaking out, Violetta wants to lend support to Momentum Children's Charity, who help young people with cancer and other life-challenging conditions and have been there for her since her first diagnosis.
She concluded:
"Momentum Children's Charity have been there for me and my family every step of the way."
"They've supported us financially and emotionally and went above and beyond to put a smile on my face. Without them, I don't know how my family and I would've coped."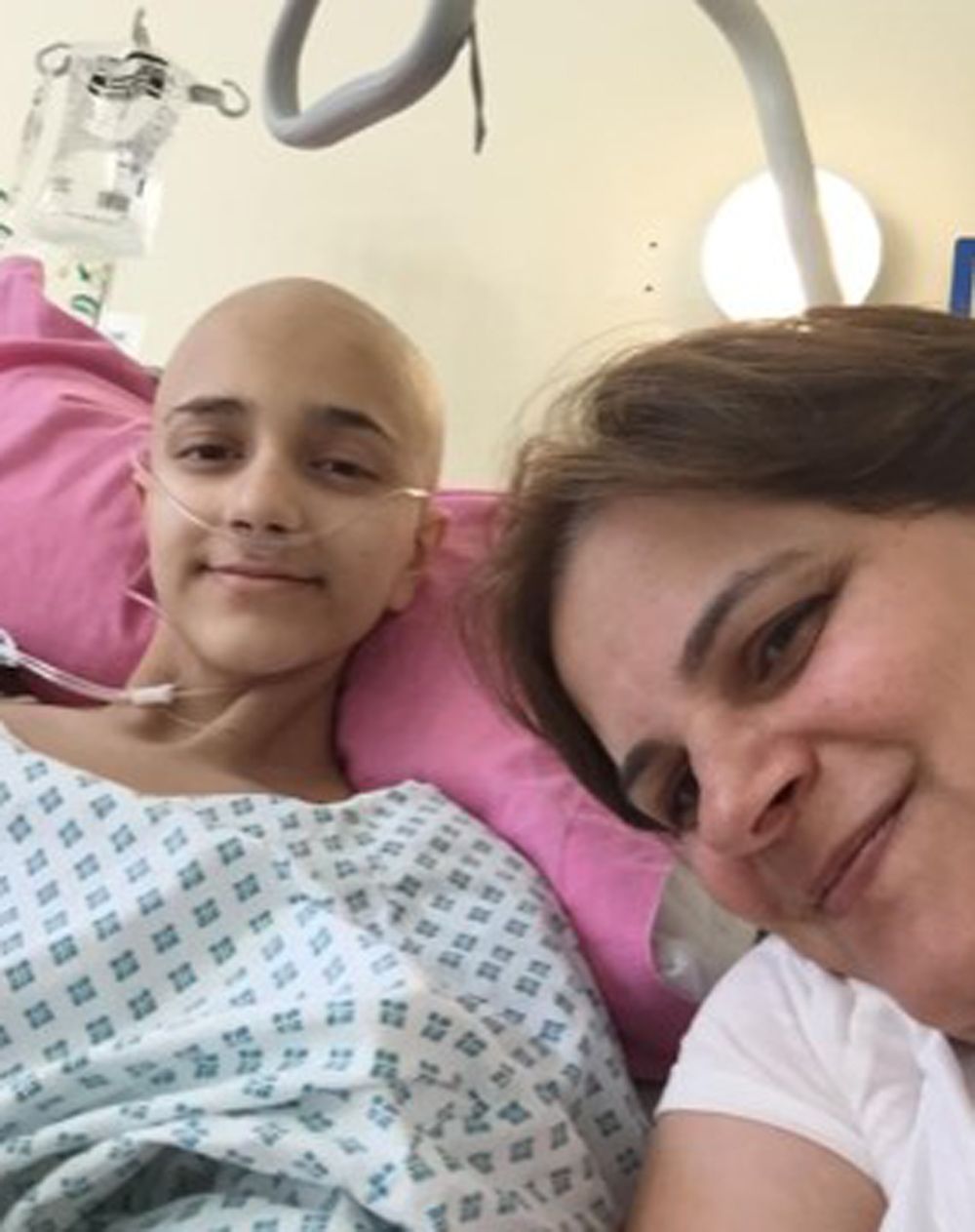 Violetta Handouka in the hospital with her mom (Collect / PA Real Life)
Momentum Children's Charity work throughout Surrey, south west London and West Sussex and partner with local NHS hospitals in the area.
Their support services include counseling, creative therapies, bereavement support, special experiences, respite breaks, and children's ward refurbishments.
To find out more visit www.moment-um.org/home