Tag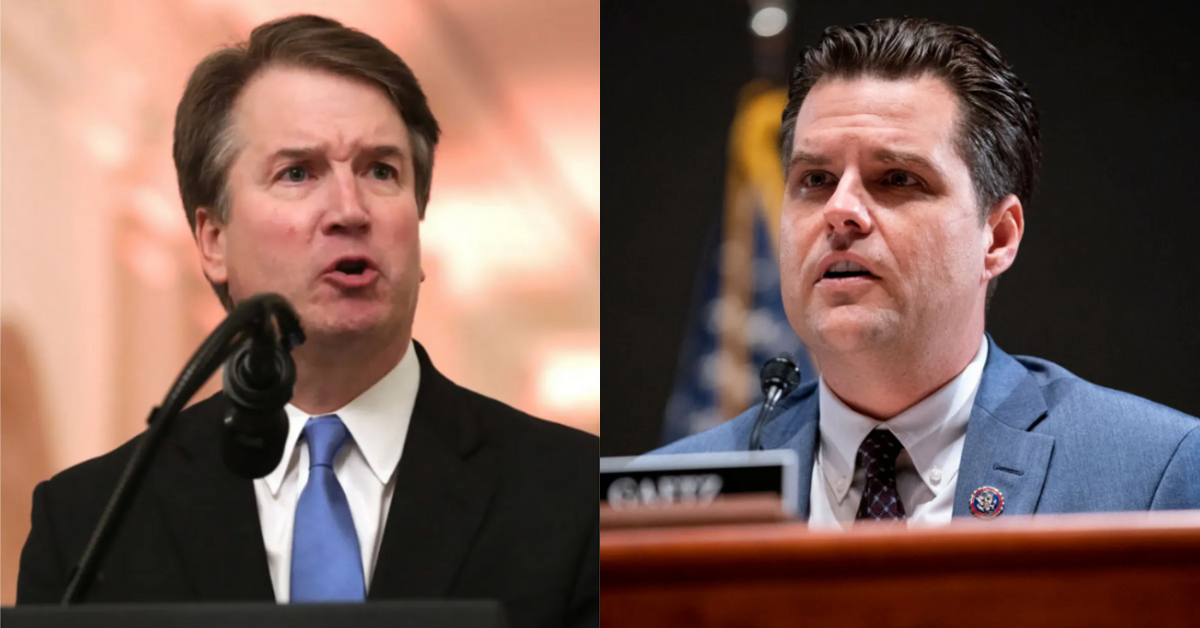 Chip Somodevilla/Getty Images; Greg Nash/Pool/Getty Images
Associate Supreme Court Brett Kavanaugh has sparked outrage after he attended a holiday party whose attendees included a number of far-right Republicans who have capitalized on the larger MAGA movement and backed former Republican President Donald Trump's lies about the integrity of the 2020 presidential election result.
The party was held on Friday, December 9, at the home of Matt Schlapp, who chairs the American Conservative Union (ACU), an organization that spearheads the annual Conservative Political Action Conference (CPAC), and has strong ties to the former Trump administration.
Other attendees included Florida Representative Matt Gaetz, who is currently in the middle of a federal sex-trafficking investigation; Trump's former senior adviser and immigration architect Stephen Miller; former Trump White House Secretary Sean Spicer; former Trump White House official Sebastian Gorka; and New York Representative-Elect George Santos.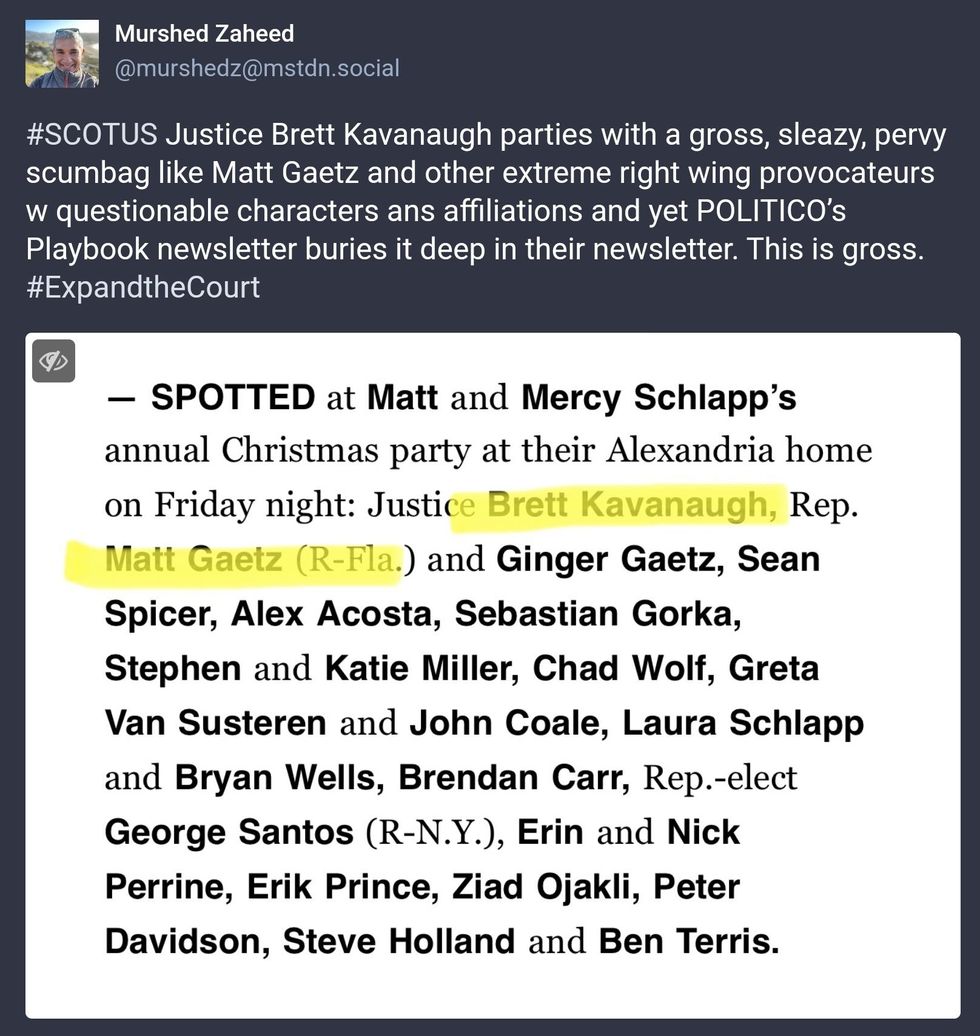 @murshedz/Mastodon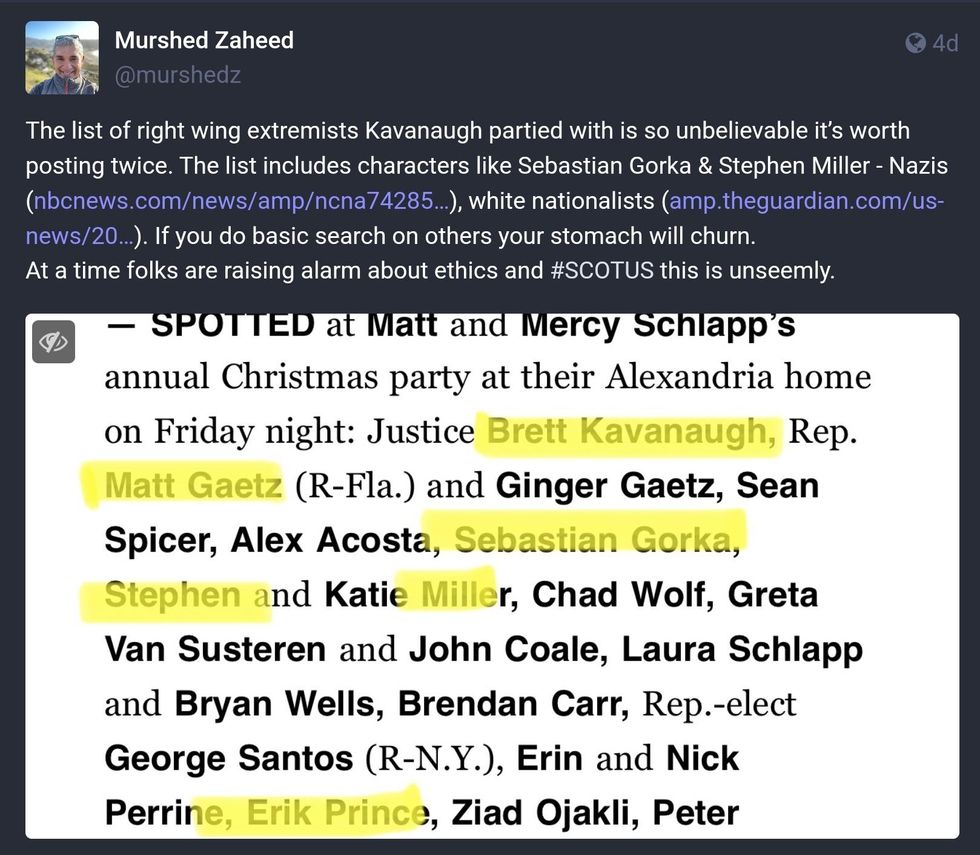 @murshedz/Mastodon
Kavanaugh's attendance at the party raises questions about perceived conflicts of interest and the impropriety of a sitting Supreme Court Justice spending time in the comany of right-wing extremists.

It also comes as the Supreme Court continues to face ethics concerns following a New York Times report about a potential breach of opinion in 2014, this one also related to contraception and religious rights in much the same way as a leaked draft opinion which earlier this year indicated the Supreme Court would overturn the constitutional right to an abortion and years of established precedent.
Notably, the aforementioned Miller—who founded the America First Legal Foundation—has interests in cases now pending before the Supreme Court, including Moore v. Harper, which would determine the extent to which state legislatures can independently set election rules, suggesting that Republican-controlled legislatures might ignore election results and submit a fraudulent set of electors beholden to the GOP majority.
Many have harshly condemned Kavanaugh's actions.

\u201cNot kidding here: Brett Kavanaugh, a sitting Supreme Court Justice, was partying with Matt Gaetz, Stephen Miller, Sebastian Gorka Erik Prince, & more right-wing extremists the other day. How can anyone look at these Republican Supreme Court justices & take them seriously anymore?\u201d

— Victor Shi (@Victor Shi) 1670812815
\u201cNot sure who needs to hear this but Brett Kavanaugh shouldn\u2019t be partying with far-right politicians and political operatives.\u201d

— Ritchie Torres (@Ritchie Torres) 1670956244
\u201cBrett Kavanaugh partied with family separation guru Stephen Miller who has cases pending before the Court\n\nGinni Thomas took $200,000 from Frank Gaffney who had a brief before Clarence\n\nShe also took $680,000 from the Koch-backed Heritage Foundation\n\nOur Supreme Court is dead\u201d

— Lindy Li (@Lindy Li) 1670976810
\u201cBrett Kavanaugh partying with Matt Gaetz, Sebastian Gorka, Erik Prince and other extreme Republicans is why we need to expand the court.\u201d

— BrooklynDad_Defiant!\u262e\ufe0f (@BrooklynDad_Defiant!\u262e\ufe0f) 1670775158
\u201cWhy is everyone surprise that Supreme Court Justice Brett Kavanaugh was partying with Matt Gaetz, Seb Gorka and Stephen Miller? Birds of a feather flock together.\u201d

— Dee post.news/deeleftmom (@Dee post.news/deeleftmom) 1670781455
\u201cGuys, I'm sure Brett Kavanaugh doing eggnog shooters at Matty Schlapp's house with Erik Prince & Matt Gaetz while Stephen Miller feasted on live mice or whatever that vampire eats is nothing to worry about. Totally impartial SCOTUS.\u201d

— NoelCaslerComedy\ud83c\udf19 (@NoelCaslerComedy\ud83c\udf19) 1670891754
\u201cAfter a reporter misidentified Chuck Schumer\u2019s wife as Justice Sotomayor having dinner with Democrats, Republicans demanded that Sotomayor resign. \n\nBrett Kavanaugh is out here partying with Matt Gaetz, Matt Schlapp and Stephen Miller and Republicans say nothing.\u201d

— Covie (@Covie) 1670950094
\u201cBrett Kavanaugh attended a private holiday party attended by Stephen Miller, whose group America First Legal Foundation has interests in cases pending before the Supreme Court. \n\nWe\u2019ve been advocating for a SCOTUS Code of Ethics for months now\u2014this is one example of why.\u201d

— Citizens for Ethics (@Citizens for Ethics) 1670990407
\u201cBRETT KAVANAUGH, who managed to slither his way onto the bench, went to the home of mega-fascist Matt Schlapp last Friday night and had cocktails with Supremacists Matt Gaetz and Stephen Miller. He's the last word? \nWe don't pay taxes to be spit on.\nEnough of this farce.\u201d

— Brown Eyed Susan (@Brown Eyed Susan) 1670956765
\u201cRaise your hand if you think Brett Kavanaugh partyin\u2019 with Matt Gaetz and other extremist Republicans should disqualify him\nfrom being\u2019 an impartial Justice! \ud83e\udd1a\u201d

— Tea Pain (@Tea Pain) 1670778796
Kavanaugh's behavior has contributed to significant controversy in Washington even before he was officially confirmed to the Supreme Court bench.
Kavanaugh's appearance at the party, particularly in the company of Gaetz, who federal authorities investigated, but have ultimately decided not to prosecute on child sex trafficking charges, also raises concerns about the company he keeps.
Republicans have long alleged Kavanaugh had his confirmation hearing nearly derailed by numerous sexual assault allegations they deemed not worth investigating.
Kavanaugh has denied ever sexually assaulting Dr. Christine Blasey Ford, the Palo Alto University professor who identified herself as the author of a then-anonymous letter alleging that he had assaulted her while at a high school party. Multiple women came forward with their own accounts after Dr. Ford's allegations emerged.
The Federal Bureau of Investigation (FBI) received considerable pushback in the weeks after the allegations became public in light of the limits placed upon the investigation and the knowledge that the bureau declined to interview the witnesses suggested by the attorneys for Kavanaugh's accusers. Its investigators did not interview Dr. Ford, deeming her Senate testimony sufficient.