A talented performing arts student at London's famous Italia Conti Academy fears her dream of dancing on the West End stage will be shattered unless she raises £18,000 ($22,115) for life changing surgery, after her right leg grew by 30 percent.
---
Super-fit Rachael Boggiano, 19, was rehearsing for a school jazz dance production in March 2017 when she noticed that her right leg was far bigger than her left, leading her doctor to suspect deep vein thrombosis (DVT) – a blood clot found deep in the veins.
When x-rays ruled this out, medics spent several months investigating possible causes, finally diagnosing Rachael, of Chester, Cheshire, with lymphedema in August 2018 – a chronic condition resulting in the body's tissues swelling and fluid retention, caused by a faulty lymphatic system.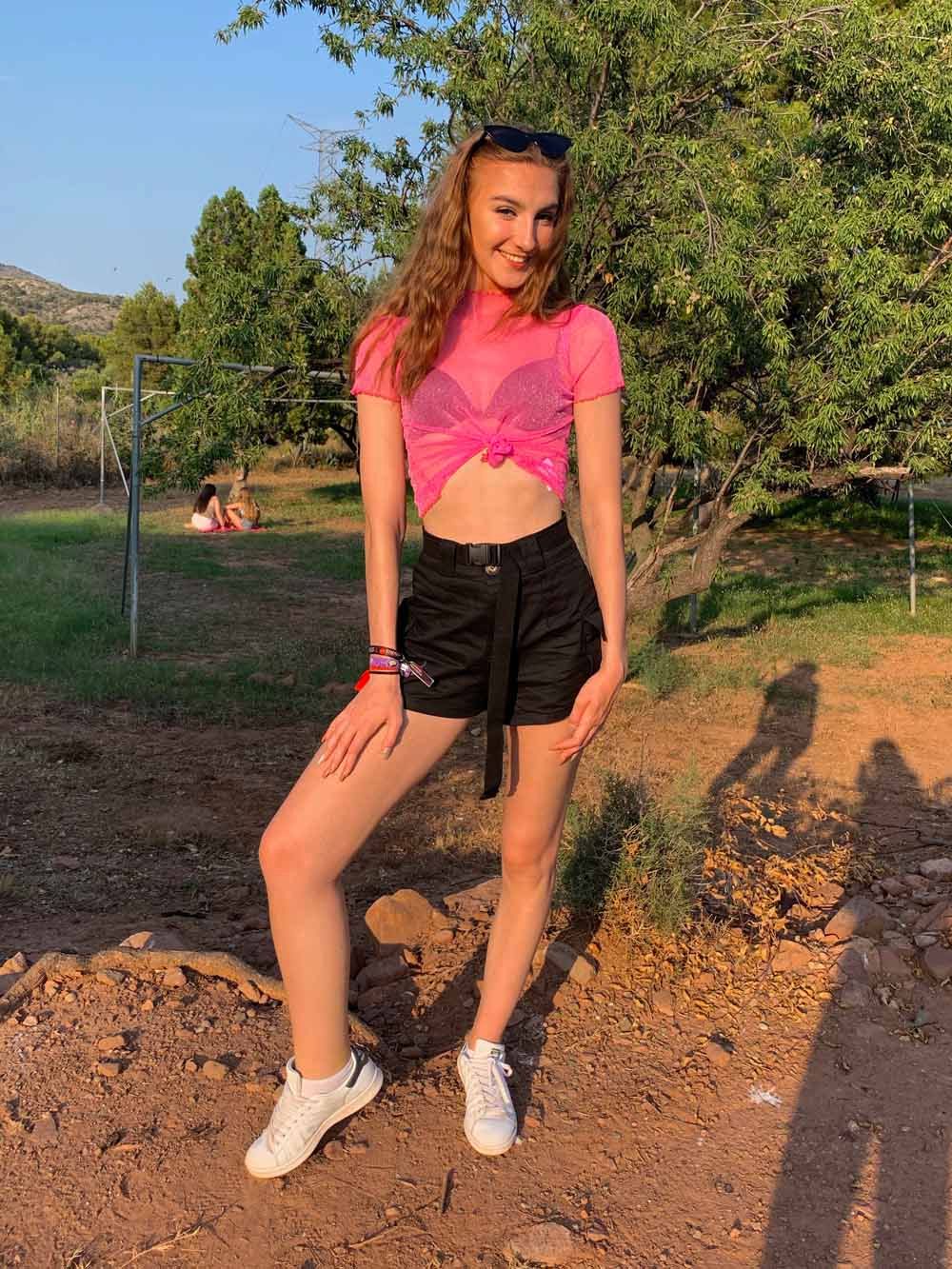 Rachael with swollen leg (PA Real Life/Collect)
Rachael, who has crowdfunded £2,000 ($2,457) towards private surgery, which she has optimistically scheduled for September 3, said: "I first noticed the unusual appearance of my right leg when I was in front of the mirror, practicing for a school jazz dance production.
"I asked the teacher if I could sit out, as I didn't want to cause any further damage. As a performer, your legs are an essential part of your work, you don't take any risks.
"It looked particularly swollen compared to my left leg and from then on it just grew and grew. I found the girth of my leg was getting gradually bigger and bigger – I was genuinely worried that it might not ever stop."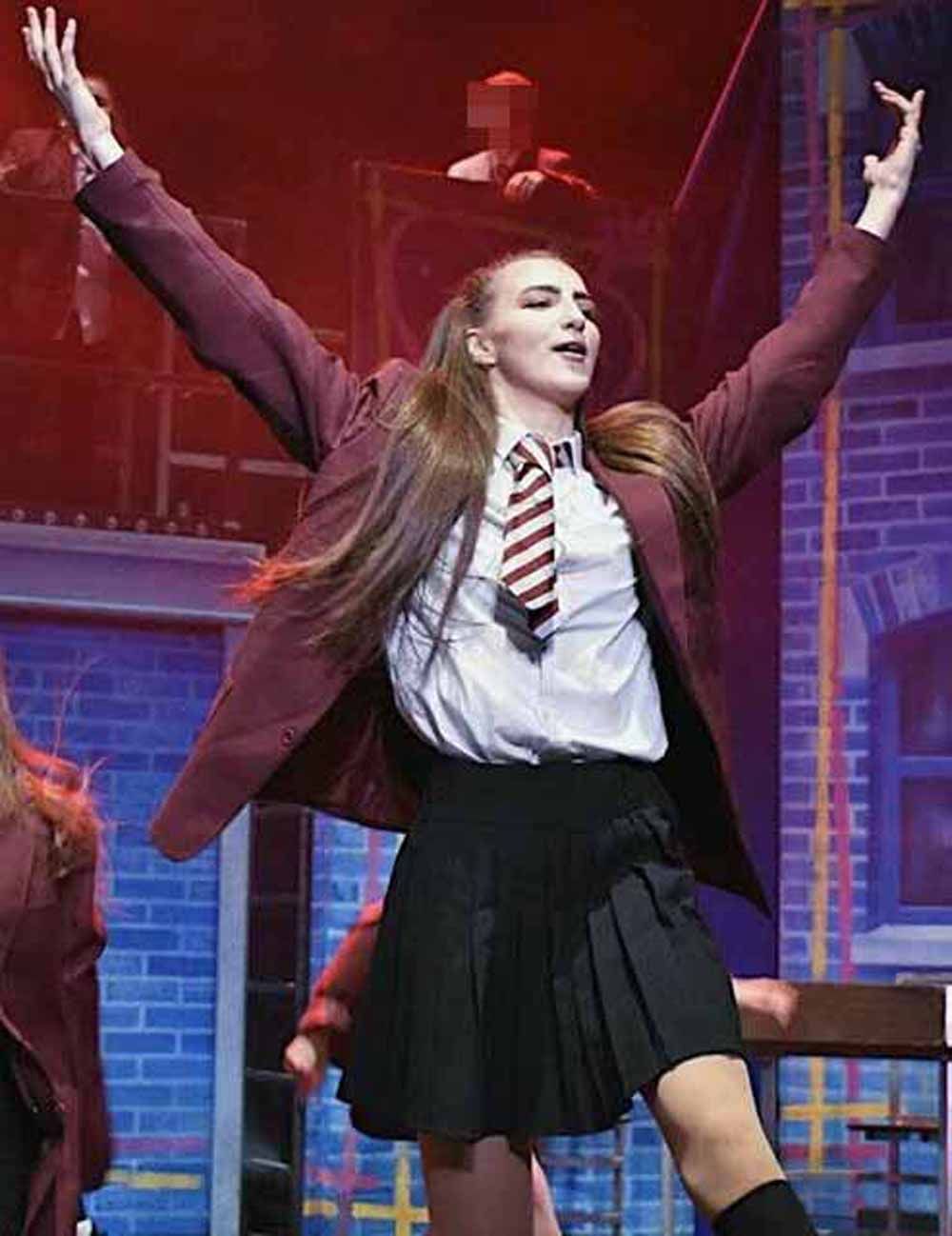 Rachael performing (Emily Lockhart @hearttohartt/PA Real Life)
She continued: "My main concern, as a dancer, is that it will eventually affect my career, but I feel hopeful for the future if I have this surgery and it's a success."
A gymnast since she was five, Rachael's love for dancing began when she was 15 after her parents, Sarah, 54, a seamstress, and Ray, 57, a food technologist, enrolled her in her first class.
She said: "When I was 15 I started taking dance at GCSE and from there my love of musical theatre began."
She continued: "I've already played lead roles in amateur productions, including Rent and Guys and Dolls, and my ambition is to play the lead in a West End musical, but it will all depend on what happens to my leg."
When DVT was first ruled out as the cause of the swelling, Rachael – whose right leg was roughly three centimeters larger in circumference than her left – went on to have further tests, including an ultrasound to check for other causes of a blood clot, before finally being diagnosed with lymphedema in August 2018.
Before that diagnosis, she was prescribed compression stockings, which she wore for 12 hours a day, in order to encourage the fluid in her legs to drain.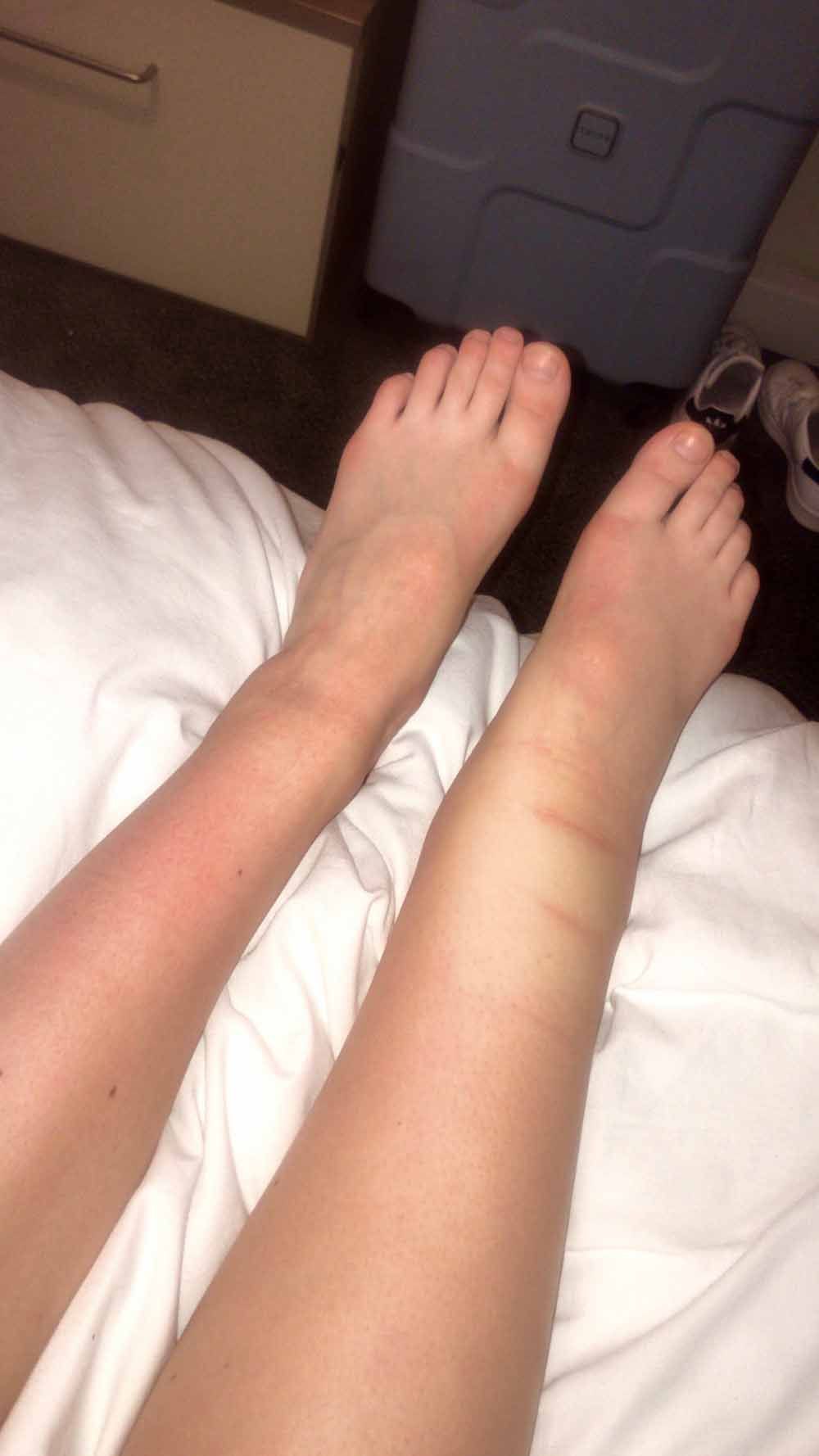 Leg comparison (PA Real Life/Collect)
"At first I was panicked, not just about my career, but what was happening to me," she said.
"But after doctors eliminated a blood clot of any sort, I actively tried to focus on the positives and not get too upset when my leg flared up.
"Some days I'd wake up and it would be completely fine and I'd think it had suddenly got better."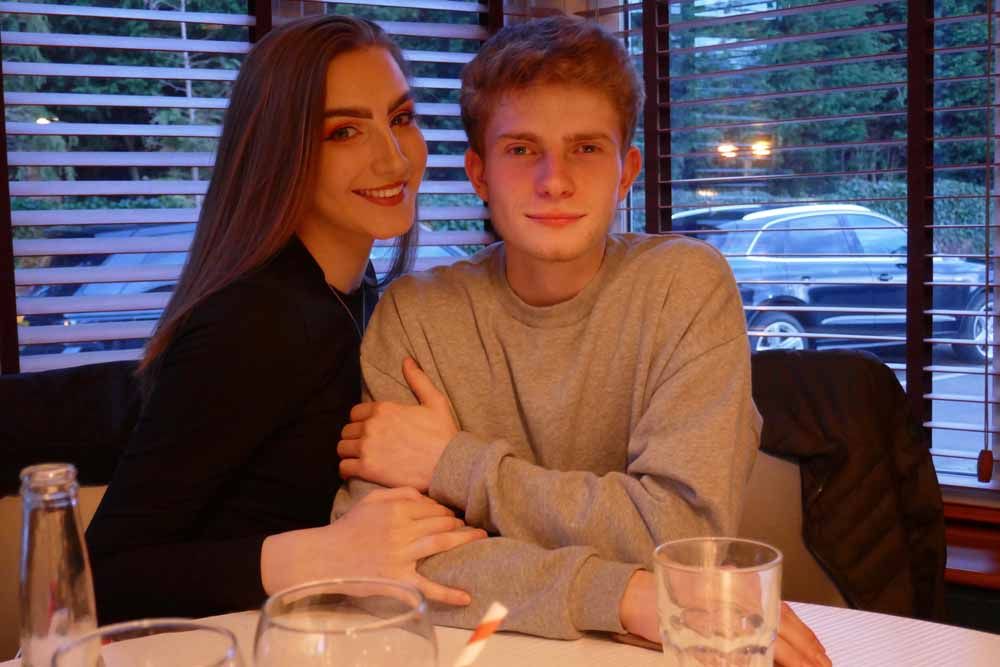 Rachael and Josh (PA Real Life/Collect)
She continued: "But the swelling always returned and there was no doubt that over the months it was getting bigger and bigger – just very slowly."
Despite the uncertainty, Rachael continued to dance and, with the encouragement of her parents, her sister Hannah, 24, a costume designer and brother Adam, 22, a lifeguard, she won a place at the coveted Italia Conti Academy of Theatre Arts in London to study performing arts.
Then, just after she finished at the Liverpool Institute for Performing Arts (LIPA), in August 2018, a month before starting her studies in London, Rachael's right leg swelled until it was 27 percent bigger than her left.
Alarmed, she saw her GP, who referred her to the Wirral's Clatterbridge Hospital, where she was seen by specialist lymphedema consultants who, following an MRI scan, confirmed she had primary lymphedema, when faulty genes stop the lymphatic system from draining fluid properly.
Told there was no cure for the condition, Rachael was relieved at least that self-management would help.
She continued to wear her compression stockings every day, for 12 hours a day, and would regularly sleep with her leg raised to help encourage drainage.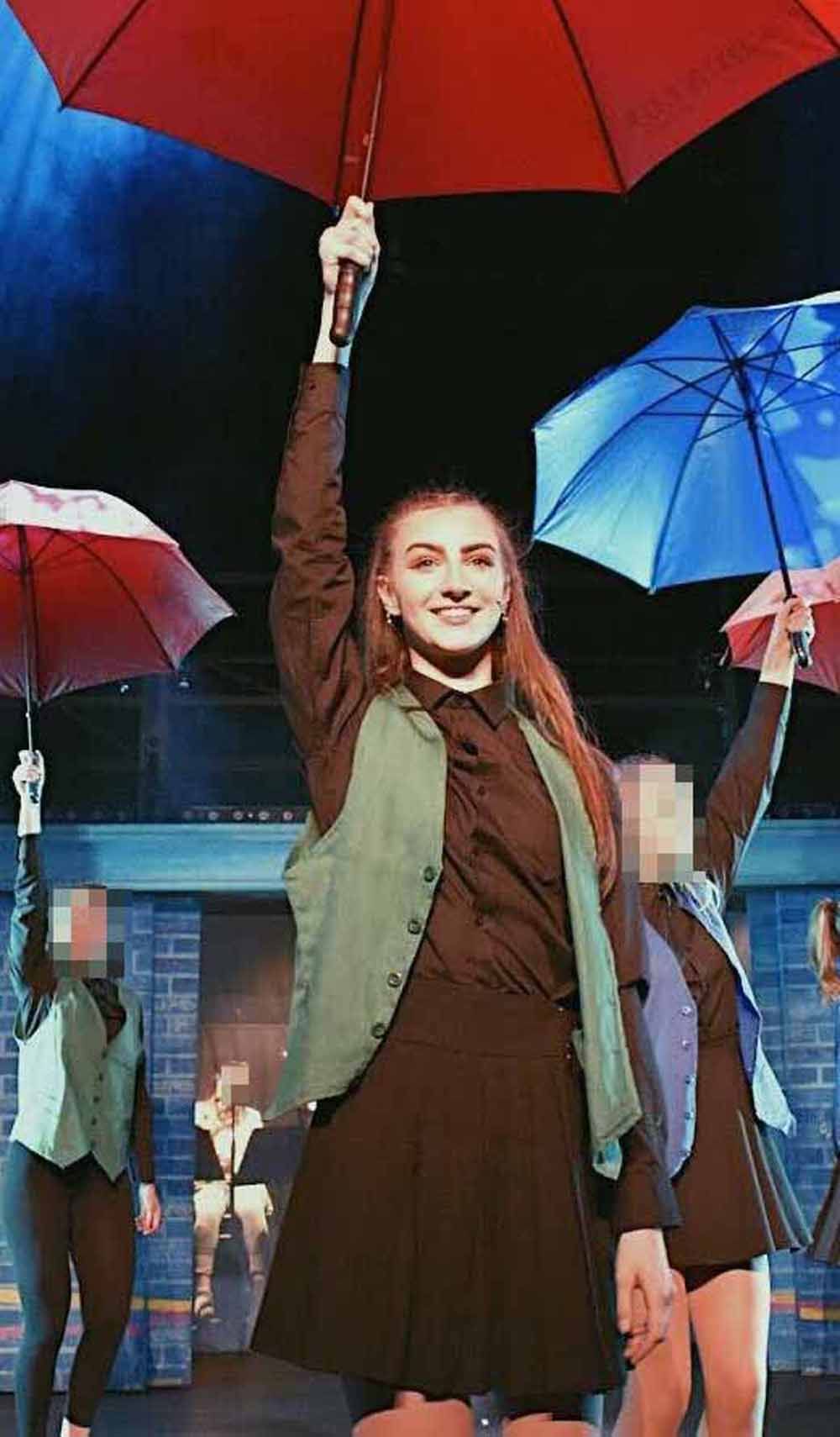 Rachael performing (Emily Lockhart @hearttohartt/PA Real Life)
Fortunately, her hard work and determination saw her doing well at college and even starting a relationship with a former classmate from LIPA, Josh Hearnden, 20, a retail assistant, who has been "nothing but supportive" about her diagnosis.
Embraced by her new Italia Conti classmates, Rachael, who struggles with the tightness of the skin in her right leg, which hinders her ability to perform particular movements, threw herself into her studies, dancing for up to eight hours a day – all while wearing her compression stockings.
"At first, I was apprehensive about wearing the stockings, but no one had really known me without them, so it was fine," she said.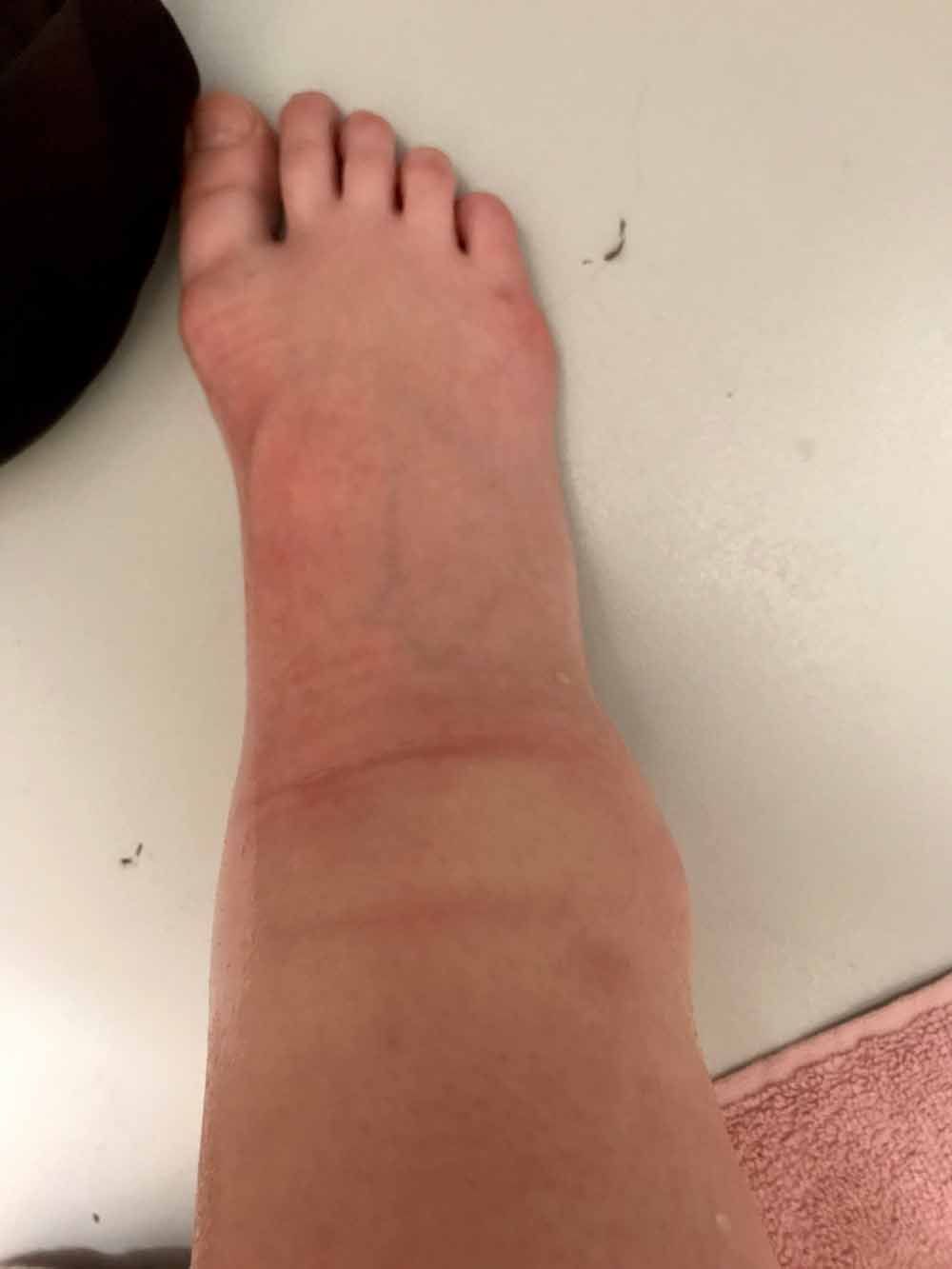 Rachael's swollen right leg (PA Real Life/Collect)
While the stocking initially kept the swelling at bay, by April this year Rachael's right leg had swollen to an all time high of 30 percent larger.
"My right leg was seven centimeters bigger in circumference than my left leg and was far more noticeable and uncomfortable than it had ever been before," added Rachael, who lives in Tottenham Hale, north London, during term time.
This time her consultant referred her back to Clatterbridge Hospital for intermittent pneumatic compression, a procedure which involves placing a large blow up boot over the leg in a bid to increase drainage of fluid using air pressure.
Describing the four 30-minute sessions that were spread over two weeks, she said: "It was a bit like having your blood pressure taken – but on your entire leg."
"It didn't hurt at all and the results were obvious right away."
Sadly, the effects did not last and, after a month, the swelling began again.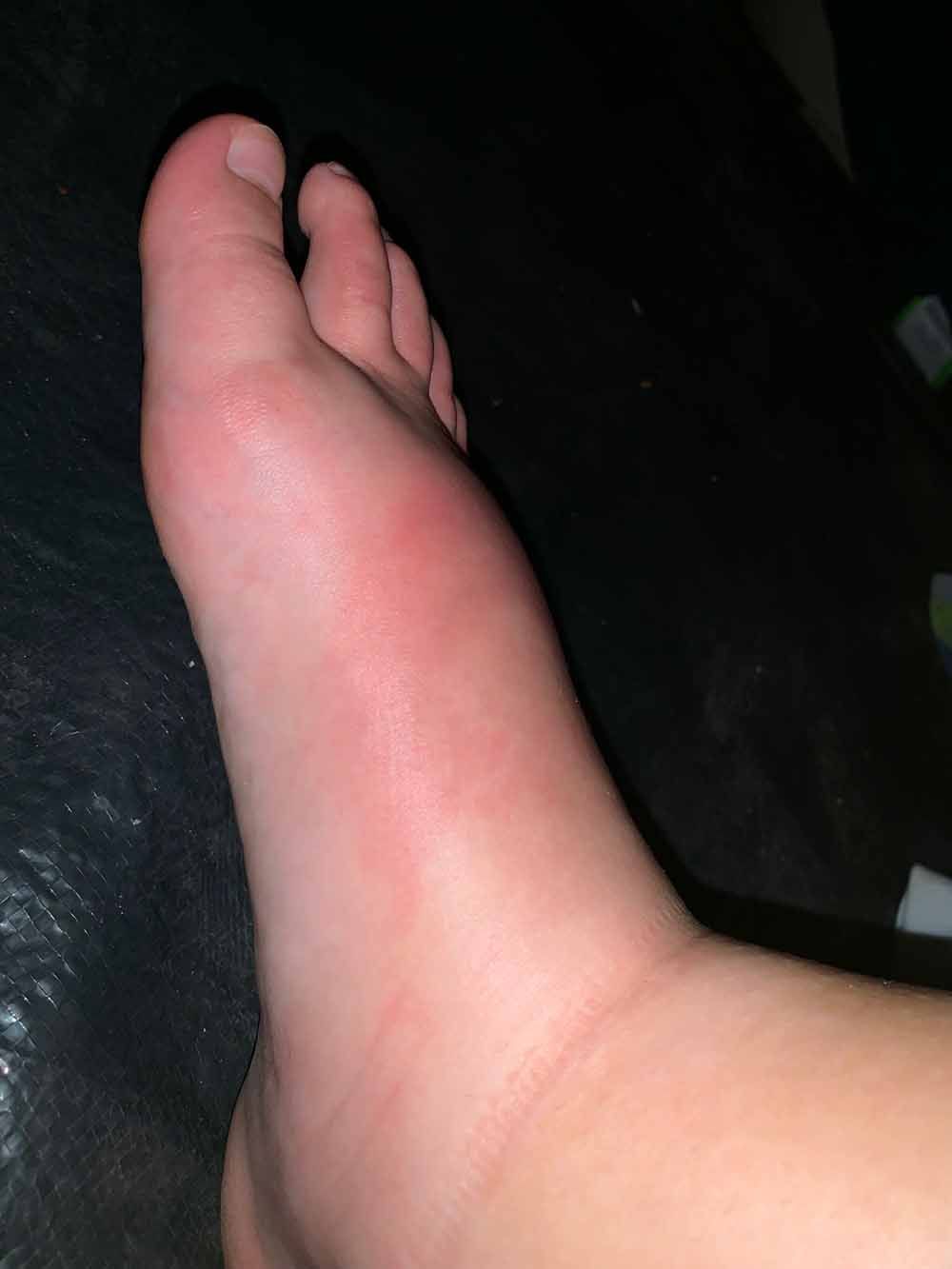 Rachael's swollen foot (PA Real Life/Collect)
"I finally thought that the end was in sight but just a couple of weeks later I realized that the swelling was returning," she recalled.
"I tried my best to focus on the positives but there's only so many knock backs you can have before it all starts to take its toll on you."
Increasingly aware that her dream of performing professionally are tied to finding a long-term solution to her condition, Rachael has started a GoFundMe page, through which she hopes to raise £18,000 needed for for lymphaticovenular anastomosis.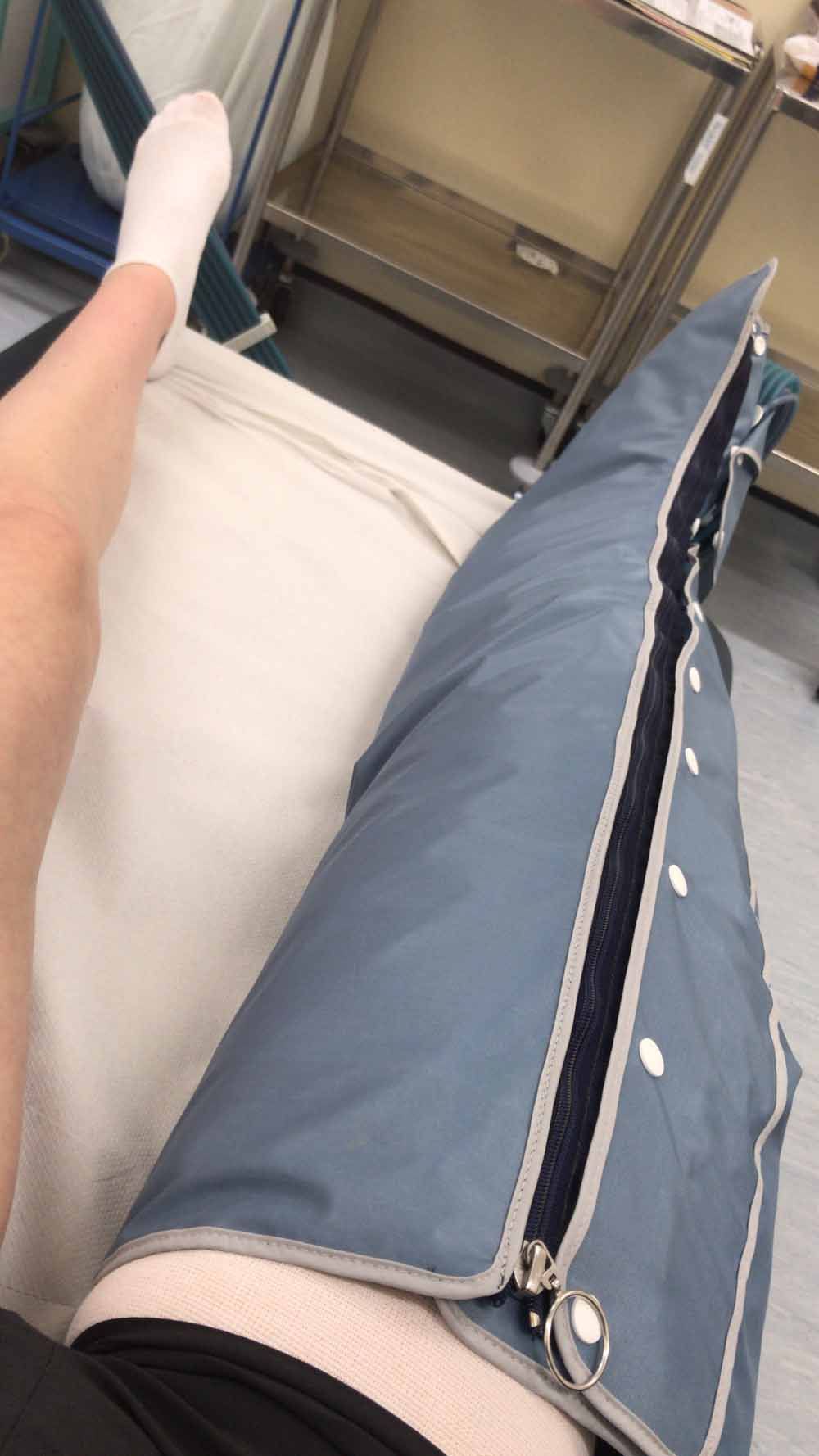 Rachael having pneumatic compression therapy (PA Real Life/Collect)
Not funded by the NHS, it is a procedure available privately, to create a new pathway for the lymph fluid to drain through the veins.
She has booked to have the operation on September 3 at the Oxford Lymphedema Practice but, having only raised £2,000 so far, if she has not reached her target, she is unsure how she will manage to afford it.
"I did some research online and discovered a wealth of different treatments that aren't available on the NHS," she said.
"I had an initial appointment with the consultant and they seemed pretty confident the operation should be successful. Obviously, I'm nervous but I'm excited more than anything else!
"I feel hopeful for the future, there's been highs and lows but I've not given up on my dream yet and moving to London to study has paid off so far.
"I just want to be given to same chance to succeed as everybody else in this industry and hopefully this operation will do just that."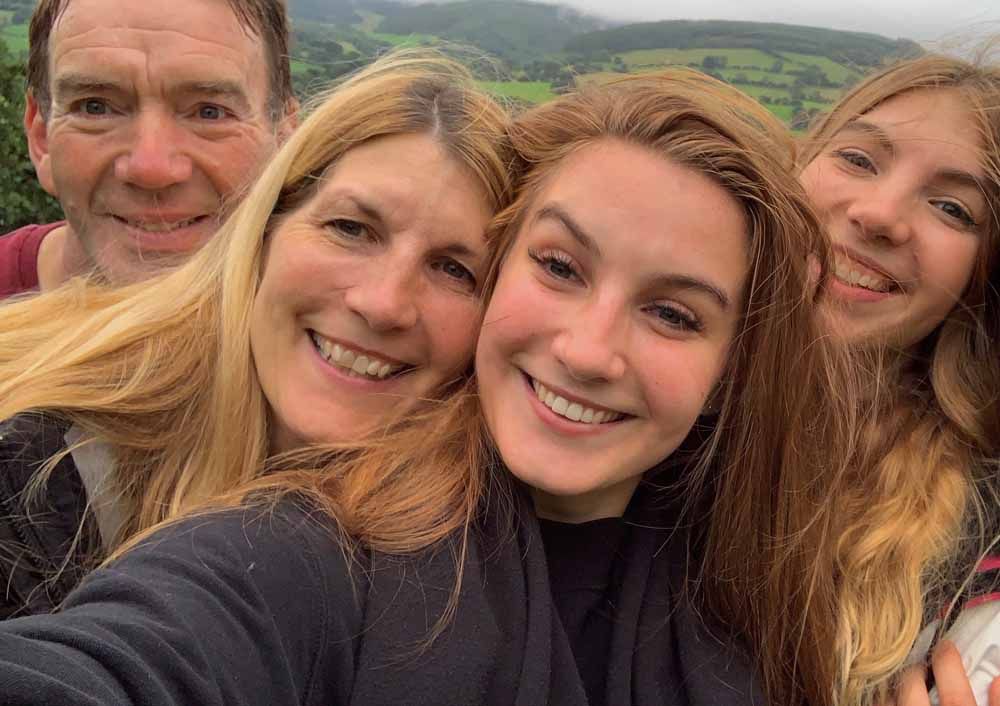 Dad, Mom, Rachael and Hannah (PA Real Life/Collect)
To donate to Rachael's fund, visit: www.gofundme.com/lymphoedema-surgery