Gemma O'Doherty is no stranger to internet controversy.
Her YouTube channel was permanently removed from the site earlier this month due to repeated violations of YouTube's policies against hate speech.
But she might be unused to the sheer amount of mockery coming her way after a recent Twitter post.
---
O'Doherty posted a photo of the storefront of a new halal shop in Ireland's County Roscommon with a biting comment about the "Islamification of Ireland."
For those unfamiliar, halal in this case refers to dietary restrictions and food preparation practices some Muslims follow, much the same way some Jews eat only kosher foods. Most of what is kosher is prepared in the same way as halal, but not all halal foods are kosher because of restrictions about meat and dairy.
But just like your local kosher deli, halal shops can be a grocery resource for everyone.
Twitter has taken collective joy in pointing out everything wrong with her post (and her attitude).
You can see O'Doherty's post below:
Many people pointed out the proliferation of Irish pubs throughout most countries of the world.
Horrors!
Others pointed out that places of business in general are probably not the best gauge of an ethic group's presence in an area.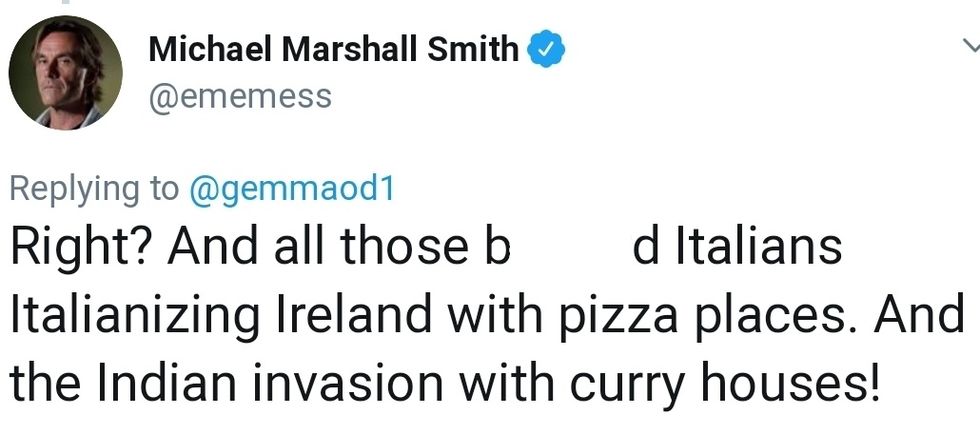 @ememess/Twitter
It's not as though restaurants and businesses featuring another culture's cuisine are even remotely uncommon.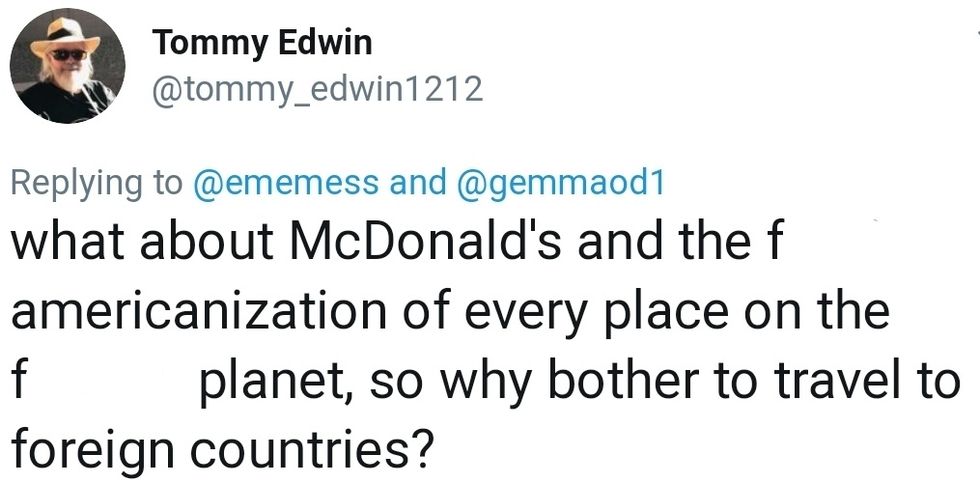 Others chose to poke holes in the general bigoted rhetoric surrounding immigration.
The sarcasm was very strong in this thread.
O'Doherty has been attempting a forray into politics, and it seems she is trying to court those who view immigration (and immigrants) as a problem to be solved.

In a video announcing her intention to run for European elections which were held earlier this year, she claimed that her stance against immigration comes from a concern for the poor:
"Because I have always stood up for the poor; I see the inequality. That's my academic background. That's why I'm against mass immigration, mass uncontrolled immigration as opposed to controlled immigration."
She also criticized windmills and managed to question the legitimacy of climate change in the same video:
"There's a criminal cabal working to make us think our planet can't cope."
Gemma O'Doherty is not unfamiliar with public criticism. Another feature of her campaign for election was ads on Dublin busses that included the phrase "It is time to take Ireland back."
These ads drew the ire of multiple local groups, including the General Secretary of the National Bus and Rail Union, Dermot O'Leary.
"[There is] a direct contradiction between the views/principles of the candidate and the indisputable fact that Dublin Bus is a multicultural employer, boasting a multiple of different nationalities..."
O'Doherty has certainly committed to her ideas about immigration.
And the internet is committed to mocking her for those ideas.
The book The Basics of The Halal Living: The Ultimate Halal Recipes for Everyone, available here, is an introduction to halal food preparation at home.