Eager Star Wars fans descended upon theatres across the country to experience the next installment in the sequel trilogy, The Last Jedi, but some left the theater disappointed about the missing iconic line, "I have a bad feeling about this."
---
No one said, "I have a bad feeling about this," and I have a bad feeling about that. #LastJedi

— Ryan McCarthy (@Ryan McCarthy) 1513357760.0
WAIT WAIT WAIT WAS I HAVE A BAD FEELING ABOUT THIS NOT SAID ONCE IN FHE LAST JEDI?

— general hugs (@general hugs) 1513560271.0
Nearly every major character has said a variation of the phrase in every installment.
Luke Skywalker (Mark Hamill) said it in Star Wars: Episode IV - A New Hope.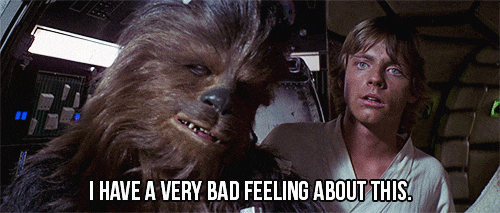 Han Solo (Harrison Ford) said it in Return of the Jedi.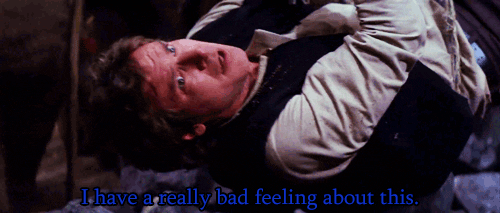 Obi-Wan (Ewan McGregor) said it in Phantom Menace.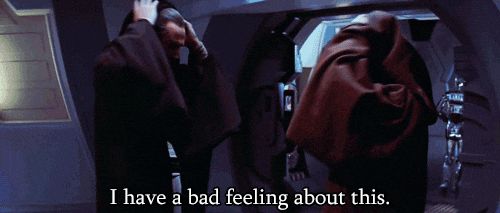 You can watch the well-known phrase that has become synonymous with the films in the montage clip below.
When aficionados expressed disappointment at what they thought was a missed opportunity for The Last Jedi continuing with the running gag, director Rian Johnson assured fans the line was definitely in the movie. It was hidden as an easter egg, and it went over most viewers' heads.
@rianjohnson where are "I have a bad feeling about this"?

— Bruninho (@Bruninho) 1513242816.0
@Brunoticianelli It's in there!

— Rian Johnson (@Rian Johnson) 1513242973.0
According to a Huffington Post interview, Johnson confirmed the phrase was uttered by the adorable droid, BB-8.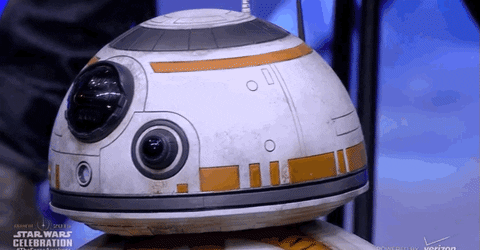 So, what's behind the bleeps?
Sound supervisor for Star Wars: The Force Awakens, Matthew Wood, explained how the dialogue was recorded initially as spoken words and then translated into a series of bleeps for the movie.
Wood shared the process of creating BB-8's voice for The Force Awakens that began with director J.J. Abrams using an interface with oscillators to generate reactions from his actors on set. Then, voice actor Ben Schwartz went into the studio to lay down the dialogue in English which allowed everyone to understand what BB-8 was expressing, and sounds were later overlayed to mimic the emotional tones of the lines.
Johnson thought it would be crafty to sneak the line into the movie by employing this technological tactic.
It seemed like a fun character to deliver that line. I think originally I had Poe respond, 'Oh, I got a good feeling about it. Keep your chin up.' And then I made it a little less explicit just to make it more fun.
While some breathed a sigh of relief that the tradition didn't go by way of the Sarlacc, one was skeptical.
Star Wars: The Last Jedi is the first Star Wars film to not feature "I have a bad feeling about this" clearly spoke… https://t.co/ZHtydoDQyI

— Ryn (@Ryn) 1513479055.0
@curieSavant Was that his 'get out of jail free' card?

— Ruh_Thomson (@Ruh_Thomson) 1513507604.0
Please SHARE this with your friends and family.
H/T - HuffingtonPost, Twitter, YouTube, Wikia