There's no disputing that President Donald Trump has transformed what's acceptable in politics.
Corruption can go unchecked, social media posts can be unhinged, and words that used to be unacceptable for a President to say at a rally now get chanted by the crowd.
---
The latter was on full display at Trump's Tuesday night rally in Sunrise, Florida.
Railing against the impeachment inquiry against him, Trump called the constitutionally enshrined oversight "bulls**t."
Watch below.
Trump said:

"They're pushing that impeachment witch hunt. A lot of bad things are happening to them. You see what's happening in the polls? Everybody said, 'That's really bulls**t!'"
The supporters at his rally soon echoed him with chants of the word.
If you've noticed a coarsening of language across both sides of the aisle since Trump ascended to office, you're far from alone. The New York Times has called Trump "the profanity president" for his uninhibited use of language not fit for television. In turn, his opponents have followed suit, albeit less blatantly.
The irony of Trump using the word "bulls**t" to connote a sham or falsehood stood out to people.

@dagster43442931/Twitter

@mikelimtw/Twitter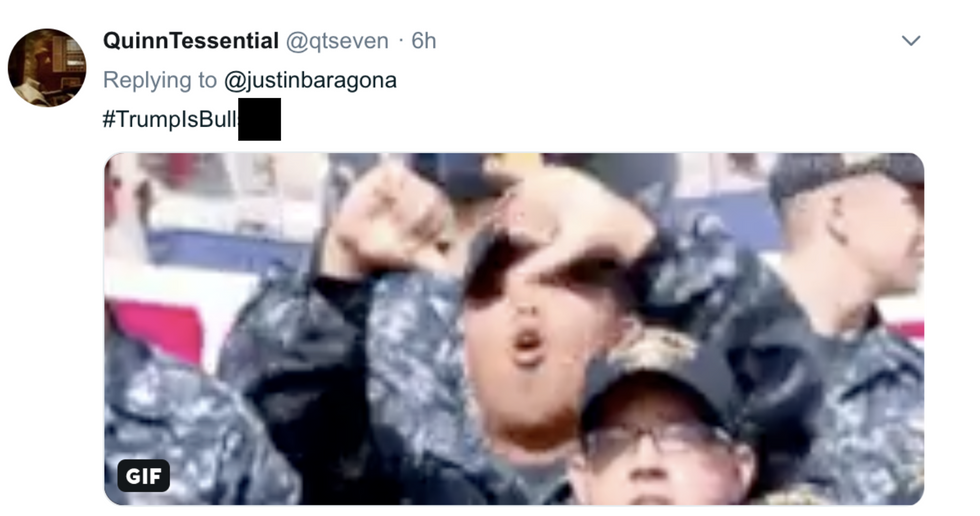 @qtseven/Twitter
Trump supporters, however, commended the President's irreverence with the expected level of class.
According to the Washington Post, Trump has made nearly 13,500 false statements in the three years since his inauguration.
That's a lot of bulls**t.