Tag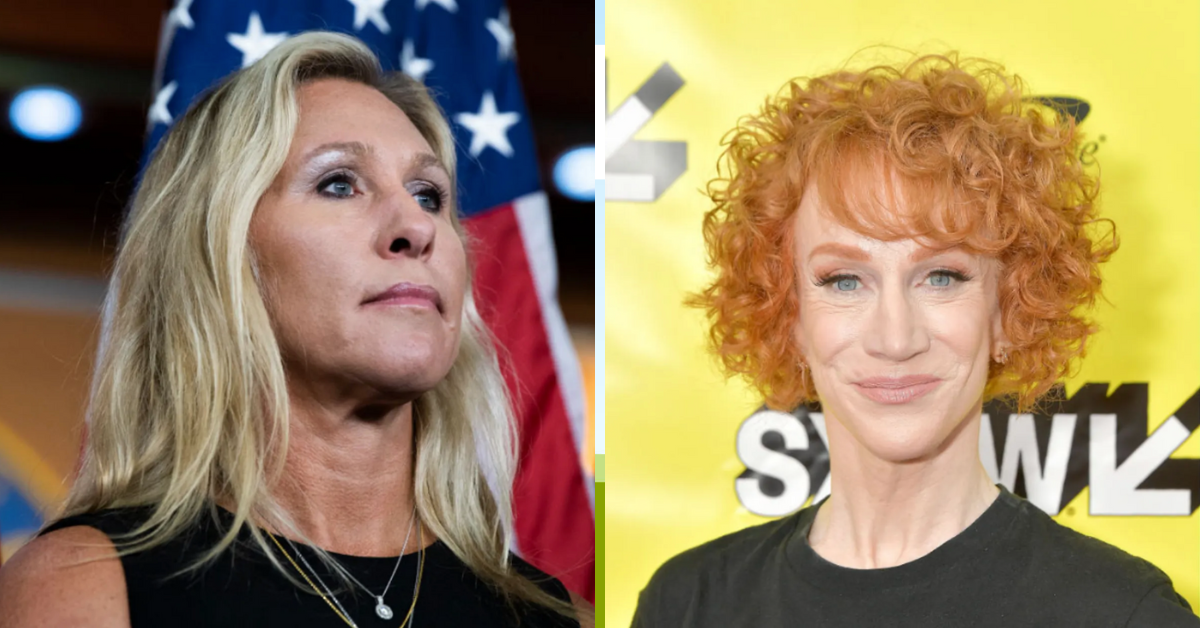 Tom Williams/CQ-Roll Call, Inc./Getty Images; Michael Loccisano/Getty Images
Georgia Republican Representative Marjorie Taylor Greene was widely mocked on Twitter after comedian Kathy Griffin hit back at her for criticizing right-wing troll Alex Stein, who had sexually harassed a female reporter at the Conservative Political Action Conference (CPAC).
Writing on Twitter, Griffin shared a video of Stein's antics during the convention and identified him as Fox News personality Tucker Carlson's son (which is incorrect, as Stein was only joking about his connection to Carlson in the video).
Griffin then aimed a larger criticism at the Republican Party, writing "misogyny with this crowd is just as pervasive as the racism."
Greene responded shortly afterward, sharing a now-infamous photo of Griffin holding a likeness of the severed head of former President Donald Trump.
Greene defended Stein, saying that Stein was "simply treating a hard leftist reporter the same way they treat people on the right," adding that Stein had criticized her "to her face with facts and no mask."
Many came to Greene's defense.
In May 2017, Griffin posted a video of herself holding a prop meant to resemble former President Trump's severed head. She wrote at the time, referencing a past comment Trump made about former Fox News anchorwoman Megyn Kelly:
"I caption this 'there was blood coming out of his eyes, blood coming out of his...wherever."

Griffin was savaged for the image, and several members of the Trump family criticized her. Soon afterward, she removed the photo from her social media accounts and asked for forgiveness.
The backlash cost Griffin marketing deals and her spot on CNN's New Year's Eve broadcast with Anderson Cooper. The Federal Bureau of Investigation (FBI) and Secret Service investigated her to determine if she was, in fact, a threat to the President.
In the fall of 2017, Griffin retracted her apology. She would later tell The Hollywood Reporter:
"I didn't commit a crime. I didn't rape anybody. I didn't assault anybody. I didn't get a DUI. I mean, my God, there are celebrities that f**king kill people."
The incident made the often-controversial Griffin the poster child for "Trump derangement syndrome," angering many on the political right amid a national conversation on the limits of First Amendment rights.