Parkland survivor Kyle Kashuv learned the hard way that racist comments, regardless of when they were made, will come back to haunt you.
Kashuv attended Marjory Stoneman Douglas High School as a junior when a gunman opened fire and killed 17 students and faculty members on February 14, 2018.
---
Prior to the shooting, he used a racial slur on Google Docs that was screenshot and revealed to the Admissions Committee at Harvard University where he was initially accepted.
As a result of his former indiscretion, Harvard rescinded his acceptance.
The screenshots in which Kashuv repeatedly used the N-word first appeared in May, according to Boston Magazine, and circulated around the internet. Conservative media quickly identified Kashuv as a victim.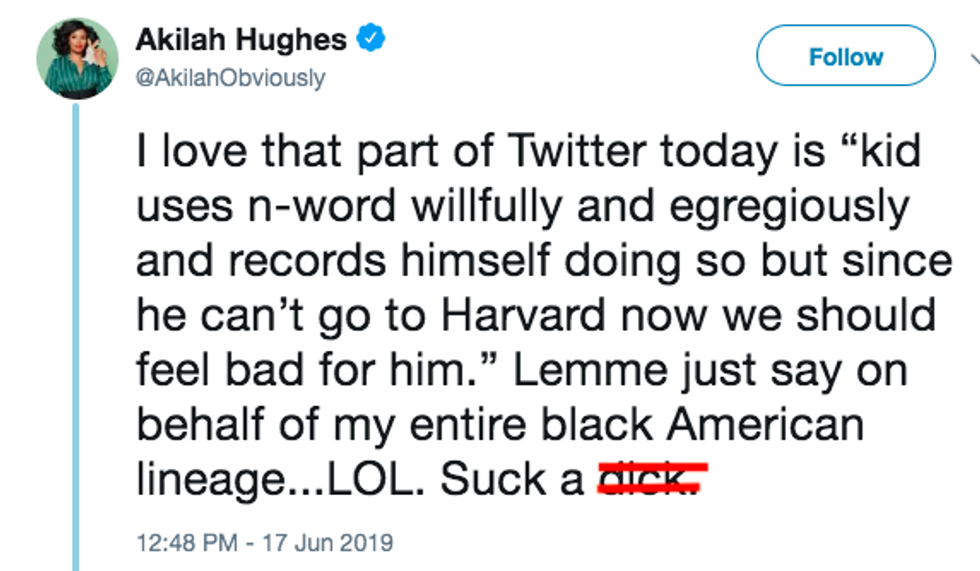 @AkilahObviously/Twitter

@AkilahObviously/Twitter
Kashuv's repeated use of the racial epithet from Google Docs preceded the following phrase:

"i'm really good at typing [n-word] ok like practice uhhhhhh makes perfect."
Kashuv, 18, reflected on his past mistake and criticized Harvard's decision in a series of tweets.
In his apology, Kahosv downplayed his "idiotic comments."
"I have recently been made aware of screenshots circulating the include offensive comments former classmates and I made a few years ago, long before the shooting. I want to address this with honesty and transparency."
"We were 16-year-olds making idiotic comments, using callous and inflammatory language in an effort to be as extreme and shocking as possible. I'm embarrassed by it, but I want to be clear that the comments I made are not indicative of who I am or who I've become in the years since."
"This past year has forced me to mature and grow in an incredibly drastic way. My world, like everyone else'es in Parkland, was turned upside down on February 14th. When your classmates, your teachers, and your neighbors are killed it transforms you as a human being. I see the world through different eyes and am embarrassed by the petty, flippant kid represented in those screenshots. I believe those I've gotten to know since know that I'm a better person than that."
"I can and will do better moving forward."
Kashov's apology was met with further backlash.

As a result of critics unconvinced of his sincerity in the apology letter, Kashuv claimed "former peers & political opponents" campaigned to have Harvard rescind his admission.
Harvard acknowledged media reports of Kahuv's statements and explained:
"Harvard reserves the right to withdraw an offer of admission under various conditions, including 'if you engage or have engaged in behavior that brings into question your honesty, maturity, or moral character.'"
They asked Kahsuv to submit a "full accounting of any such statements you have authored, including not only those discussed in the media but any others as well," on behalf of the Admissions Committee. They additionally requested him to "provide a written explanation of your actions for the Committee's consideration."
Despite Kashuv fulfilling the request to submit information, Harvard said that their Committee "takes seriously the qualities of maturity and moral character" and made their decision to deny him admission.
However, the Office of Diversity and Inclusion responded differently and wrote Kashuv:
"Thank you for your email. We appreciate your thoughtful reflections and look forward to connecting with you upon your matriculation in the fall of 2020..."
When Kashuv attempted to schedule an interview for an opportunity to reconcile, Harvard responded negatively.
Kashuv went on the offense in response to the rejection and reminded Harvard of its alleged racist history.
In stark contrast to his peers like David Hogg and Emma Gonzalez advocating for stricter gun legislation, Kashuv is a proponent for gun rights and earned the respect of conservative political commentators like Ben Shapiro.
After the shooting, Hogg and Gonzalez led protests against gun violence and organized the March for Our Lives demonstration. At the other end of the spectrum, Kashuv spent his senior year at Marjory Stoneman Douglas advocating for gun rights.
He also became the director of high school outreach for Turning Point USA—a conservative nonprofit organization that maintains a watchlist of professors who allegedly target conservative students and spread left-wing propaganda in the classroom.
Twitter called out Kashuv following his rant.

There was no sympathy for Kahsuv, but users did offer him some sobering words.

This was not the first time Harvard rescinded admission based on racist or bigoted behavior by potential students.

In 2017, Harvard denied ten applicants for the incoming Class of 2021 who shared racist and/or sexually explicit memes in a private Facebook group chat formerly called "Harvard memes for horny bourgeois teens."
A second Facebook group demanded those wanting to join to provide "provocative memes."
According to leaked screenshots obtained by The Harvard Crimson, the comments targeted minority groups and also made references to Mexicans, the Holocaust and the deaths of children.

Many find speaking about race and racism difficult. The critically acclaimed book White Fragility: Why It's So Hard for White People to Talk About Racism can help people begin a dialogue without the issues that sabotage many attempts. You can get the book here.
Conservative voices made claims of freedom of speech, but the United States Constitution only covers a person's freedom from government repercussions for their speech, not private companies or institutions and does not offer a freedom from consequences.
You can refute those claims with this Freedom of Speech shirt, available here.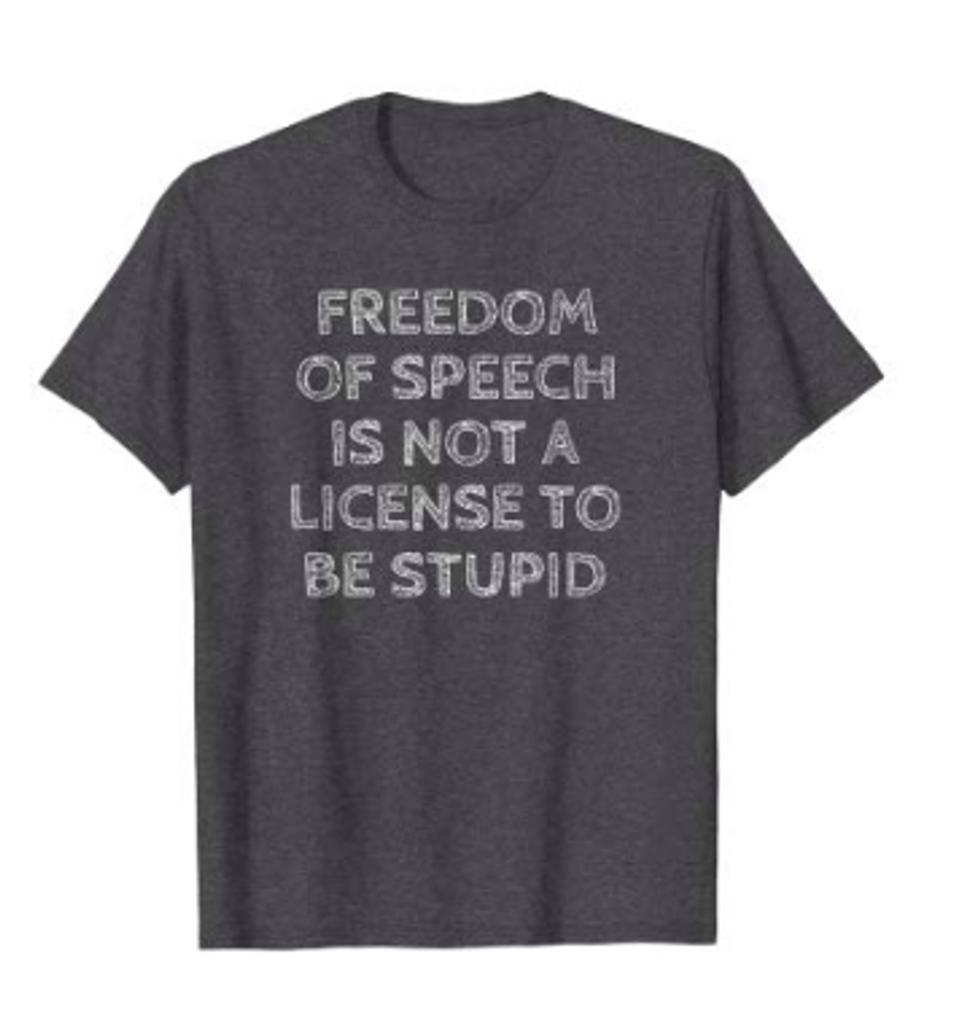 Amazon