Now that the thrilling skeleton competition sped away into the past this weekend as quickly as it entered the 2018 PyeongChang Winter Olympics, viewers are left wondering how the sport that hurtles competitors down an icy track got its macabre name.
---
Skeleton sliding is considered one of the world's earliest sledding sport and is often compared to luge and bobsleigh. However, aficionados of the solo sport will insist that skeleton emerged as the first of its kind.
The extreme sport, in which competitors are required to run before mounting their sleds to race down a treacherous course at breakneck speeds, is easily an Olympic favorite.
It made its debut as far back as 1884 on a track called the "Cresta Run" in St. Moritz, but it would stay have a ways to go before being integrated for the Olympics.
According to CNN, skeleton was introduced into the Olympics in 1928, but it didn't become a mainstay of the Winter Olympics until 2002 at which time the women's race was added.
The International Bobsleigh & Skeleton Federation says there are many theories as to why it's called skeleton. The earlier version of the tea tray-like sleighs may have been skeletal in shape, providing the inspiration for the sports namesake.
In 1892, an Englishman, Mr. Child, surprised his sports friends with a new sled made mostly from metal. Some speculate that since the sled looked like a skeleton, it was thusly called.
Skeleton is commonly mistaken for luge. But make no bones about it. There's a huge difference.
Luge debuted at the 1964 Olympics and sends singles or doubles sliding feet-first on their backs. In a more perilous contrast, skeleton racers careen head-first while lying on their stomachs.

Individuals maintain their aerodynamic form by keeping their heads down with their noses inches away from being sloughed off by the moving ice below. Timing is measured down to a thousandth of a second as racers reach speeds of up to 80 miles per hour.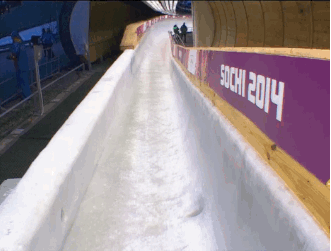 Potentially bone-crushing.
Some claim the skeleton name has Norwegian beginnings, with "Skele" being a derivation of an erroneous Anglicization "Kjaelke," the Norwegian word for ice sled.
Both explanations may be correct but what is certain is that, from that time on, the sport known both as tobogganing and skeleton has been exciting and intriguing by any name.
Twitter had their own explanations for how skeleton got its creepy name.
Skeleton is also regarded as a stripped down version of bobsleighs.
Answers leading to more questions is a slippery slope.
The name could be inspired by how viewers experience it.