JoJo Siwa—19-year-old pop sensation, dancer, actress, YouTuber and co-producer of girl group XOMG POP!—slammed far-right pundit Candace Owens for accusing her of pretending to be a lesbian "for attention."
Siwa and her mother Jessalynn Siwa first came into the public eye when 8-year-old JoJo was the youngest contestant on the second season of Abby's Ultimate Dance Competition with Abby Lee Miller. Miller later brought the duo onto her TV show Dance Moms.
Owens dedicated a six-minute video to Siwa's coming out, saying the young entertainment entrepreneur did so "because it's a great way to find a community of victims" and accused her of doing the "bidding" of the LGBTQ+ community.
Owens said Siwa's coming out had become her brand and her recent backlash for pretending to be pregnant on Snapchat was also a sign she needed help. Owens warned Siwa was heading down a "dark path" and she was "lost and confused."
You can hear what Owens said in the video below.

Owens said:

"This has become a brand for her." ...
"I know her brand is happy and sparkly… People that you see that put on an appearance of happiness all the time are usually the people that are suffering the most internally and there is no question to me that what we have observed from her over the last few years has been one giant cry for help."
She also suggested Siwa envies and wants to be more like Candace Cameron-Bure—the anti-LGBTQ+ Evangelical Christian whom Siwa was a fan of as a child.
"I think deep down JoJo Siwa wants to be like Candace Cameron but she can't now because she's resigned herself to a brand of LGBTQ awareness, and it's driving her crazy, and she did this for attention."

Siwa hit back at Owens in a tweet, telling her to "respectfully back the f**k off" and made it clear she hadn't even watched Owens' video.
You can see Siwa's tweet below.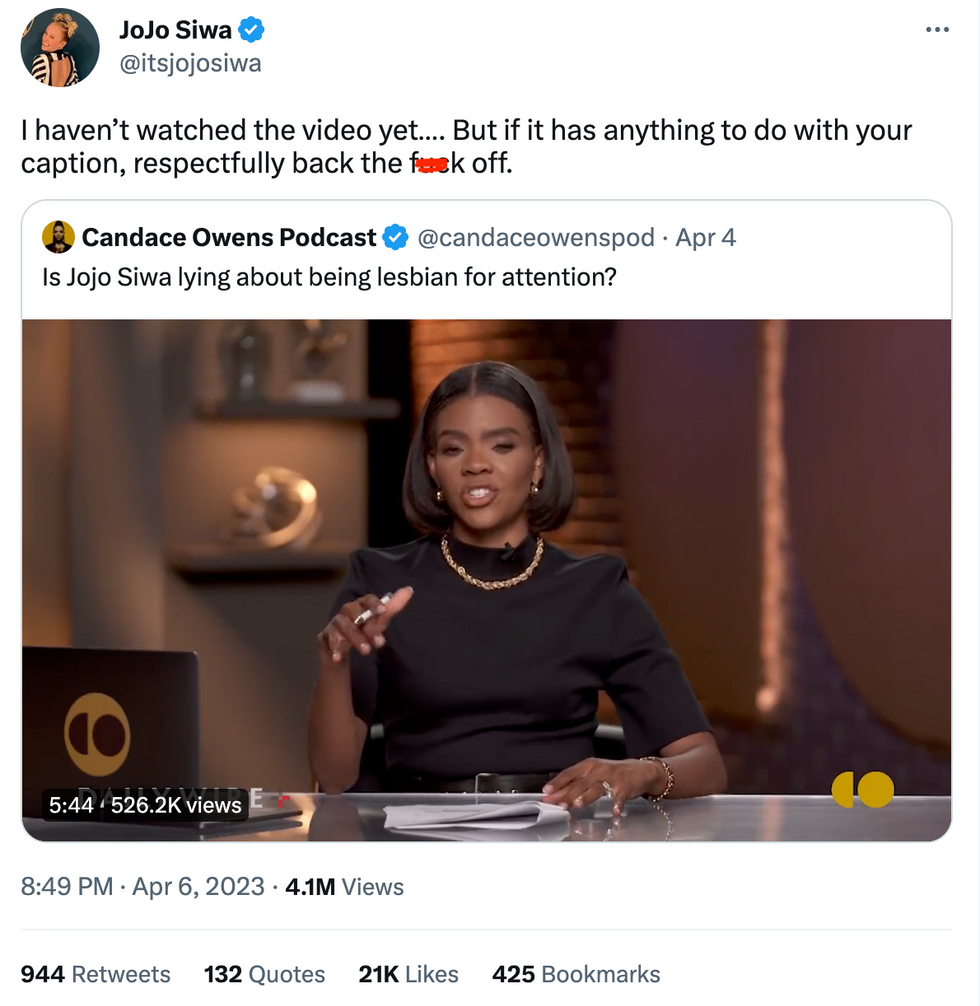 @itsjojosiwa/Twitter; @candaceowenspod/Twitter
Owens' comments received significant pushback online.
Others praised Siwa's response.
Siwa came out as pansexual in a People magazine coverstory in April 2021.
She has since become a vocal advocate for the LGBTQ+ community. Given the size of her fan base, her coming out has been considered highly influential on today's youth.

In October 2022, Siwa shared the details of her "gay awakening" in a viral TikTok challenge. Her coming out has also led her to become part of the first-ever same-sex pair on season 30 of Dancing with the Stars, where she stated it was "special" to be able to share with the world that "you get to love who you want to love" and "you get a dance with whom you want to dance."
In addition to Dancing With the Stars, Siwa and her mother starred in their own reality competition show Siwas Dance Pop Revolution airing on E! in 2021 and now streaming on Peacock. The duo also appeared with their girl group XOMG POP! on America's Got Talent.
JoJo Siwa's busy schedule and sold out concerts seem to be providing the teen plenty of the attention Owens claimed she was seeking.
The notably anti-LGBTQ+ Owens has in recent months reserved much of her ire for transgender people, as when she falsely promoted the conspiracy theory a mass shooter at Robb Elementary School in Uvalde, Texas could be transgender and baselessly said he was "cross-dressing" and "mentally disturbed."