The New York Times quickly came under fire for sharing a carbonara recipe so offensive even Italian television news was aghast and dedicated coverage to it.
Carbonara is an Italian pasta dish from Rome made with eggs, hard cheese, cured pork and black pepper.
The cheese is usually Pecorino Romano, Parmigiano-Reggiano or a combination of the two. Spaghetti is the most common pasta, but fettuccine, rigatoni, linguine or bucatini are also used.
Nowhere does the dish include tomatoes or tomato paste—if it did the dish would no longer be a carbonara by any stretch of the imagination—but the newspaper shared a recipe for the pasta sauce that included both tomatoes and tomato paste.
The Times even acknowledged tomatoes "are not traditional in carbonara" but still suggested "they lend a bright tang to the dish."
Shortly after the newspaper published the recipe, data journalist Federica Cocco shared Italian news program La Vita in Diretta—roughly translated as Live Life—dedicated coverage to the recipe.
Indeed, the use of tomato was clearly controversial.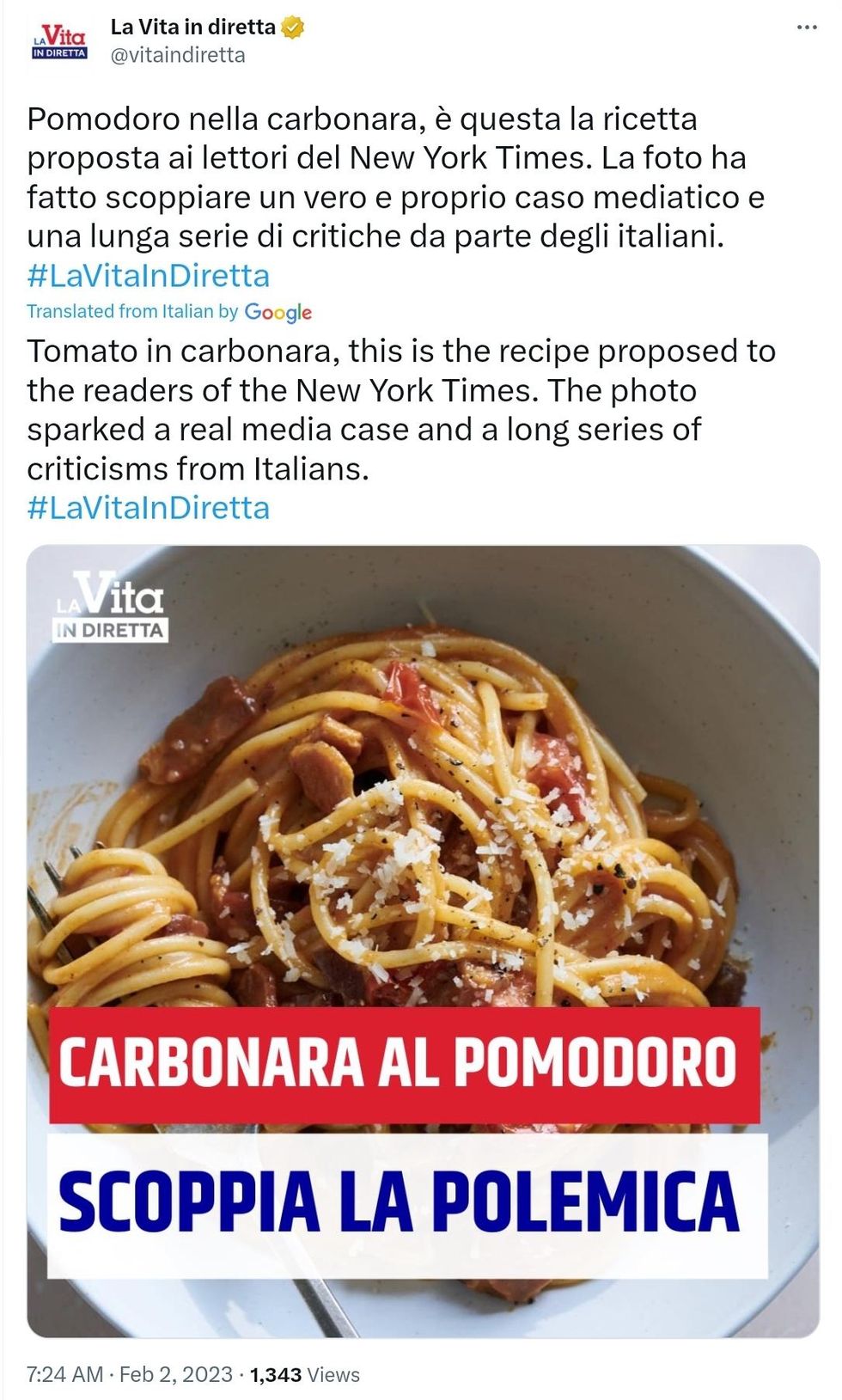 @vitaindiretta/Twitter
The hosts of the program felt it prudent to educate the Times about the proper way to make carbonara—"NO TOMATO"!
They declared "American cultural hegemony must be nipped in the bud."

The issue was so polarizing at one point a panel of six people spent some time criticizing the recipe.
Many social media users were similarly perturbed.
The New York Times has not responded to the backlash but we hope they've learned a valuable lesson about the merits of authentic cultural cuisine.
If it ain't broke, don't fix it!