Conservatives were up in arms online when author
Nora Roberts
announced her 1988 thriller,
Brazen Virtue
, would get a Netflix movie adaptation starring Alyssa Milano.
Roberts—who authored over 200 books and sold more than 500 million copies worldwide—fired back in a lengthy Facebook post responding to the online abuse over the casting choice of the Charmed actress.
Milano was cast in the adaption as mystery writer Grace McCabe, who finds herself tracking down the killer of her estranged sister—who secretly worked as a webcam performer.
The actress, 48, shared her excitement on Tuesday.

The criticism of Milano had nothing to do with her casting as the novel's protagonist. Disgruntled fans objected to Milano's outspoken politics—including her disapproval of former-President Donald Trump and her participation in the #MeToo movement.

The initial announcement posted by the best-selling author's personal publicist, Laura Reeth, was updated to include, "let's keep the comments to congratulations to Nora, shall we?" after the post was slammed with roughly 1,000 inflammatory comments.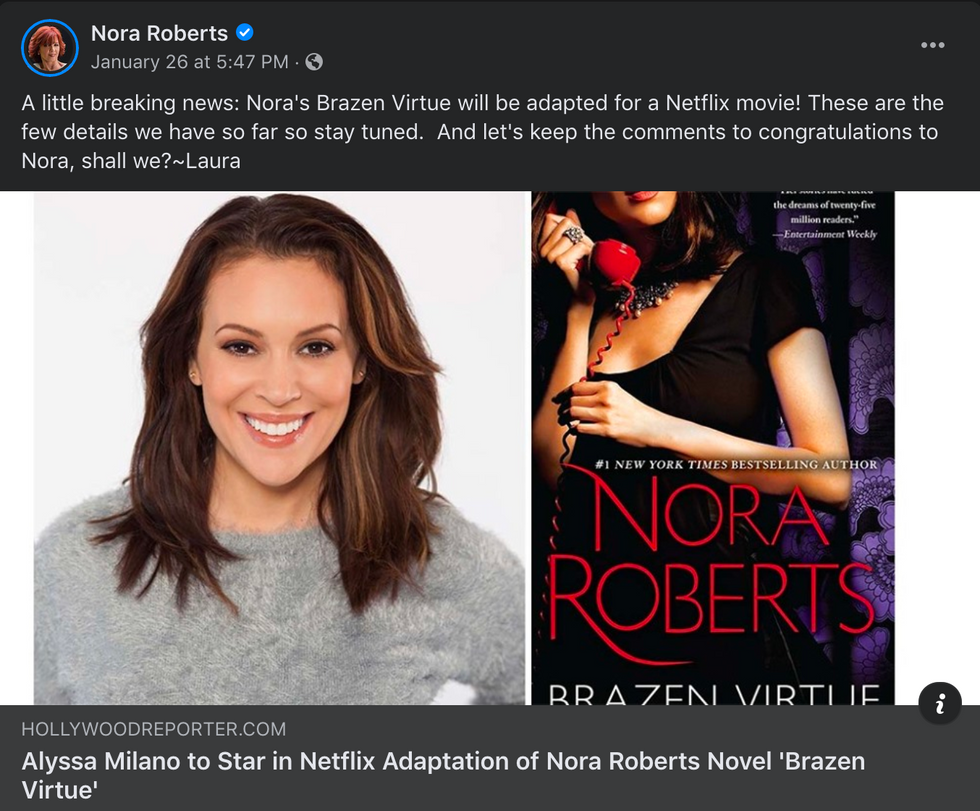 Nora Roberts/Facebook
A few hours after Reeth's post, Roberts—as indicated by "NR"—responded to the online diatribe with an additional Facebook post.

The 70-year-old American novelist—who identifies as a "liberal Democrat"—expressed how appalled she was over the "vitriol" in response to the casting of Milano.
"I've read many of the comments on Laura's announcement of the Brazen Virtue adaption for Netflix, starring Allysa Milano," wrote Roberts, adding, "And I'm simply and sincerely appalled."
She continued:

"The vitriol, the hatred, the anger, the bitterness and the demands are astounding to me."
"By and large I keep politics off my pages. That's my choice."
"Now many readers have dragged their own onto this page, so I'm going to state, for the record."
"I'm a liberal Democrat. always have been, always will be."
"And as one, I've always believed everyone has a right to their political beliefs, and has a right to express their opinions. But I don't have to tolerate insults and ugliness on my page."
"For those who want to claim Freedom of Speech—look it up. This FB page isn't the government."

"Some have comments on here using 'liberal' as a slur, an insult, equating it with communism. Others have used outright slurs against an actress, while claiming she should keep her opinions to herself. (No doubt those same people would be quick to assert their own First Amendment rights.)"
"Some will never read me again because Milano will headline this adaption."

"One reader stated she intended to BURN all my books in her collection for this choice of actress."
"Think about that. Burning books. Get a visual? I sure do."
"Another claims she can only support 'like-minded' artists. Really?"
"I only imagine the books, songs, movies I'd have missed if I felt this way and refused to read, watch, listen to those who contributed to or performed them who hold different political viewpoints from my own."

Roberts also expressed disappointment after observing how the pandemic—in spite of all the lives lost and the grief—hardened some people and prevented them from being more compassionate with one another.

"Over this past long, hard year, we've lost over 400,000 friends, loved ones, neighbors to [the virus]. We've been isolated from each other, and I for one yearn for the company of my pals again."
"I wonder, truly, why this grief, this hardship hasn't taught so many of us we need each other. Instead, as illustrated by that comment section, it's hardened far too many into an us and them mentality."
"The viciousness I read in too many comments below hurts my heart. And realizing because I'm a liberal Democrat, many of those comments are directed at me for that reason alone is a real eye-opener."
"Watch the movie when it comes out, or don't. But lobbing nastiness at an actress or threatening me doesn't do anything but illustrate your own limitations."
In conclusion, she had one more request for her publicist.
"And to Laura, I'm sorry this took such an ugly turn—and that I have to ask you to post this on the blog as well. It needs to be said, loud and clear. NR"
The Twitter reviews of her message were glowing.

According to Entertainment Weekly, the Brazen Virtue screenplay was written by Suzette Couture, Donald Martin and Edithe Swensen and will be directed by Monika Mitchell (Virgin River, The Knight Before Christmas).

The feature film adaptation is part of Netflix's continued effort to bring more romance series and films to the streaming platform following the successes of Sweet Magnolias, Virgin River, and Bridgerton.