On Thursday, December 20, prosecutors from Broward County, Florida, released their full, 425-page investigative report into Nikolas Cruz, the shooter who killed 17 people at Marjorie Stoneman Douglas High School on February 14, 2018. Among the many disturbing details uncovered by investigators was an anecdote about how Cruz used his own mother's death as an opportunity to have the last laugh over their political disagreement.
---
Cruz was reportedly a supporter of President Trump, appearing in several social media posts in a "Make America Great Again" hat, and generally supporting gun rights in whatever way he could. His mother, however, was described as "a liberal anti-gun type," which infuriated Cruz.
According to Hunter McCutcheon, a friend of Cruz's, when Cruz's mother died in 2017, he used her death as an opportunity to get the last word in their argument.
Cruz left his MAGA hat with his mother in the casket and took a picture of the scene.
"Due to the fact that his mother hated Donald Trump he put it in her casket with her when she died and took a picture of her with the hat."
BSO Detective John Curcio's report offers few fresh details on Florida's deadliest school shooting. It does seem to acknowledge that Stoneman Douglas school resource officer Scot Peterson, who has received widespread criticism for standing outside the freshman school building with a loaded gun as Cruz slaughtered children inside, knew what was happening inside but decided not to enter.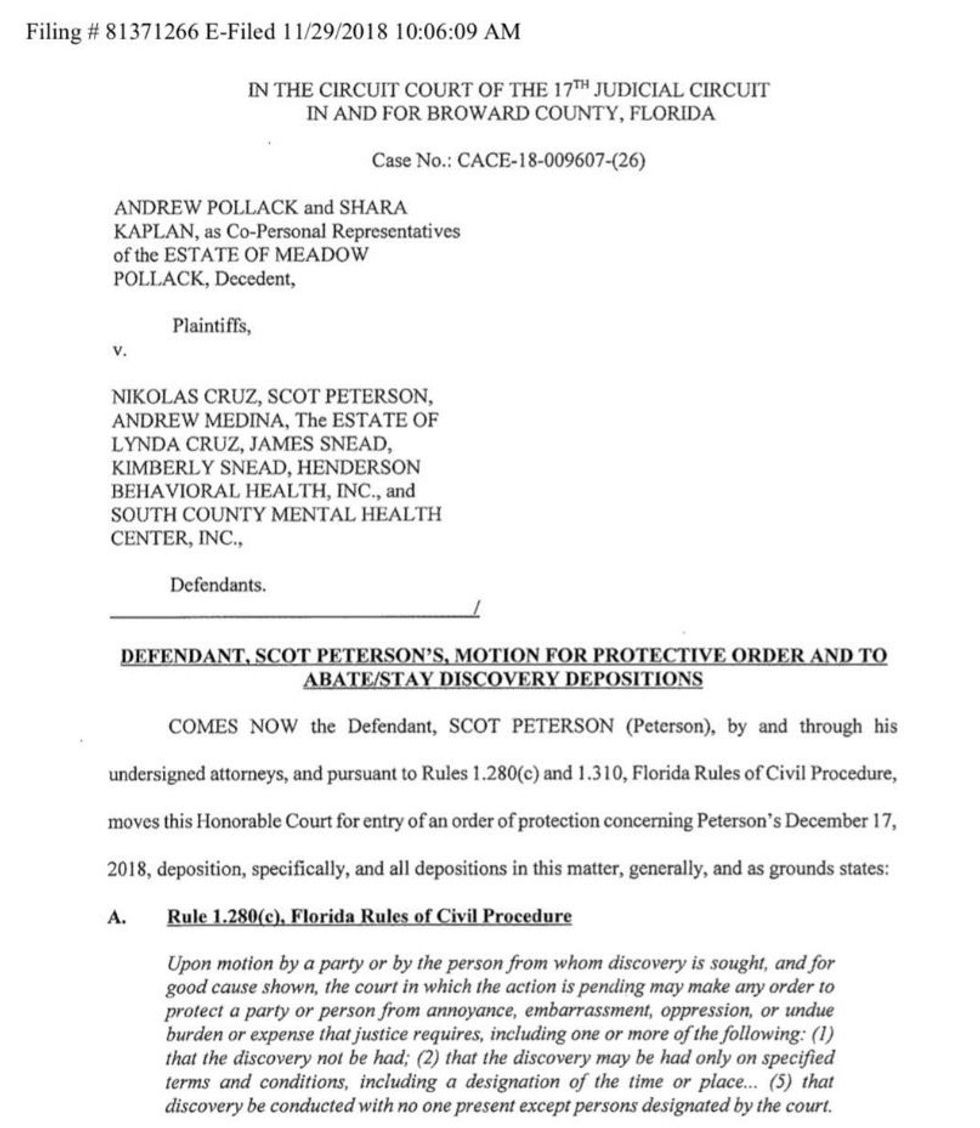 Twitter
Peterson, who faces multiple lawsuits connected to his inaction, has long claimed he wasn't sure where the gunshots were coming from. His lawyers are now pointing out a passage from the report in which Peterson claims he was waiting "with an anticipation if maybe the ... shooter or whoever it was which someone maybe was going to come out of the door."

The reporting detective concluded, however, that Peterson "would have been in position only a few yards away from the [freshman] building while over 60 AR-15 gunshots went off on the first, second and third floors of the [freshman] building."
Detailed breakdowns of Cruz's internet habits also appear in the report, outlining a pattern of behavior which, in a better world, would have been caught much sooner.
At one point, he Googled:
"How long does it take a cop to show up at a school shooting?"
In May 2017, more than half a year before the shooting, Cruz recorded a cell-phone video, saying:
"Hello. My name is Nik and I'm going to be the next school shooter of 2018. My goal is at least 20 people with an AR-15. ... Location is Stoneman Douglas in Parkland, Florida."
Cruz was also fixated on a girl he believed he was in love with. She lived near the Dollar Tree where he worked and was saved in his phone as "Warning Love of Your Life." She met with Cruz five days before the shooting "because he seemed depressed," but "stated that she insisted that Cruz meet her in a public place because she was afraid of him."
On the day of the shooting, Cruz inundated the young woman with text messages, pictures, and requests to be his Valentine. Behavior like this would be creepy under the best of circumstances. Given their context, they're even more chilling.
The report details several other instances where witnesses believe officials failed to act on what turned out to be the very credible threat of Cruz's instability. A neighbor claims to have reported Cruz to the police in 2016 after seeing him post online about shooting up a school, only for an officer to allegedly stop the investigation after Cruz's mother told him her son was "an angel." Cruz also allegedly told peer counselor Lauren Rubenstein about his plans to shoot up a school, which she failed to act on.
The report paints a picture of a disturbed young man who, quite obviously, needed some sort of intervention. No matter how many people observed his behavior, however, the pattern was the same: ignore his instability and push it down the line for the next person to deal with.