Maryana Beyder visited the Alpine Country Club in Demarest, New Jersey on September 7th, 2018.
The evening was reportedly going well until a member of waitstaff accidentally spilled wine on her $30,000 Hermès handbag.
---
After spending a year attempting to resolve the situation with the country club and seeing no success, Beyder decided to file suit against both the club and the waiter who she says spilled the wine.
Alexandra Errico, the attorney representing Beyder in this suit, said of the incident:
"Whoever the waiter was proceeded to pour red wine and didn't stop. Poured it all over her. Poured it all over her husband. And poured it all over a very expensive Hermès bag."
That "whoever the waiter was" is important, as Beyder has since admitted that she does not know which of Alpine's many waitstaff reportedly spilled the wine on her, her husband and her handbag.
The suit accuses the country club of "negligent hiring" because they chose to employ the waiter who spilled wine on Beyder.
She also evidently attempted to settle the matter through insurance as well, but faced difficulty in getting the insurance company to believe that a handbag could really cost $30,00.
Eventually representatives of both the club and the insurance company stopped responding to Beyder, so she decided to file a lawsuit against the club.
Errico said of this process:
"It's sort of like a rich person problem. They couldn't comprehend that a bag could be that much. I think that was the biggest problem with that."
She finished with this interesting choice of words:
"They kind of discriminated against her that she actually owned that type of bag."
Hermès bags do, indeed, often cost tens of thousands of dollars. One such bag sold at auction in Hong Kong last year for $377,000—a new world record.
Folks on social media were largely critical of Beyder, many questioning why someone would bring a $30,000 handbag to dinner in the first place.
Suing the waiter is a class act by Maryana Beyder; perhaps insuring expensive belongings would have been wise. A wa… https://t.co/AymGjUi3mY

— melissa (@melissa) 1572525678.0
@winewankers Accidents happen...no matter how well trained you are. And waiters can ill afford to pay someone back for an accident...

— Cinny Verhaak (@Cinny Verhaak) 1572641860.0
@winewankers Mixed emotions on this. Why carry a $30,000 purse? If the wine really went on the husband, purse and p… https://t.co/pUeuF2ewUx

— Carol Gray (@Carol Gray) 1572664856.0
@NBCNews If she can afford a Hermès bag, she can afford to buy another Hermès bag.

— Blobert "Perfect Call" Turkey (@Blobert "Perfect Call" Turkey) 1572605465.0
@NBCNews I am so sorry she'll have to go to her backup $15k purse. So sorry...not sorry.

— flo garr (@flo garr) 1572605689.0
@NBCNews If you can't afford the handbag - don't take it out to a restaurant.

— george daws (@george daws) 1572611282.0
@NBCNews Rich people problem

— ImHotep_Kemet_MemphisAE (@ImHotep_Kemet_MemphisAE) 1572605388.0
Many sympathized with the waiter who made a mistake and is now being sued.

@NBCNews Oooh no I feel very sorry for that waiter😭😭

— Melfiercefitness (@Melfiercefitness) 1572610885.0
Others were dubious of Beyder's story itself.
@CBSNewYork "She doesn't know which waiter it was," but she knows it was a waiter because she'd never spill wine on… https://t.co/J2sAZsGKYY

— SageRobinson (@SageRobinson) 1572559098.0
Many folks on social media felt that Beyder's choice to sue was a bit extreme. Several people questioned why she hadn't personally insured a handbag worth that much.
Overall, the most common point of confusion seemed to be why anyone would spend that much money on a handbag in the first place.
It remains to be seen if Beyder's lawsuit will ever make it to court or be settled or dismissed.
While it may not be as expensive, the Charmore Backpack Purse, available here, is waterproof and comes in 19 color choices.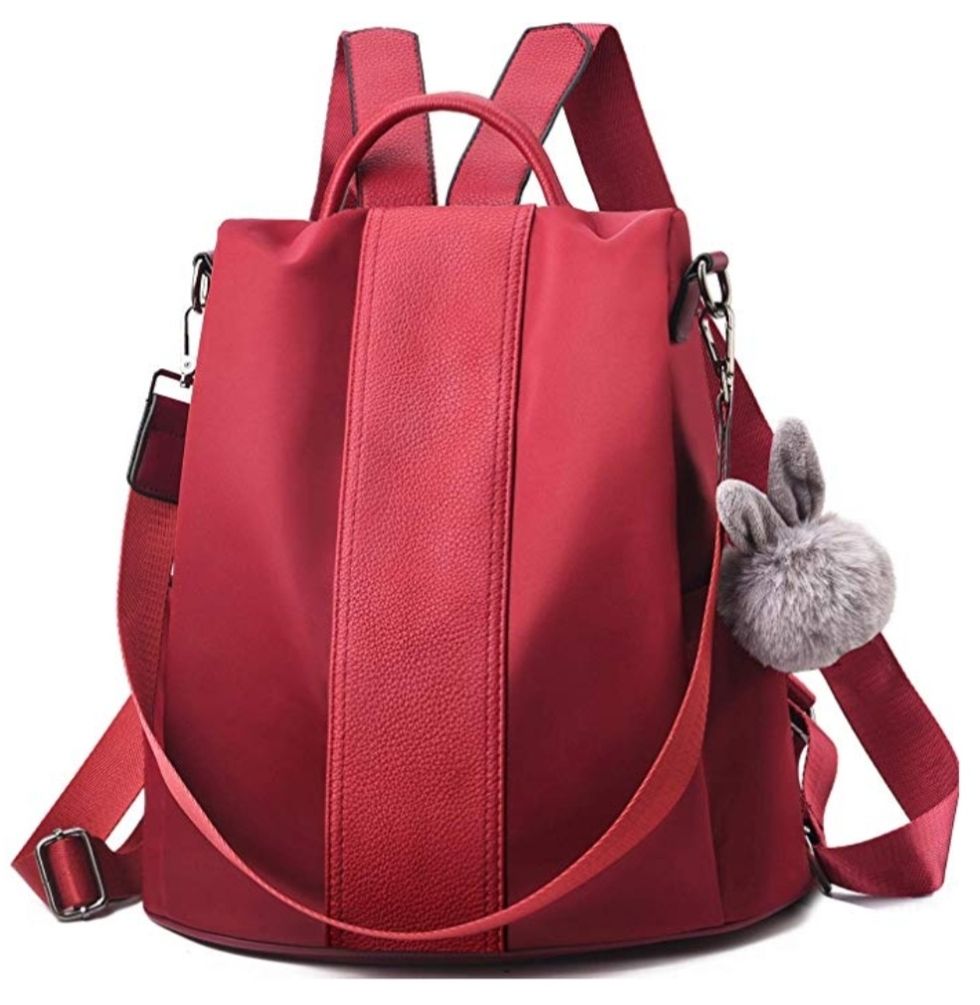 Amazon