What if there was more than one Spider-Man?
---
A new Sony Animation film, which his theaters next Christmas, aims to tackle that question with Spider-Man: Into the Spider-Verse.
After releasing the trailer on Saturday, the new film is already generating a ton of buzz on social media, and not just because it looks gorgeous:
Enter a universe where more than one wears the mask. Watch the Spider-Man: Into The Spider-Verse trailer now, in th… https://t.co/opIhOfgCmu

— Sony Animation (@Sony Animation) 1512845232.0
This. Looks. GORGEOUS!!! #Spiderman #SpiderVerse #SpiderManIntoTheSpiderVerse https://t.co/xmDxZCMxK3

— Manjot Sumal - (PC Surjit Singh) (@Manjot Sumal - (PC Surjit Singh)) 1512869736.0
Many people were focused on the style of the central character, noting that he appears to be wearing Jordans:
Jordans! https://t.co/vwaMTh3AcE

— Robert Hähnel (@Robert Hähnel) 1512891712.0
Never in my life did I think I would see spiderman wearing Jordans.

— Kris (@Kris) 1512855814.0
But it wasn't just the shoes that caught people's attention. It was the fact that the franchise appears to be branching out, and isn't afraid to show some much-needed diversity:
I've watched that trailer 6 times so far. Black teen Spiderman. The afro. The Jordans. The music. The clothes. I. AM. LOSING. MY. MIND!!!!!!

— S.T. Sterlings (@S.T. Sterlings) 1512846578.0
Something about seeing an Afro -Latino spiderman wearing Jordans and hoodie hit me. Representation is really important.

— marv (@marv) 1512886444.0
*POTENTIAL SPOILERS AHEAD*
Most people think of Peter Parker when they think of Spider-Man, but for fans of the comics, Miles Morales is a favorite. Morales was introduced in 2011 in Ultimate Fallout #4. Like Parker, Morales was bitten by a radioactive spider and gained superpowers. In the comics, Morales takes over as Spider-Man after Parker is killed by the Green Goblin. If you look carefully at the trailer, Morales even walks by the snowy grave of Peter Parker in New York City.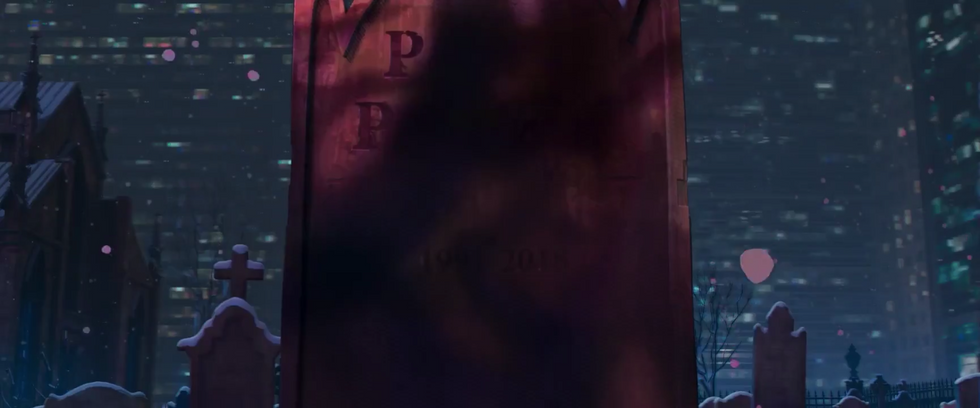 While Marvel has recently brought Spider-Man into its broader universe, according to The Verge, the new film will be a separate, standalone movie that looks to be an origin story, and could develop into a universe of its own.
But for fans of the live-action Spider-Man films, the recent Spider-Man: Homecoming actually dropped a big Easter egg, hinting that Miles Morales actually exists in the Marvel Cinematic Universe. Towards the end of the film, Aaron Davis, AKA the Prowler (played Donald Glover), decides to help Spider-Man, telling him that having a "nephew in this neighborhood" is his reason for not wanting superweapons making their way around the streets.
And fans of the comics know that this nephew is Morales.
If you've watched Spider-Man homecoming , the newest one which i recommend they reference miles morales that he exi… https://t.co/3QRyDy8mr1

— Alvaro Perez (@Alvaro Perez) 1512951828.0
Marvel Studios president Kevin Feige even confirmed the connection back in June, saying: "All of those little things are just Easter eggs for fans until they're something more than that."
"But where we go ... we definitely want you to go, 'He's there. He's there somewhere,'" he added.
A deleted scene from Homecoming even has Davis answering the phone and saying, "Yeah, sorry, Miles ... I'm not gonna make it."
So, along with the new animated film, it seems like maybe we'll be seeing more of Miles Morales in theaters in the years to come.
And we couldn't be more excited.
I am more hyped for this than I am for a sequel to Spider-Man: Homecoming. Please don't mess up Miles Morales.… https://t.co/R301L7TQpW

— Jordan Marsden (@Jordan Marsden) 1512922586.0
May be just another super hero flick but at least it looks a thousand times cooler than Homecoming. #SpiderVerse

— Robert Hähnel (@Robert Hähnel) 1512891786.0
Wasn't expecting this... definitely interested to see more... https://t.co/CBiHOwAYNv

— James (@James) 1512896288.0
Please SHARE this with your friends and family.