Actor Michael B. Jordan made a risky decision to avoid being pigeonholed as an actor who portrays characters based on his African American heritage.
After 2013's Fruitvale Station launched him to stardom, he asked his agents not to submit him for roles exclusively written for black actors.
Although there have been exceptions—Black Panther springs to mind—his decision has helped him carve out his path as an actor who can play any role, regardless of ethnicity.
---
Michael B. Jordan stopped taking auditions for roles created specifically for black actors because of the biases bu… https://t.co/CJZn9UEWcH

— New York Daily News (@New York Daily News) 1528286073.0
He recalled making the decision during a discussion with actress Issa Rae on Variety's "Actors On Actors" series.
I said, 'I want to only go for, like, [roles written for] white males. That's it'. Me playing that role is going to make it what it is. I don't want any pre-bias on the character.
@IndieWire Good for him

— Audrey D. Hightower (@Audrey D. Hightower) 1528219410.0
Jordan was determined to take on roles where the film's narrative wasn't dictated by the color of his skin.
I just always wanted to go out for those roles because it was just playing people.
Actors on Actors: presented by Shutterstock, "Fahrenheit 451" star @michaelb4jordan and "Insecure" star and creator… https://t.co/GD8FmjFwc7

— Blacklanderz™ (@Blacklanderz™) 1528390137.0
With so many others between the ages of 17 - 40 vying for the same roles, Jordan also made his choice to open the playing field for his fellow African American actors.
It was just how do you reverse engineer that problem, that kind of pitted competition between each other. And just put more opportunity out there for people to eat and be successful at what they want to do.
Of course, his declaration from five years ago wasn't completely etched in stone. Jordan went on to star in the Oscar-nominated Creed and this year's biggest blockbuster to date, Black Panther, both of which featured roles meant for black actors.
#MichaelBJordan Explains Why He Only Wanted Roles Written For White Men: It's hard to believe that there was a time… https://t.co/mJZFGzcXRQ

— Roger Tennis (@Roger Tennis) 1528211512.0
except the human torch in fantasic four....

— slim. (@slim.) 1528299040.0
But he did play Steve Montgomery in 2012's Chronicle, whose character's original surname was Kaczynski and was a role intended for a white actor.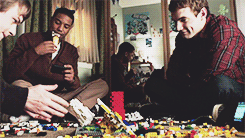 Jordan (left) in "Chronicle."
Beginning 3 months ago, his production company, Outlier Society, implemented the game-changing "Inclusion Rider" for all upcoming projects. He said on Instagram:

I've been privileged to work with powerful woman & persons of color throughout my career. [And] it's Outlier's mission to continue to create for talented individuals going forward.