As expected, the cold open of this past weekend's episode of Saturday Night Live lampooned the first two days of the public impeachment hearings.
---
The late night sketch show put a soap opera spin on the proceedings, calling it "Days of Our Impeachment," and featured a string of political impressions from the cast, as well as a special guest appearance by Jon Hamm as Bill Taylor.
You can watch it below:
At one point in the sketch, Pete Davidson appears as notorious Stormy Daniels attorney Michael Avenatti to offer up some juicy gossip about Trump's affair with the porn star, only to be told "that storyline was from, like, last season."
A defeated Davidson then pretends to forget who he's playing, referencing a recent Jeopardy! episode where none of the contestants could come up with Avenatti's name. Instead, Davidson refers to himself as "Michael Avocado."
After the sketch aired, Davidson's impression got a response from Avenatti himself, who in turn did his own impression of Trump by mock-raging about it on Twitter.

"Nothing funny about tired Saturday Night Live on Fake News NBC," Avenatti tweeted, adding:
"Question is, how does that total loser Pete Davidson save his dieing mediocre career by playing me and get away with these total Democratic hit jobs without retribution? This is the real quid pro quo. Investigate!!!"
Trump has been very vocal on Twitter about Alec Baldwin's less-than-flattering portrayal of him on Saturday Night Live.

He was roasted back in March of 2018 when he attacked Baldwin and misspelled the word "dying," which Avenatti perfectly satirized in his own tweet.
The tweet was later deleted and posted with the correct spelling, but the screenshots will live on in infamy.
Avenatti was given props for his sense of humor about the whole thing.
Although some worried that not everyone would get the joke.

But Avenatti took it all in stride, even changing his bio to reflect his new "Avocado" nickname.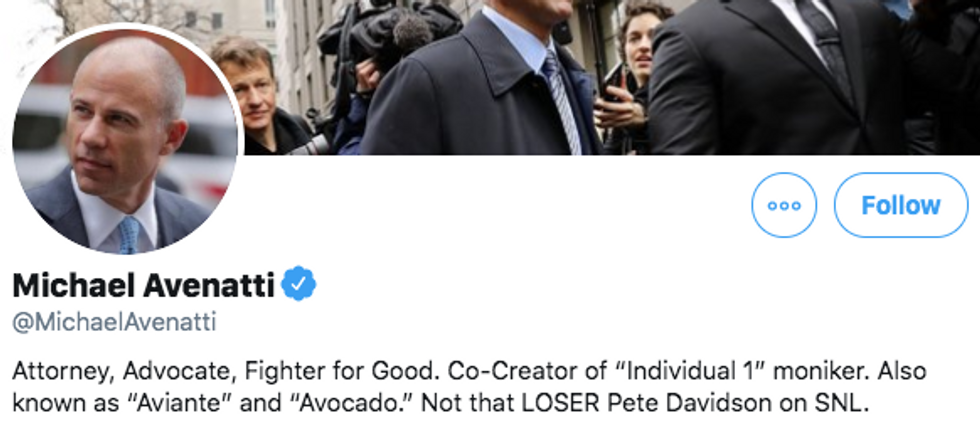 @MichaelAvenatti/Twitter
Well played, sir.
Well played.
If you enjoy a good parody of President Trump, the 55 PC Anti-Trump Election 2020 Funny Stickers is available here.