Imagine waking up one morning to find that one of your friends has publicly confessed that they're into your partner and kind of waiting for you to be out of the way.
Not because they think you're going to break up or anything, but because they're hoping you'll die.
"Not painfully—just die."
And then you remember this friend is a convicted felon who did time in a federal prison.
And then you remember that this friend has millions of dollars readily available to them, is crafty, and isn't afraid to get their hands dirty or do things themselves.
If you're kind of terrified and making a face like this: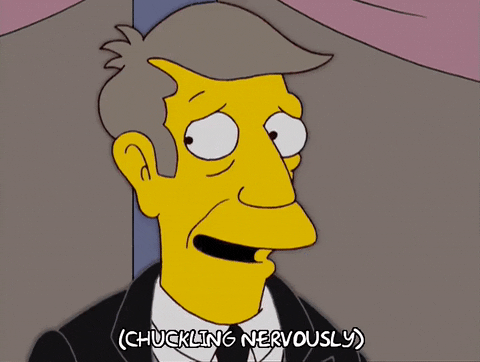 Giphy
Then congrats!
You might have an understanding of what it feels like to be Martha Stewart's friend right now.
The 80-year-old lamented her relationship status to Chelsea Handler on Handlers podcast, Dear Chelsea.
Martha's previous marriage lasted almost thirty years before her ex-husband divorced her and married her former assistant. They split up in the late 1980s and Stewart hasn't really had long-lasting public romantic* relationship since then.
Certainly not this century.
* Please note, we said romantic—we fully understands that Martha Stewart and Snoop Dogg have some sort of unbreakable celestial bond or something. Don't come for us.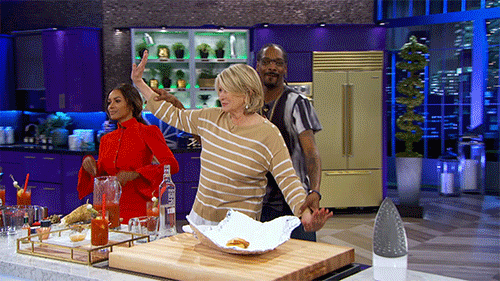 Giphy
The problem isn't that Martha doesn't meet men. The problem is that those men are all attached to someone else.
She's had some major crushes, but keeps finding out that these attractive men are tied to others. One was married to someone else's mom. Another was partnered with a friend...
Shes surrounded by hotties and can't date any of them.
Martha and Chelsea jokingly touch on the subject:
Martha: "That's where I meet men, they're all married to friends of mine or something like that."
Chelsea: "Well it's very difficult because I think there are certain ages we go through where it's very tempting because you wanna believe that, 'Oh, maybe this relationship that they're in is temporary.' "
Martha: "Or maybe they'll die. I always think 'Oh gosh, couldn't that person just die?' "
Chelsea: "The wife?"
Martha: "Yeah. Not—not painfully. Just die."
Chelsea: "Like just slowly pass away..."
Martha: "Yeah. But it, uh, hasn't worked out."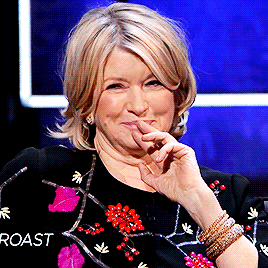 Giphy
The exchange was a playful - albeit dark - glimpse at what dating is like towards the tail end of human life expectancy.
And a reminder that Martha Stewart is not one to be trifled with.
So yeah ... there you go.
Our deepest condolences to all of Martha Stewart's friends in this difficult time.