A "cancer Viking" claims to have beaten the disease by "battling its dark forces" with yoga and aggressive exercise, in the spirit of the feared Norse pirates – running a half-marathon during chemotherapy.
Diagnosed with grey zone lymphoma, a rare and aggressive cancer of the immune system, in October 2016, recruitment manager Tom Harper, 32, from Peckham, south east London was at one point given just a 15 per cent chance of survival.
Claiming the cancer "robbed him" of 18 months of his life, Tom, who doctors discovered had tumors all over his body, including an orange-sized growth on his lung, said: "When something like that happens, you have two options – you either die or you fight it."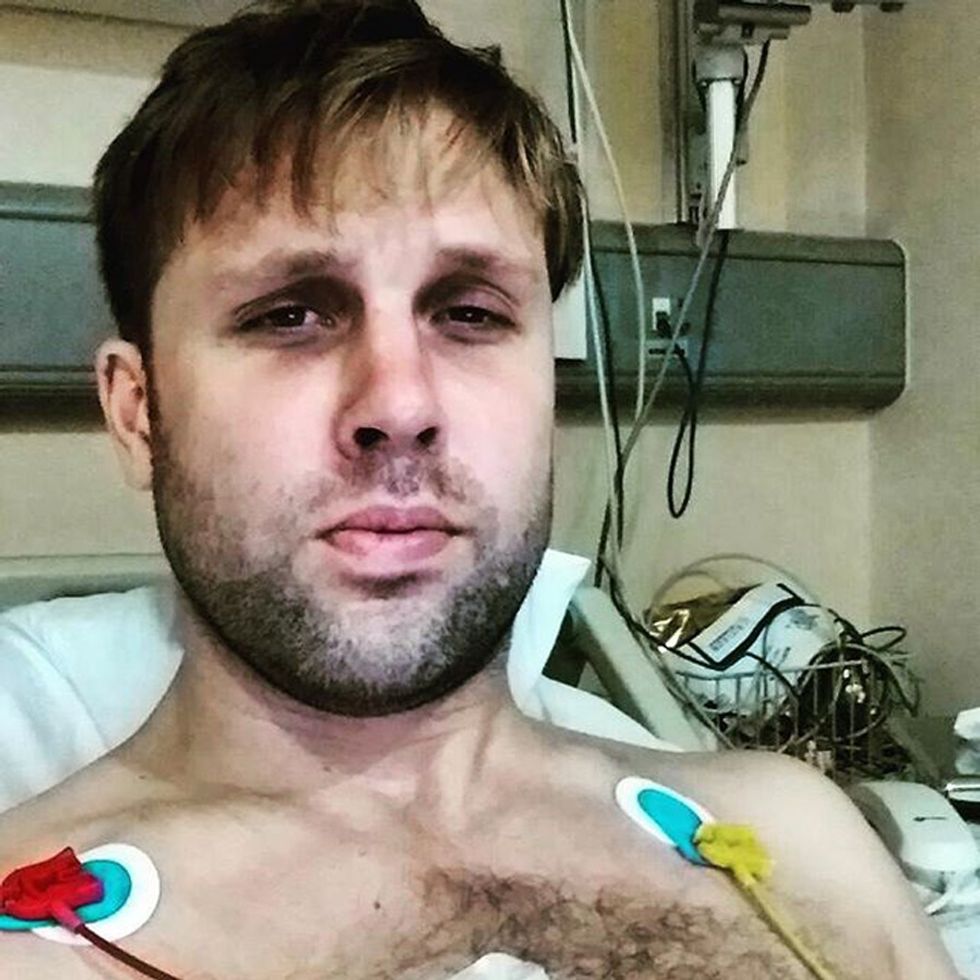 Tom pictured on the day he was diagnosed with cancer in October 2016 (
Collect/PA Real Life)
He continued: "I just developed this blind and dogged determination. In my mind I started to think of myself as a 'cancer Viking,' battling against the ethereal and dark forces of cancer."
A keen martial artist since childhood, Tom was committed to doing as much physical activity as possible, even during "intensive and grueling" treatment despite concerns expressed by medical professionals and exercise coaches.
Yoga became his salvation, helping him to cope with the devastating effects of both the cancer and the chemotherapy, which caused him to lose all his hair, except for his beard.
Tom's Viking beard (Collect/PA Real Life)
"All my body hair fell out apart from the hair on my face. That's where I got the Viking idea from," said Tom, who is single.
"I thought, 'If I can't grow any other hair, I'm going to grow the only part I can as much as possible!'"
"Pushing my body with yoga and exercise benefited me enormously."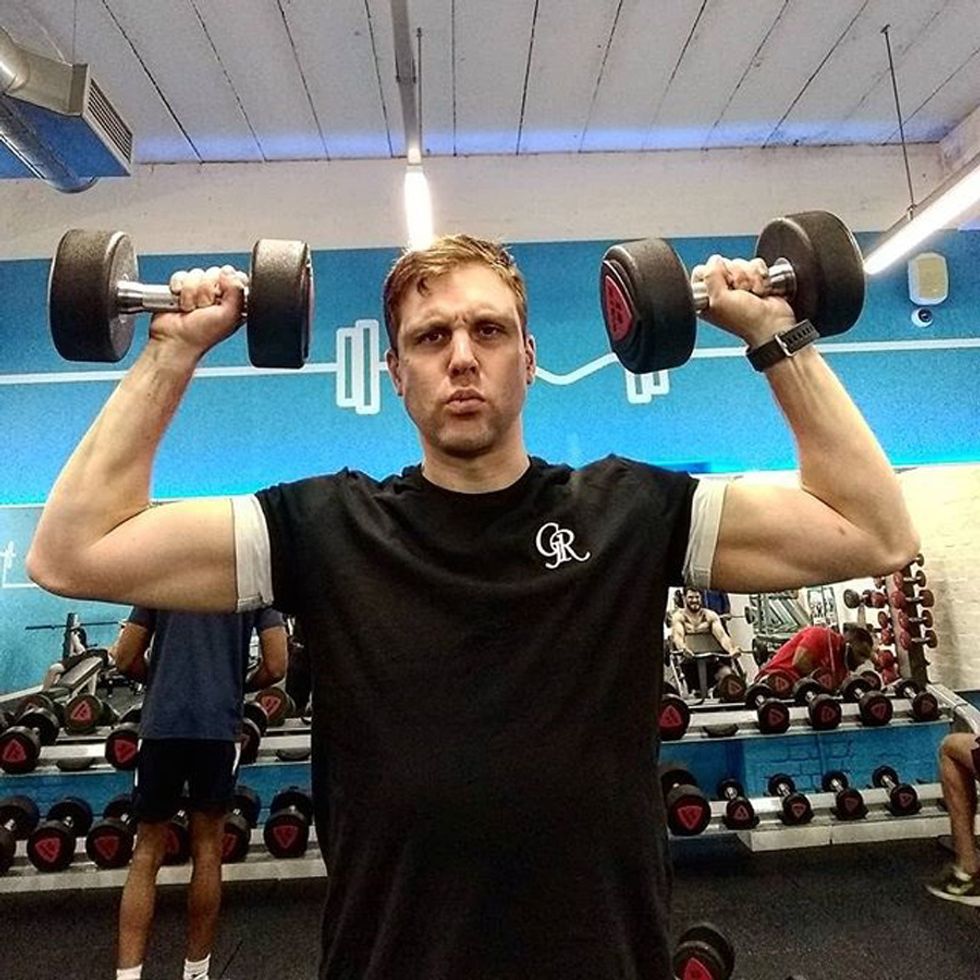 Tom weight training during his treatment (Collect/PA Real Life)
He added: "I felt like no matter what they threw at me with the treatment, I would be able to take it."
Tom first realized something was wrong in February 2016, when he developed lingering pains in his back.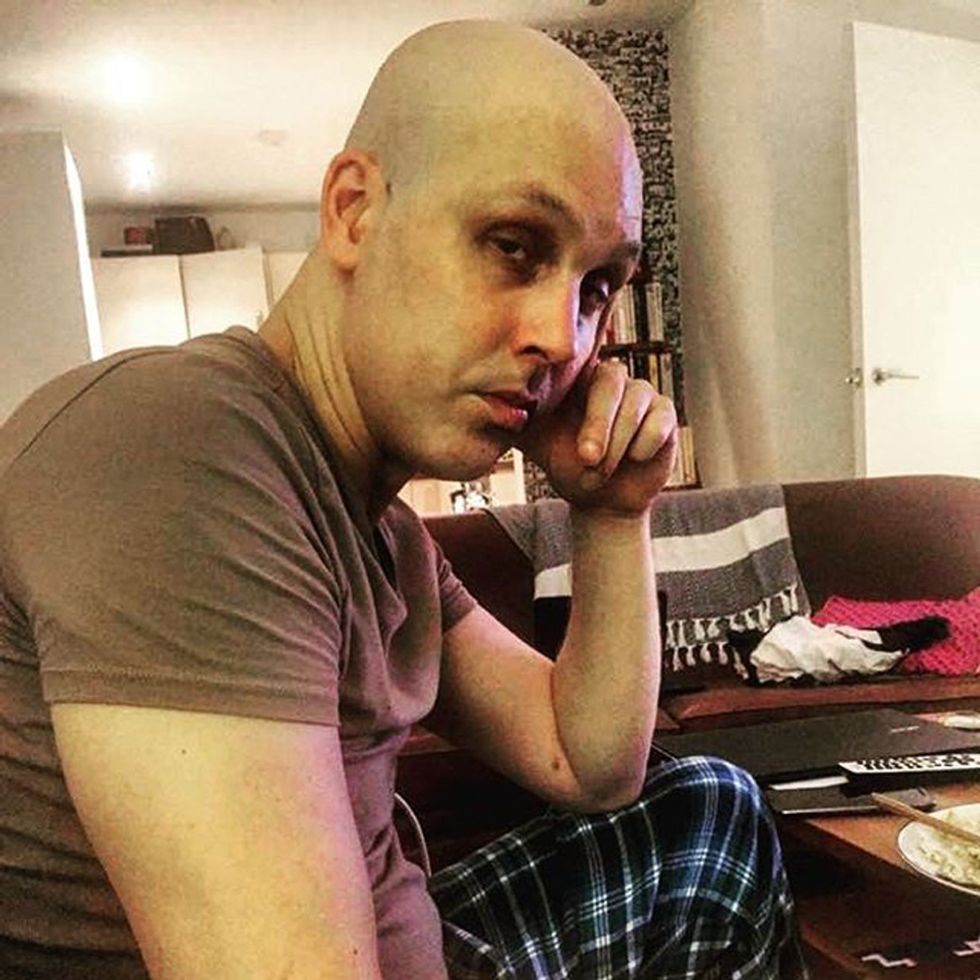 Tom during one of the worst periods of his treatment
(Collect/PA Real Life)
But when he started losing to opponents he would normally beat hands down, Tom suspected his aches and pains could be more serious.
Repeated trips to the GP proved inconclusive, but all the while Tom was becoming weaker and weaker.
"I would get these night sweats and wake up in the middle of the night with my sheets utterly drenched," he recalled.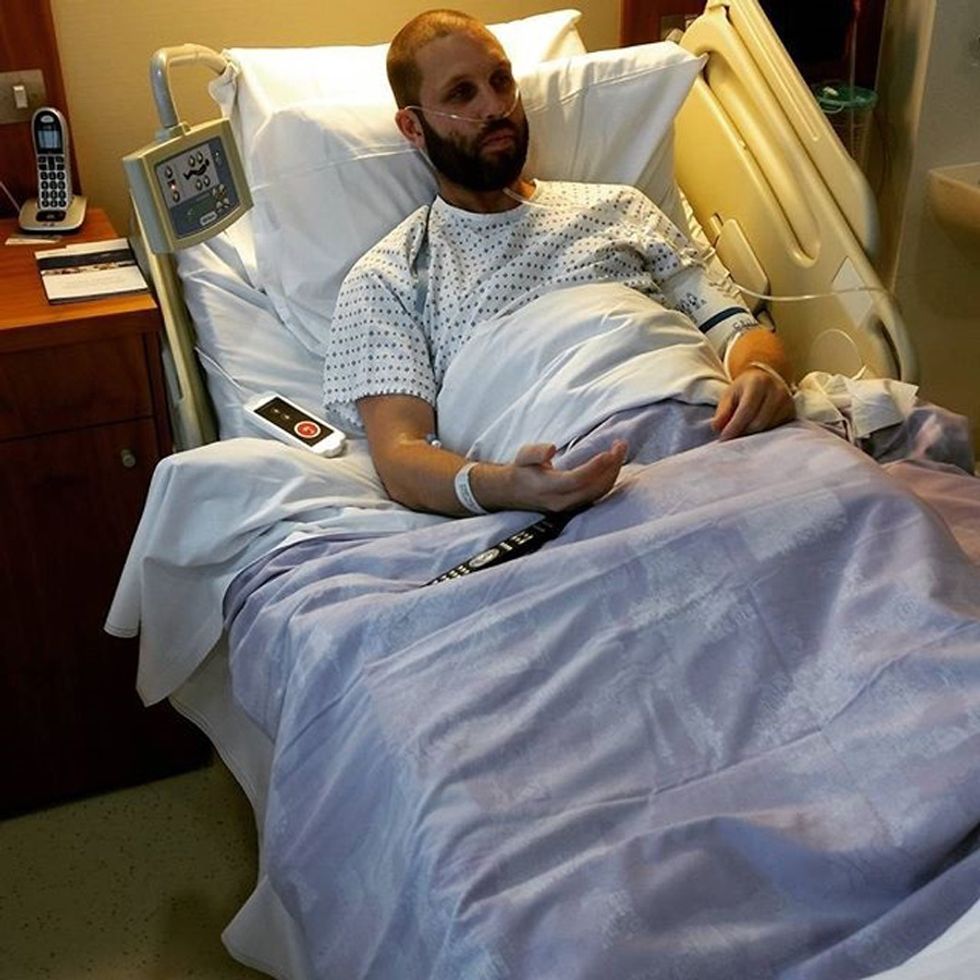 Tom in London Bridge Hospital (Collect/PA Real Life)
"I started becoming sick more and more frequently. At first, I told myself it was food poisoning, but it started happening so often that it became increasingly clear that something was really wrong."
And in October 2016, after 13 visits to the doctor, Tom's worst fears were confirmed when a large lump was found in his neck, leading to a diagnosis of lymphoma.
Prescribed six rounds of chemotherapy at the private London Bridge Hospital, where his treatment was covered by medical insurance, doctors hoped to blitz the tumors that were soon in all parts of his body – the biggest being a 5.11-inch wide growth on his lung.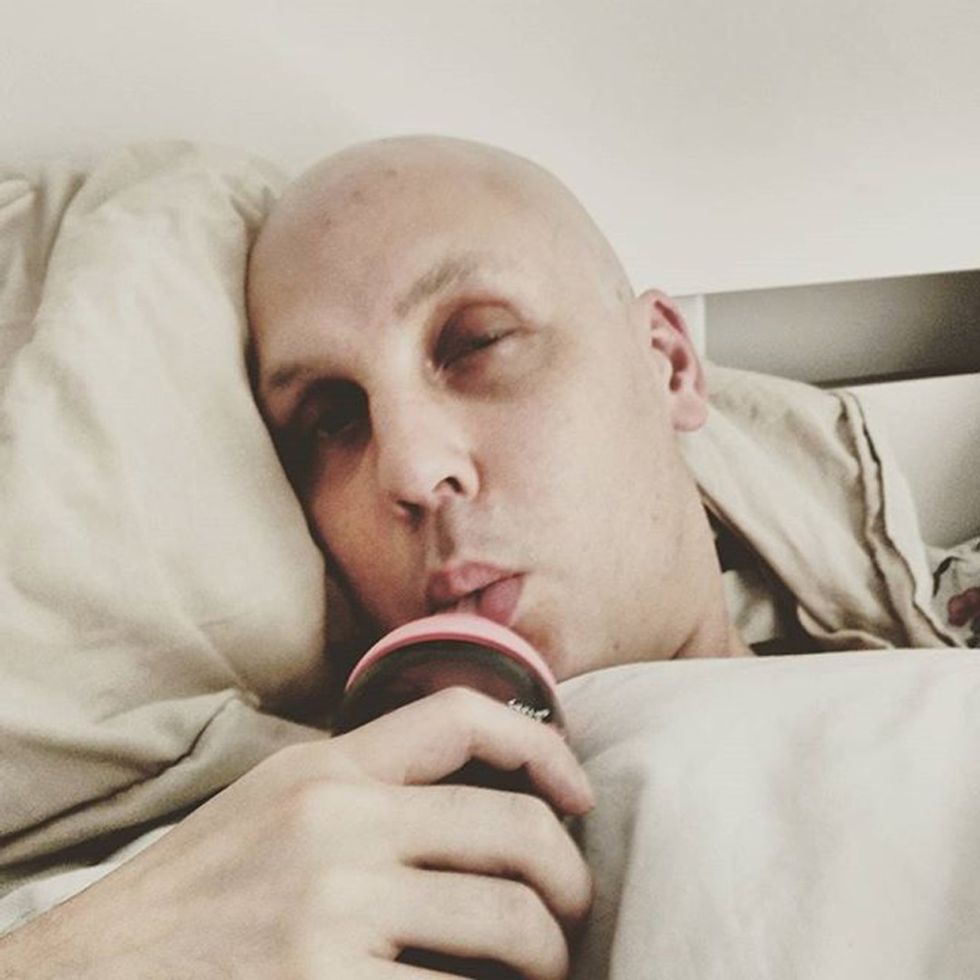 Tom during one of the worst periods of his treatment
(Collect/PA Real Life)
Despite the intensive treatment, Tom vowed to maintain his fitness and complete an hour and a half yoga session every day.
"One of the best pieces of advice I was given, was from a doctor who said, 'If you act like a patient, you'll become a patient,'' he said.
"So, I tried to be as active as possible. Every day I'd get up, have a shower and go for a walk."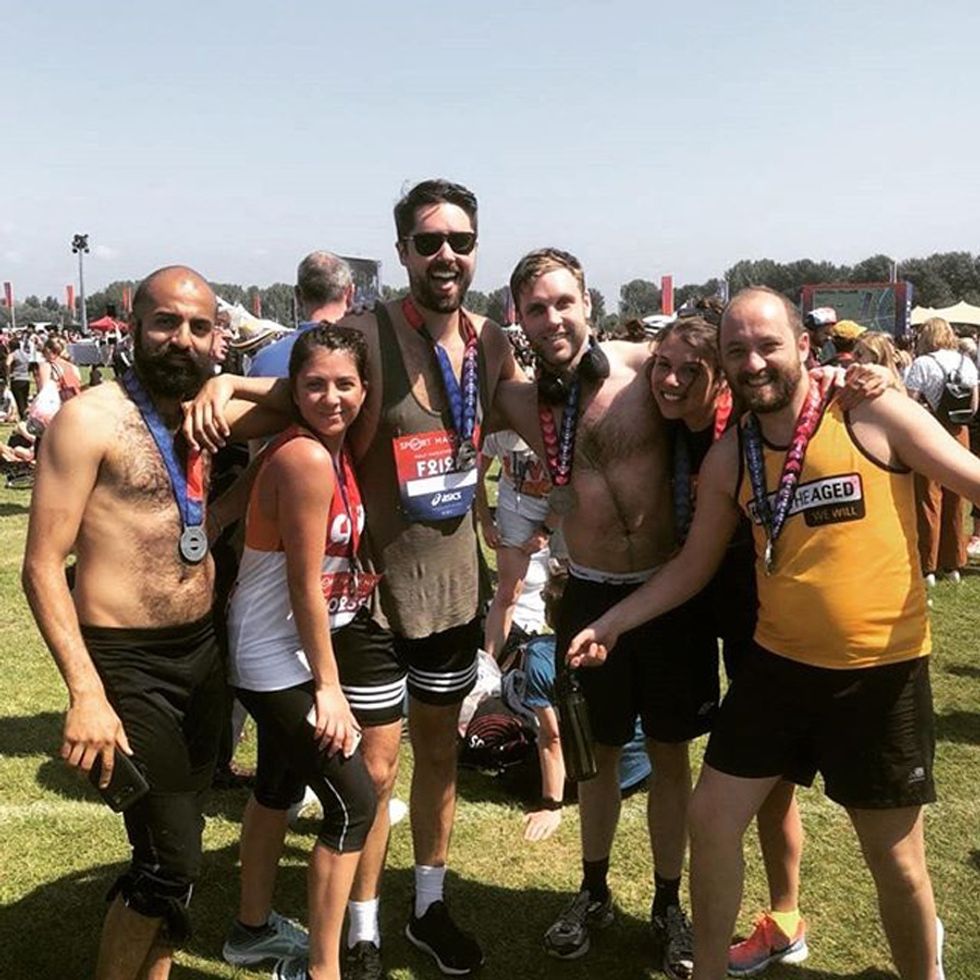 Tom having completed the Hackney half-marathon (Collect/PA Real Life)
He added: "I didn't want to be lying in bed and letting the cancer bring me down. I wanted to be up and at it and feeling like I was doing something to fight it off."
Amazingly, in January 2017, when Tom was at his worst, he completed a 30 day yoga challenge, performing the stretching and deep breathing discipline each day despite having just had five months of powerful chemo.
"It helped to build up my mental resilience," explained Tom.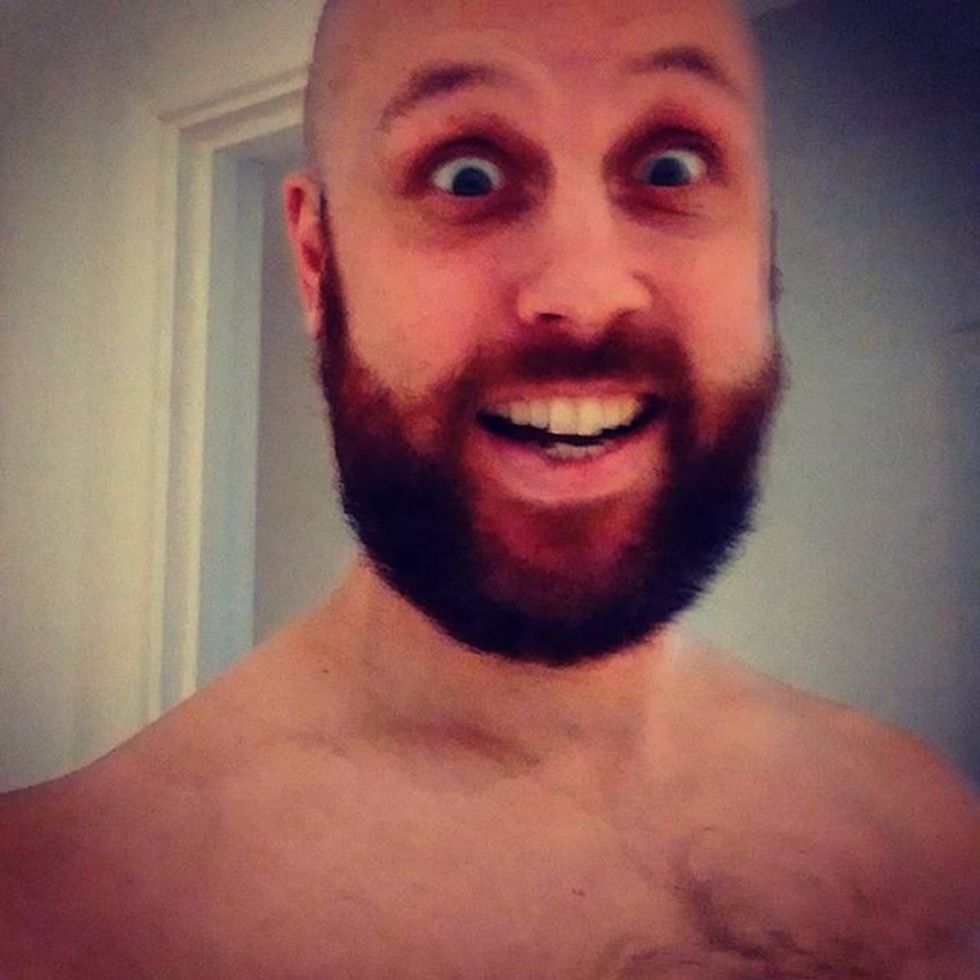 Tom's Viking beard (Collect/PA Real Life)
"I would meditate regularly, also repeating mantras about healing and strength over and over in my head."
"The words would wash over and relax me. It was like having a cool, damp cloth wiped over your forehead."
But to Tom's horror, a scan in April 2017, following six bouts of chemotherapy, revealed that all his efforts had been in vain, as the tumors had not shrunk at all.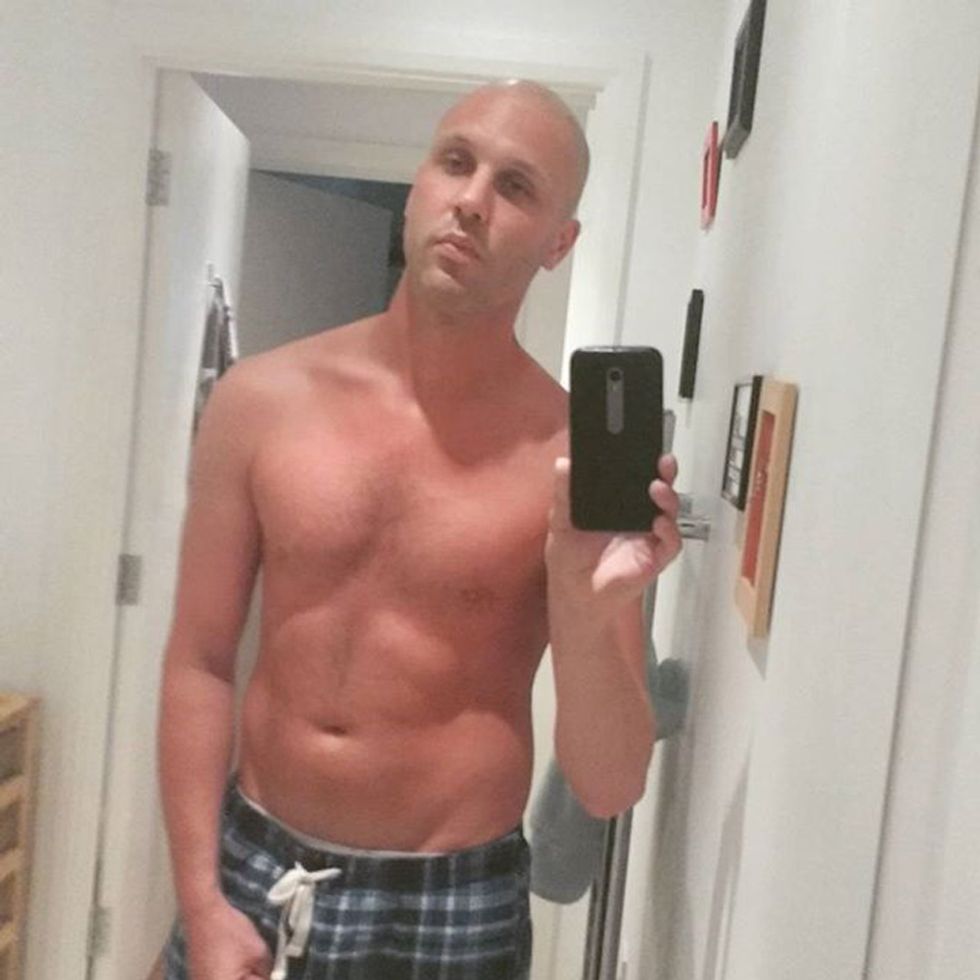 Tom lost all of his body hair, including his beard, during immunotherapy
(Collect/PA Real Life)
"At that point, it was the stage where they begin saying that they will try to make you as comfortable as possible," he recalled.
"But I thought, 'No, I'm not just going to slip away. I'm going to keep going until I beat it.'"
As his chemotherapy had failed, in April 2017 doctors put Tom on a 12-month course of immunotherapy, a radical form of cancer treatment that targets the enzymes on the tumors.
Claiming this was the worst period of all his treatment, Tom said his physical appearance changed drastically and he even lost the Viking beard that he had so cherished.
Now entirely bald and with a deathly white palor, Tom, "looking like a ghost", sought support from the charity Look Good Feel Better, which helps people to manage the visible side effects of cancer.
"There aren't many places where men can discuss cancer," explained Tom.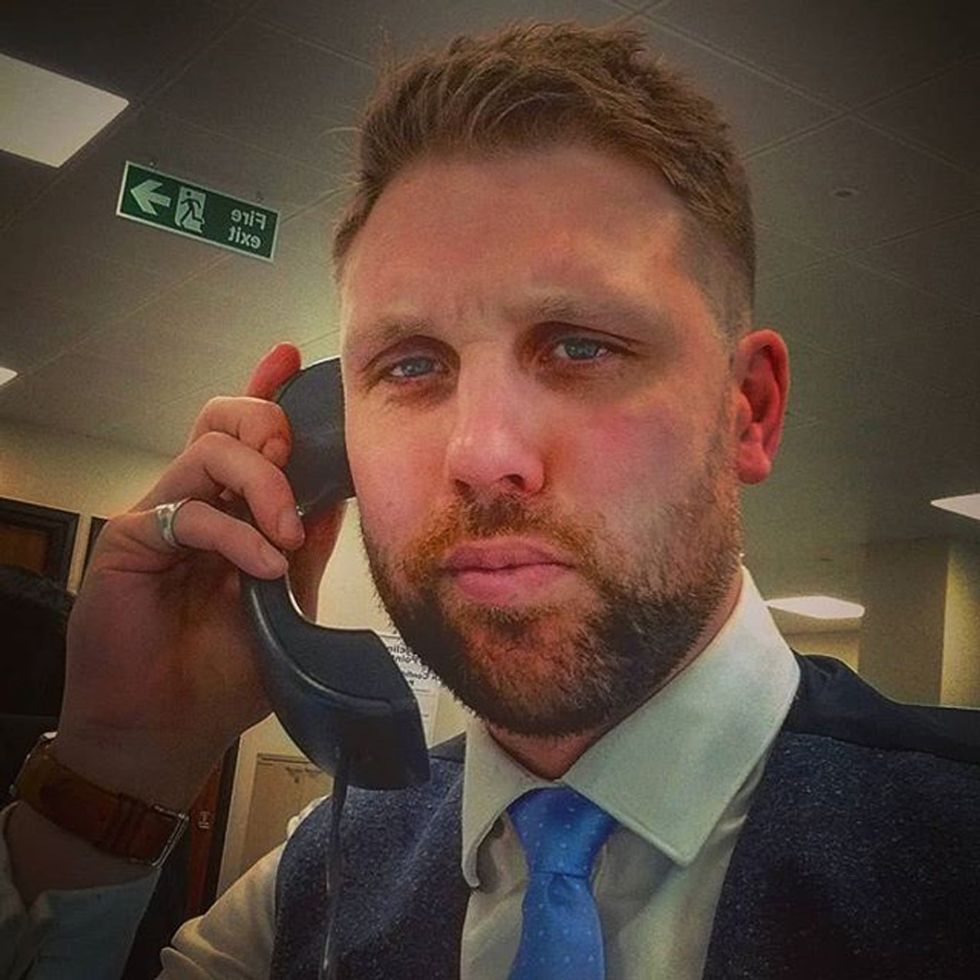 Tom back at work in March of this year (Collect/PA Real Life)
"Men tend to be more buttoned up about these things than women and it was fantastic to find a group where I was able to discuss my treatment and the effect it was having on me."
Thankfully, Tom's $17,336.00-per-dose immunotherapy, which was again covered by his insurance, began to work and, after 14 bouts he was declared cancer free.
And, after his grueling physical regime had given him so much physical and mental strength throughout his ordeal, he decided to run the Hackney half-marathon around North East London in May this year.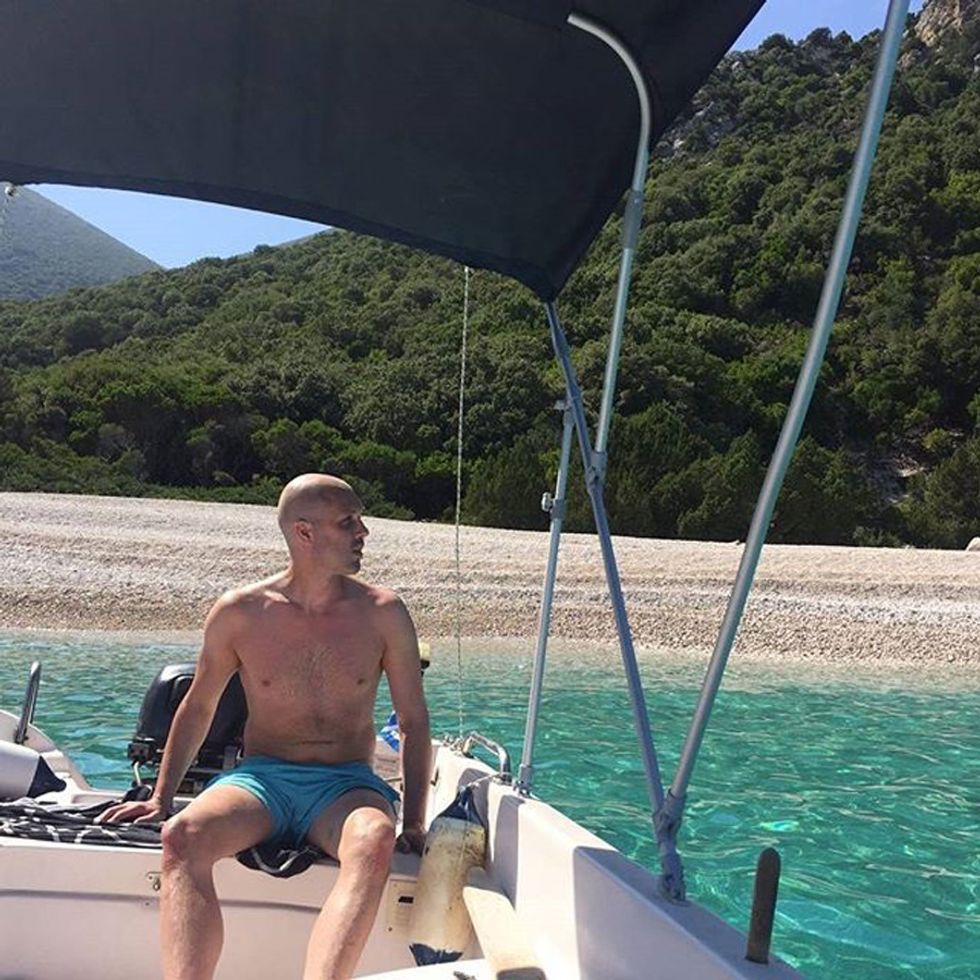 Tom on holiday in Greece during his treatment (Collect/PA Real Life)
"Everyone thought I was mad to do it, and obviously I was very carefully monitored throughout," he said.
"It was also pretty tough, as essentially I had just one lung after the cancer pretty much wiped out the other one and, throughout the run, it felt like someone was stabbing me in the back with a knife."
"But I managed it all the same."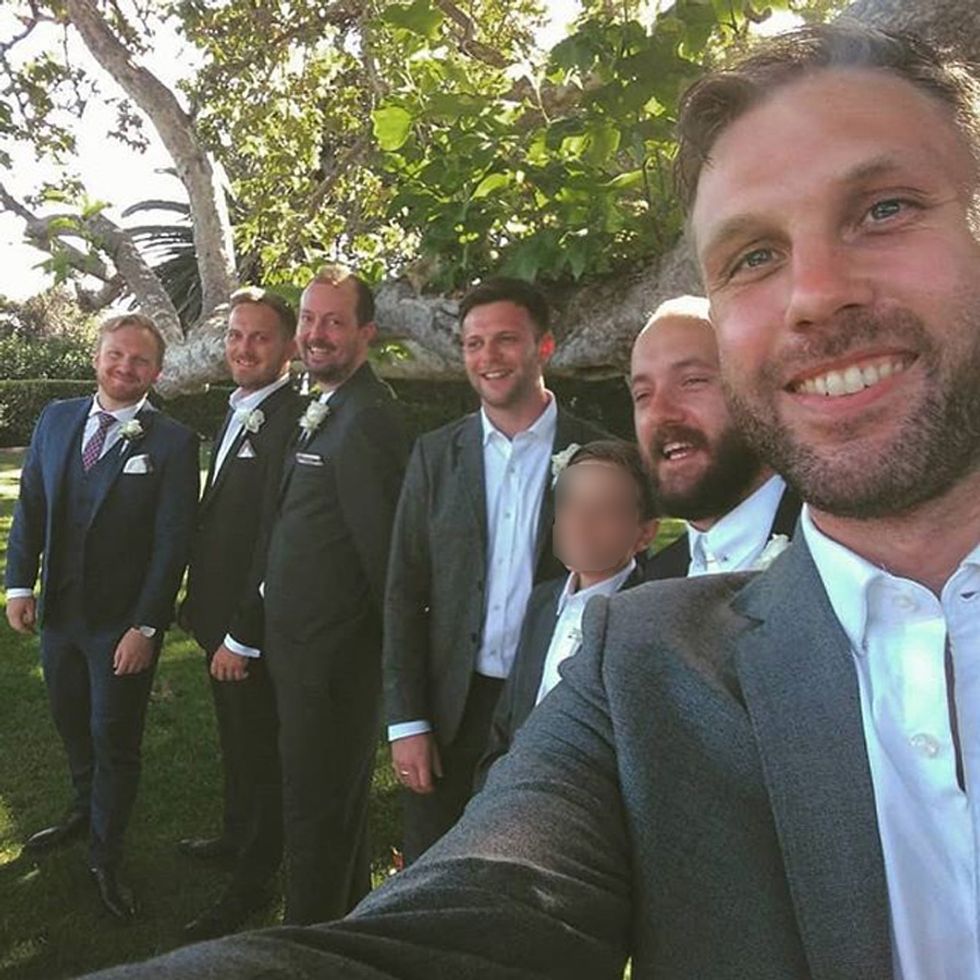 Tom at a wedding in California in August 2018 (Collect/PA Real Life)
Tom has now returned to work and also volunteers for Look Good Feel Better and for Lymphoma Action – after his half-marathon raised $5,778 for them,
Continuing with his yoga and daily meditation, he is slowly getting his life back after a year and a half of thinking each day could be his last.
"I don't sweat about the small stuff anymore," he said.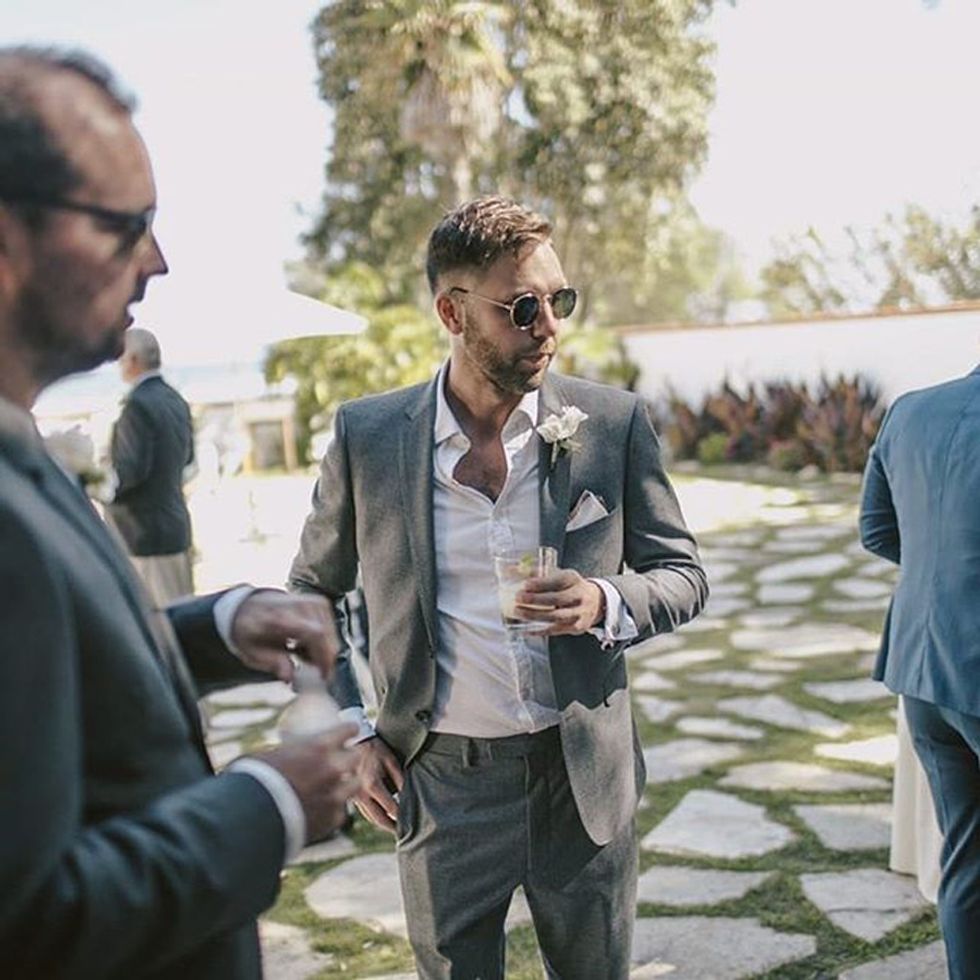 Tom at a wedding in California in August 2018 (Collect/PA Real Life)
"Knowing you could be dead at any moment for 18 months really focuses your mind on what's important. Now I feel much more uninhibited and happily express my feelings, making sure my family and friends know I love them."
Sarah Porch, head of information and support services at cancer charity Bloodwise, said: "Although we know that staying active may help people with blood cancer, particularly with managing fatigue, there's no evidence that any particular exercise program can improve your condition or how you respond to treatment.
"It's important to talk to your doctor about an appropriate level of exercise if you've been diagnosed with blood cancer."
A version of this article originally appeared on Press Association.