*WARNING: spoilers for the season 2 finale of The Mandalorian
Since the first film was released back in 1977, the Star Wars franchise has grown into a pillar of popular culture across the U.S. and the entire world.
Sayings like "May the force be with you" have worked their way into common speech. Plastic light sabers abound.
There are yearly Halloween costumes, countless parodies and fan fiction indebted to the series. There is even an informal holiday—May the 4th be with you.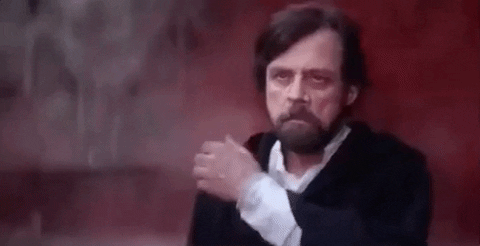 Giphy
No franchise achieves that status without amassing a core following of very committed fans. And where there are committed fans, there are deep investments and powerful emotions.

So when the Season 2 finale of The Mandalorian was released on December 18, it was no surprise to see some tearful responses across the internet.
According to Daily Dot, one of those outpourings came from YouTube channel Star Wars Theory. The channel's creator filmed themself as they watched the final moments of the episode.
Tears welled in their eyes when Luke Skywalker appeared in a surprise moment.
But it didn't take long for Star Wars Theory to find themself in an internet spat with an executive from LucasFilm, the studio that created all the Star Wars films as well as The Mandalorian.

It began when somebody called out Star Wars Theory on Twitter. They accused the YouTuber of "recreating" an "artificial" response after watching for the first time, just to create good internet content.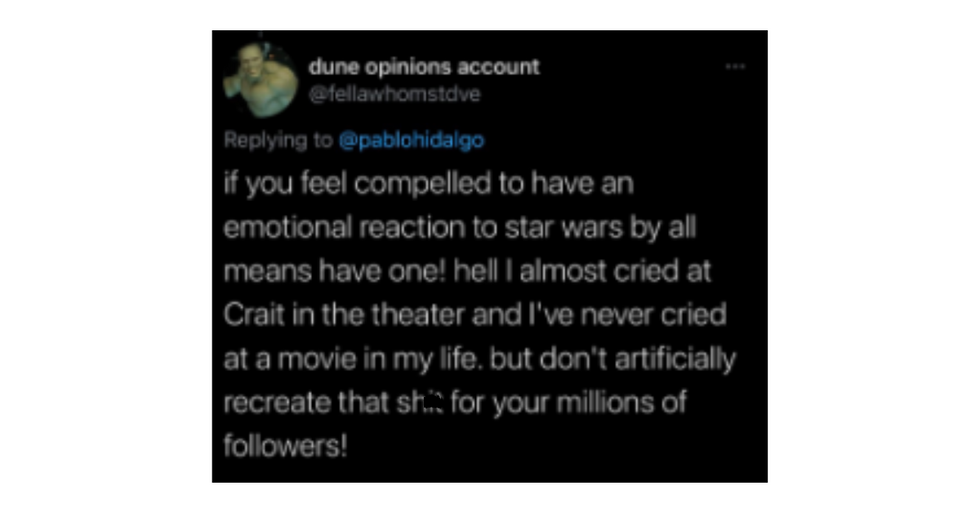 @DJared2000
But in the midst of that exchange, LucasFilm executive Pablo Hidalgo weighed in to heap more criticism on the YouTuber.
Hidalgo's tweet has since been deleted, but he apparently chimed in to say that "emotions are not for sharing." Hidalgo then stirred the pot even further by making his jab his own header for his Twitter profile.
Star Wars Theory was NOT happy about being on the receiving end of that blow.
They posted a YouTube video about the whole ordeal and issued a call to action to find Hidalgo's comment.
And the internet delivered.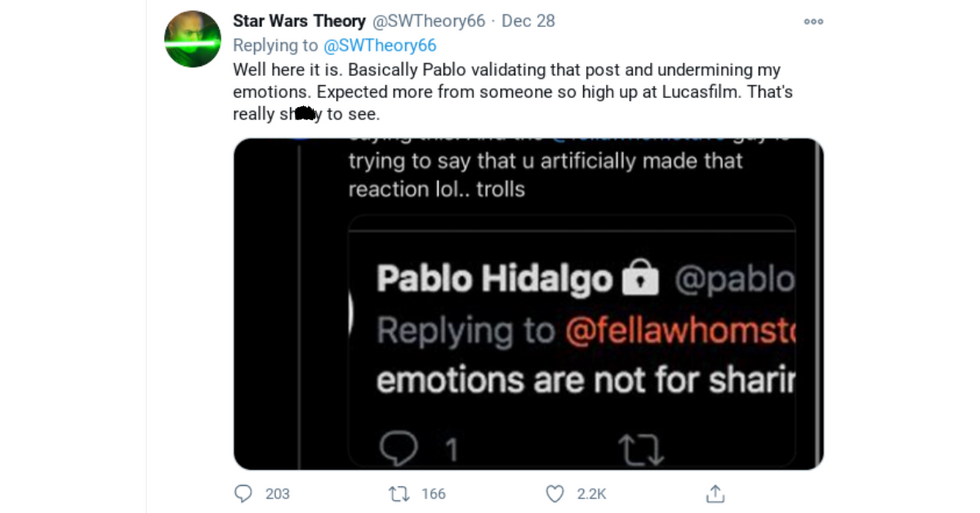 @SWTheory66/Twitter
Plenty of Twitter users voiced their support and shared the outrage felt by Star Wars Theory.
But many people on Twitter replied to share they felt Hidalgo was actually doing the opposite of attacking Star Wars Theory.
They interpreted his tweet as a sarcastic defense in response to the original attack.
Unfortunately, there's not much closure to be had.
Though many people brought the issue directly to LucasFilm and Disney—who owns LucasFilm—via tweets, there were no responses.

One thing is for sure, though. The many empathetic voices of support in response to Star Wars Theory's tweet illustrated the Star Wars fandom is alive and well.
The Mandalorian seasons 1 and 2 are available on the Disney+ streaming service.