Parents are calling for the firing of a Louisiana teacher after she made a racist comment in a public Facebook group.
Julie Colley, a tutor and facilitator at Ossun Elementary School in Lafayette Parish, Louisiana made the comment on a public post in the Facebook group Whatz Goin On in Acadiana about a recent Back to School event in a Black neighborhood.

Referring to the event's location, Colley used a racist nickname containing the n-word used for decades to deride communities with high proportions of Black people.
See the comment below.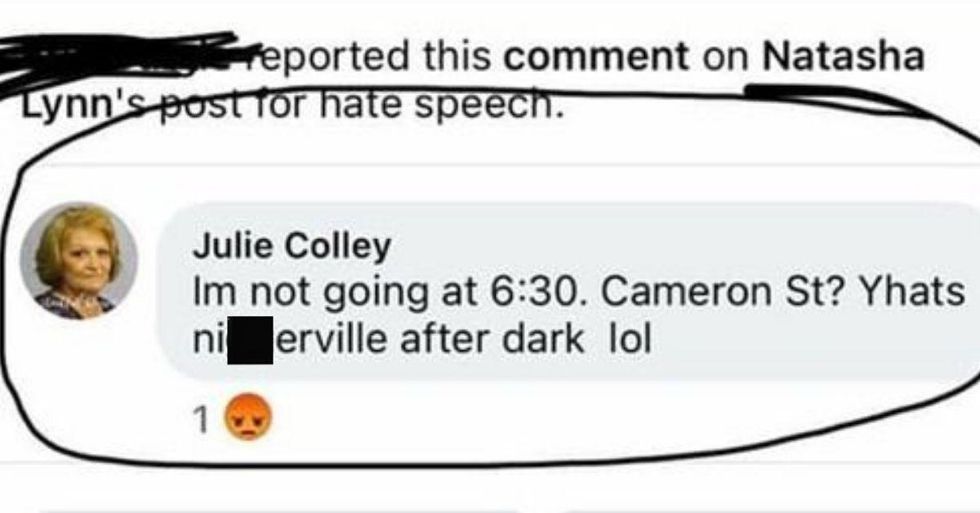 Whatz Goin On in Acadiana/Facebook
Colley wrote:
"I'm not going at 6:30. Cameron St? [That's n-word-ville] after dark lol."
Colley has since deleted the comment, but screenshots have been heavily circulated.
According to a Lafayette Parish school district spokesperson, a "thorough investigation into the matter" has been launched.
The incident is particularly worrying given Ossun Elementary's high concentration of Black students, which comprise about 45% of the student body. And that has led to countless shocked and outraged parents calling for Colley's firing.
Parent Nureaka Ross decried Colley's influence over impressionable children.
"I'm seriously concerned, she's poisoning the minds of the most vulnerable... For her to feel so comfortable making a statement of that magnitude such as [n-word-ville] on a public forum, it speaks volumes."
Robin Bugge echoed that sentiment, blaming Colley's actions on White privilege.
"I think there is an audacity of white women to say whatever they want in these spaces. And it's not alright and especially not around children."
Local leaders are calling for Colley's removal, too.
Speaking to newspaper The Acadiana Advocate, Vice President of the local NAACP chapter Marja Broussard did not mince words about the shocking racism Colley has shown.

"We will not tolerate this bigotry that continues to traumatize our youth and further the narrative that our Black children are second-class citizens.
d"We are calling on Superintendent Trosclair to immediately remove Ms. Colley from any ability to further traumatize students, especially Black and Brown, Indigenous, and immigrants or from any ability to continue to teach this mentality to innocent students trusted in her care."
On social media, people were similarly outraged by Colley's actions.
Colley has not been fired as of this writing.