The parents of a four-year-old girl are sharing the story of their daughter, Olivia Nash. She had her eye removed after she was diagnosed with a rare cancer and is now banned from kissing her newborn brother because of the risk of infection.
---
Stef and Chris Nash, first noticed their daughter Olivia had an occasional squint in her right eye when she was two, but put it down to tiredness.
But in October 2018, a couple of weeks after her third birthday, the little girl's eye seemed to suddenly change color from its usual dark brown.
"It's hard to explain, but it was like it had gone a clear, grey-ish color. It was lighter and you could not really see the pupil," Stef said.
Puzzled, the parents followed online advice to take a photo of Olivia with the flash on – and noticed a white spot in the middle of her eye.
Olivia was scheduled to see a doctor, but when her eye color changed, it became a top priority.
"I got Olivia to stand with me and we took a picture with the flash on to see if there was any change," she said.
"Then we noticed she had the white glow in her eye. I started to panic then because I'd read online that it could be a symptom of retinoblastoma. That's why we decided to take the picture as I knew it could be a way of identifying if something was wrong."
"We now know it was the white glow that had made her eye look a different color."
That spot turned out to be a sign of retinoblastoma, a rare type of eye cancer that develops in young children, usually under the age of five.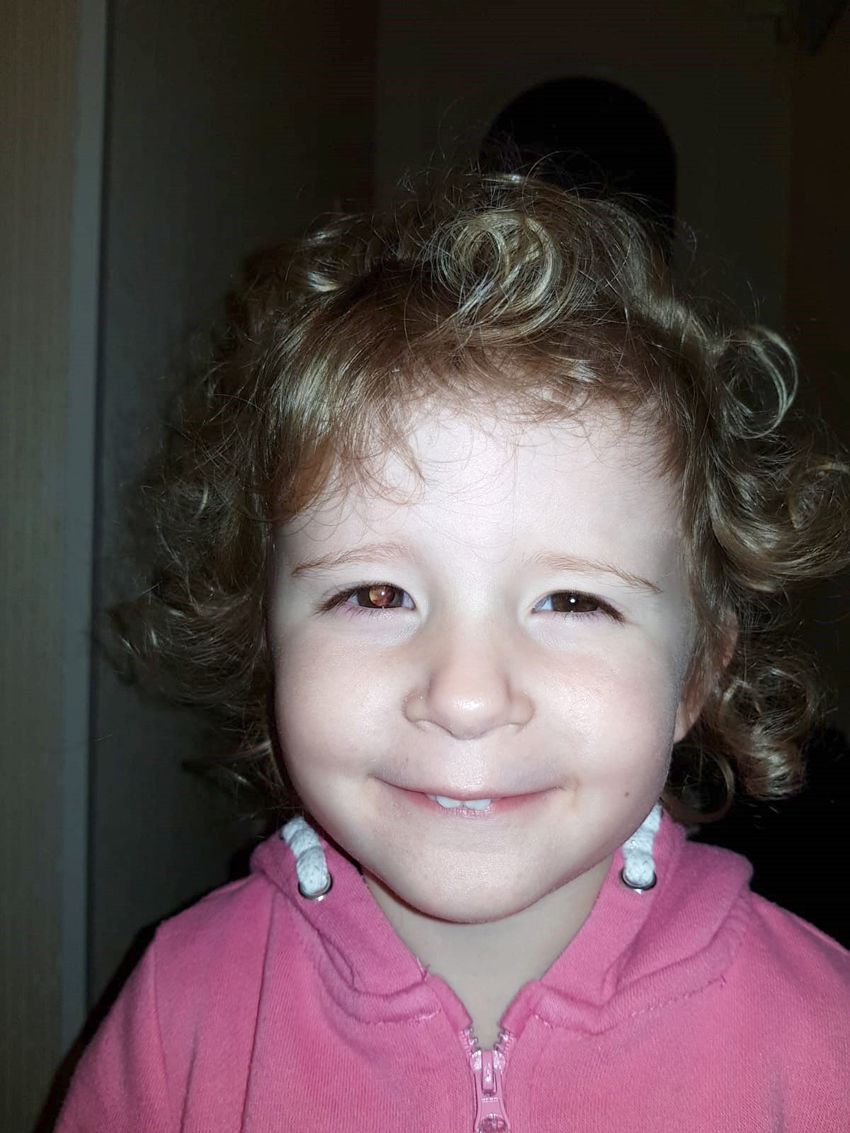 The picture that identified Olivia's cancer (PA Real Life/Collect)
"We were soon told by doctors that the only form of treatment was to remove Olivia's eye," Stef said.
"It was scary, but we knew it would take the pain away and we knew that without doing it there was a risk the cancer could spread to her brain. It was going to save her life.
"The saddest thing was that her immune system was weakened because of the chemotherapy, so for a few weeks she wasn't allowed to kiss her baby brother, who was born half way through her treatment, because of the risk of her picking up an infection."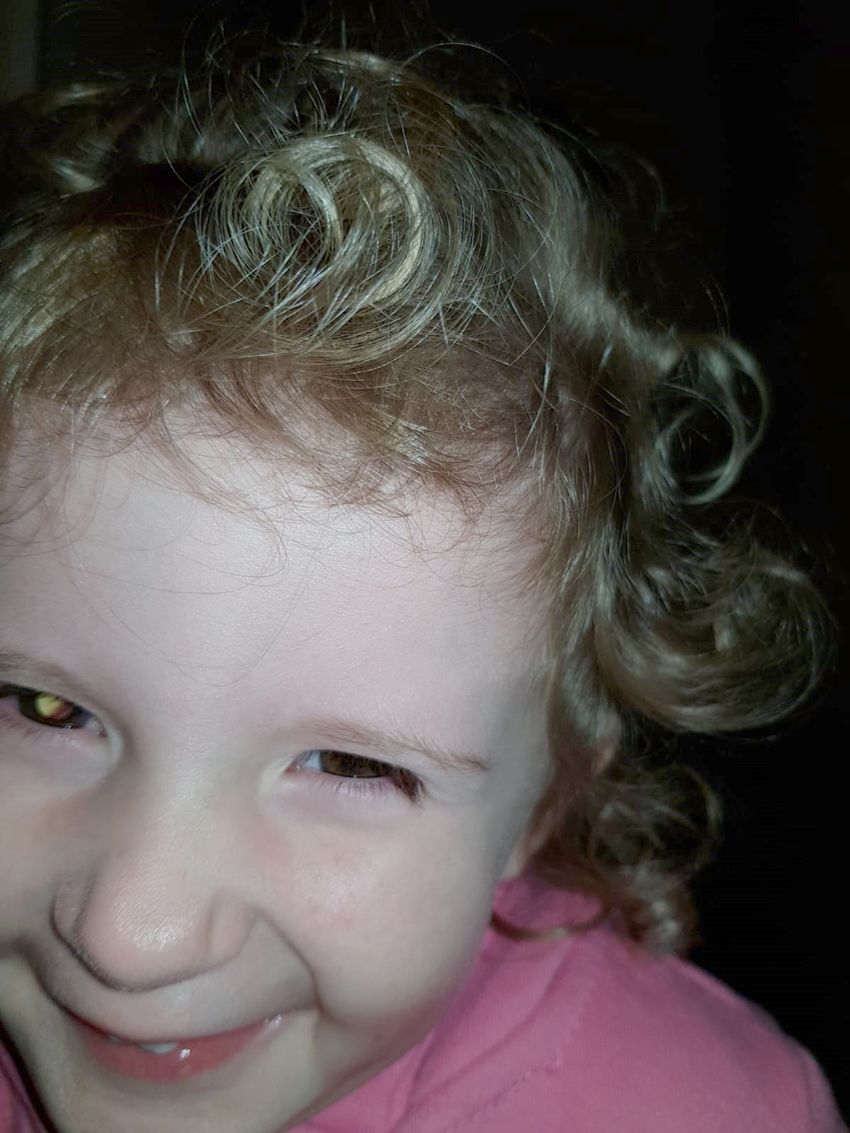 The picture that identified Olivia's cancer (PA Real Life/Collect)
"It's really hard telling a three-year-old they can't get too close. She was so excited about meeting him," she continued.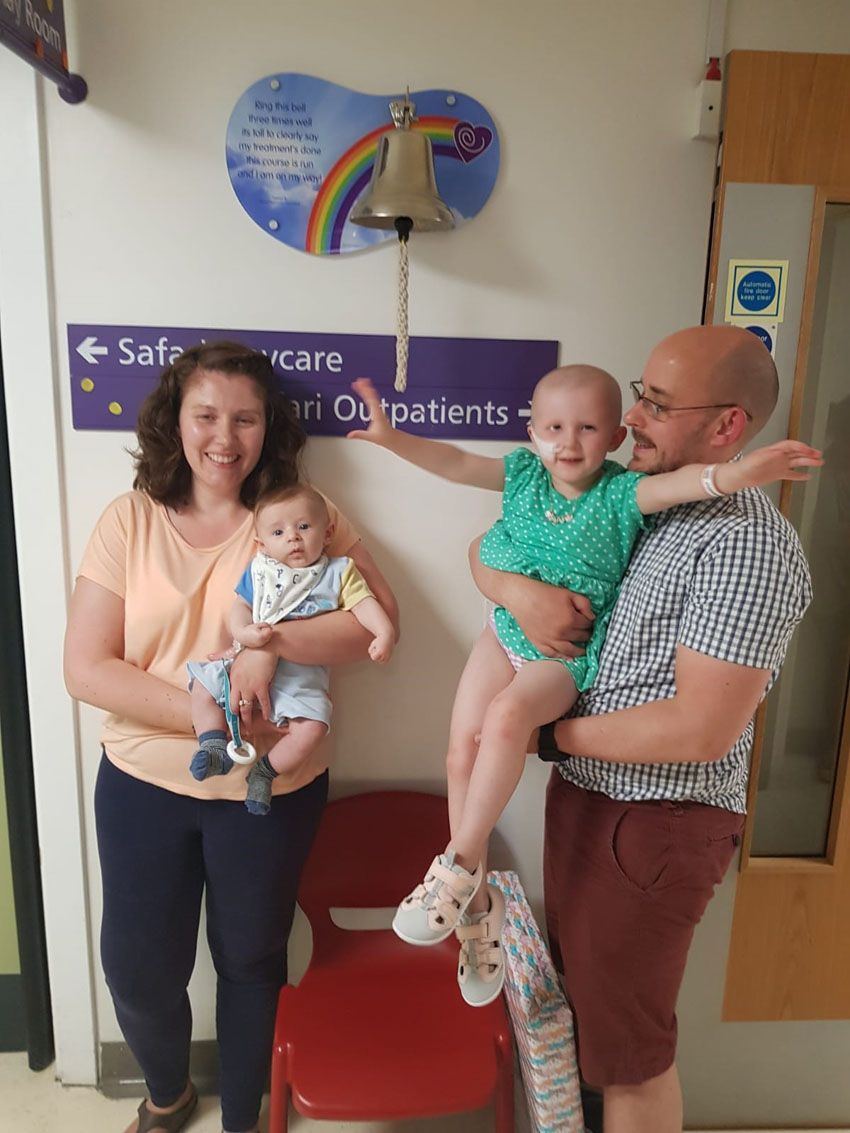 Olivia with Chris, Stef and baby Ethan (PA Real Life/Collect)
That evening, Stef and Chris took Olivia to her local general practitioner.
After carrying out tests, including moving her finger in front of the eye to gauge her reaction – to which she did not respond – the GP told them to go straight to Ashford Hospital in Kent.
"You could tell she was worried as she was adamant we should go there and then, rather than wait until the morning," said Stef.
"Olivia was not very well at this point, she had actually been sick and was very clingy so we knew something was wrong."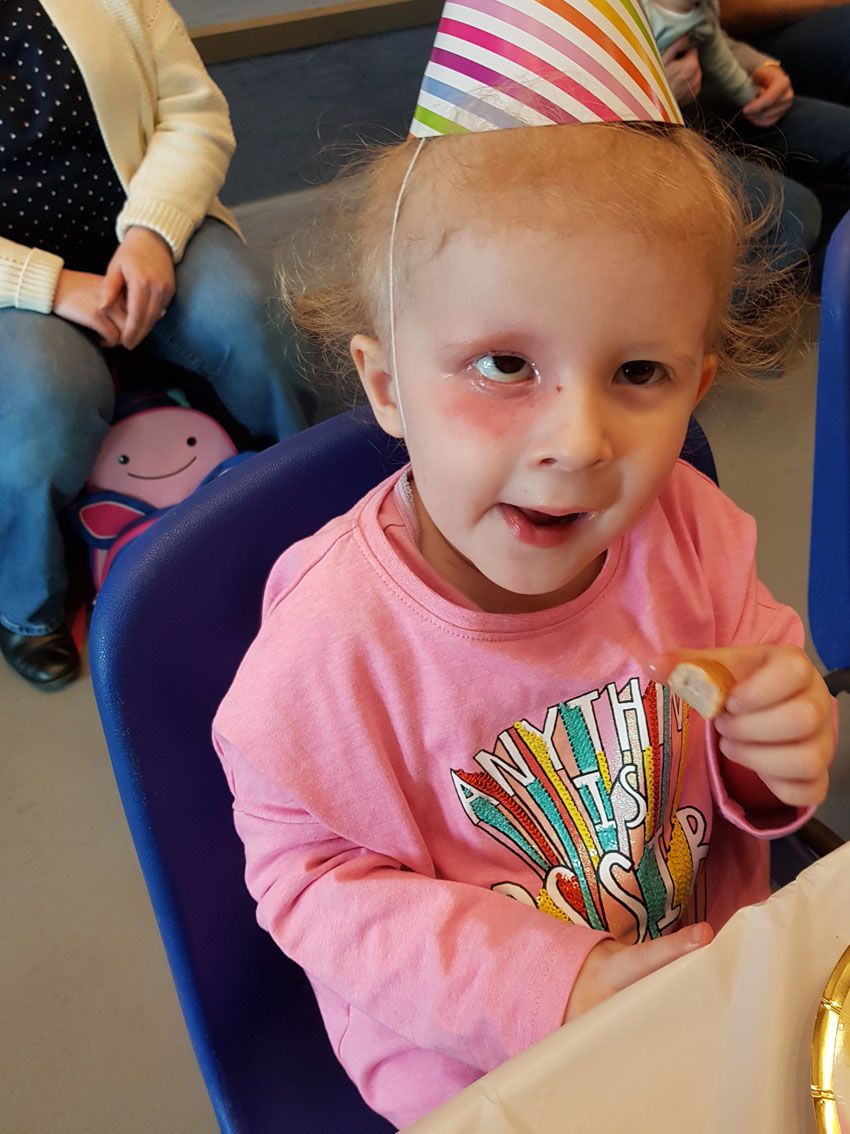 Olivia with her new eye (PA Real Life/Collect)
Seen by an ophthalmologist at the hospital, they were told Olivia's retina looked like it had detached, and she was admitted to stay overnight.

"Everything was going through our minds at that point. They said to us that it was unlikely Olivia had ever been able to see out of that eye, or that she ever would," Stef said.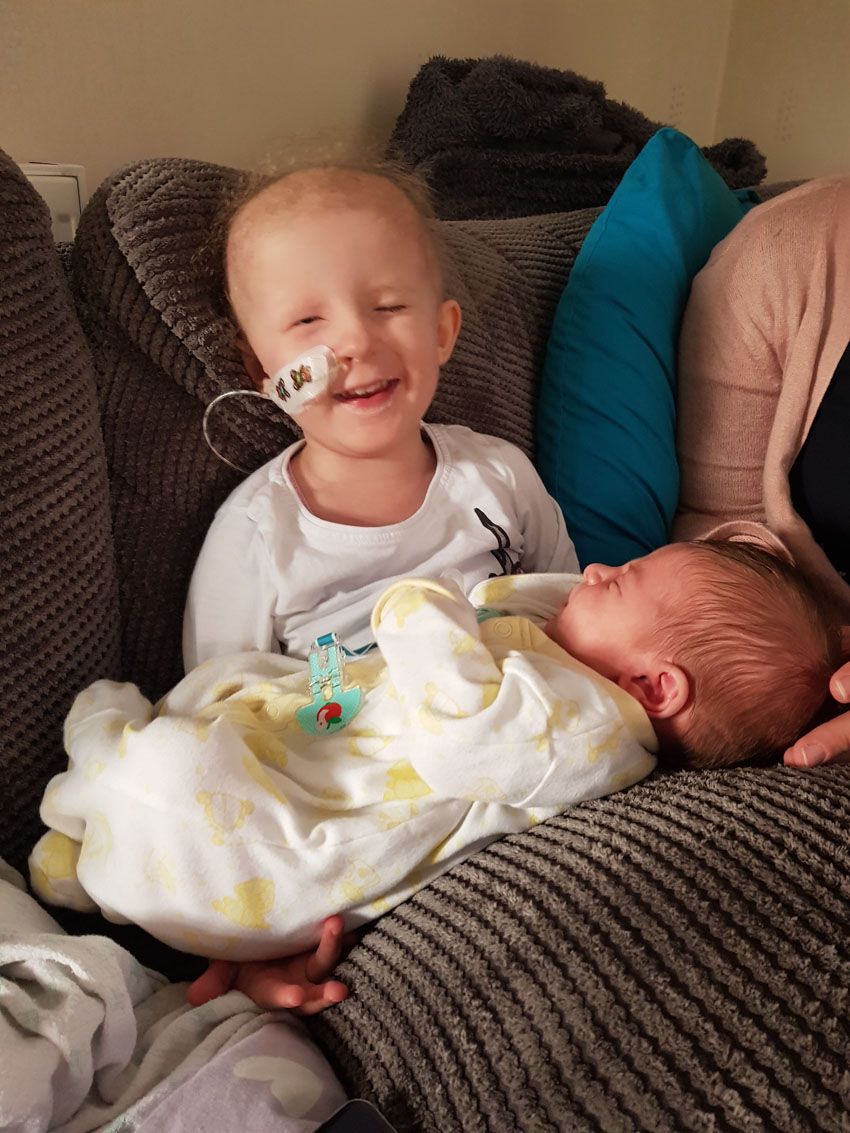 Olivia with her brother when her immune system is better (PA Real Life/Collect)
Next day Olivia was sedated so medics could carry out an MRI and CT scan, which confirmed there was a tumor at the back of her right eye and a bulge on the optic nerve, which was likely to have caused the nausea.
She was diagnosed with retinoblastoma, which, according to the NHS, is a rare type of eye cancer that affects the retina. Around 45 children are diagnosed in the UK each year.
"It was such a shock. We'd been so happy that she was getting a little brother or sister and obviously being pregnant my hormones were all over the place. We didn't really know what to do with ourselves," Stef called them.
"We just had to focus our attention on Olivia," Stef added.
"Once we had the results, we saw a specialist who told us the tumor was likely to have been there for quite some time – it wasn't something that had just appeared. Of course, Olivia didn't know any different, so couldn't tell us there was something wrong, and we didn't notice."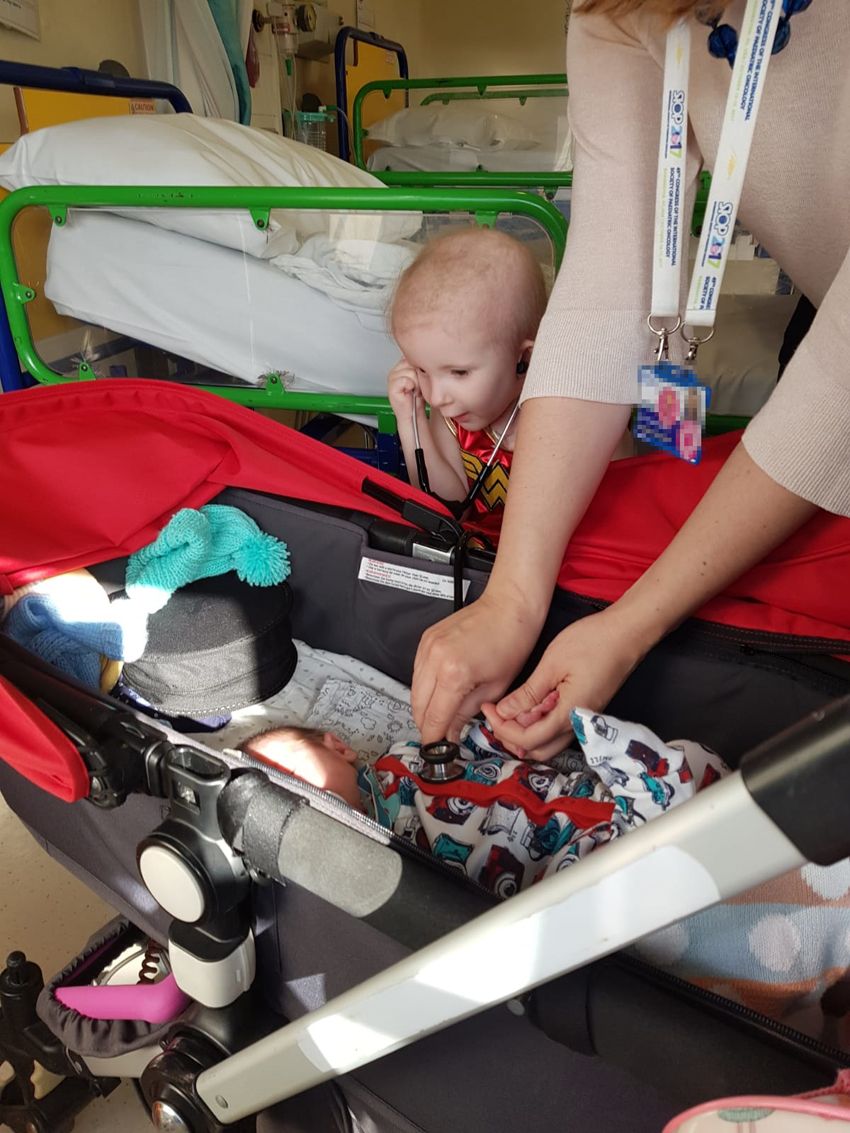 Olivia meeting her brother (PA Real Life/Collect)
"Looking back, she did not start walking until 16 months, but we put that down to her being a bit lazy," Stef said.
"With hindsight, it could have been that she preferred crawling because she felt more comfortable being closer to the ground, if she felt unbalanced because she could only see out of one eye. But we simply don't know. It's very hard for parents to see the signs as the child adapts quickly."
Olivia was referred to specialist retinoblastoma treatment centre, The Royal London Hospital, and a week later her parents were told she would have to have her cancerous eye removed.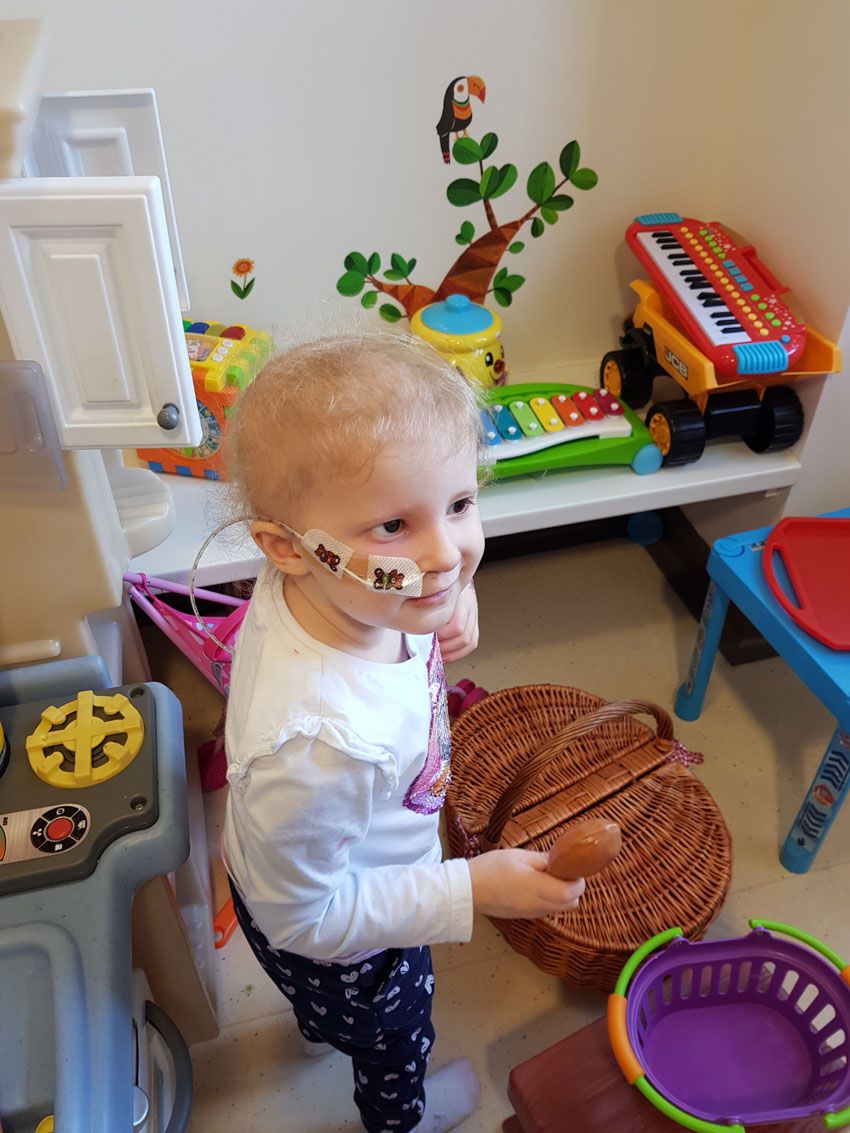 Olivia during treatment (PA Real Life/Collect)
"That was the only form of treatment she could have and we didn't hesitate," Stef said. "Knowing that it was going to help her, it was actually a big relief. Olivia didn't fully understand what was going on, but was old enough to know her eye was poorly and needed to be fixed."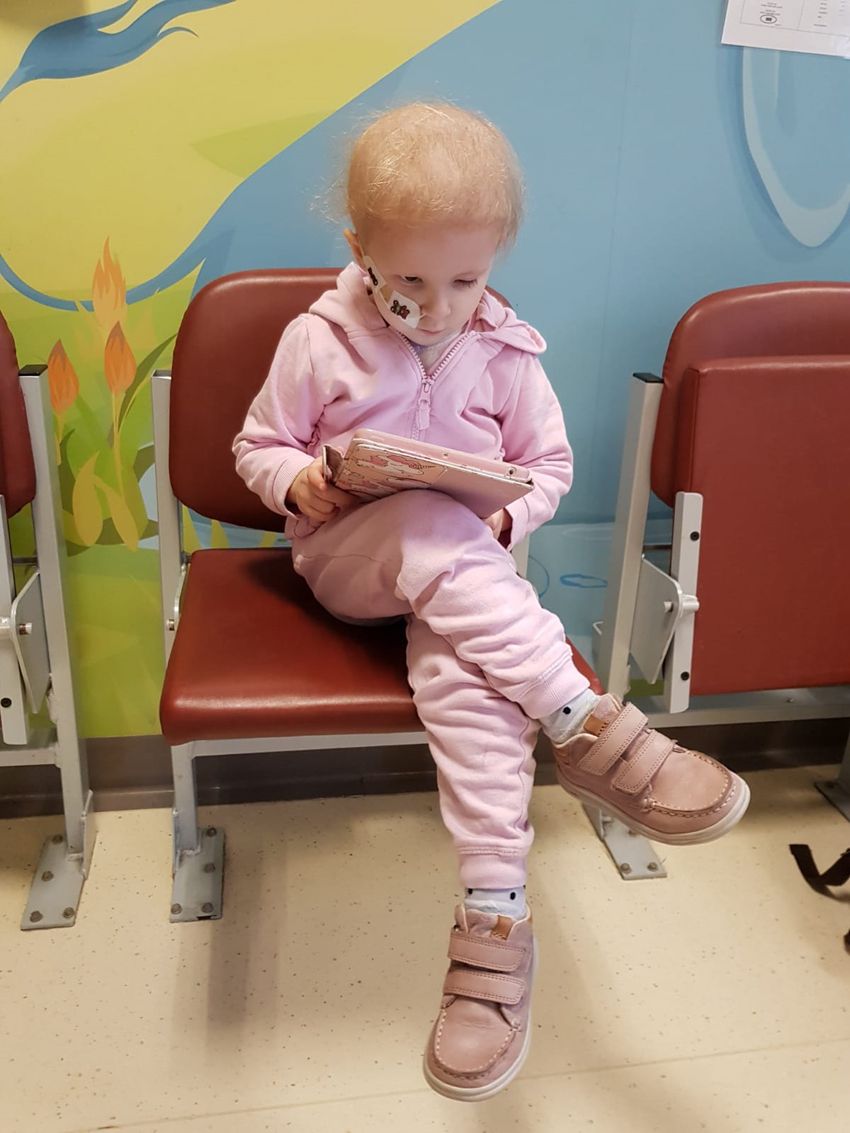 Olivia during treatment (PA Real Life/Collect)
"It was hard knowing what she would have to go through, but she had lots of support from the hospital. She had a play therapist who used toys to explain what was going to happen, so she was getting lots of attention," Stef explained.
"They showed us what they were going to put in place of her eye. It was like an acrylic eyeball which went into the socket and was painted the same color as her other eye."
At the beginning of November 2018, Olivia underwent a two-hour operation during which surgeons removed her right eye and also cut away as much of the bulge on the optic nerve as they could – sending it off for a biopsy.
She also had her false eye fitted at the same time.
"As soon as she came round she was bouncing off the walls. She was like a totally different child – she was so happy and it was obvious the pain had gone," Stef remembered.
She stayed overnight and was taken home the next day.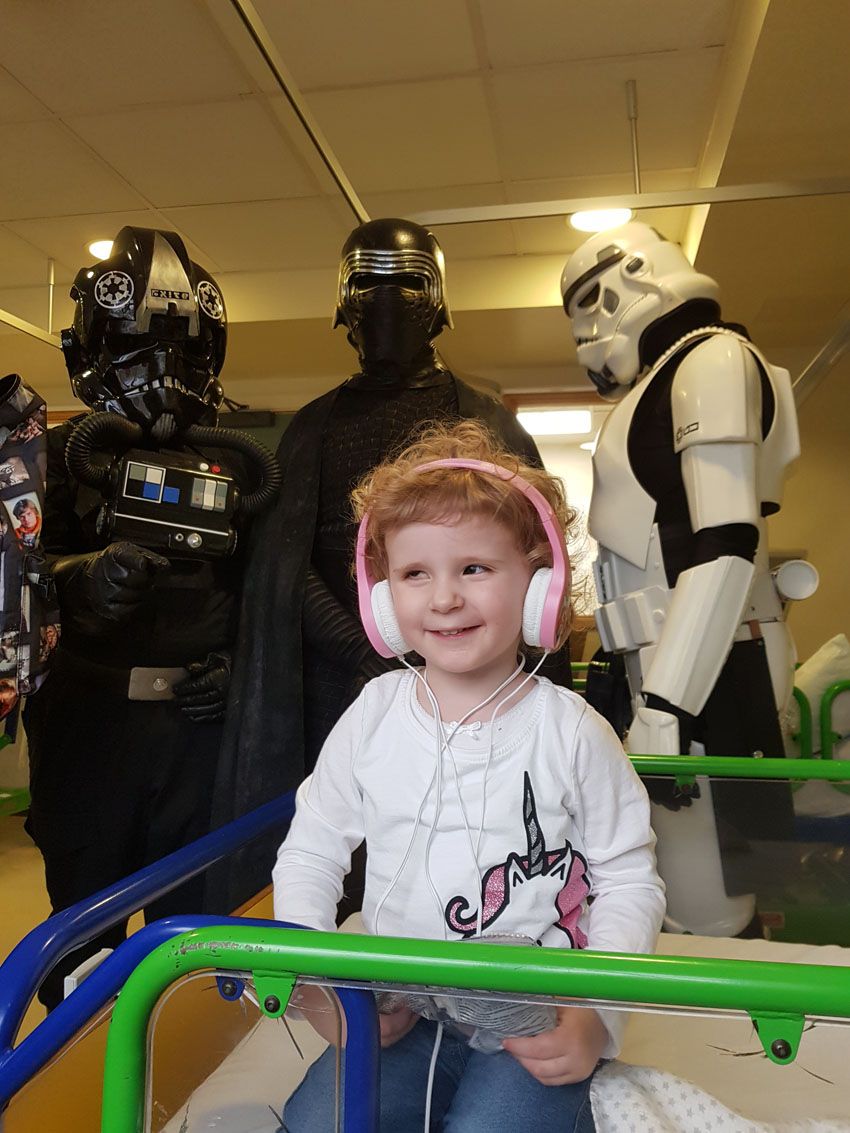 Olivia before chemotherapy (PA Real Life/Collect)
Two weeks later the biopsy results confirmed the retinoblastoma had been present in her optic nerve and she would need chemotherapy to remove the last traces of the cancer and to help prevent it reoccurring – something the family had been told to expect.
"We knew that it was necessary to save her life and stop it spreading to her brain," Stef said.
Olivia underwent two months of chemotherapy through November and December 2018 at London's Great Ormond Street Hospital, where she would have a few days of treatment at a time, staying with her parents in accommodation provided by the hospital at night so they did not have to travel home.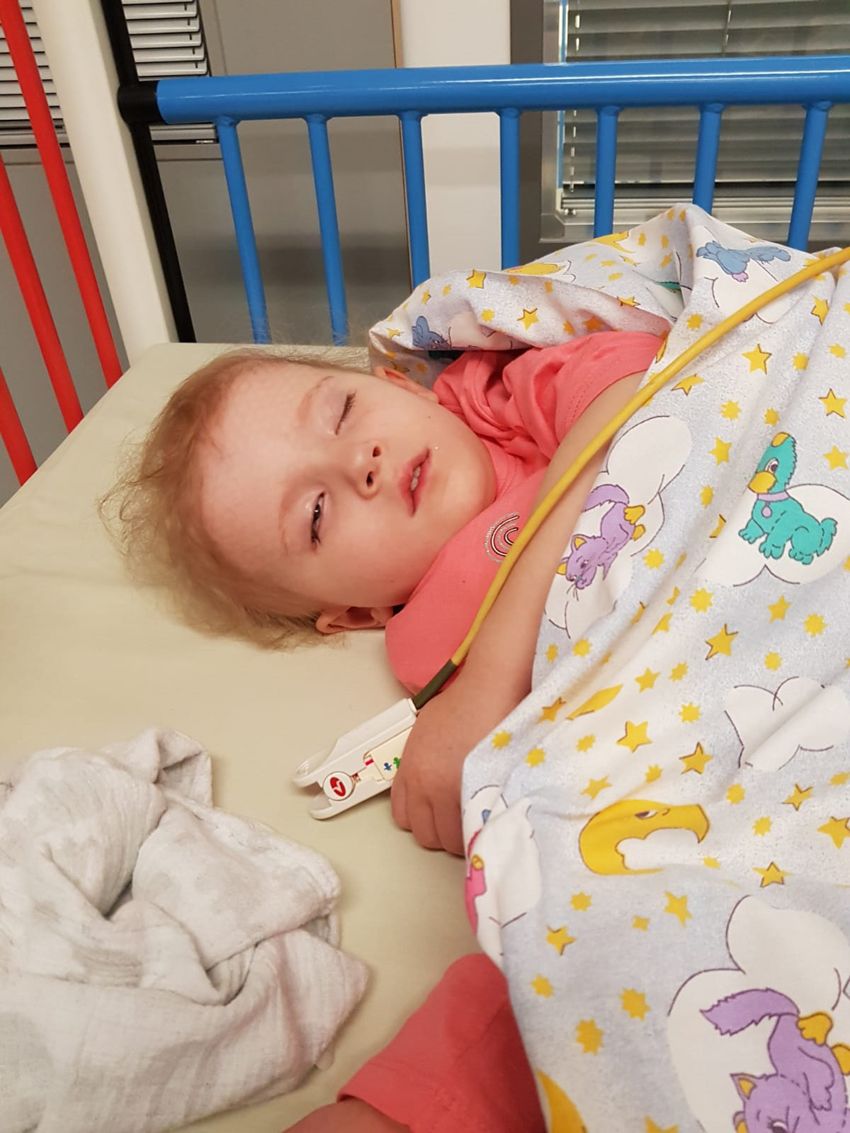 Olivia during treatment (PA Real Life/Collect)
Then in January 2019, the family flew to Essen in Germany so Olivia could undergo proton beam therapy – a type of radiotherapy that uses protons to precisely target a tumor, reducing damage to the healthy tissue around it.

At the time, although funded by the NHS, the treatment was not available in the UK.
Chris and a seven-month-pregnant Stef spent four weeks there while Olivia had 20 doses of proton beam therapy.
"Olivia was a bit nervous as it was a different environment, she was a bit more clingy than usual, but after a couple of days she got used to it.
"She had to wear a special mask, and have anesthetic but the treatment itself only took a few minutes and she coped with it really well. Once the anesthetic wore off she was back to her normal self."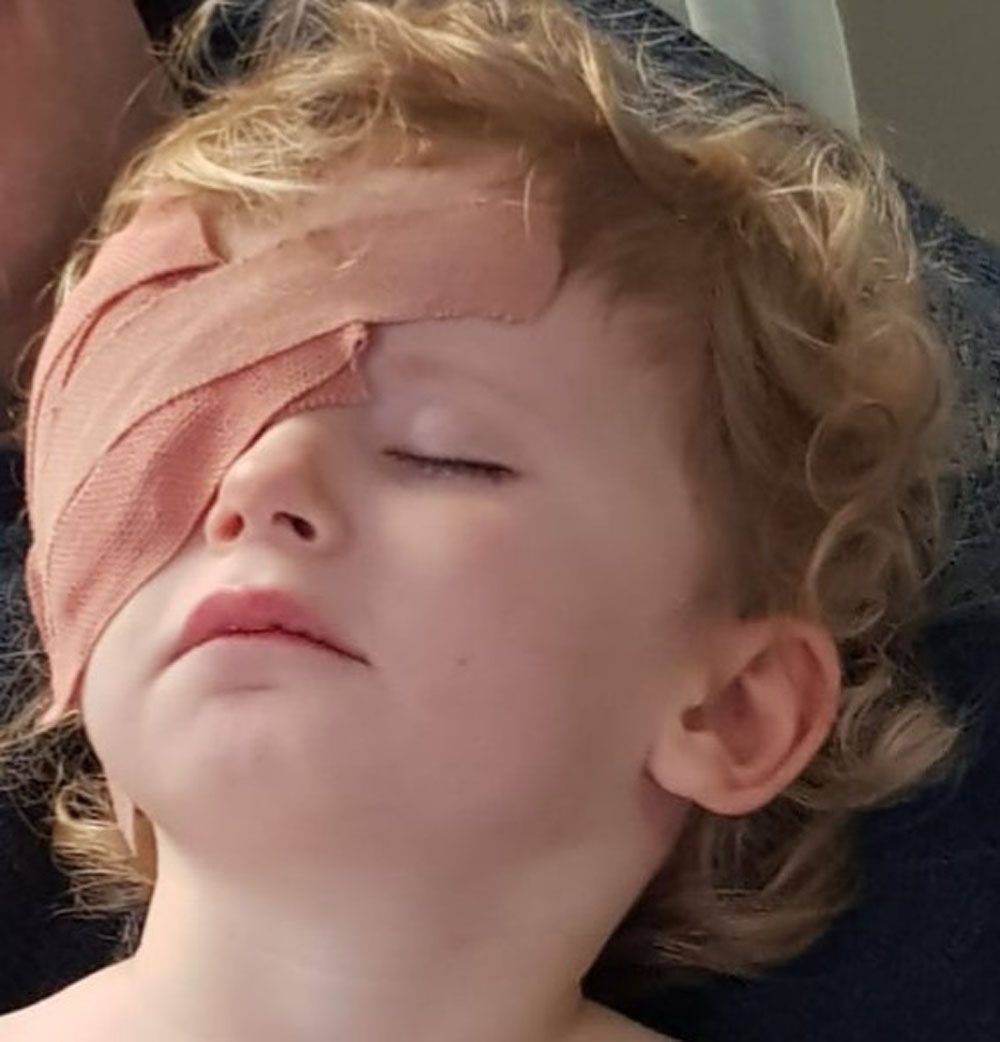 Olivia after having her eye out (PA Real Life/Collect)
"I was heavily pregnant, which was really tough. I did struggle at times, particularly with the tiredness, but thankfully Chris was with me. I couldn't have done it without him," Stef said.
Back in the UK in March, Olivia began her final treatment – four doses of chemotherapy over four months, which required overnight stays in Great Ormond Street Hospital.
When Ethan was born in April, Olivia was half way through her treatment, and on the same day was having a blood transfusion, used to treat anaemia during chemotherapy, at the same hospital, which was close to their home.
Having just finished her transfusion, Chris brought Olivia straight in to meet her baby brother when he was an hour old.
"She was so excited to meet him," Stef added.
As the treatment continued, Olivia's immune system weakened.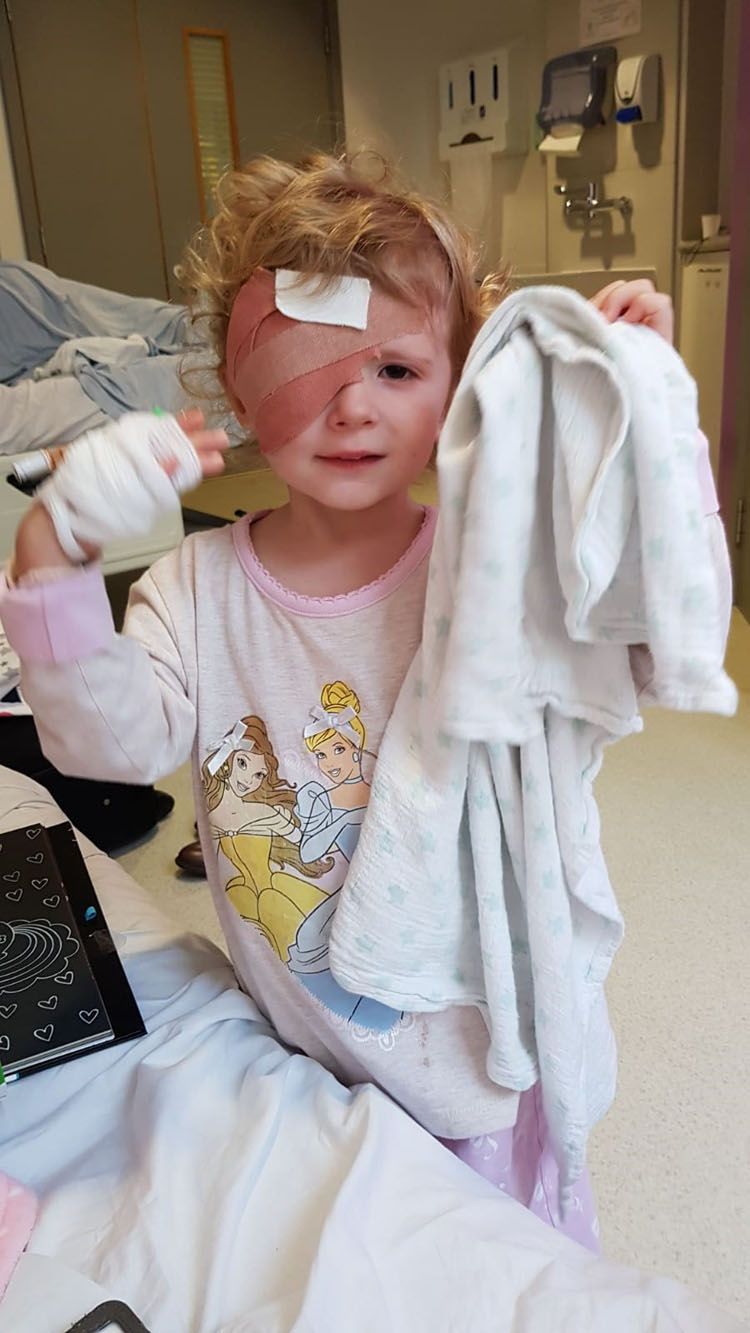 Olivia after her eye operation (PA Real Life/Collect)
"She was quite sick and refused to eat or drink, she got skinnier and her clothes looked baggy," she said.
"She had thick curly hair and that all fell out. I think it was at that point it hit us how sick our little girl was."
And because there was a risk that the baby could pass an infection to Olivia, or vise versa, for a few weeks during her treatment Olivia wasn't allowed to kiss or touch him.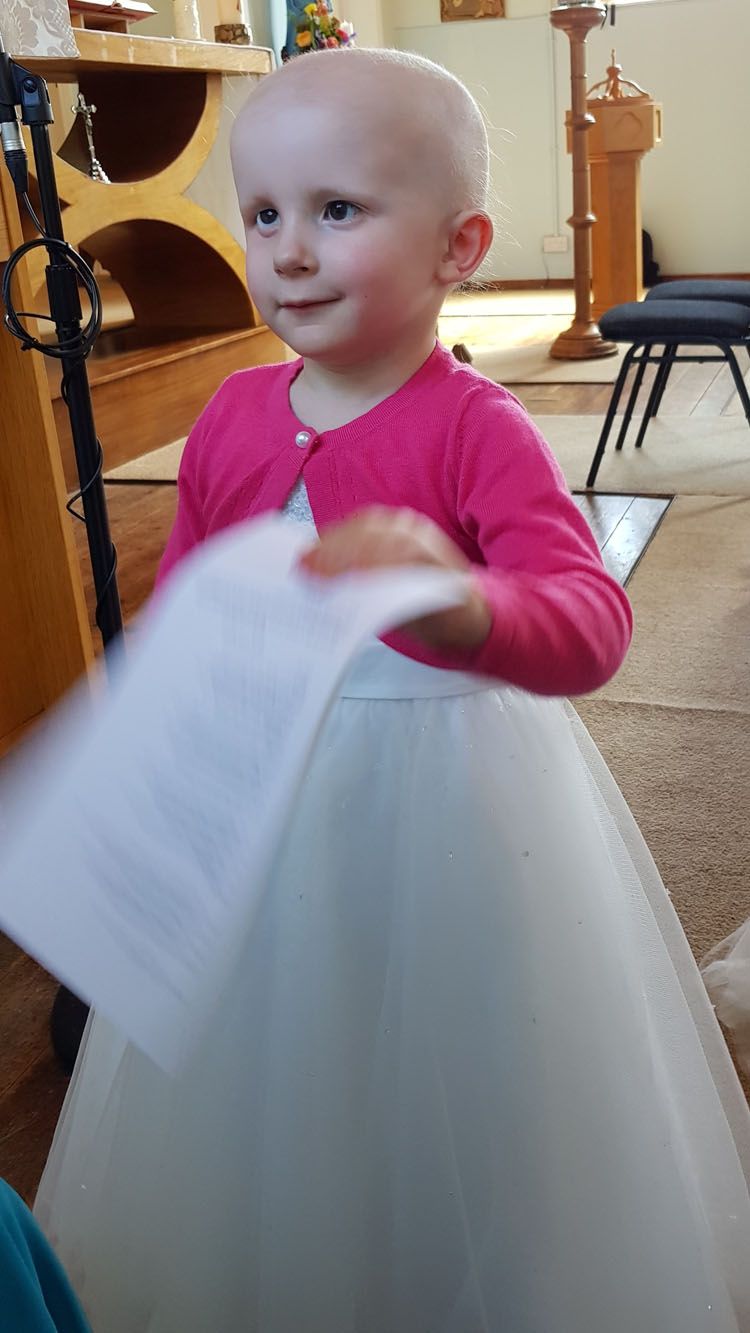 Olivia after treatment (PA Real Life/Collect)
"It's hard telling a three-year-old not to get too close as she was very excited about being a big sister. We couldn't let her kiss or cuddle him. It was heartbreaking but we had to make sure they were both protected from infection."
Olivia finished her treatment in June 2019, and although there are no traces of cancer left, she will not be declared officially "cancer free" for five years.
Now she only returns to the hospital every six months for a check-up and is full of energy and fun. She bounced back quickly from her treatment and happily was able to cuddle with her little brother and play outdoors with her friends again.
"She loves to dance and sing. She's a real entertainer and loves being the centre of attention. I'm sure when she's older she will be on the stage," Stef said.
"She absolutely adores her brother. He follows her around. It's very cute to see them together."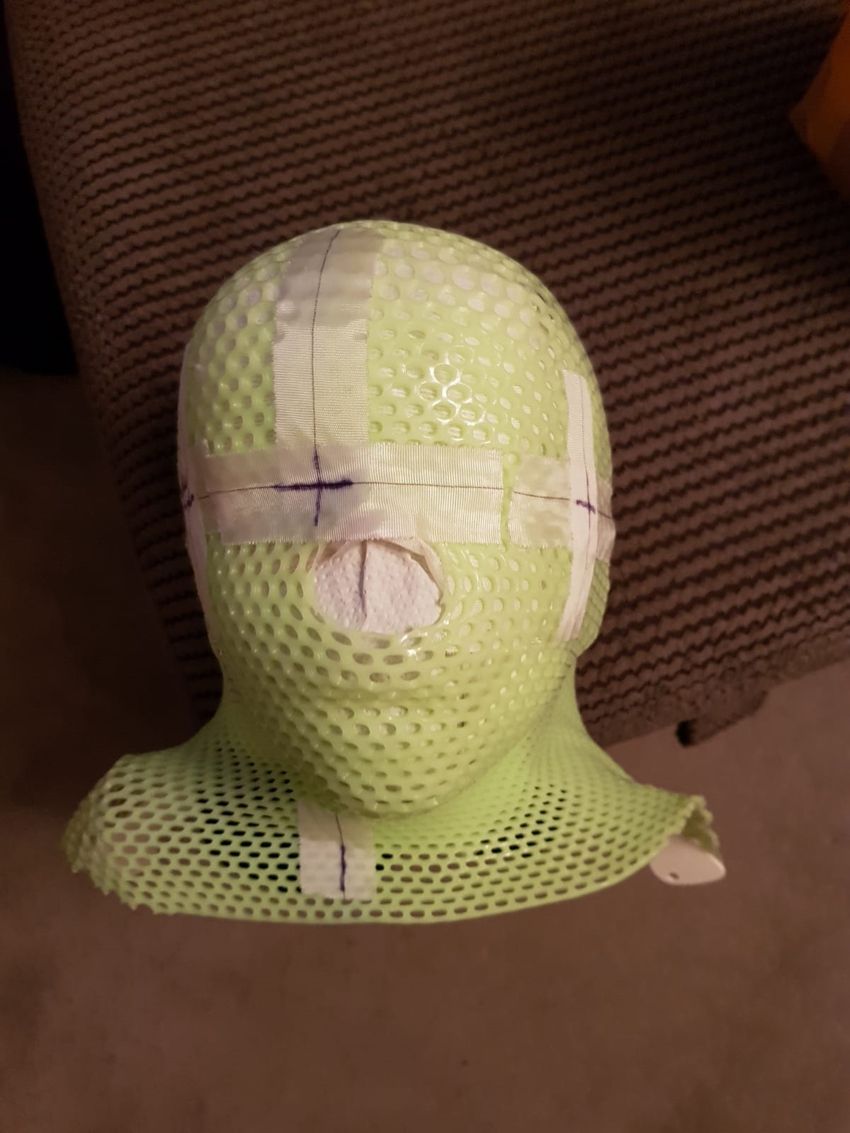 Olivia's mask during proton beam therapy (PA Real Life/Collect)
Sometimes people notice Olivia's false eye as her eyelid does not close over it, and she will ask her mum why they are staring.
"I tell her 'it's okay, it's because you have a special eye' and 'you should be proud of your special eye,'" Stef explained.
"She's starting school in September and we want her to be proud of it and be able to tell people about it."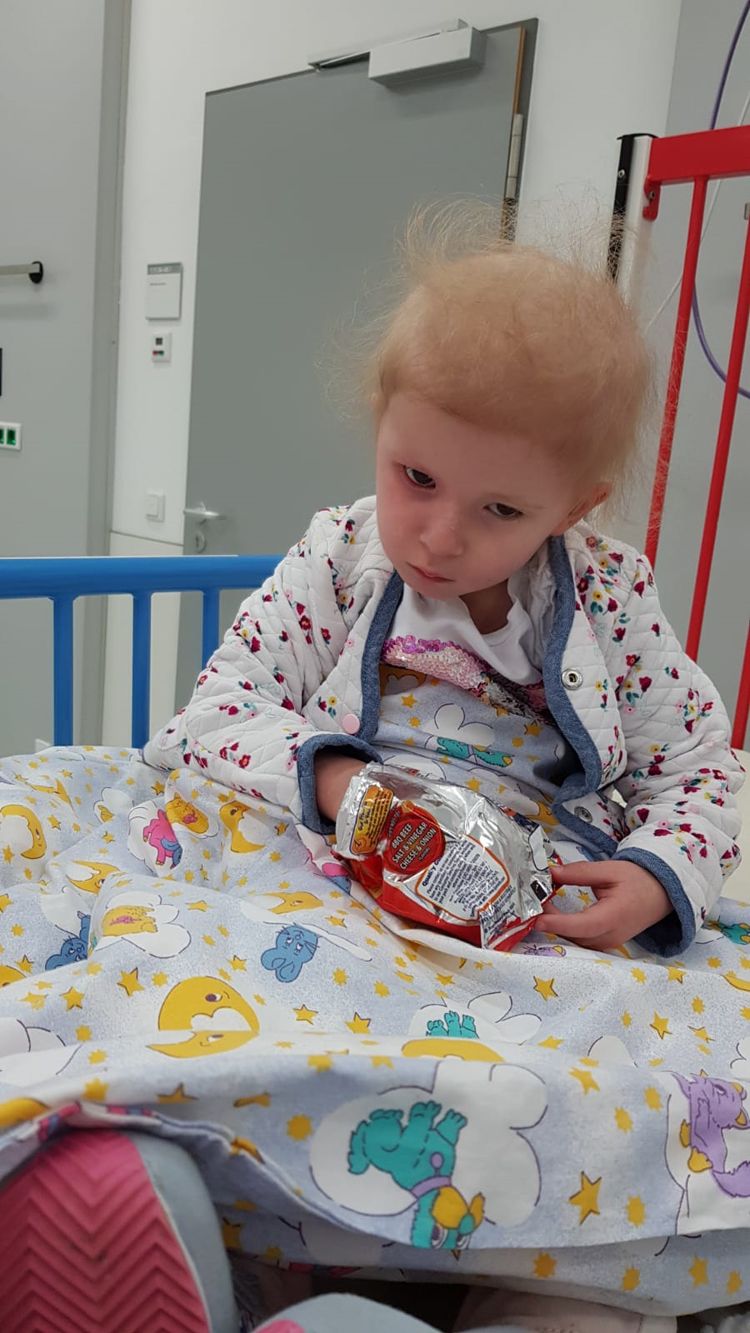 Olivia during treatment (PA Real Life/Collect)
Now the family are telling their story so other parents know the symptoms of retinoblastoma to look out for.
"If you notice something unusual, a squint, or a change to the pupil then go and get it checked out," Stef urges.
"It could have been a very different scenario. We were so lucky our GP picked it and up and took action straight away."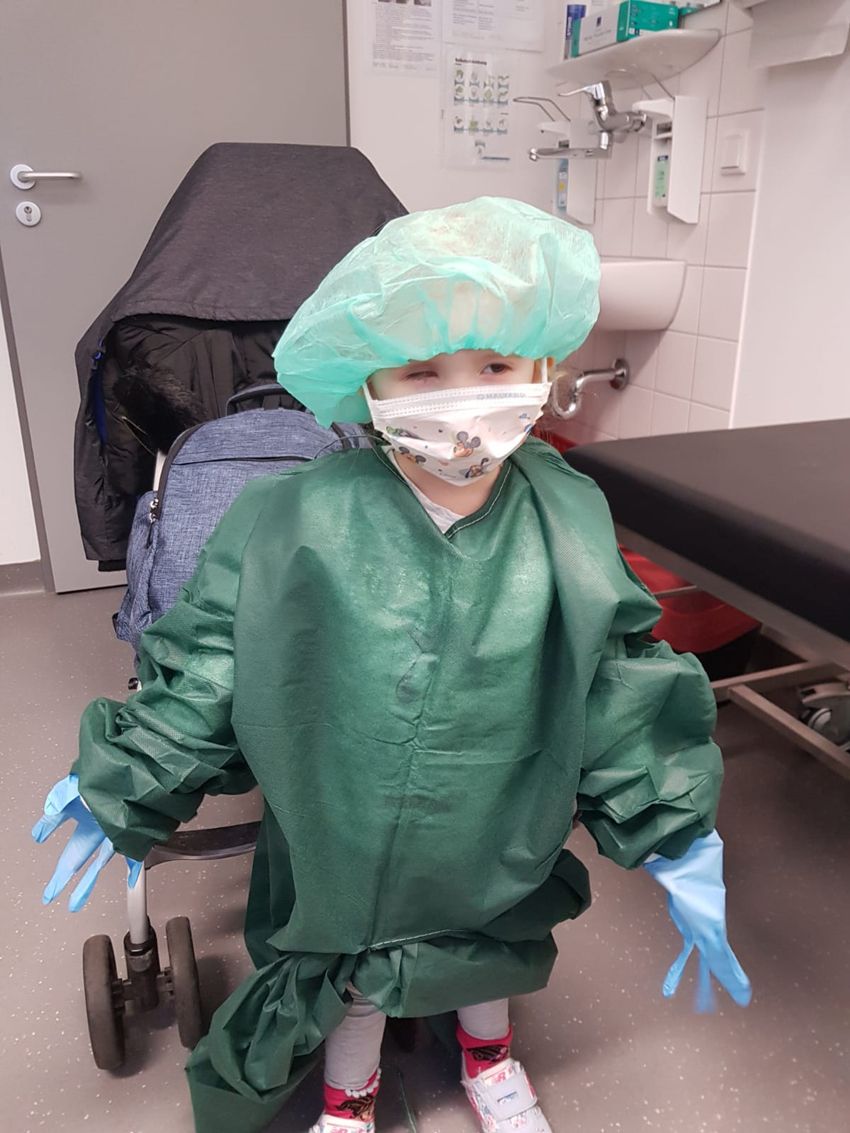 Olivia during treatment (PA Real Life/Collect)
To mark Rare Disease Day on February 29, the Childhood Eye Cancer Trust (CHECT) is urging parents and healthcare professionals to be aware of the most common possible symptoms of eye cancer – a white glow in the eye in flash photo or other certain lighting conditions and a squint.
"Symptoms can be quite subtle, and children often seem well in themselves which can make it hard to diagnose. Sadly, in around half of all cases, a child has to have an eye removed as part of their treatment," Patrick Tonks, Chief Executive of the Childhood Eye Cancer Trust said.
For more information visit chect.org.uk