Plagued by political debates and the ongoing assault of Donald Trump news headlines on social media, liberal author and yoga guru Lisa L. Kirchner left New York City for a slower-paced life in the sunshine state of Florida.
Once there, she tried her hand at dating by setting up an online profile prefacing that if potential suitors voted for Trump, they should "scroll on." The caveat proved to be useless, however. She wound up giving her heart to a man who helped put Donald Trump in office.
---
I'd come to trust myself enough in the dating world to know that if we went out, I'd spot a misogynist quickly. Not… https://t.co/B91Qb0rv6J

— Lisa L. Kirchner (@Lisa L. Kirchner)1523019102.0
In an article she wrote for the Huffpost Personal titled, "I'm A Liberal Feminist And Next Month I'm Marrying a Trump Voter," she chronicled how she came to meet a man who challenged her intellectually and emotionally.
While in New York, Kirchner suffered from a buildup of stress and anxiety resulting in a form of hypochondria called costochondritis. With her diagnosis and the death of her mother, she decided it was time to temporarily leave Manhattan after being a resident for 10 years.
But after discovering Florida was good for work and weather, the prospect of taking root in the red state was slowly becoming a reality.
It mattered little that the dating scene was disastrous; I'd been single for most of the decade since my ex ended our marriage over the phone. I preferred being on my own to being in a union that had any room for secrets.
She once considered herself as being a "ringleader" for discussions on politics, but in the name of reducing her anxiety, she left and unfollowed political groups on social media.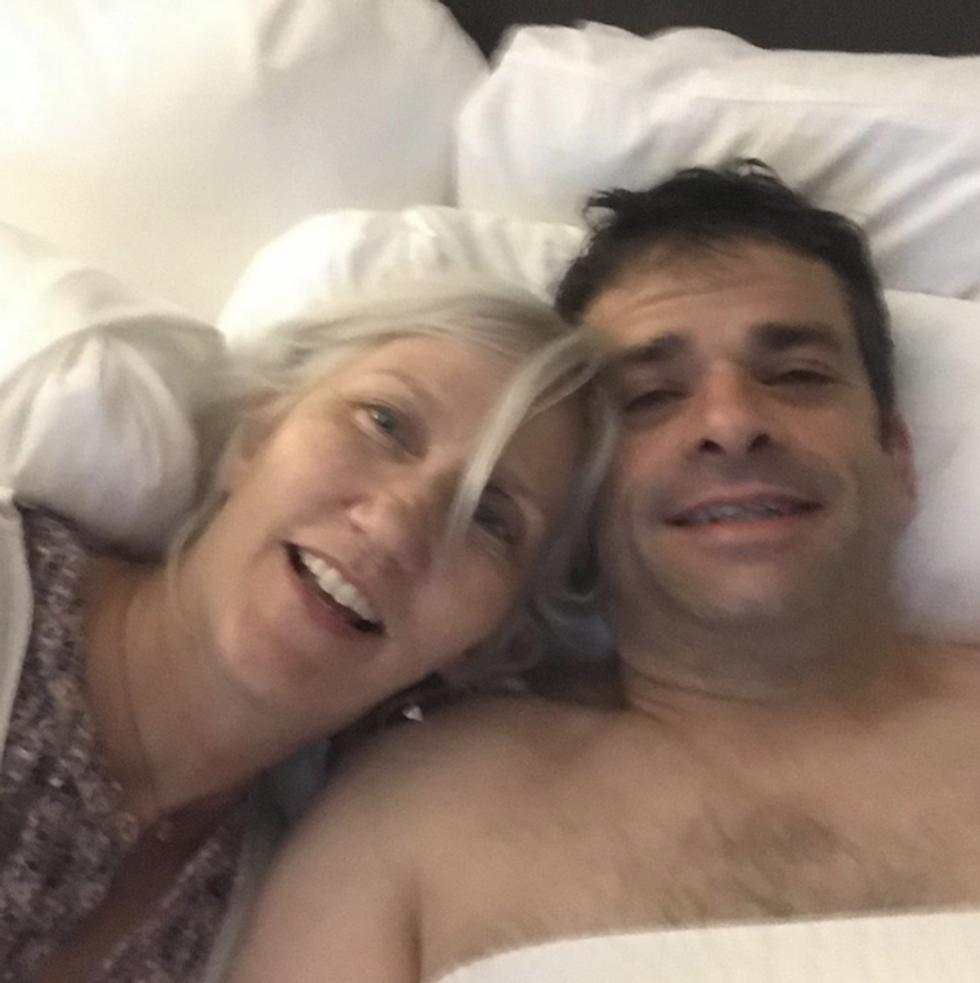 Lisa and Paul(Lisa L. Kirchner/Facebook)
Things turned around after receiving a message online, just as she was considering closing her dating account.
Just then — yes, while logged in for the purpose of deactivating my profile — came the most intriguing message I'd ever gotten in 10 years of online dating.
Something about this election had brought on a fresh surge of desperation in us all, and I was looking forward to the break. And just then — yes, while logged in for the purpose of deactivating my profile — came the most intriguing message I'd ever gotten in 10 years of online dating.
His opening line was, "Nice use of the parenthetical."
The gentleman, Paul, was different from other men.
Over time, Kirchner found she had a rapport with Paul, whom she considered special, and the pair started texting regularly.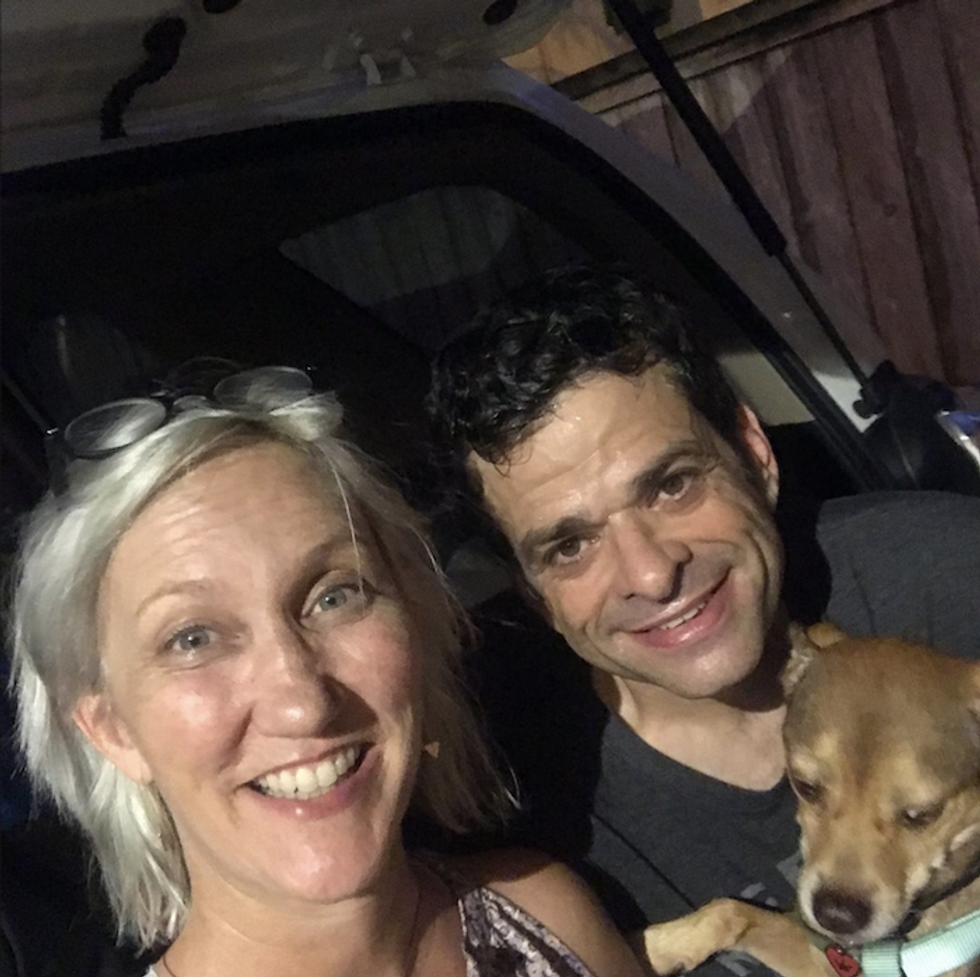 From September 10, 2017.(Lisa L. Kirchner/Facebook)
But when Paul revealed he voted for Trump, it wasn't necessarily the end of discussion. In fact, she was genuinely intrigued about his political views.
Again, I couldn't end the conversation because he hadn't said the magic words, "I hate Hillary." In my book, that's usually not-so-secret code for, "I hate women." Then he told me he wasn't sure he'd have voted for Trump if he'd actually thought he had a chance of winning. That gave me pause.
The pair continued to date, the connection deepened, and she realized one aspect of their relationship was worth the commitment.
We are very different, but Paul has shown me time and again how much he respects and values women, me most of all. He's the only man I've ever been with who views my time as equally valuable. He's remarkably unthreatened by my work, he even pitches in at every story show, making sure they run smoothly. In short, I could not have dreamed up a more supportive partner.
Lisa and Paul are getting married in a month, with wedding guests representing both political parties attending. But she's not worried. "No one will refuse to celebrate love over political differences. I am proud to be among them."
Not everyone could rejoice in her love story.
@lisakirchner @HuffPost I'm so happy that all that had to happen was the destruction the democratic process for you… https://t.co/IJ60WKUFne

— Baird Campbell (@Baird Campbell)1523021136.0
@lisakirchner @HuffPost "I'm a liberal feminist", but I love someone who voted for a pussy grabbing serial abuser o… https://t.co/CtGI1ghB7E

— Baritone Liberavoice (@Baritone Liberavoice)1523023862.0
@lisakirchner How do you reconcile marrying a person who either supports racist policies or (doesn't care enough ab… https://t.co/GsGk6k7ykS

— Sherman Payne (@Sherman Payne)1523039616.0
@lisakirchner I must say I myself was very disgusted when I read this.. It must be nice to be able to put the strif… https://t.co/sdLlkF5csX

— 4 Years A Resistance (@4 Years A Resistance)1523033188.0
@lisakirchner u fell in love with him out of Pity for how ignorant and misinformed he is......how sweet- best wishes with that

— Josh Mathis (@Josh Mathis)1523029198.0
Kirchner was warned his true colors would eventually show.
@lisakirchner @HuffPost Sorry he is a misogynist. I spent 21 years down there and had to leave for my own sanity.… https://t.co/xt2YdCAQrx

— Steven Carney (@Steven Carney)1523035789.0
There were some users who've supported her happiness, despite the controversial match.
@lisakirchner @HuffPost I'm sorry to hear that your peers in the @HuffPost comment section are so negative at your… https://t.co/oUXFS0F5WO

— Kevin Kehoe (@Kevin Kehoe)1523023742.0
Love really CAN #Trump political differences! By @lisakirchner via @HuffPost #politics #love https://t.co/7odLVye3zU

— Nomidate (@Nomidate)1523037994.0
Well, and then there's this.

@TonyNormanPG @HuffPost He is probably great in bed! You go girl.

— Lani Michelle 2.0 (@Lani Michelle 2.0)1523045872.0
At the end of the day, it all boils down to this.

@lisakirchner @TylerAKing I'm glad you found someone who makes you happy. I do agree, however, that this is an essa… https://t.co/4qkDCtvRHS

— Britni de la Cretaz ⚾️ (@Britni de la Cretaz ⚾️)1523021364.0
H/T - HuffingtonPost, Facebook