Amanda Kloots, widow to former Broadway star Nick Cordero, is speaking up after a troll tried to chastise her for dating too "fast" after the loss of her husband.
Nick Cordero died at age 41 after a 95-day-long battle with COVID back in July of 2020.
Kloots shared as a host on The Talk she just started to date again.
She said:

"Both of my husbands, I met doing Broadway shows. We became friends first, then we got married. Obviously with Nick, we had a child."
"I've never actually had to date."
"I just started dating again and it is so crazy to be dating for the first time at 39 years old."
"And it's quite terrifying and really out of your element, and it's just hard. It is hard."
When asked how dating was going, she said:
"It's all wonderful. It's wonderful people I'm meeting, and it's been a great process so far."
"But I'll just say it's very hard without getting into too many details."
Earlier this month, she shared a tribute to Cordero at the anniversary of his passing.
However, on a post shared recently, someone left a judgmental comment.

"Dating already. Wow that was fast."
Kloots called out the commenter on her Instagram story:
"How dare you judge anyone especially someone going through this process."
"I will address this soon guys I promise."
"There's too much to say and too much that widows deal with to not talk about it."
"Until then I will call out anyone who is rude enough to comment like this."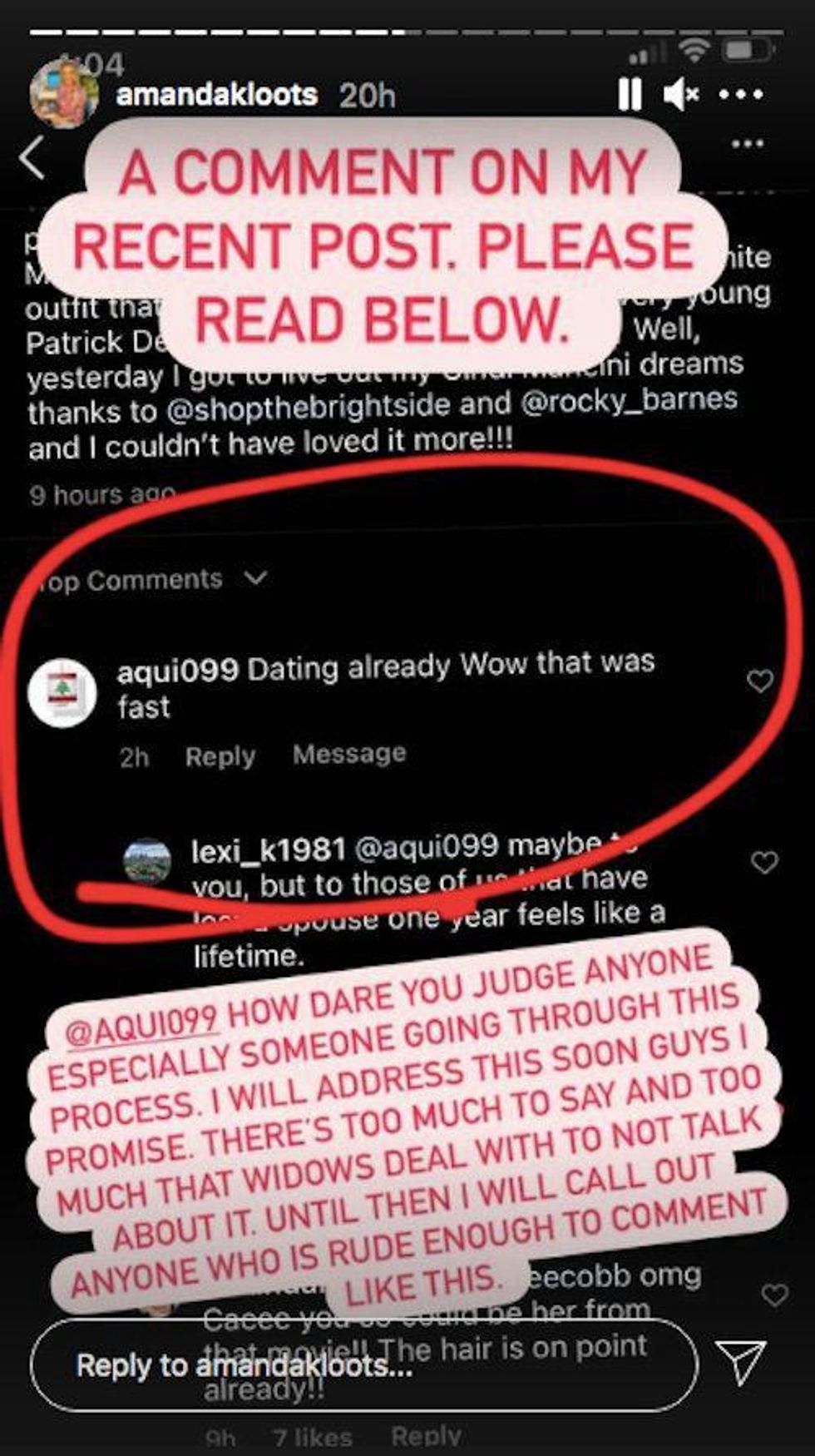 @amandakloots/Instagram
Many people have shared their support of her decision to date again.

Kloots also shared her Instagram Live video that she did with writer and widower Brandon Janous, where they shared their experiences of dating after loss.
Amanda Kloots said:
"This is not a boat we asked to be in. This is not a boat we wished to be in."
"But here we are. We are now in this boat."
"We can either take this boat alone for the rest of our lives or we can try to find somebody to row with us."
"And yet we get criticism and judgement for trying to find someone to row the boat with."
"Is that fair?"
Kloots also said that when she saw this "ignorant negativity" in her comments, she felt like she needed to speak up for the community of widowers who are trying to navigate this world without the person they loved.