Think twice before you mock someone online behind their back. A Singapore personal trainer is learning this lesson the hard way after trying to fat-shame a woman on Instagram.
Shah Cutler, who went by the username Supershah on Instagram, posted a photo of a woman buying ice cream. He added the caption,
"Wtf so fat still wanna ice cream?? Disgusting"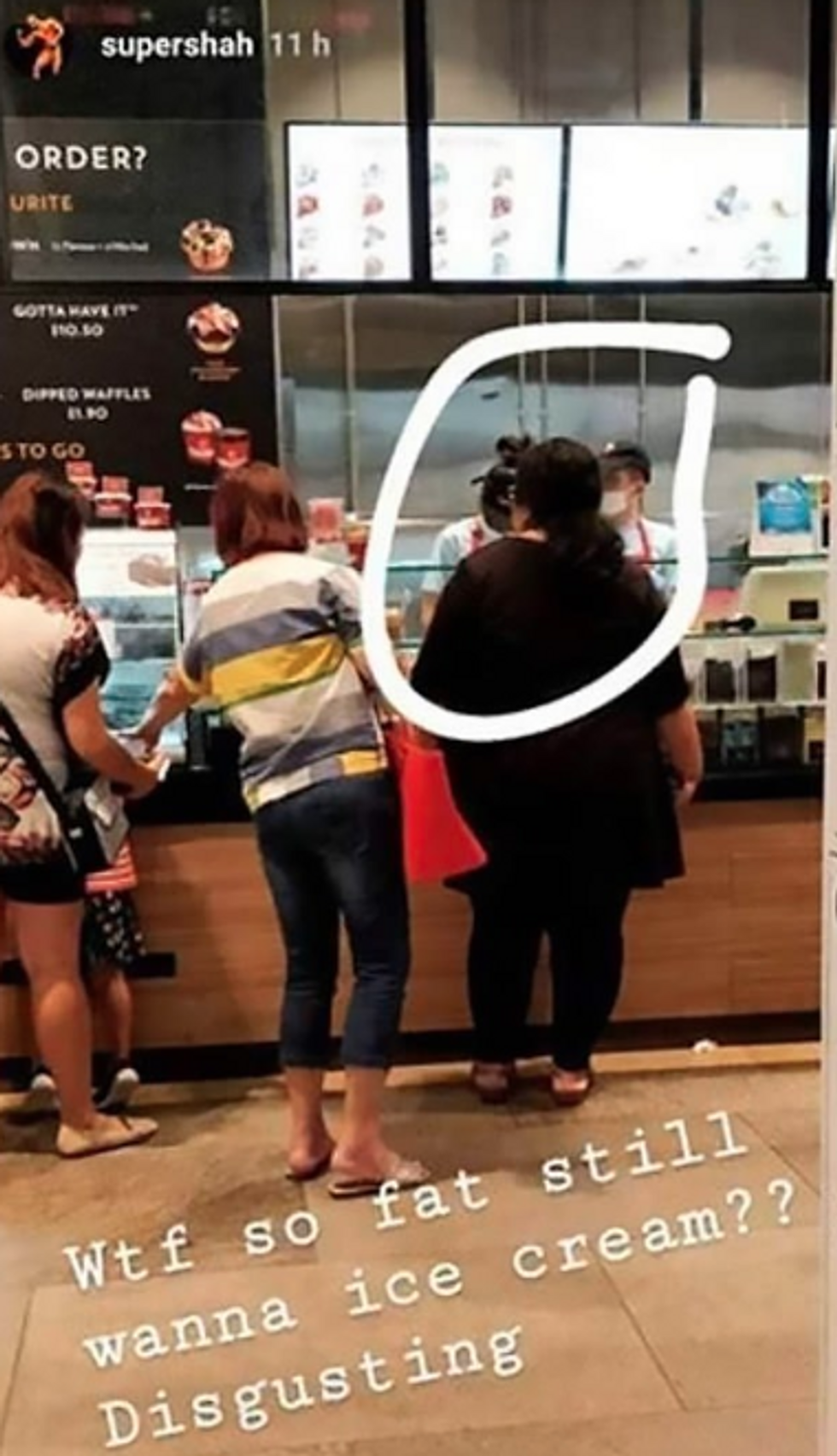 Yahoo Lifestyle / Instagram: Supershah
The post received a lot of criticism, especially because, as a personal trainer, Cutler should be more understanding of people's bodies.
His place of business, Fitness First Singapore, was contacted about the tactless social media post.
The post reads:


"It has been brought to our attention that a recent post by a FF trainer on social media was found to have used insensitive statements towards a member of the public and we would like to apologise for any distress caused.
We have undertaken an internal investigation and suspended his duties till further notice. He has since publicly apologised for his behaviour through an Instagram post and understands the insensitivity of his comment.
We pride ourselves on the culture of our training and the professionalism of our teams. We view this matter seriously and wish to assure the public that we do not agree with the comment made by our employee nor condone such behaviour.
As the fitness leaders, we strive to provide a safe, welcoming and motivating environment for anyone who wishes to pursue a healthier, fitter lifestyle, regardless of their starting point.

We sincerely regret the incident."
People were heated about this trainer's comments.

facebook.com

facebook.com

facebook.com

facebook.com
After the backlash, Cutler posted a short-lived apology.
"I would like to sincerely apologise for my recent IG story post. I was too rash and understand the insensitive statement is uncalled for and offensive," he wrote. "As a trainer, I'm deeply committed to my duty to help people achieve their health and fitness goals and I'll continue to do so in more appropriate ways from now on."
Cutler has since removed his social media accounts and personal website.
Fitness First has also publicly announced that he is suspended.
Many were grateful for the swift action.

facebook.com

facebook.com

facebook.com
As the story spread, others were questioning if this has happened before, and what kind of action should be taken.

facebook.com

facebook.com

facebook.com

facebook.com

facebook.com

facebook.com
This isn't the first time body-shaming on social media has got someone in trouble. In 2016, former Playboy model Dani Mathers got in legal trouble for posting a secret, unflattering, nude photo of another gymgoer. She plead guilty in 2017 to the misdemeanor charge.