President Donald Trump has long used his and others' racism to his own advantage.
He played on racist fears when he called for the execution of the Exonerated Five, he harnessed it in the beginning of and throughout his 2016 presidential campaign and some of his most prominent advisors are avowed White supremacists.
---
So it shouldn't come as a surprise that Trump's campaign is once again preying on racist fears of Hispanic people in hopes of being reelected.
The latest attempt came in a parody of a Biden For President web ad featuring supposed MS-13 gang members saying they're on "Team Joe."
The reality is that the men featured in the ad are two inmates of the Penal de Ciudad Barrios, an El Salvadorian prison reserved for members of the criminal gang MS-13. Trump frequently invokes fear of the MS-13 gang among his base to create a deeper stigma against all undocumented immigrants from the southern border, even though the gang originated in L.A.
Last year, a shooter opened fire in an El Paso, Texas shopping center where he killed dozens of people. In the shooter's manifesto, he said his actions were to defend against the "Hispanic invasion of Texas." People linked his actions directly to the fear and skepticism of immigrants harnessed by Donald Trump.
Democratic Texas Congressman Joaquin Castro called out the Trump campaign explicitly for stoking this same kind of fear.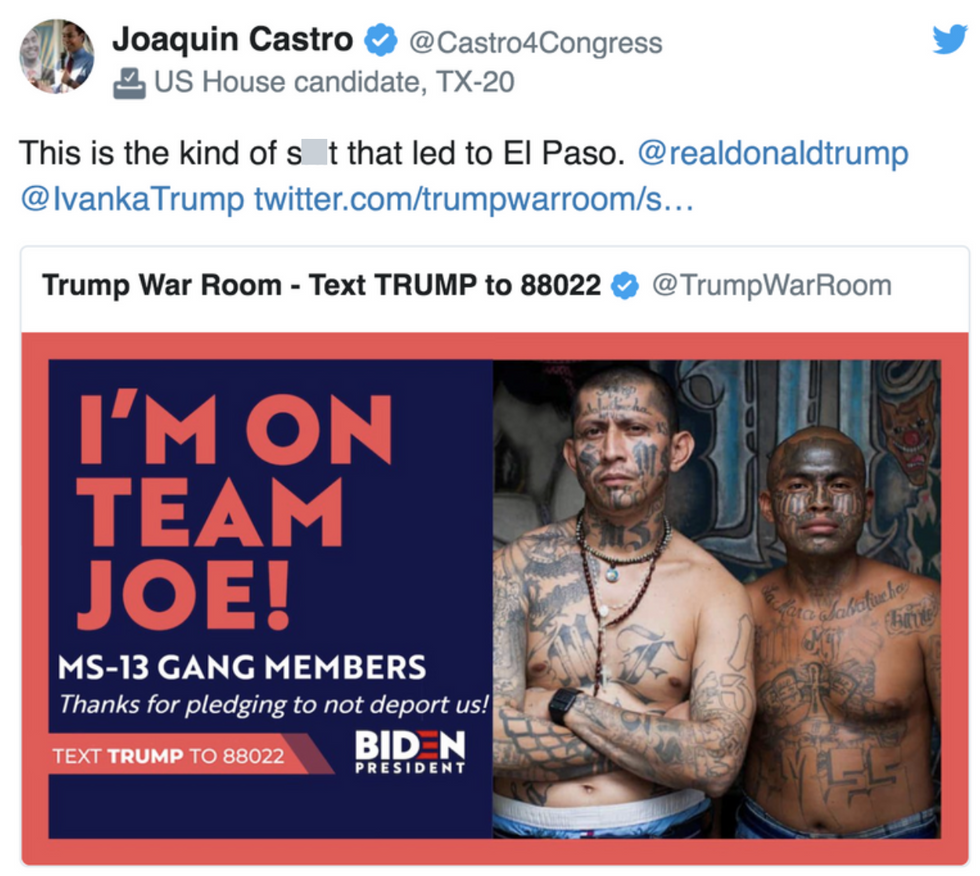 @castro4congress/Twitter
He was far from the only one.

While blatant racism may have gotten votes in 2016, people think the outcome could be different this time around.
Don't let them get away with it. Register to vote in November.
For a deeper look into the dangers of Trump's campaign, check out Unprecedented, available here.