trump campaign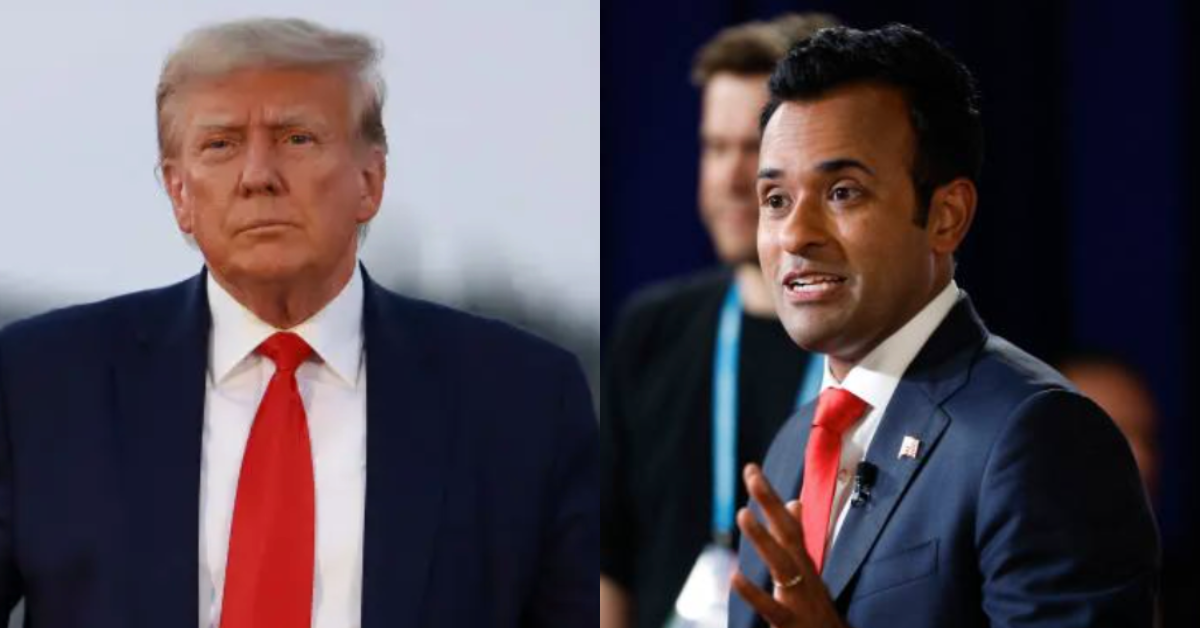 Joe Raedle/Getty Images; Kamil Krzaczynski/Getty Images
Former President Donald Trump has expressed openness to the idea of having GOP presidential rival Vivek Ramaswamy as his Vice President—and no one is shocked that Trump has once again given himself over to flattery.
Trump's remarks shed light on his appreciation for Ramaswamy's compliment that labeled Trump as "the best president in a generation."
During an interview with Glenn Beck on Blaze TV, Trump shared his thoughts on Ramaswamy as a potential running mate. Trump's rationale for his interest in Ramaswamy stemmed from the entrepreneur's previous comment, emphasizing that he appreciates individuals who recognize his achievements and leadership.
You can hear what Trump said in the video below.
Trump said:

"Anybody that said I'm the best president in a generation ... I have to like a guy like that."
"He's a smart guy. He's a young guy. He's got a lot of talent. He's a very, very, very intelligent person. He's got good energy, and he could be in some form of something."
"I tell ya, I think he'd be very good. I think he's really distinguished himself."
Many were not surprised to hear that flattery had once again swayed Trump's opinion.
Ramaswamy has notably pledged to pardon Trump if he were to secure the presidency.
During the first GOP debate, Ramaswamy referred to Trump as the "best president of the 21st century." When questioned about the 91 criminal charges Trump is facing, Ramaswamy addressed Trump's decisions while refraining from labeling them as criminal.
Earlier this month, a grand jury in Georgia investigating Trump's attempts to overturn the 2020 election result handed up a criminal indictment that resulted in more charges for the ex-President.

Trump and 18 of his associates—including his attorney Rudy Giuliani and former Chief of Staff Mark Meadows—have been charged under Georgia's anti-racketeering law, marking the fourth time Trump has been indicted this year.
Keep reading...Show less