Republican Jim Lucas, who serves in the Indiana House of Representatives, claims he's not a racist.
But the racist stuff he keeps posting online is convincing people otherwise.
---
Most likely in response to the money people are receiving in various Democrat-backed stimulus packages, Lucas took to Facebook to post a meme of Black children (the children pictured are unidentified Africans) dancing with the caption:
"We gon' get free money!"
You can see Lucas' Facebook post here: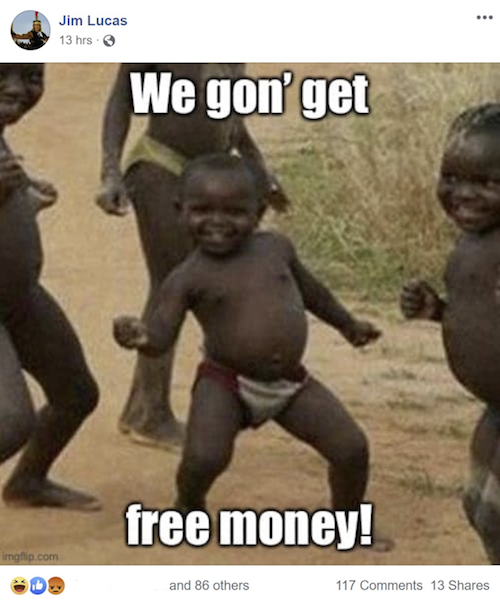 Jim Lucas/Facebook
Both the image and the use of ebonics in the meme posted by Lucas were quickly criticized by everyone with eyes.

In Lucas' response, he specifies he created the meme and picked the photo.
Rep Jim Lucas posted this disgusting and racist meme yesterday. This is just a reminder that he serves on the IN Ho… https://t.co/sOivFQ60FS

— Allison (@Allison) 1589296073.0
Oh, look what Indiana State Rep Jim Lucas finds funny. And he's doubling down. Bet you're proud of him @indgop… https://t.co/8V0CwjklWw

— Beth Bell (@Beth Bell) 1589301140.0
Jim Lucas is the worst that Indiana has to offer—has been for as long as I've known the name. Racist memes, rape ap… https://t.co/iIDpwzmbpM

— Molly G. Martin (@Molly G. Martin) 1589369947.0
Aside from meme creation, Lucas has other interests.
Lucas tried to defend himself on Facebook by claiming that anyone who criticized his racist post were the actual racists.

"I used this STOCK PHOTO of a little boy dancing and celebrating because the government is handing out free money, to everyone, regardless of their skin color...I phrased it in a celebratory way and have danced and mocked things in that exact same manner myself."
"I'm white. But hey, it's a picture of a black kid so I guess that makes it different, WHICH IF YOU THINK THAT WAY, IS THE VERY DEFINITION OF RACISM!!!!!!"
He returned later to quote the dictionary definition of racism.
He went on to say:

"I recently used a picture of a happy, cute, cocky kid dancing and celebrating to make a humorous meme mocking the government's destruction of our economy. There was ZERO intent of racism, I simply found the little kid cute and knew it was a well known picture."
"It's. That. Simple. To me, to NOT use a picture SPECIFICALLY because of someone's skin color is the very definition of racism, based on my beliefs and the above definition of racism."
Apparently this is appropriate in Indiana. Jim Lucas is a state representative and many of his supporters find this… https://t.co/tFgkpgZFfe

— Tim Luken (@Tim Luken) 1589298330.0
This isn't Lucas's first run-in with racist Facebook posts.
Last year, when a Black man plead guilty to rape, he responded to the story with the image of a noose.
@indystar I see you contacted Jim Lucas about his racist Facebook post. Dont forget to ask him about these as well. https://t.co/mSCIZKcpzW

— CombatVetsAgainstLucas (@CombatVetsAgainstLucas) 1589296282.0
Lucas also has a history of being a homophobe and a rape apologist.
He once suggested the state of Indiana should stop issuing any marriage licenses at all to stop LGBTQ people from getting married.
Enough is enough. Rep. Jim Lucas needs to resign. @govholcomb needs to make it clear that Lucas' behavior won't b… https://t.co/ZkGudcDjN6

— Indiana Democrats (@Indiana Democrats) 1589315873.0
Needless to say, Twitter was not a big fan of Lucas's post.
This is the Facebook Page of Republican Indiana Representative Jim Lucas @indgop @GOP @vp @GregPenceIN @ToddYoungIN… https://t.co/hq19cObD3u

— Jennifer Buchanan (@Jennifer Buchanan) 1589297420.0
Well certainly no one could make Indiana look worse this week than Curtis Hill losing his law license for drunkenly… https://t.co/YodYcwvetl

— Ross Thomas (@Ross Thomas) 1589324856.0
This is inexcusable for anyone let alone an Indiana State representative. This is disgusting Jim Lucas. The @indgop… https://t.co/hKwLhP434T

— John Stark (@John Stark) 1589298971.0
It was hours before Lucas took the photo down.
13 hours later and this racist crap is still on State Representative Jim Lucas' Facebook page. Have @INHouseGOP l… https://t.co/8KdeUAce1D

— Keith Clock (@Keith Clock) 1589293879.0
You take a break and return to find State Rep. Jim Lucas with a disgusting racist meme. And was it "free money" whe… https://t.co/8rKkpqr2H4

— Mary Beth Schneider (@Mary Beth Schneider) 1589297721.0
Jim Lucas continues to keep it classy with yet another racist post. I took a screenshot but after thinking about it… https://t.co/kCYAX0enOE

— Heather K Maddox (@Heather K Maddox) 1589292294.0
Indiana State Rep Jim Lucas out here doing Jim Lucas things. Is this the kind of "leadership" we want as Republican… https://t.co/mYmiy7hAC4

— CombatVetsAgainstLucas (@CombatVetsAgainstLucas) 1588974658.0
This is the Indiana state representative who bullied me when I gave testimony at the statehouse on gun safety in 20… https://t.co/LBjjEkd5fe

— Shannon Watts (@Shannon Watts) 1589308987.0
Voters will get the chance to approve or disapprove of Lucas's behavior this upcoming November, when he'll be up for reelection.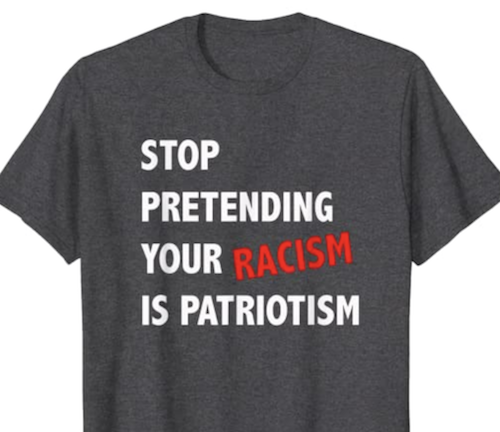 Amazon