The White Stripes frontman Jack White tore into celebrities who publicly engaged with former Republican President Donald Trump.
In a fiery Instagram post, the Grammy-winning singer/songwriter specifically called out anti-vaxxer and podcaster Joe Rogan; controversial Oscar winner Mel Gibson; The Perfect Storm actor Mark Wahlberg; and alleged homophobe, restaurateur Guy Fieri, for normalizing interactions with "disgusting fascist" Trump.
Last weekend, the two actors along with Rogan and Fieri were spotted mingling with Trump at the UFC 290–an Ultimate Fighting Championship event featuring Volkanovski vs. Rodríguez–in Las Vegas.
White wrote on Instagram:

"Anybody who 'normalizes' or treats this disgusting fascist, racist, con man, disgusting piece of sh*t Trump with any level of respect is ALSO disgusting in my book."
"That's you Joe Rogan, you Mel Gibson, you Mark Wahlberg, you Guy Fieri."
"This is a statement from me, not a discussion/debate. -Jack White III."
White shared screenshots of the respective high-profile individuals rubbing elbows with Trump, which you can see here.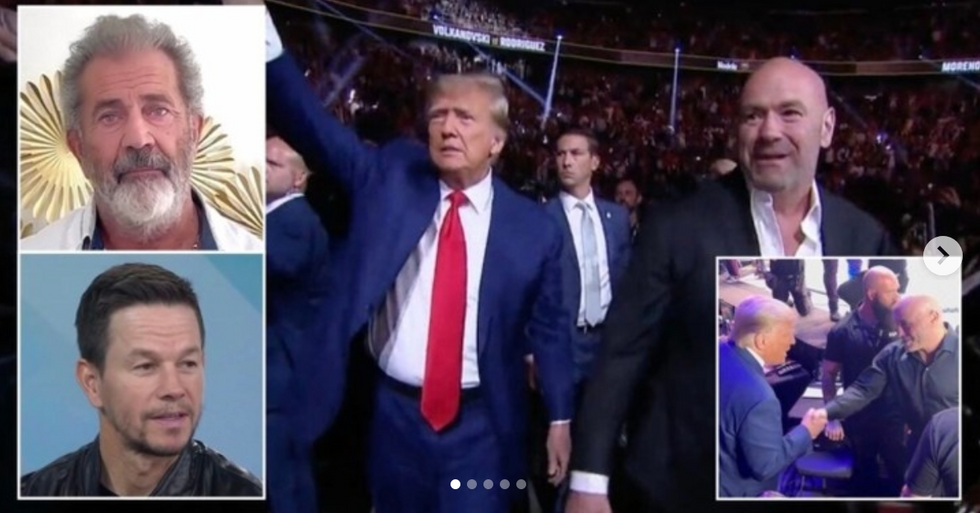 @officialjackwhite/Instagram
Rogan is seen extending a hand to the twice-impeached former President.

@officialjackwhite/Instagram
Trump is seen here getting chummy with a guy presumed to be Guy Fieri.

@officialjackwhite/Instagram
Is that allegedly homophobic and antisemitic and once blacklisted by Hollywood actor/director Mel Gibson?

It would appear so.
@officialjackwhite/Instagram
Although it's hard to tell, the screenshot below is presumed to be Wahlberg leaning in for a chat with Trump.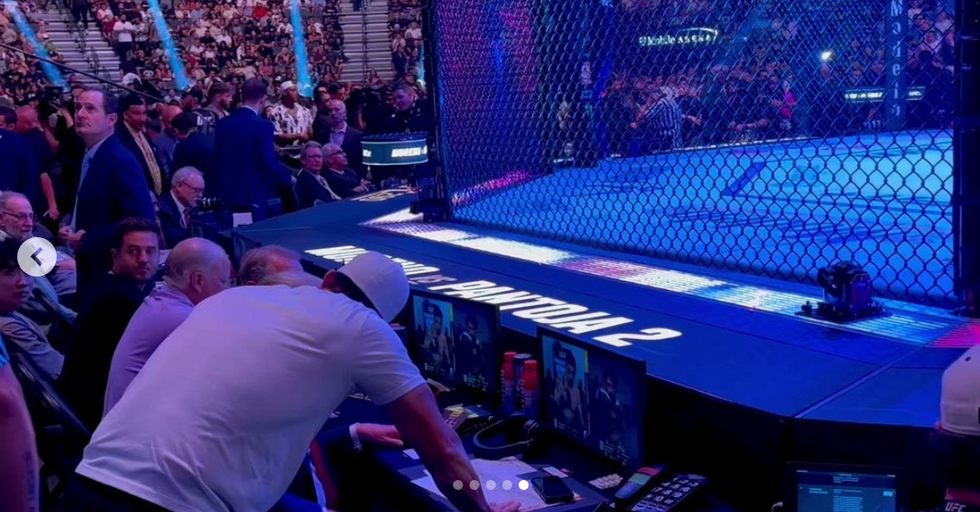 @officialjackwhite/Instagram
People agreed with White, including Star Wars icon Mark Hamill.

White continued getting reinforcements.

White has been outspoken in the past about Trump.

In 2016, he denounced Trump when he learned that the then Republican presidential candidate used the White Stripes song "Seven Nation Army" in video campaign materials.
In response, White sold T-shirts through the Third Man Records website that read "Icky Trump"–a play on words based on the White Stripes song, "Icky Thump."

Last November, the musician announced he was quitting Twitter after the social media platform's CEO Elon Musk reinstated Trump's Twitter account after he was banned from using it in the aftermath of the January 6, 2021 attack on the U.S. Capitol.
At the time, White slammed Musk with a note that read:

"So you gave Trump his Twitter platform back. Absolutely disgusting, Elon."
"That is officially an a**hole move. Why don't you be truthful? Tell it like it is."
"People like you and Joe Rogan (who gives platforms to liars like Alex Jones etc.); you come into a ton of money, see the tax bill, despise paying your fair share, and then think moving to Texas and supporting whatever republican you can is going to help you keep more of your money (How else could Trump possibly interest you?)."
Some were particularly disappointed in Walhberg.
Variety noted how the UFC 290 was not the first time Wahlberg was seen with Trump.

The Boogie Nights actor played in a celebrity golf tournament with Trump over a decade ago.
In an interview with The Guardian, Wahlberg commented on his first interaction with the then real-estate mogul.
"He was very Donald Trump-like, talking about the things that he does, things that he has, business interests, properties, stuff like that."
"But he wasn't ever mean or rude. I don't think he asked me too many personal questions, or about what I do."
Trump was in Vegas as part of his campaign tour for a 2024 Republican presidential nomination.
He made headlines on Saturday when he spoke at a rally held at the Clark County volunteer recruitment drive and elicited cheers from the crowd when he bizarrely joked that "maybe someday" Vegas would get an ocean.