A couple who bonded over their love of the "dark side of life" have shared romantic memories of their marriage proposal and wedding – which both took place in graveyards.
Feeling "like misfits" before they met at The State University of New York in Potsdam in 2015, Taylor Martin, 25, and Jason Shirtz, 38, soon found a common interest in alternative style and music – and cemeteries of any kind.
Running the online shop and market stall Darque Crystals together – selling Goth-inspired goods like black capes, fake blood and miniature skulls – Jason proposed in February 2018 in "the nearest graveyard he could find" and they tied the knot in October 2019 in a pagan "medieval-themed ceremony" in Bayside Cemetery.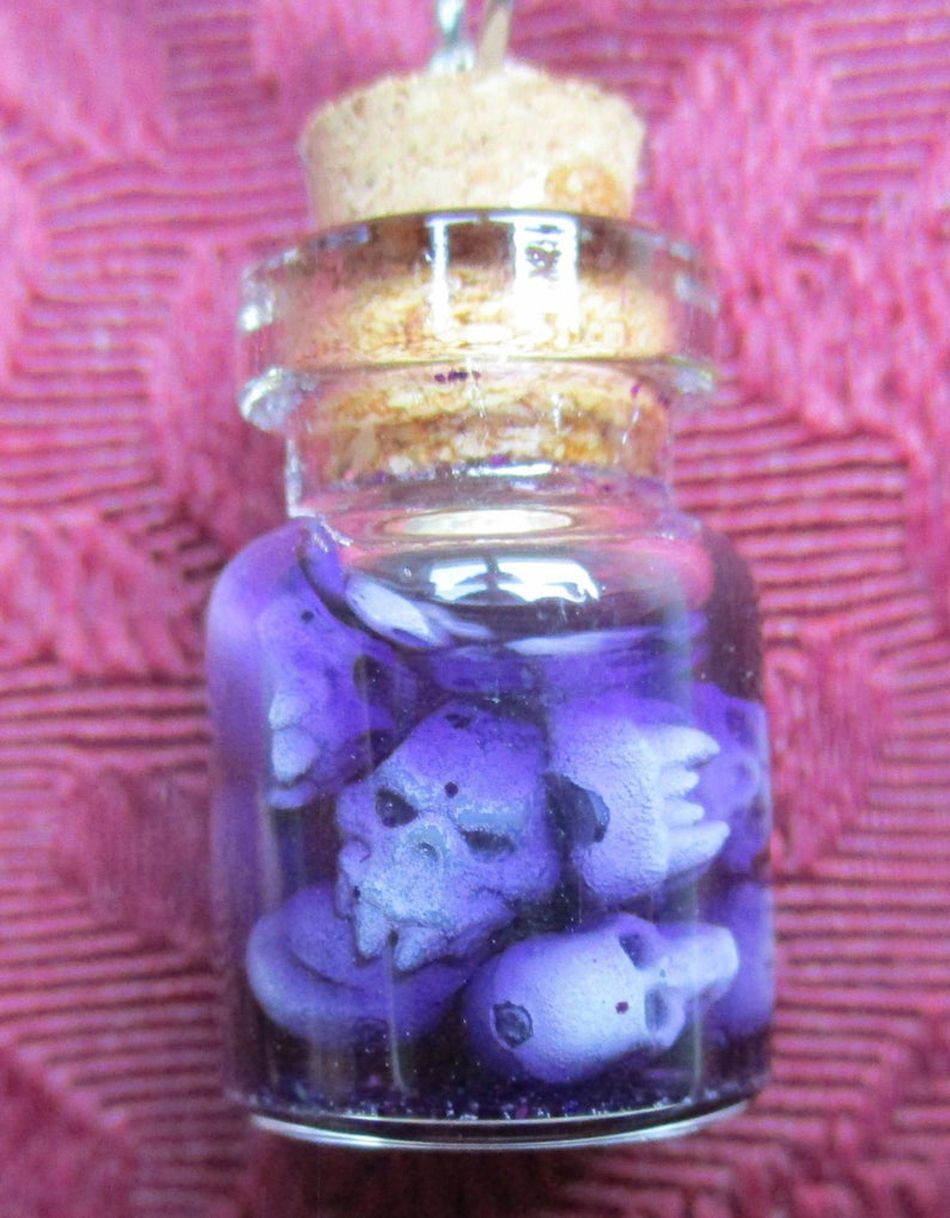 Pot of skulls that the couple sell at Darque Crystals (Collect / PA Real Life)
Jason said:
"For me it was a bit of a happy accident that I fell in love with a Goth woman."
"Goth culture is all about darkness and I've always liked hanging out in graveyards. I actually find them romantic and not scary in the slightest."
"I enjoy walking around them and having time to think. There's something really therapeutic about them."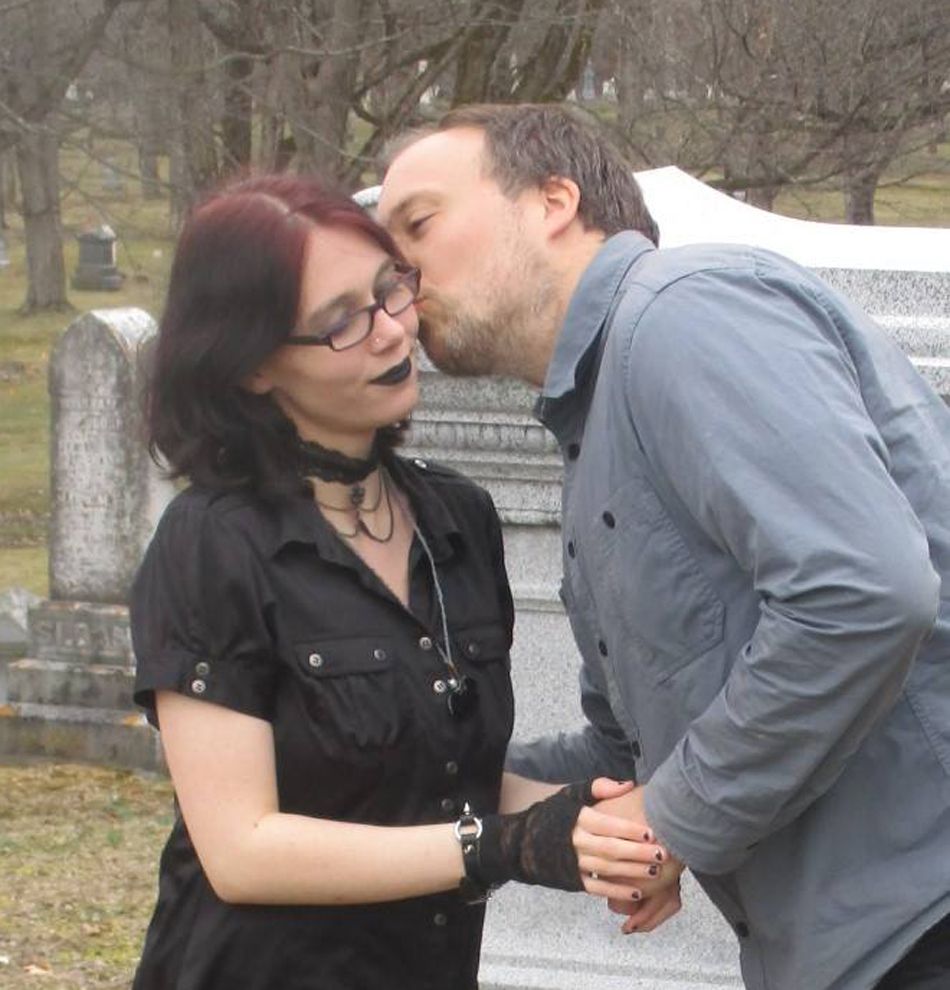 Taylor Martin and Jason Shirtz (Collect / PA Real Life)
Meanwhile, Taylor's interest in graveyards was first sparked by her love of Goth music and bands like The Cure and Rosetta Stone, which she discovered as a young adult.
She explained:
"Being a Goth doesn't necessarily mean you have to be into graveyards. But a lot of the music is dark, and graveyards provide a fitting backdrop to it, so I was naturally drawn to them."
"I was a bit of a misfit living in a very conservative area and I don't think people understood my interests. I started dressing alternatively back when I was a teenager – although I did it badly."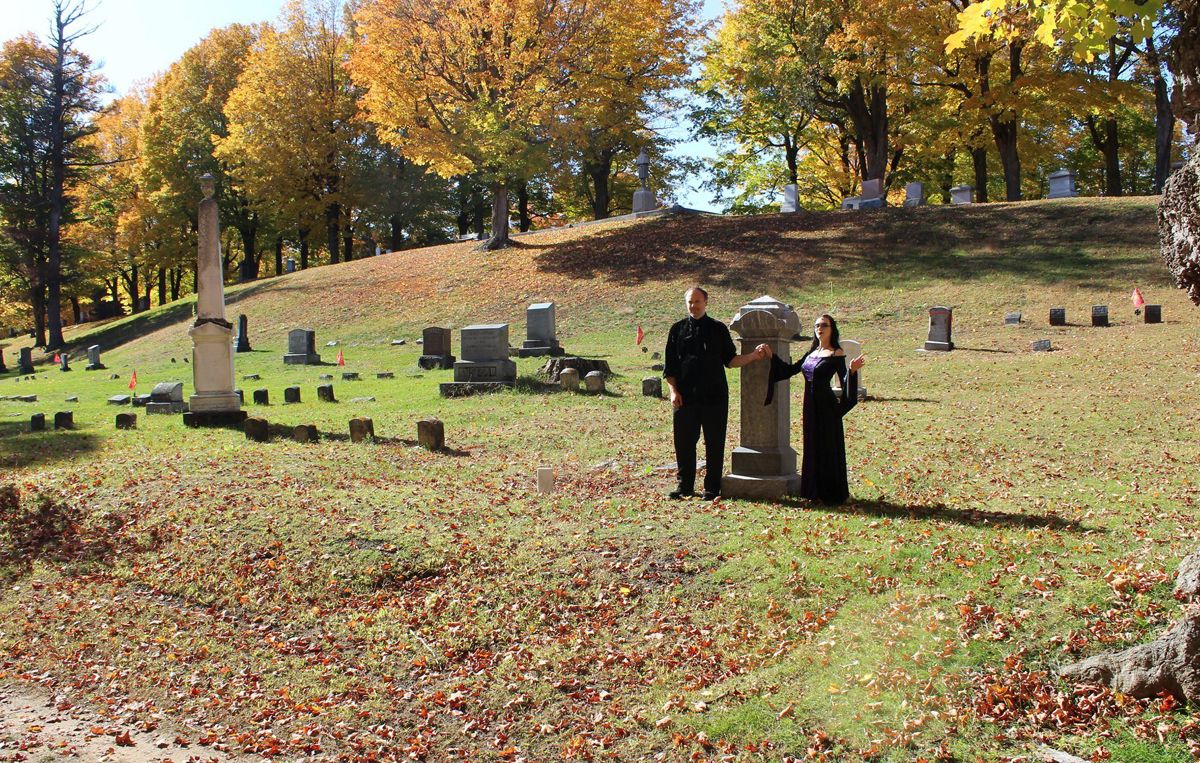 Taylor Martin and Jason Shirtz on their wedding day (Bridget Barr/ PA Real Life)
She added:
"I would just throw together black clothing and try and rock it."
"But it was when I started listening to Goth music as a young adult that I really embraced the style – rather than just being a confused teenager."
It was becoming a mature student and studying drama in 2014 in Potsdam – where Jason met Taylor, who also studied at the college, and was bowled over by her confident style – that Jason adopted a Goth lifestyle.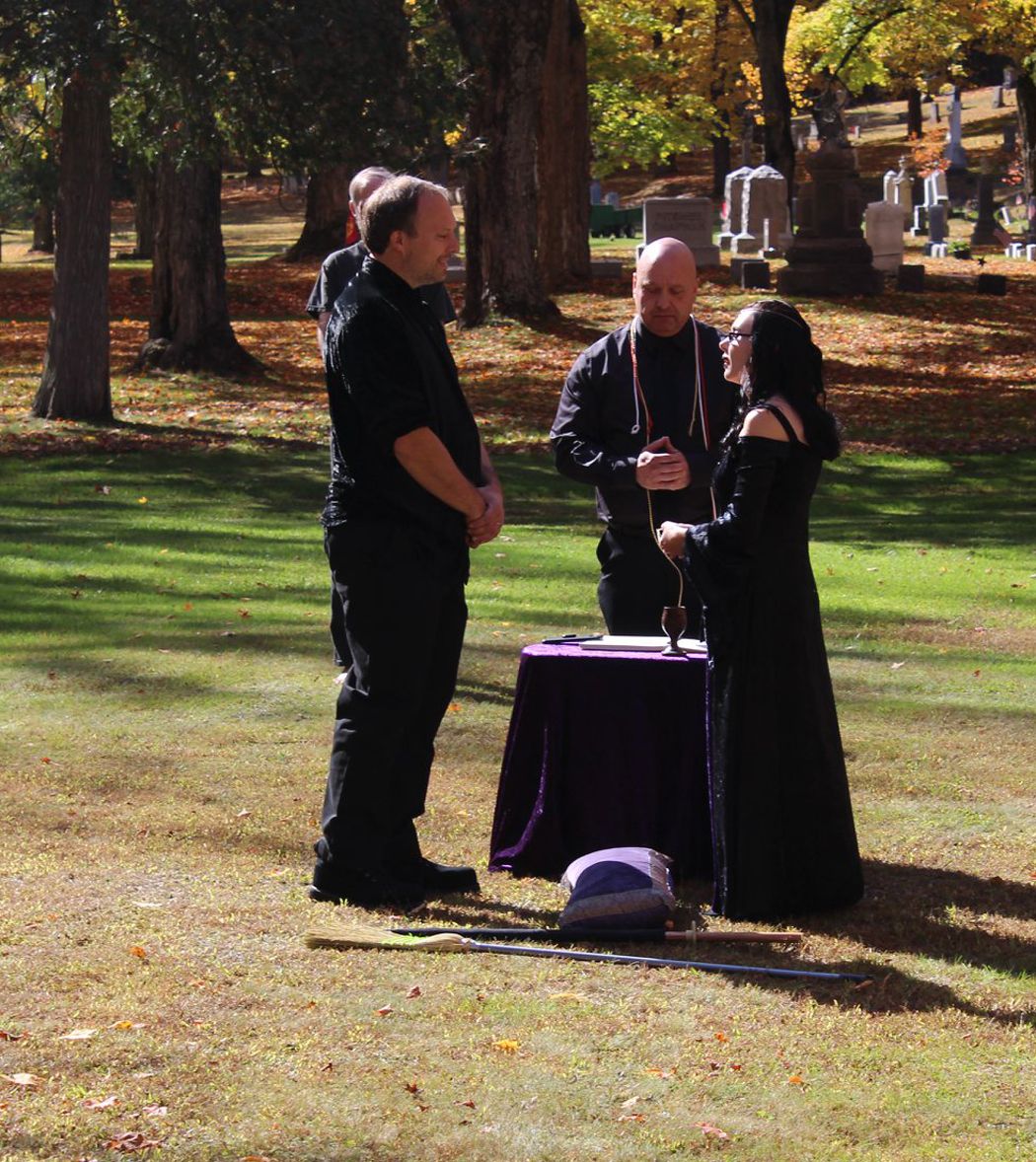 Taylor Martin and Jason Shirtz on their wedding day (Bridget Barr/ PA Real Life)
"I was a bit of gaming nerd and a bit of a misfit growing up – but never into Goth culture," he said. "The first time I became interested in it was when I met Taylor. I remember thinking she was striking and beautiful."
"I wanted to get to know her, but despite her bold look, she was shy and introverted. A lot of the time when I spoke to her, I'd only get a one word answer."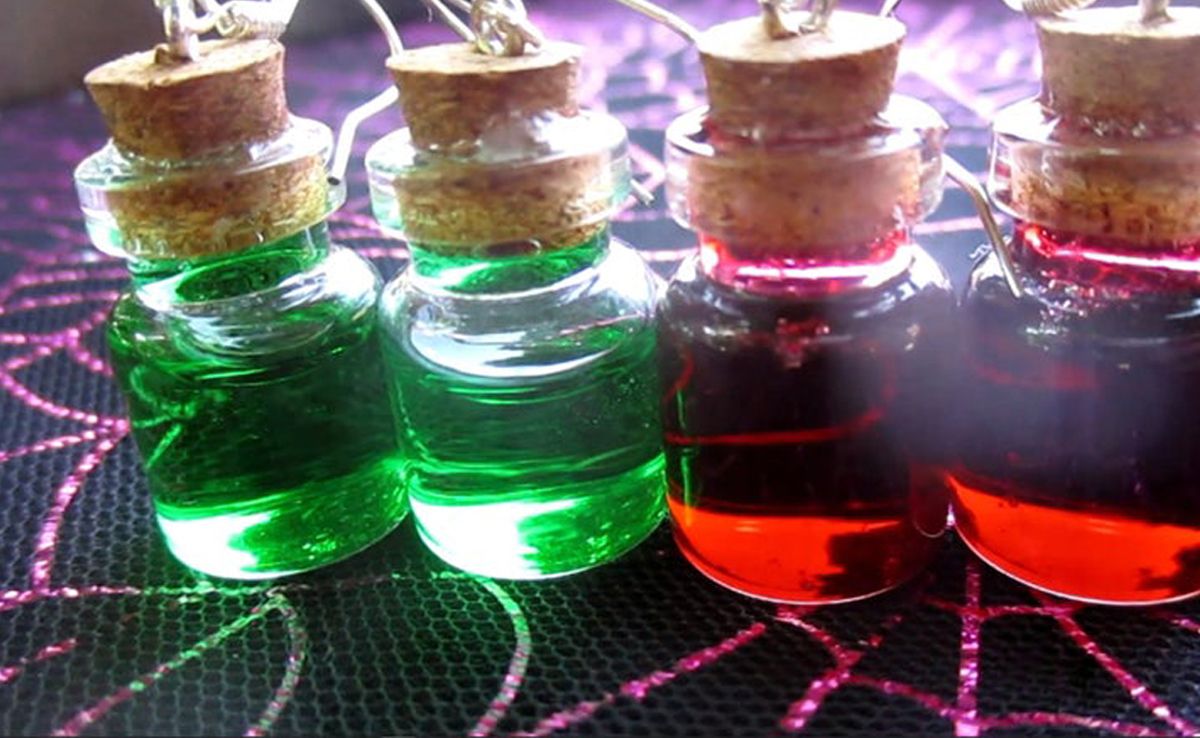 Darque Crystal pots of fake blood (Collect/ PA Real Life)
But Jason's persistence paid off and they quickly became friends.
"Back then I was so shy," Taylor recalled. "Not many people understood me, and Jason was one of the only people that really got through to me."
"Jason was really interested in Goth music, and I knew all about it, so we quickly bonded over that."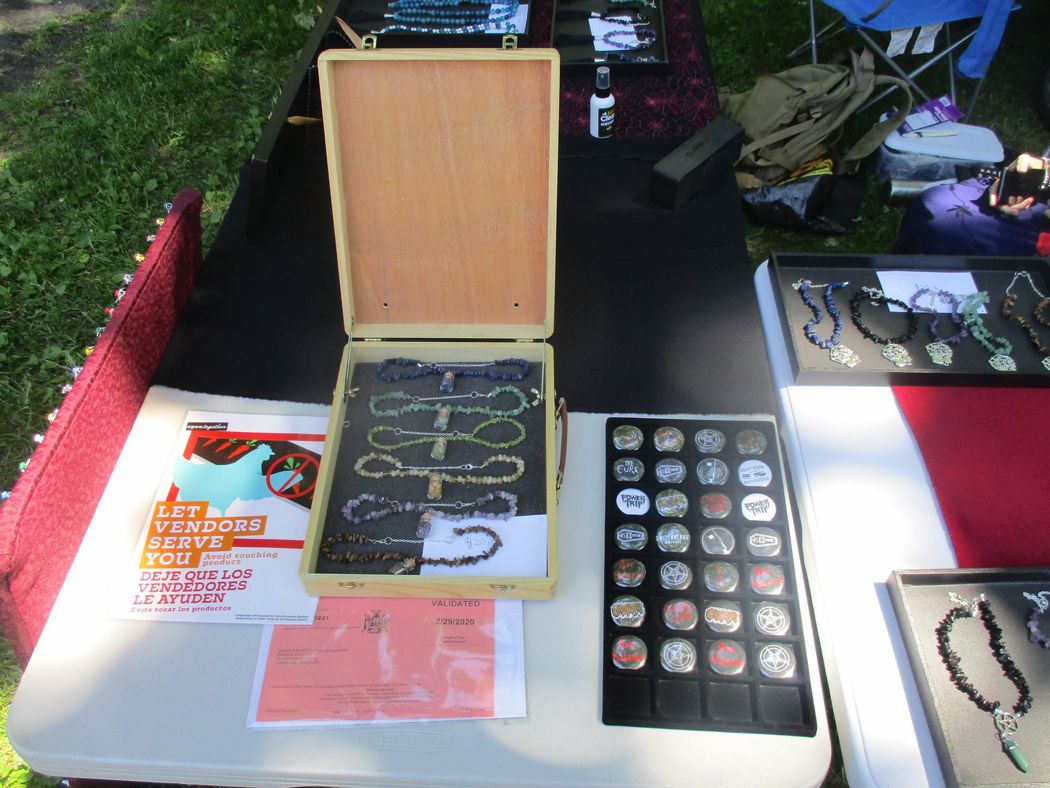 Darque Crystal jewelry (Collect/ PA Real Life)
After a year of friendship, in October 2016 the couple made their relationship official.
But, over a year later, by then head over heels in love, when Jason wanted to propose, he felt he should check with her first rather than putting her on the spot.
So, during a long walk, on an unusually warm day in February 2018, he asked her if she would be interested in getting married.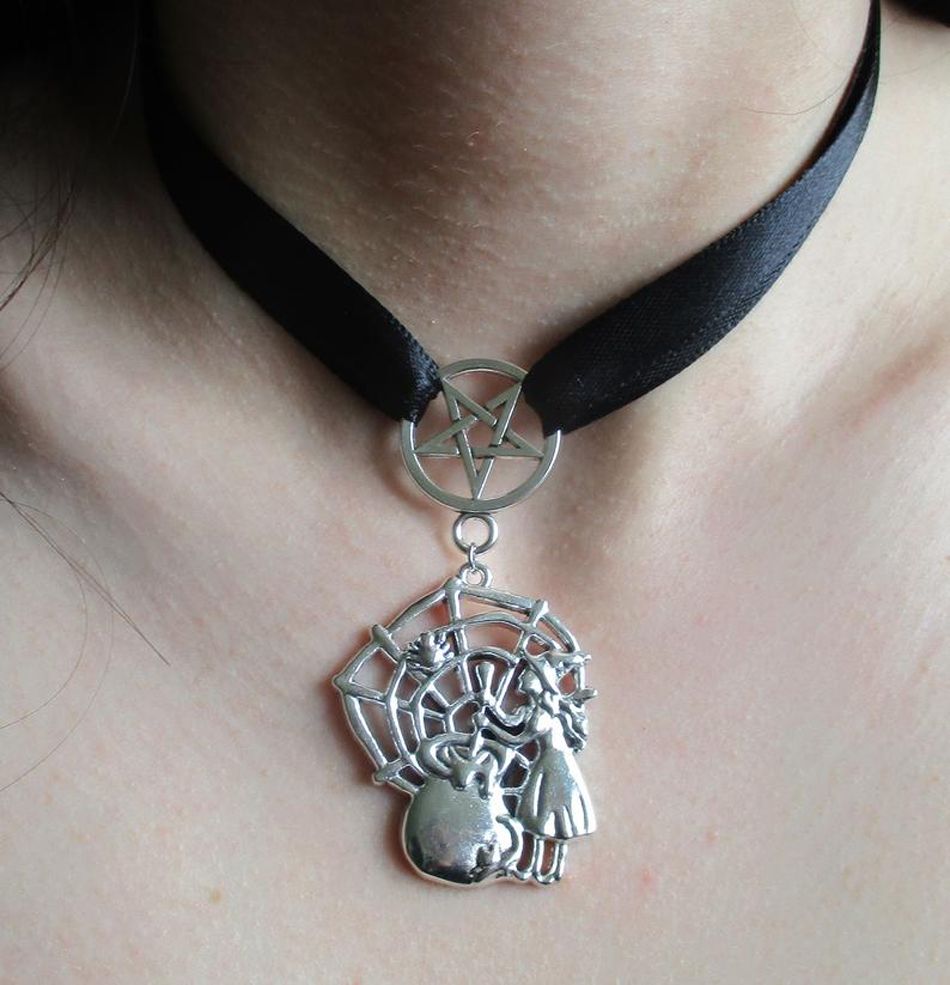 Taylor Martin wearing Darque Crystal jewelry (Collect/ PA Real Life)
"Taylor's a very independent woman, so I felt like I should check that she was interested in the institution of marriage before I asked her," he said. "Thankfully she said she was!"
Seizing the opportunity, just moments later, Jason whisked her into the nearest graveyard and popped the question.
"Yes, I am that guy who just minutes after she told me she'd want to marry me scooted her into a nearby graveyard and asked her officially," he said.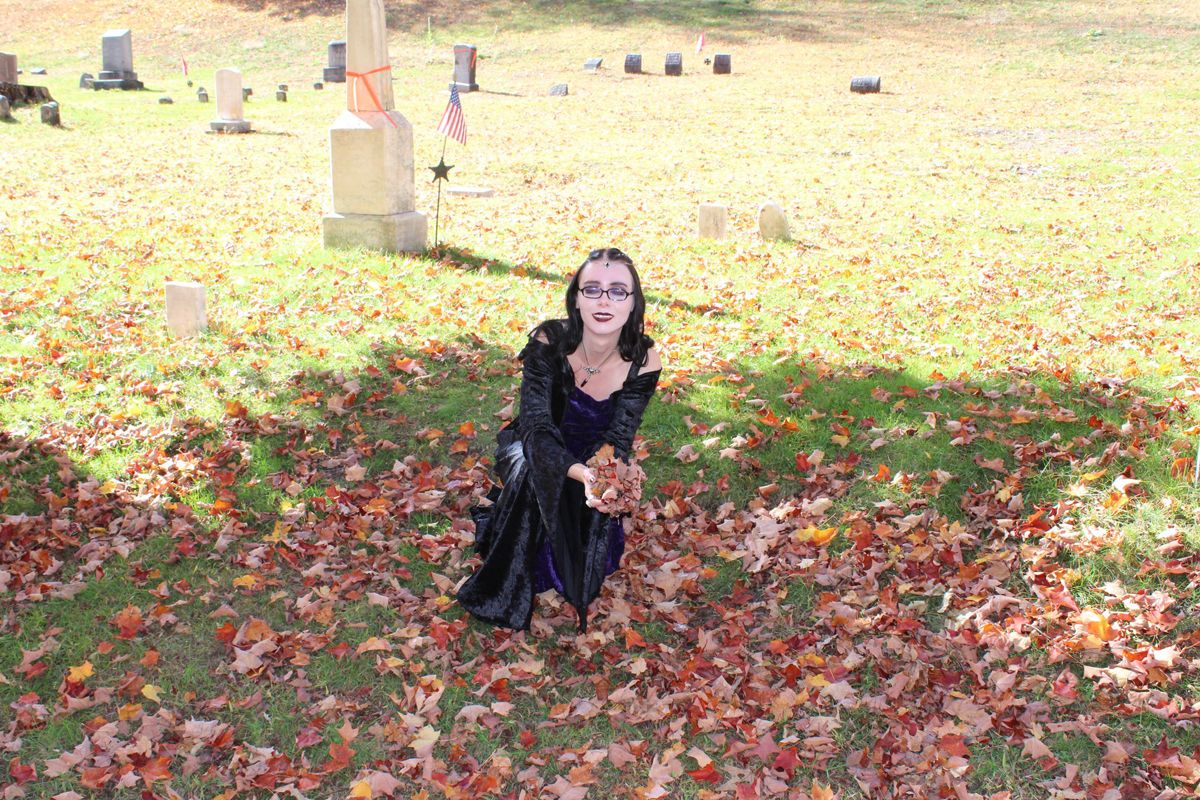 Taylor Martin (Bridget Barr/ PA Real Life)
"I didn't have a ring handy, but I did get down on one knee. Annoyingly, at that exact moment, one of my friend's called me and I quickly hung up."
He added:
"Actually, it was a good thing, because now we know the exact time when we got engaged from the phone records."
Deciding to have an 18 month engagement, so they had plenty of time to plan their big day – which was loosely themed around medieval witchcraft – the couple started looking for the perfect location for their wedding.
"We knew we wanted it in a wonderful outdoor space, so we visited a few different graveyards," Jason said. "There was a graveyard called Bayside Cemetery in Potsdam that I visited a lot when I was at college, so I took Taylor there and as soon as she saw it, she turned to me and said, 'Jason, we're getting married here!'"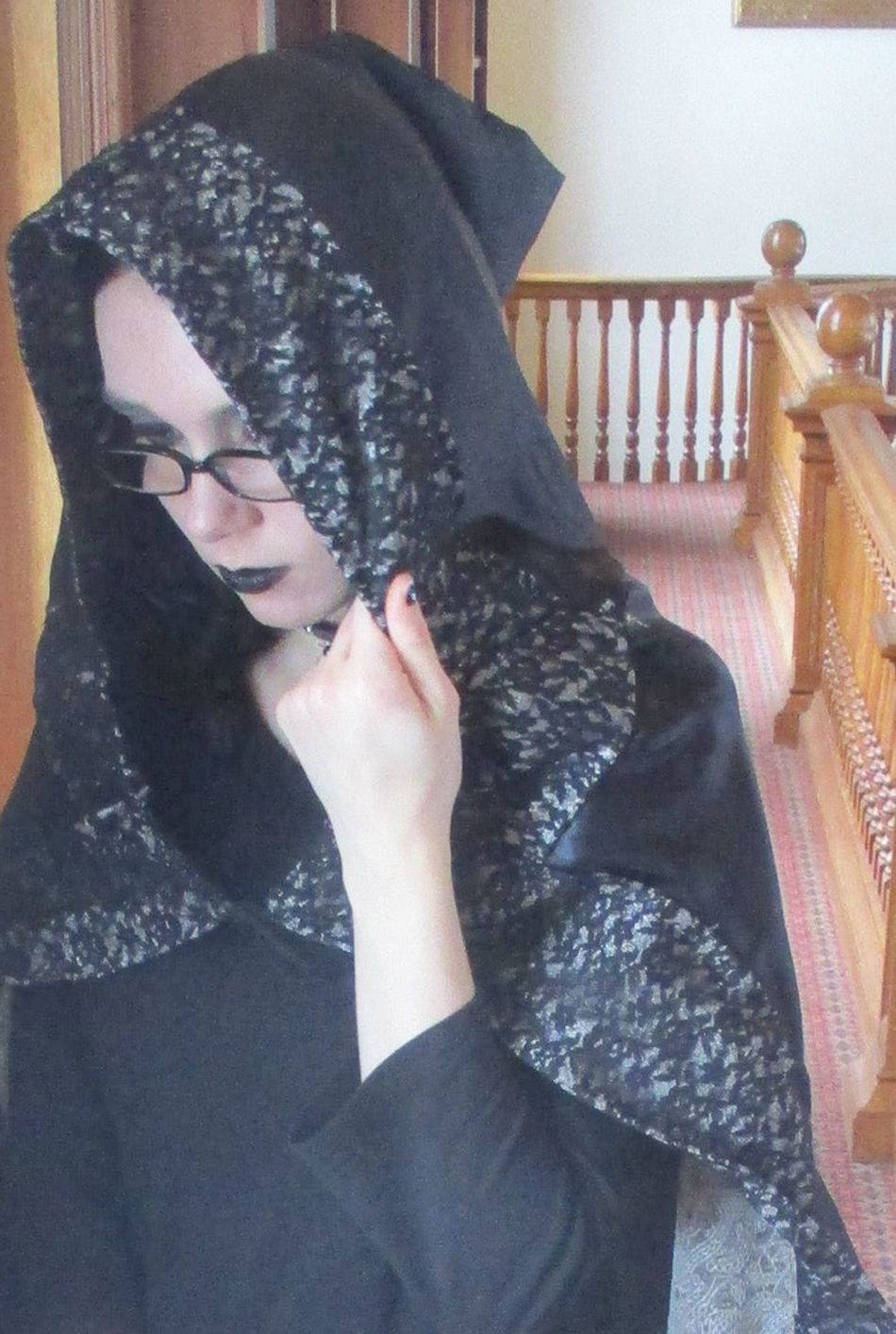 Taylor Martin (Collect/ PA Real Life)
He added:
"It's such a beautiful cemetery, with lots of trees and water surrounding it."
After setting their hearts on Bayside as their wedding venue, they asked the cemetery caretaker for permission to marry there.
"The caretaker was thrilled," Taylor said. "He said no one, in his memory, had ever married there before. He was hoping that if we did it might start a bit of a trend!"
Next came finding Taylor's perfect bridal gown.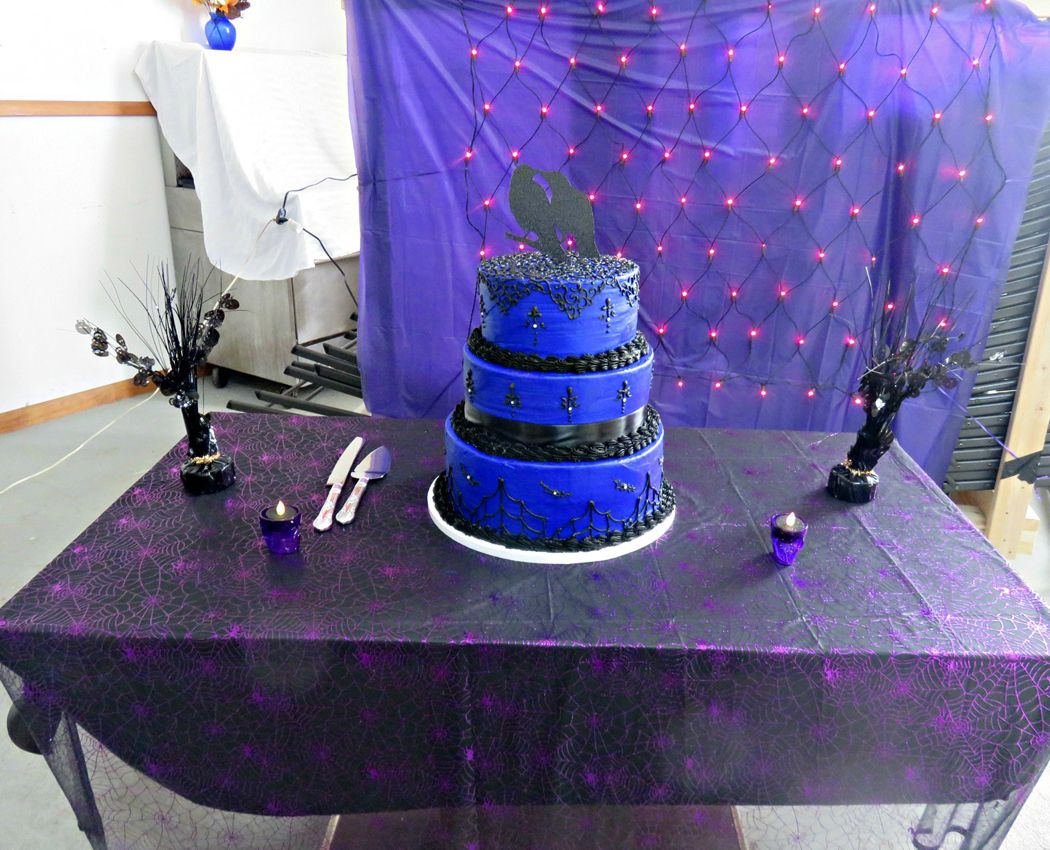 Taylor and Justin's wedding cake (Jennie Blake/ PA Real Life)
"I wanted a black and purple dress, so I had one made in the UK and shipped over," she said.
Meanwhile, Jason raided his friend's costume closet to find an appropriate outfit.
"I found this black, velvet shirt that I'm convinced was meant to be for a woman, but it fitted and matched my bride's outfit perfectly, so I went with that," he said.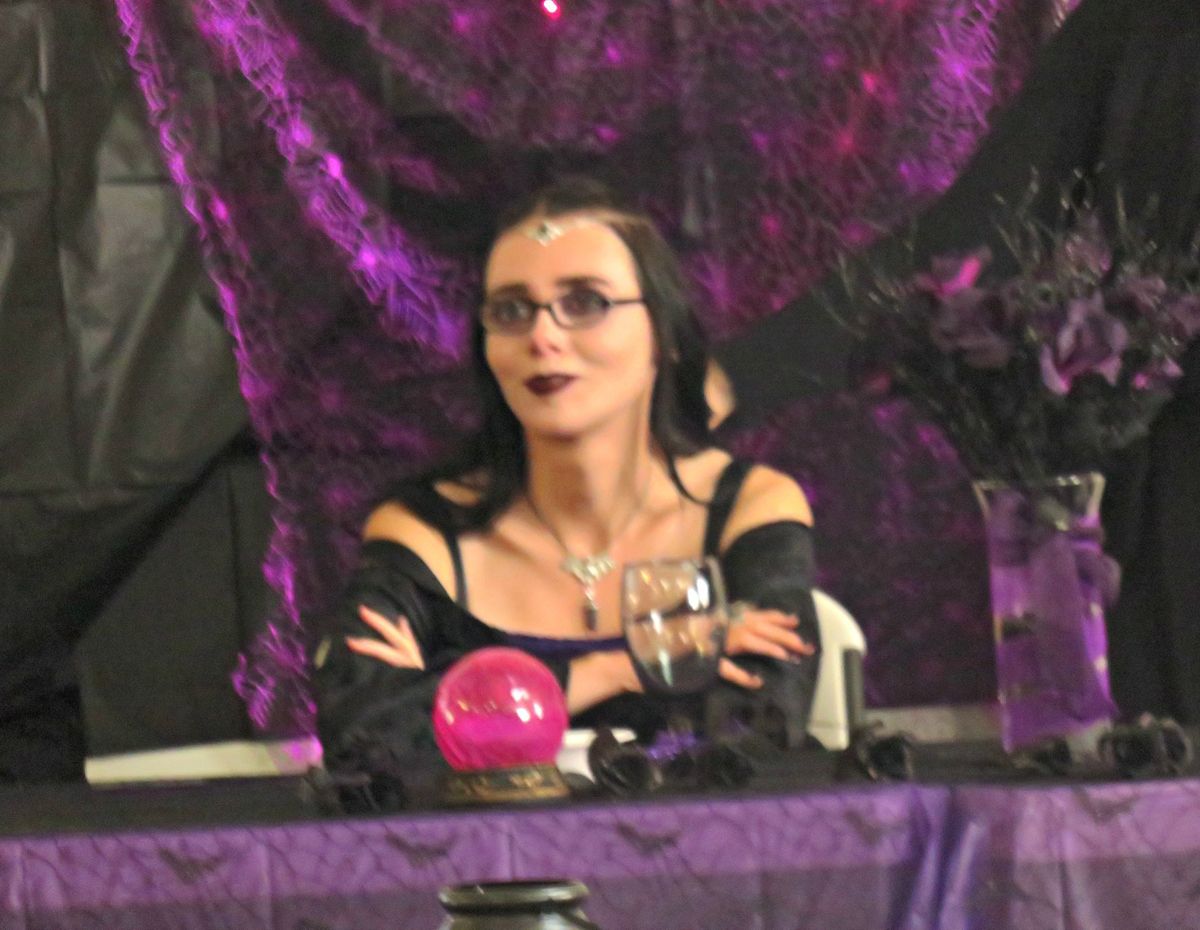 Taylor Martin at her wedding (Jennie Blake/ PA Real Life)
On the big day, October 13, 2019, around 100 guests gathered at the Bayside Cemetery to watch the couple say their vows.
"I think at first when people heard we were getting married in a graveyard they were like, 'Well that's a bit weird,' but when they arrived and saw how amazing the venue was, they loved it," Taylor said.
Even though the couple are now both committed atheists, at the time, Taylor was interested in paganism – where people hold beliefs which do not fit the main world religions – so the ceremony reflected this accordingly.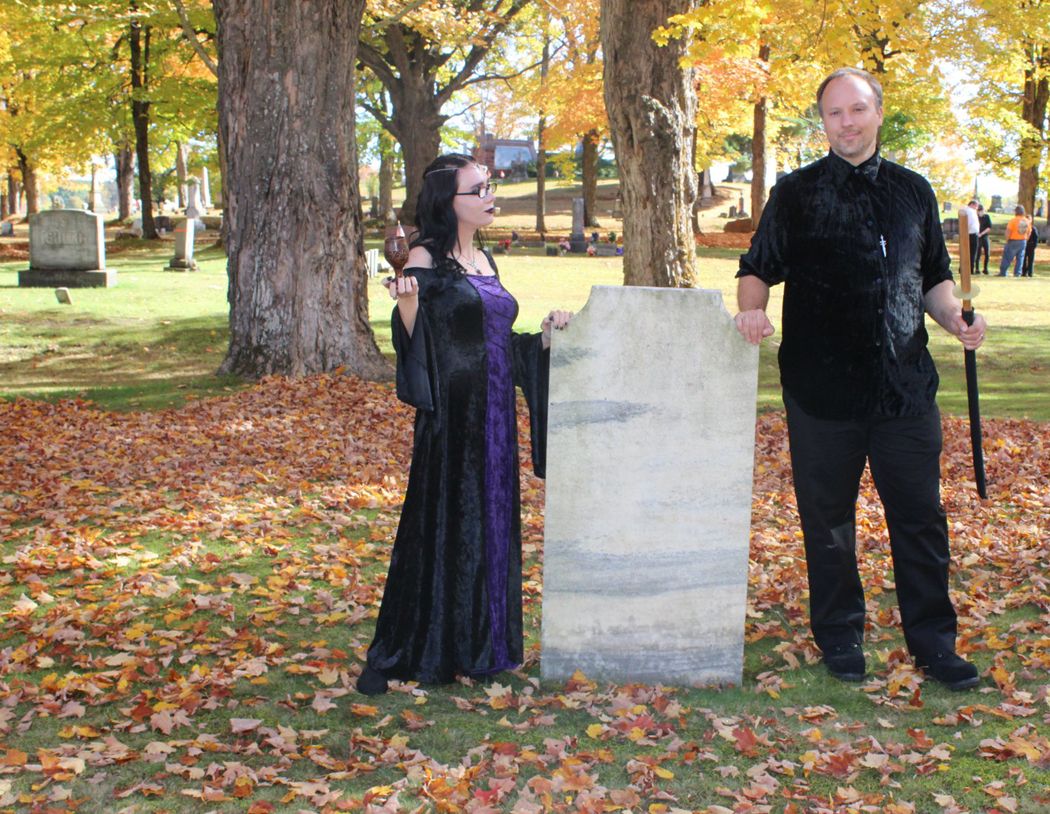 Taylor Martin and Jason Shirtz on their wedding day (Bridget Barr/ PA Real Life)
After saying their vows, the bride and groom, who got their marriage license in advance of the ceremony and then had some of their guests act as witnesses on the big day, had to exchange rings by a sword and challis.
"Taylor had a chalice and I had an old wooden sword stowed away from practicing martial arts in the past, so I just used that," Jason said. "We put the rings on the ends of each sword and handed them to each other."
Then, putting their own unique spin on the ceremony, Taylor knighted her new husband.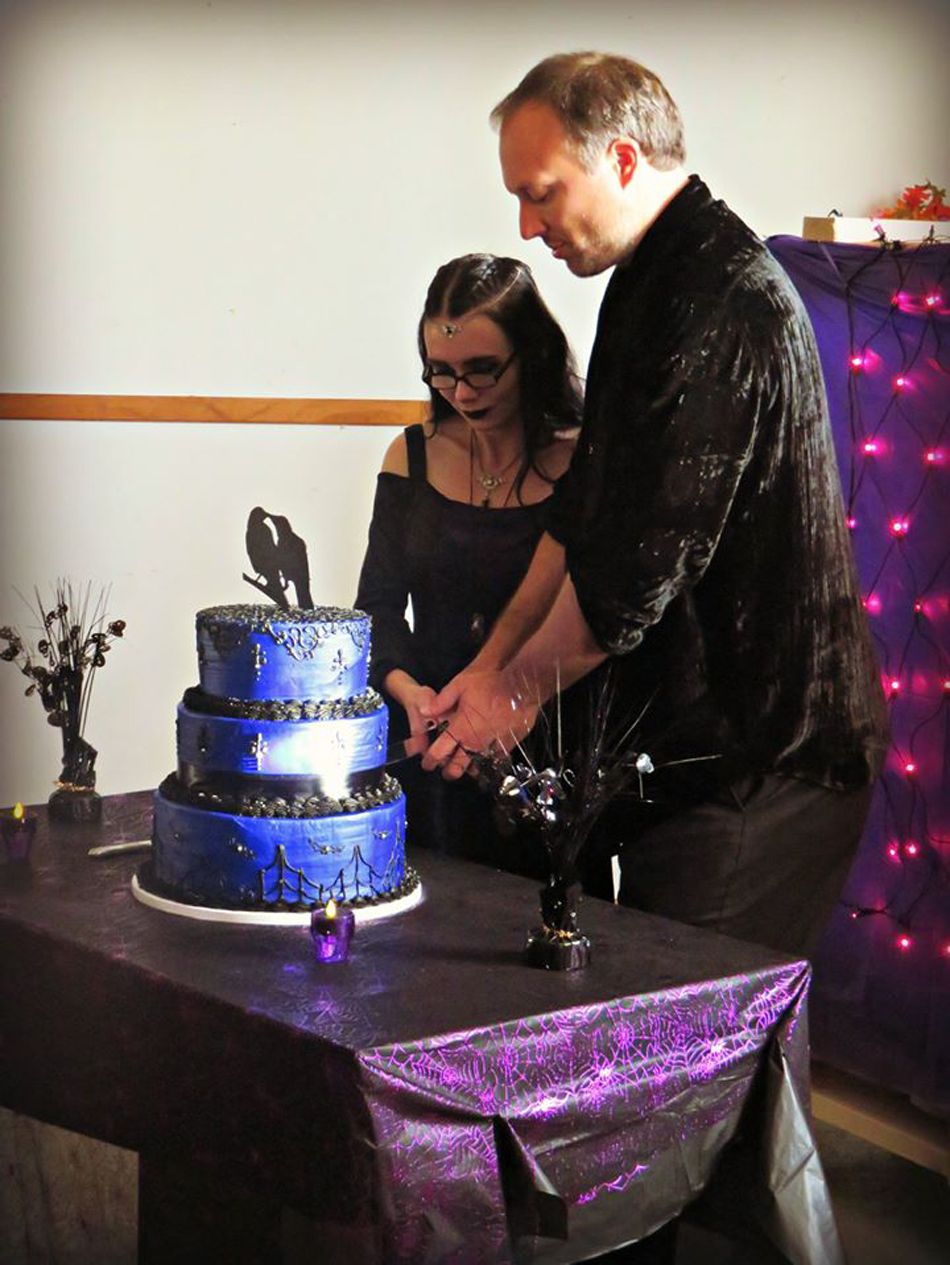 Taylor Martin and Jason Shirtz cutting their wedding cake (Bridget Barr/ PA Real Life)
"She made me her personal knight," Jason said. "That's absolutely fine because she's my queen!"
Their alternative wedding day was completed with a three-tier blue and black cake, topped with an ornament of two crows kissing.
"We had our reception at the local AMVETS center- a place for veterans – as both mine and Taylor's granddads were war veterans," Jason said.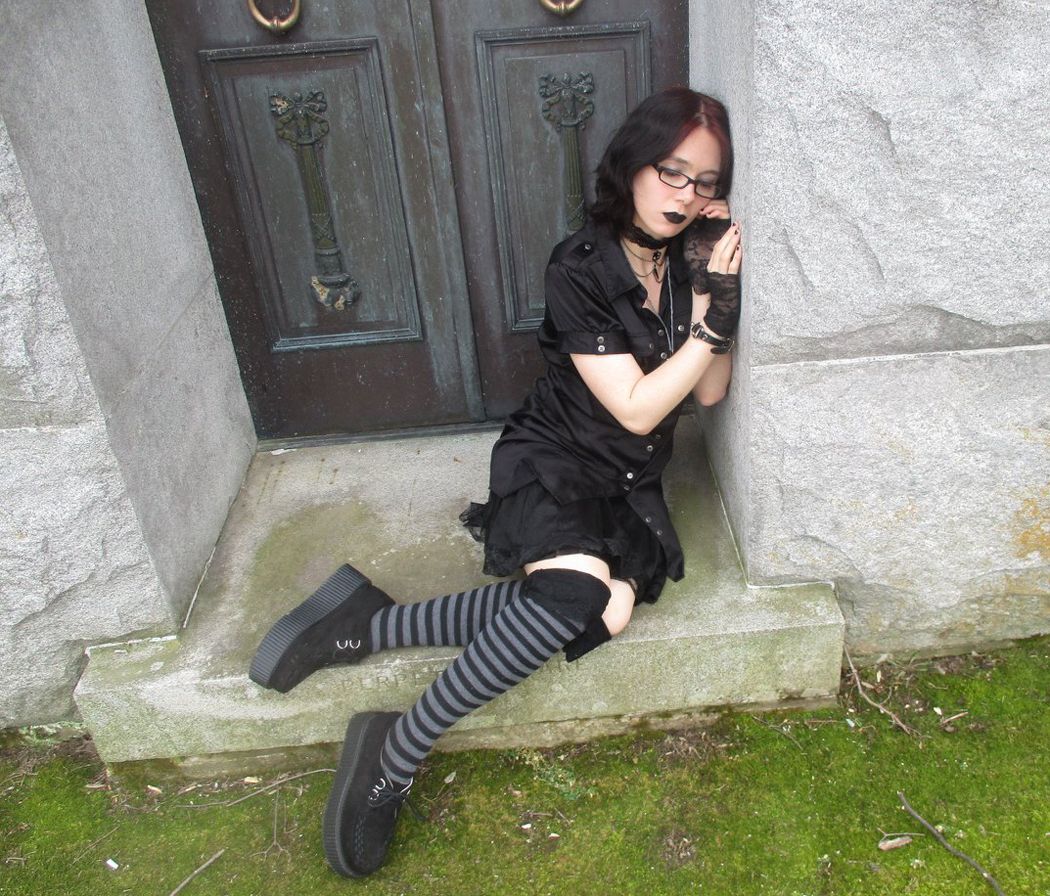 Taylor Martin (Collect/ PA Real Life)
For Taylor, the wedding ceremony was also a goodbye to paganism – as she had decided to part ways with its beliefs.
"On a local level, I feel like paganism has been influenced by new age Pseudoscience which isn't for me," she said.
She added:
"So, the wedding day was kind of a goodbye to that for me."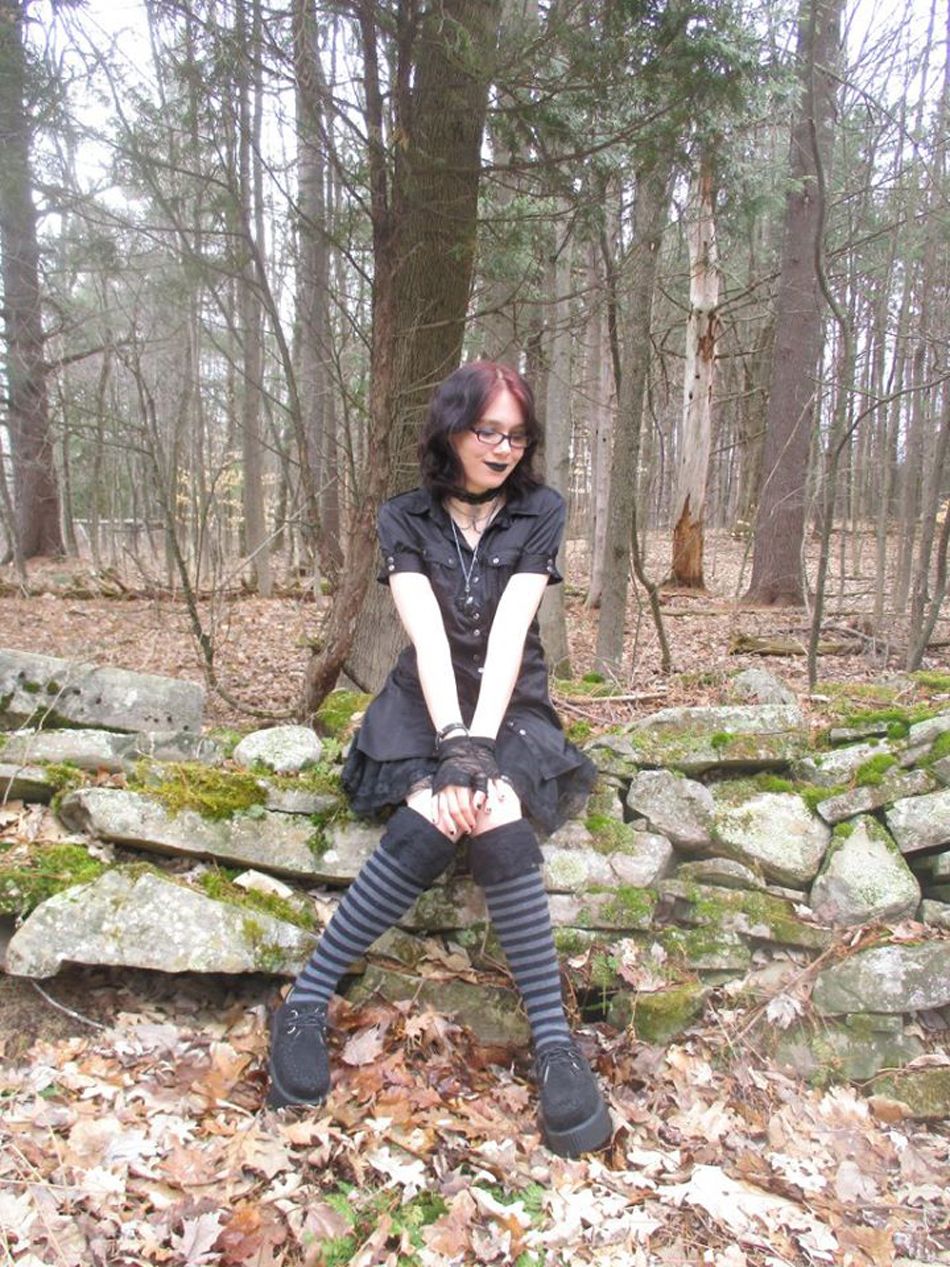 Taylor Martin (Collect/ PA Real Life)
Throwing themselves wholeheartedly into their Goth lifestyle, the couple would now love one day, rather than just running their business online and at their local farmers market, to open a Darque Crystals shop.
Currently selling everything from modified fingerless gloves, capes and cloaks, which Jason makes, to 'bottled blood' made from corn syrup and dye, jewelry – and, of course, pots of soil from their favorite cemetery, Taylor said:
"I'd love one day to open our own store around here because, right now, there's no Goth scene."
"I'd also love to organize music events and gatherings for alternative – not just Goth – young people," she continued.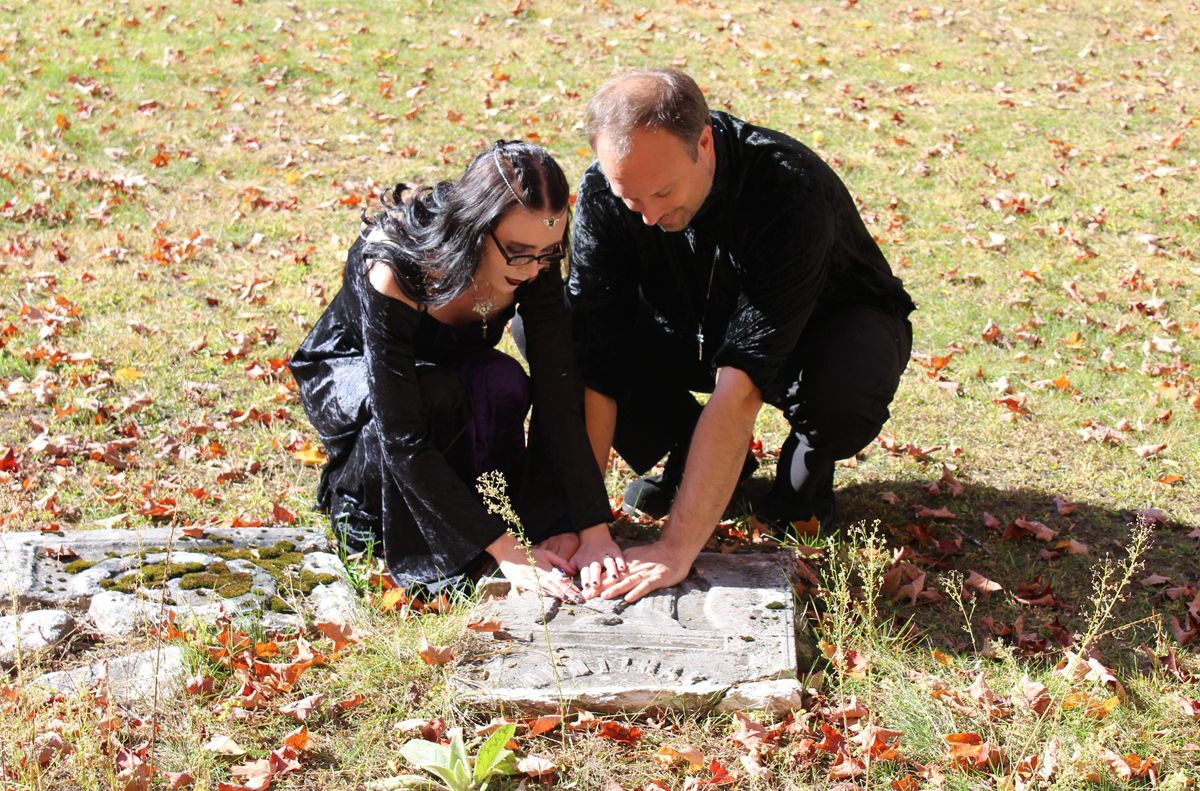 Taylor Martin and Jason Shirtz on their wedding day (Bridget Barr/ PA Real Life)
"A kind of group for misfits to go to, so they can find other people who they click with and who understand them."
"It's okay to experiment, but sometimes it can make you feel a little alone, so we'd like to bring them together."
And the couple laugh of criticism for people who find their passion for graveyards strange.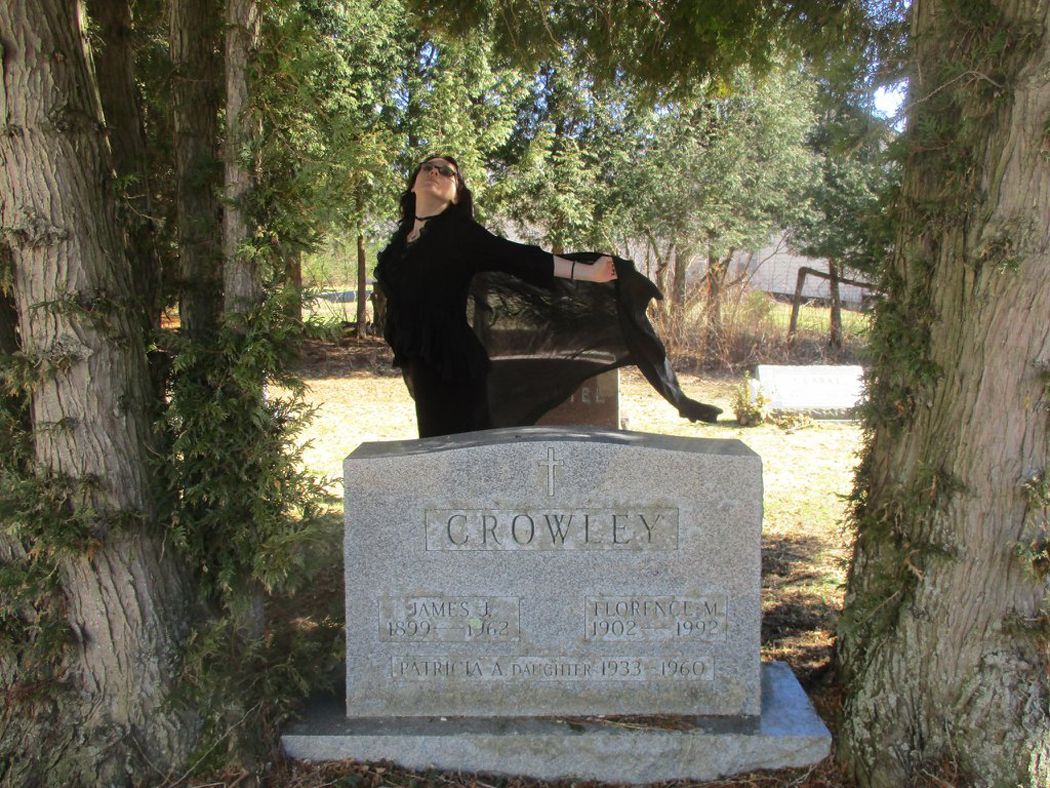 Taylor Martin (Collect/ PA Real Life)
"This one time we overheard someone asking if we were Satanists because of the way we dress, but we just laughed it off!" said Taylor.
"Likewise, we tell people who find our love of graveyards weird, that it's just a modern thing to be scared of them. If you look at the history of graveyards, they actually used to be public parks for people to walk around and, as holy ground, they are not somewhere to be afraid of."
Jason backs this 100 percent and keenly encourages people to embrace being different.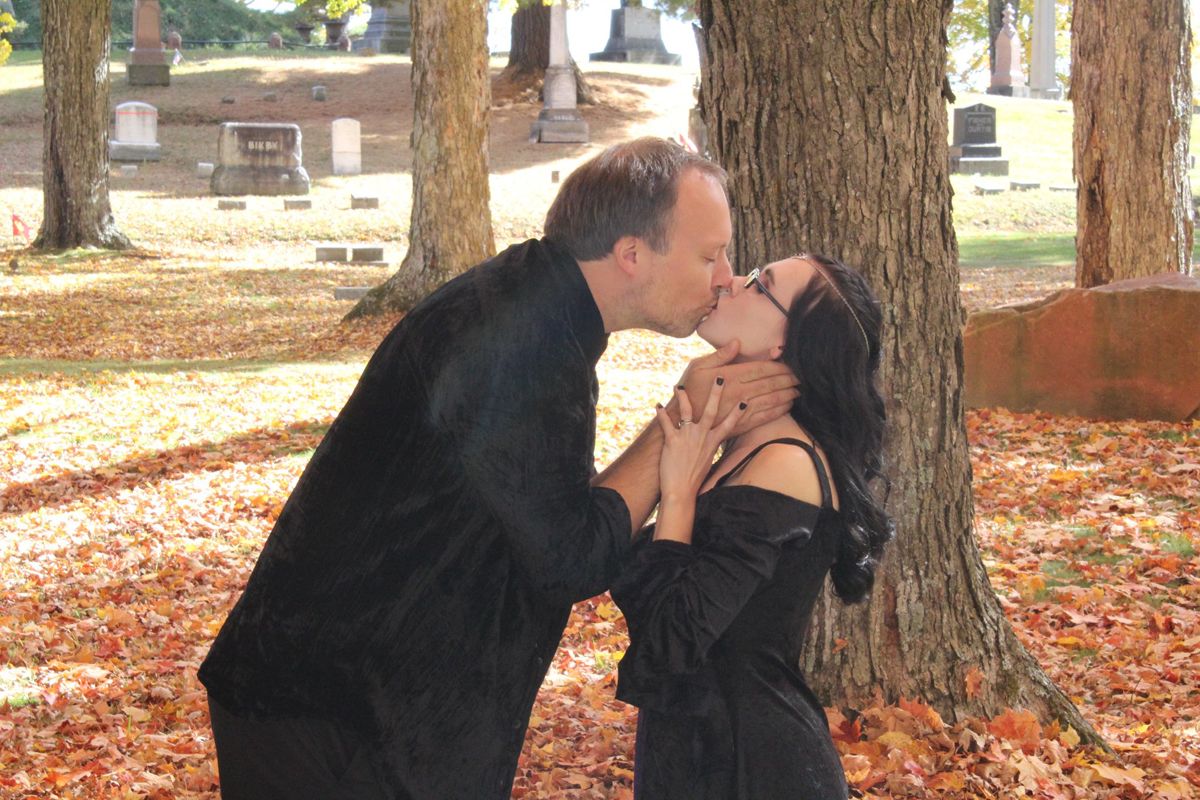 Taylor Martin and Jason Shirtz on their wedding day (Bridget Barr/ PA Real Life)
He said:
"Whatever it is you're into, just go for it."
"Taylor and I – despite being Goths, who people think of as being dark and depressed – couldn't be happier."