A gay bride was absolutely crushed after accidentally finding out some of her wedding guests were talking smack about her and her spouse behind their backs.
The trash talk captured was part of the background noise of a wedding guest leaving a special message for the bride's DIY audio guestbook.
Yaya–a.k.a TikToker @yayakampe–and her spouse were shocked to hear the gossip coming from their extended family who complained about individuals who were not invited to the wedding.
Here is a video highlighting the positive moments of the beautiful 70s-inspired-themed wedding.
The TikToker explained she rescinded invitations from those who didn't support their same-sex union.

As a supplement to her anecdote, Yaya said she accidentally wire-tapped her wedding and clarified she was being sarcastic when she suggested doing it as a pro-tip in a previous video.

"It's actually illegal to not have all parties consent before recording," she said, adding that she didn't recommend the procedure at weddings.

She noted because the wedding venue was outdoors in a public space, it wasn't "illegal for this mistake to have accidentally happened."Yaya said she and her spouse wanted to purchase an audio guestbook so their friends could leave loving messages for the couple to treasure for years.

The specialty company they initially looked into would capture all the messages from a phone and transfer them onto a vinyl record.
But because the "$600 or $700" price for the niche service was out of their wedding budget, they devised a similar "old school" recording method of their own.

Yaya purchased an old-fashioned phone from a thrift store and replaced the speaker device inside with a tiny sound-sensitive audio recorder to enable it to capture sounds.

It was so sensitive, the mic not only caught everyone's lovely messages but all of the background noise as well.
The sound that got picked up from the background was of a conversation between their great Aunt Cindy and her two daughters-in-law who were presumably dissing the bride for uninviting a couple of notably absent wedding guests.
Some of the words used to describe the brides were "disrespectful" and "tacky."
Yaya shared the voice recording with the captions obtained from an AI transcriber and bleeped out the mentioned names for privacy.

Cousin 1:
"Weren't you expecting ___ and ___ to be there?"
Cousin 2:
"Yes I really did expect them to be here."
Cousin 1:
"Especially with ___."
Cousin 2:
"Like it's a long drive but..."
Aunt Cindy:
"You know they aren't here because they were uninvited right?"
"It's the same thing. ___ called and told me."
"Like how tacky and disrespectful can you be?"
Yaya said Aunt Cindy was caught numerous times complaining about the circumstance, calling their decision "disrespectful" and "tasteless" after everything that was supposedly done for them.
The cantankerous wedding guest eventually left the venue with her husband.
After all was said and done, Yaya said their wedding "was really beautiful" and had no regrets about their "cute" guest book idea, though she admitted it took some work.
The situation got people talking.


@yayakampen/Instagram

@yayakampen/Instagram

@yayakampen/Instagram

@yayakampen/Instagram

@yayakampen/Instagram

@yayakampen/Instagram
Looking back, she explained the drama could have been avoided had they planned a smaller wedding inviting only the people she and her spouse trusted who supported them.

"A lot of people don't understand the idea of going no contact," she said, adding:

"So when we chose to uninvite people who were like damning us to hell but still felt like they were allowed to go to our wedding people were really just turned off by that idea."

Yaya said she and her spouse weren't cognizant of that at the time and no one had expressed their concern to them.
Her one regret was not having vetted the guest list to weed out certain people like their great Aunt Cindy who was "such an a**hole" because she kept complaining about the people who were uninvited to the wedding.
People who were opposed to their same-sex marriage.
Aunt Cindy was supposedly so irked by this she photo-bombed many of the wedding photos by standing in the background "like a security guard" with a "gross face on" and being the only attendee dressed all in black.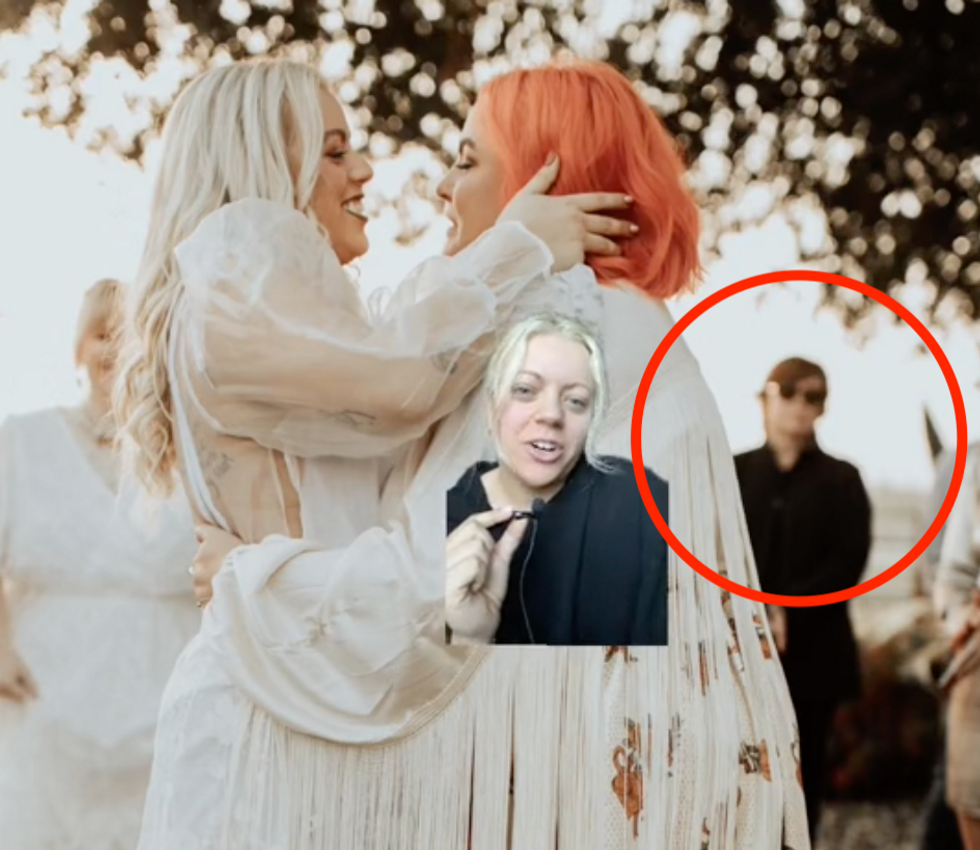 @yayakampen/Instagram
One of Yaya's favorite comments left on the thread was by a TikToker who wrote:

"If your aunt wasn't such a homophobe she could've been iconic."
"I couldn't agree more," quipped Yaya.

To those planning a wedding anytime soon, Yaya advised:

"Please only invite the people who just love the crap out of you because honestly, it makes all the difference.">
Noted.