A gay couple was sent a homophobic letter after appearing on local television for xLGBTQ+ Pride month. As hateful as it was, a second letter from an accepting nine-year-old lifted their spirits.
In Alderney, England Dits Preece and his partner Allen received an anonymous letter about their appearance at the Alderney Pride event earlier in June. The letter had an enormous amount of errors and wasn't signed with any name or return address.
It clakmed seeing Preece's arm around Allen was enough to make them sick enough not to eat.
"⁠Did you and your partner see yourselfs on channle [sic] news Saturday evening."
"It put me and my husband and grandson off our Tea."
"My grandson asked why that man had his hand around the other one."
"A couple is a man and a woman it always will be. you looked like a joke."
"You look like a joke (the 2 of you)."
"Try being in the circus."
Preece decided, since they didn't put a return address, to post the letter to Facebook.
He captioned it:
"How pathetic they can't put there name to this and how narrow minded they are, it's shame they didn't enjoy there meal."
"Perhaps someone might know who it was, they just need to grow up."
"Still you can't please everyone. Who ever it was, I hope you enjoy your next meal."
Preece went on ITV News for an interview after his post caught attention of friends from all over the world.
He explained his shock of seeing the letter:
"When I opened it and read it, I just couldn't believe what I was reading."
"I've never had anything like this in my life before, and then suddenly I get this after all these years."
"I'm overwhelmed by the amount of people that have made remarks back to me of how sorry they are and to ignore it and not to get upset."
"The messages have come from all over the world.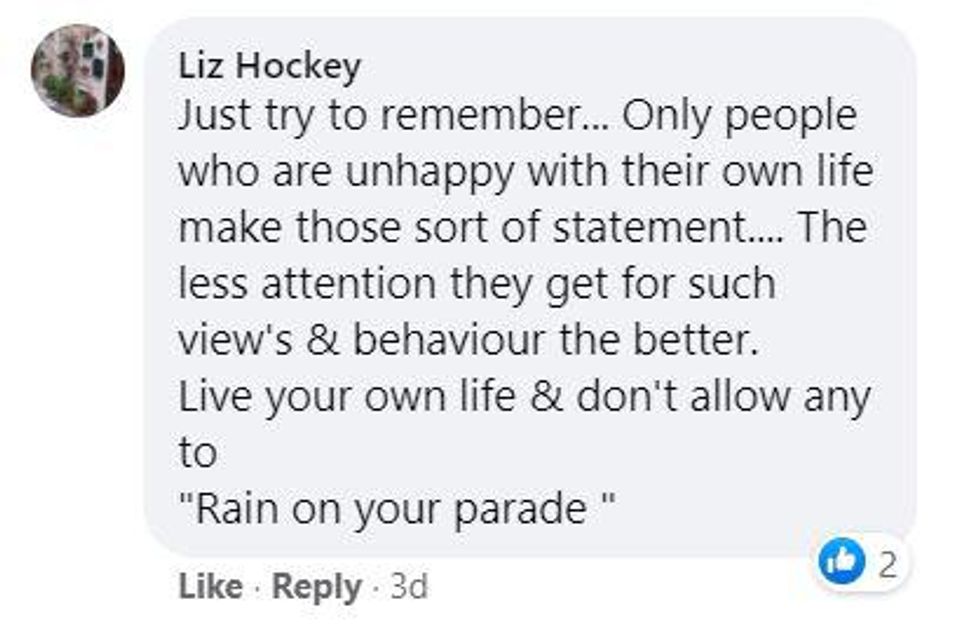 Liz Hockey/Facebook

Nikki Robinson/Facebook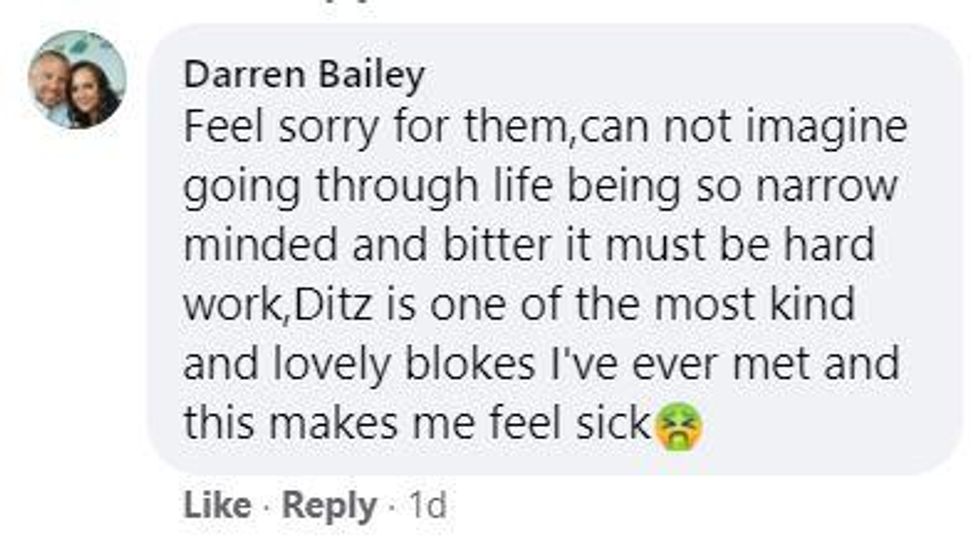 Darren Bailey/Facebook

Sally Madfrog Marquis/Facebook

Kristina Bisson/Facebook

Claire Tannahill/Facebook

Mia Wickenden/Facebook

Zoe Jane Mcallister-Wilding/Facebook
A local organization called No Outsiders posted another letter in response to the homophobic note, this time from a nine-year-old girl.

She said:
"How could someone be so rude?"
"I think whoever wrote this appalling letter is so insensitive! They need to think about your feelings."
"Everyone is equal no matter what."
She ended by saying:
"P.S: Couple means two, not opposite genders!"
The organization Liberate also shared the post and said to the homophobic anonymous letter writer:
"To the writer:"
"For future reference the answer to 'why does that man have his hand around the other one' is 'because that's his husband' - why would that be such a difficult answer for you."
"Let's hope that the writers grandson is not gay/bi/pan as they are very unlikely to feel supported and accepted by their grandparents, sadly."
On Twitter, Dits Preece is getting responses from all over.
In this case, love really did trump hate.