Actress, comedian, writer and singer Cassandra Peterson—best known for her iconic alter-ego Elvira—has revealed more than just a teaser from her new memoir.
Elvira became a household name with the '80s TV show Movie Macabre. The syndicated show featured Elvira lounging about a crypt inspired set and introducing schlocky horror movies with corny jokes.
Then there was this moment from her own 1988 comedy horror film, Elvira: Mistress of the Dark.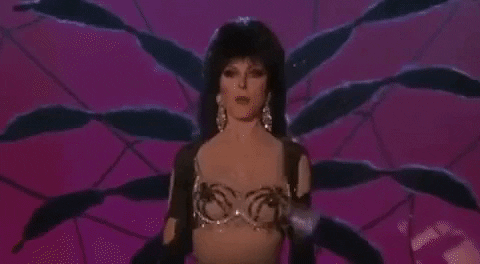 Giphy
But the longtime LGBTQ+ icon is now making headlines after revealing she's been in a 19 year relationship with her assistant, Teresa "T" Wierson.
In the words of the cult horror film Freaks, LGBTQ+ people are rejoicing with a rousing chorus of "one of us, one of us."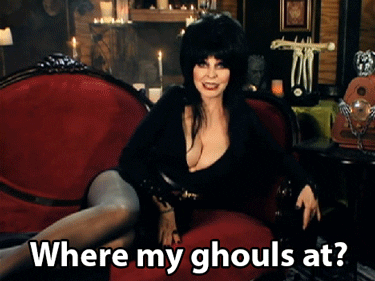 Giphy
Adoring fans went wild after it was shared in a teaser for Peterson's new memoir Yours Cruelly, Elvira.
Peterson wrote how they met at the Hollywood Gold's Gym in Tinseltown.
"Often, when I was doing my preworkout warm-up on the treadmill, I couldn't help noticing one particular trainer—tan, tattooed, and muscular—stalking across the gym floor, knit cap pulled so low over his long brown hair that it nearly covered his eyes."
"Dark and brooding, he gave off such intense energy that when he crossed the enormous gym floor, the waters parted and people stopped in their tracks to stare."
It turned out that "bad boy" was really a "bad girl," which she learned when they crossed baths in the women's bathroom.
The two hit it off, but only platonically at the time.
One night, the two were watching a movie when Peterson suddenly got the urge to kiss Weirson.
"I think I was even more surprised. What the hell was I doing?"
"I'd never been interested in women as anything other than friends."
"I felt so confused. This just wasn't me!"
"I was stunned that I'd been friends with her for so many years and never noticed our chemistry."
"I soon discovered that we connected sexually in a way I'd never experienced."
That was nearly two decades ago Peterson realized she was falling in love with her close friend.
Now the cat is out of the bag the Queen of the Night is one of their own, the LGBTQ+ community is exploding with joy at the news.
Peterson has played the role of Elvira on and off since 1981. In addition to the TV show that first established her in pop culture, Peterson as Elvira has done movies and numerous guest appearances.
Each October for several years now, Peterson has partnered with theme park Knott's Berry Farm to present Knott's Scary Farm.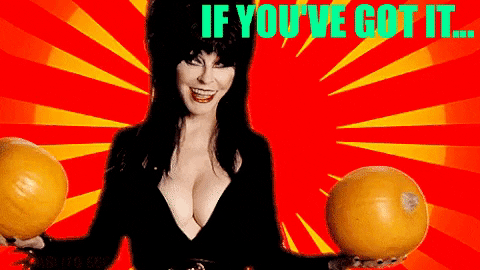 Giphy
With Halloween coming we can probably expect quite a few Elvira costumes to celebrate this beautiful moment.
Welcome to the family, Cassandra!