A disabled television researcher has made her debut in front of the camera, filming her own wheelchair workouts after feeling "left out" when her family began joining in with celebrity fitness guru Joe Wicks' virtual exercise classes during lockdown.
Born paralyzed from the chest down after a blood clot formed on her spine while she was still in the womb, Ella Beaumont, now 25, has been using a wheelchair almost her entire life.
Encouraged by her supportive parents, primary school teacher Kathy, 59, and accountant Andrew, 60, she took up tennis aged six, carrying her love of fitness into adulthood, when she would hit the gym three times a week and even won silver and bronze medals for wheelchair basketball.
Then, when sports facilities closed their doors in March as part of the nationwide lockdown to combat the spread of the virus, Ella, of Berkhamsted, Hertfordshire, Egnland, began scouring the web for online workouts – and was shocked by how few resources were available for disabled people.
Her concern was compounded when her mom and sisters Charlotte, 30, a seamstress, and Alice, 27, a primary school teacher, began participating in Joe Wicks' daily sessions, which she could not join in with.
So, combining her skills from her day job in TV production with her love of sports, she started filming her own classes at the beginning of April, and has since been sharing them to YouTube every week.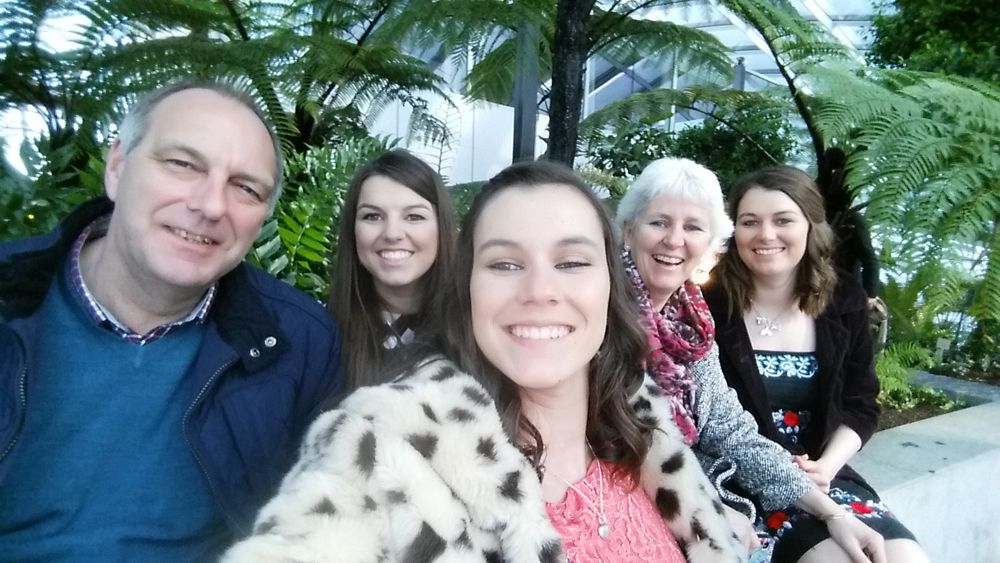 Andrew, Alice, Ella, Kathy and Charlotte (PA Real Life/Collect)
Already tallying over 6,000 views, Ella said:
"When lockdown started, my mum and sisters started following Joe Wicks' workouts, and I could see they were getting that high I was missing out on."
"I wasn't going to the gym three times a week like I normally would."
"I felt quite flat that I couldn't join in with my family and in a way, a bit left out."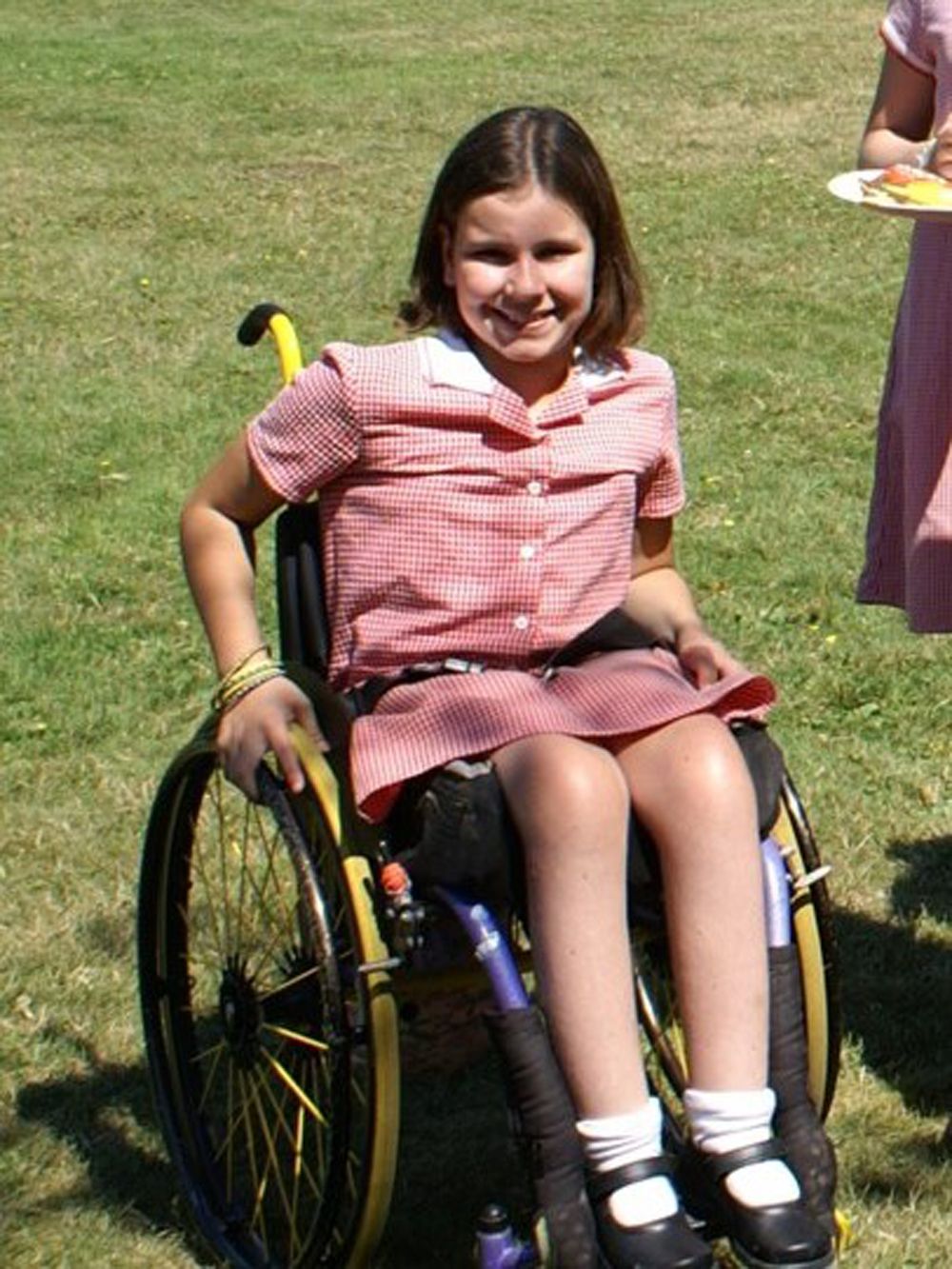 Ella has used a wheelchair since she was 18 months old (PA Real Life/Collect)
She continued:
"I was shocked at how few workouts there were for people like me and thought, 'Let's give this a shot.' Two months later, and here we are."
A scan just days before Ella was born revealed she had stopped using her legs in the womb – but it was not until she was two months old that doctors discovered the blood clot that left her paralyzed.
She explained:
"No one knew what had triggered it but it was clear when I was born, that something had affected my mobility. I was a very floppy baby."
She continued:
"After a lot of tests, doctors were eventually able to see the clot in my spine."
"There's nothing that they could or can do – it's like a power cut which has wiped out my spinal cord."
"But, luckily, it will never get any worse, either."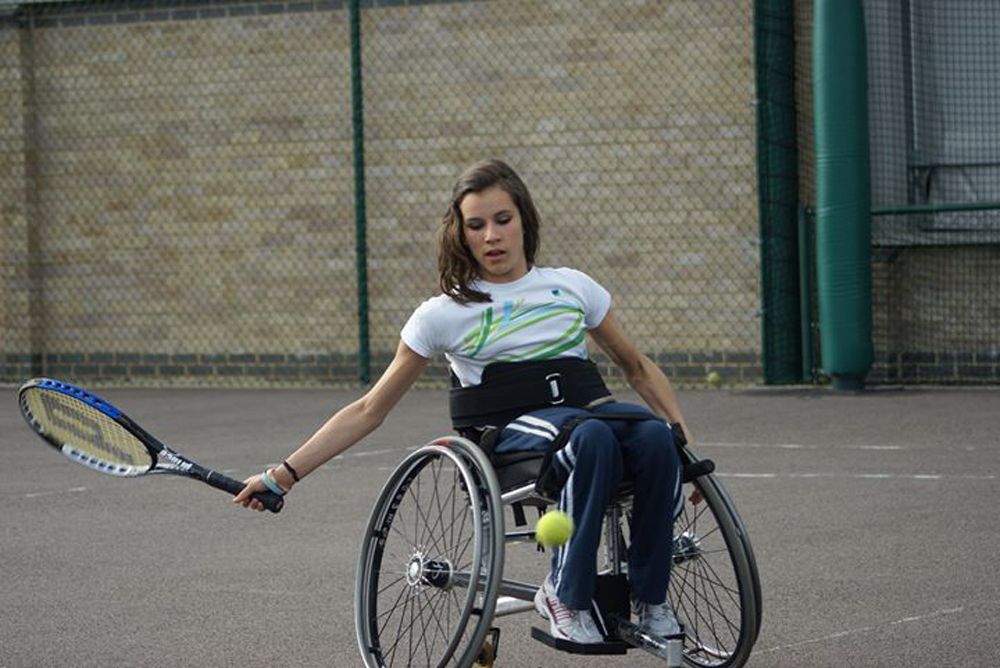 Ella playing tennis (PA Real Life/Collect)
Thankfully, Ella has a loving family, and her parents always treated her the same as her older sisters – so much so that she did not realize she was different to other children until she was five years old.
She explained:
"I can't remember it, but my mum tells me I came home from school and was upset because I'd realized my legs were never going to work like everyone else."
"I think I'd wanted to kick a ball like all the other kids, which hadn't been possible."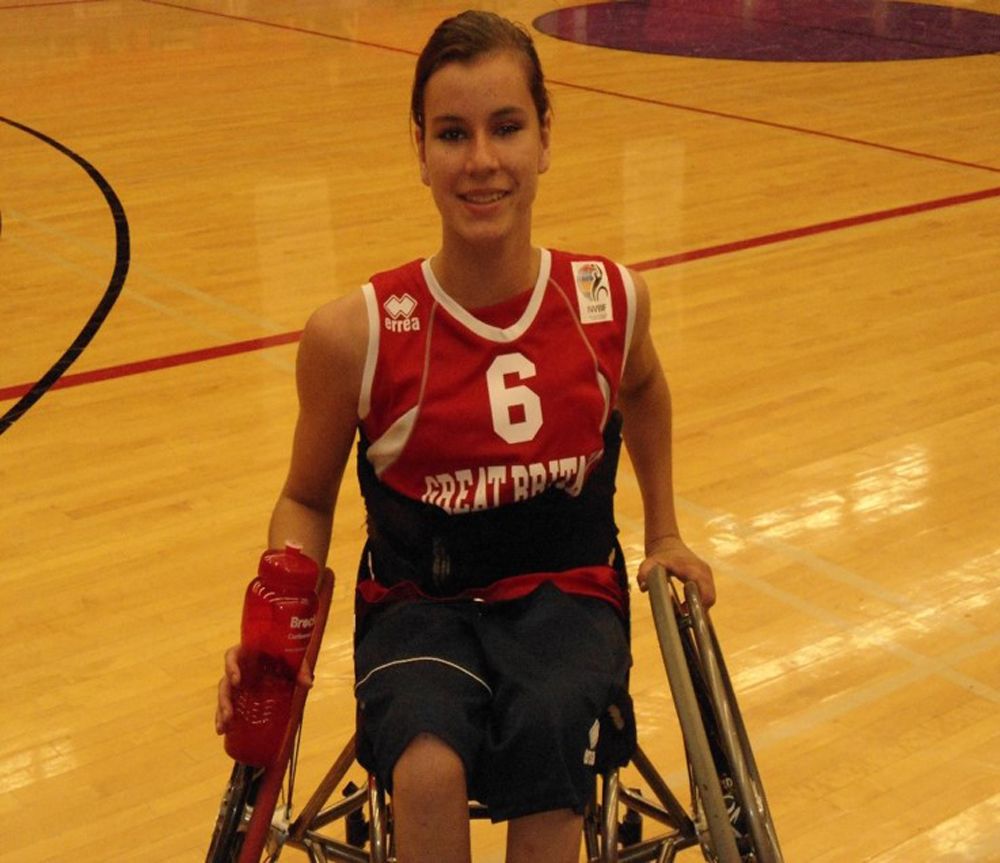 Ella playing basketball (PA Real Life/Collect)
She continued:
"I've been so lucky to have such positive parents. The world never revolved around me and my disability and I was treated the same as my sisters, which helped me believe in myself."
Buoyed by the support of her parents, Ella began playing wheelchair tennis when she was six, during the summer of 2001.
And with that, a love of fitness was born.
"Mum and dad pushed me to do it, and not just because it was good for my physical health," she said.
"Socially, it was good for me too, because it encouraged me to interact with other disabled children."
"I feel very lucky to have had my childhood. There were no hardships. I had able-bodied friends through school and a circle of disabled friends through sport."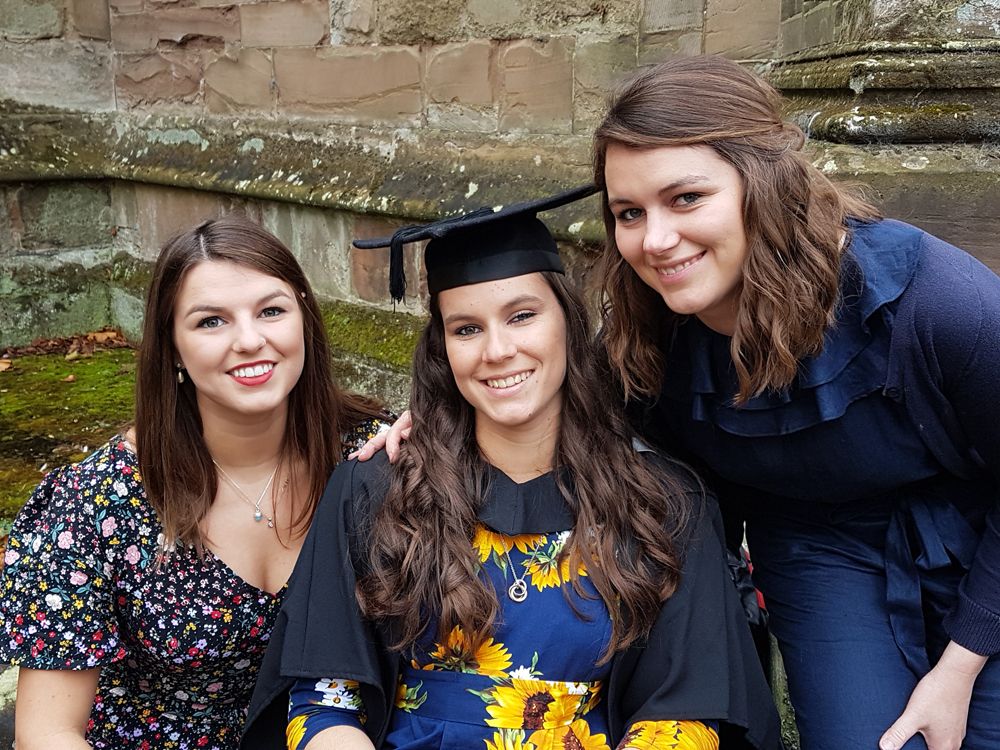 Ella with her sisters at graduation (PA Real Life/Collect)
For the next six years, Ella focused solely on tennis.
Then, just before she turned 13, she noticed that she enjoyed the sport most when playing in a pair during doubles matches.
Realizing she preferred being a in team, she decided to try basketball instead.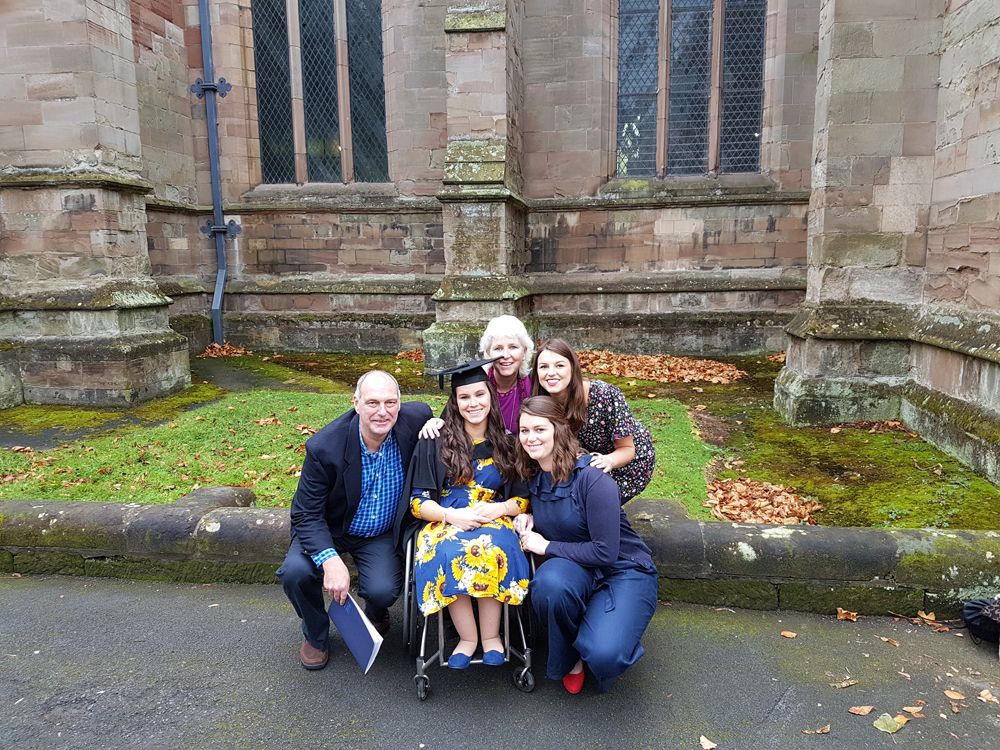 Ella with her family at graduation (PA Real Life/Collect)
Joining Aces Wheelchair Basketball Club, who train and play at Stoke Mandeville Stadium in Aylesbury, Buckinghamshire – the birthplace of the Paralympics – she was immediately hooked.
"Playing a group sport is a completely different experience. Your teammates can build you up after you've made a mistake – something I struggled to do for myself."
Showing a natural prowess for basketball, Ella, who played defense, would train five times a week.
And her hard work paid off as, in 2010, aged 14, she officially joined the Great Britain team, taking home a bronze medal at the 2011 Women's U25 World Championships in Toronto, Canada, before winning a silver in August 2014 at the European Championships, in Hanover, Germany.
"It was so emotional and such an honor to represent my country," she said. "To this day those two medals are still my biggest achievement."
"Since I started playing basketball at 13 it was an aspiration of mine to reach Paralympic level."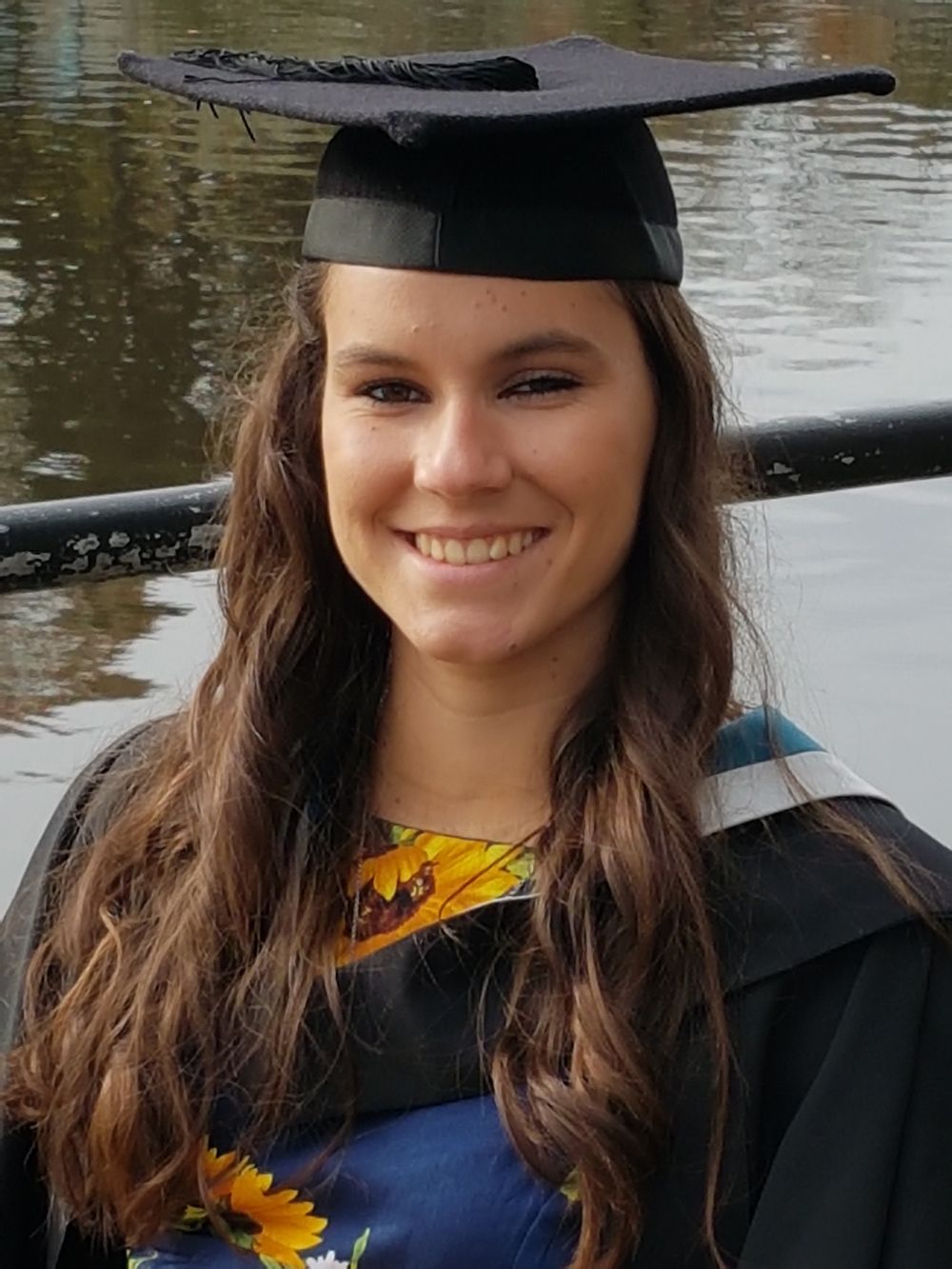 Ella graduated with a degree in sports coaching (PA Real Life/Collect)
She continued:
"But as I got older, I began to realize it takes so much commitment to be a professional athlete and I knew I couldn't put all of myself into it and carry on with my studies."
Carrying her love of fitness over to higher education, Ella studied sports coaching at the University of Worcester from 2013 to 2017.
There, in between her second and fourth years, she had a year-long work placement, scoring a spot on a TV production training program with Channel 4, who had been instrumental in covering the Paralympics Games, which were held in London the year before.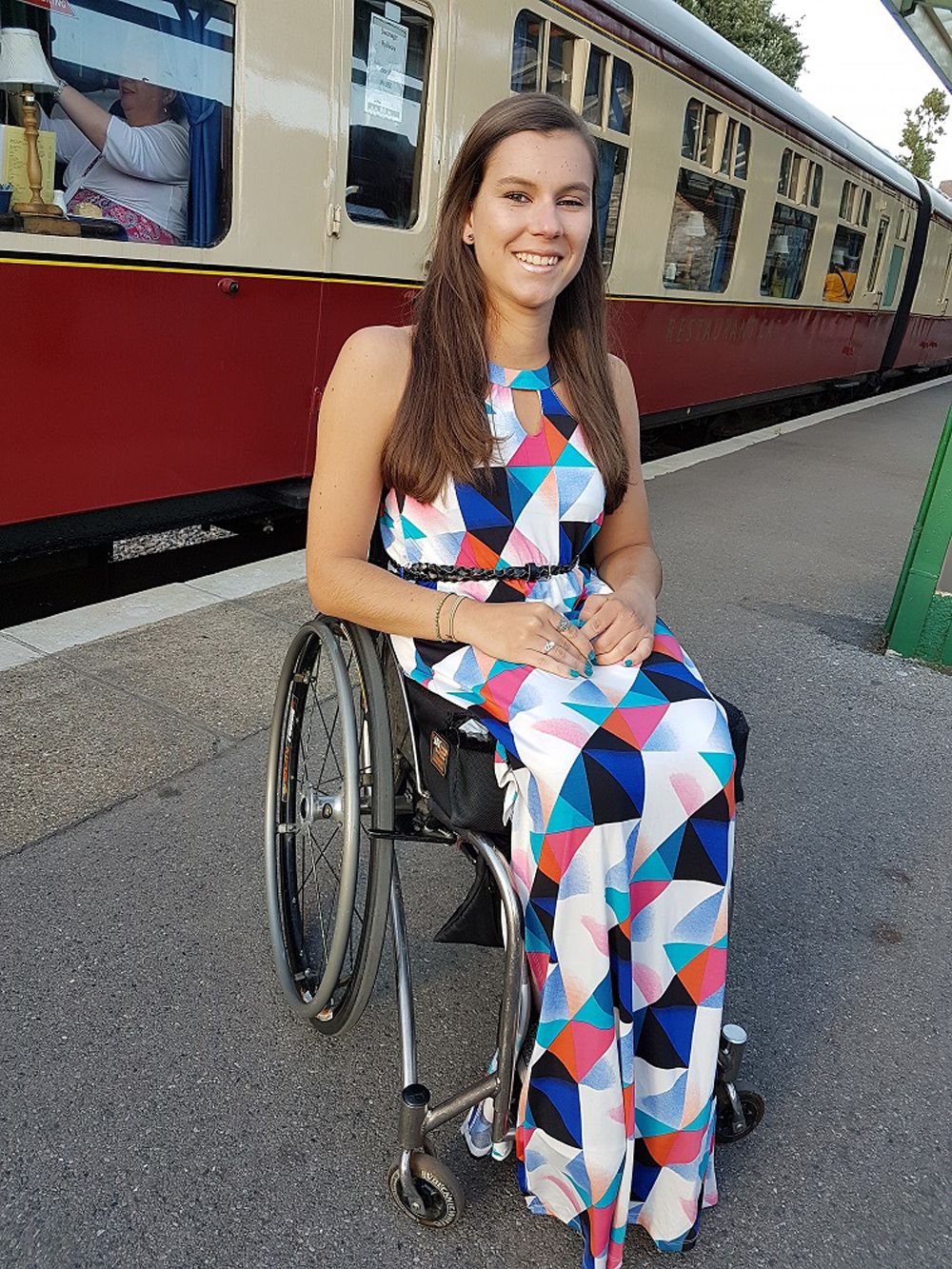 Ella was born with a blood clot on her spine, which left her paralyzed from the chest down (PA Real Life/Collect)
Ella said:
"Halfway in my studies, I saw a training scheme for 20 or so disabled people."
"I had no experience in telly whatsoever, but my passion for sport clearly came through and I landed a place."
"It was basically a year of learning on the job – it was incredible."
After graduating, Ella combined her sporting degree with her production experience, and began working as a researcher for a sports channel.
At the end of 2019, she landed her dream gig after being selected to cover the Tokyo 2020 Paralympic Games.
However, when it was announced in March 2020 that they would be postponed to 2021 because of the outbreak, she found herself furloughed and housebound.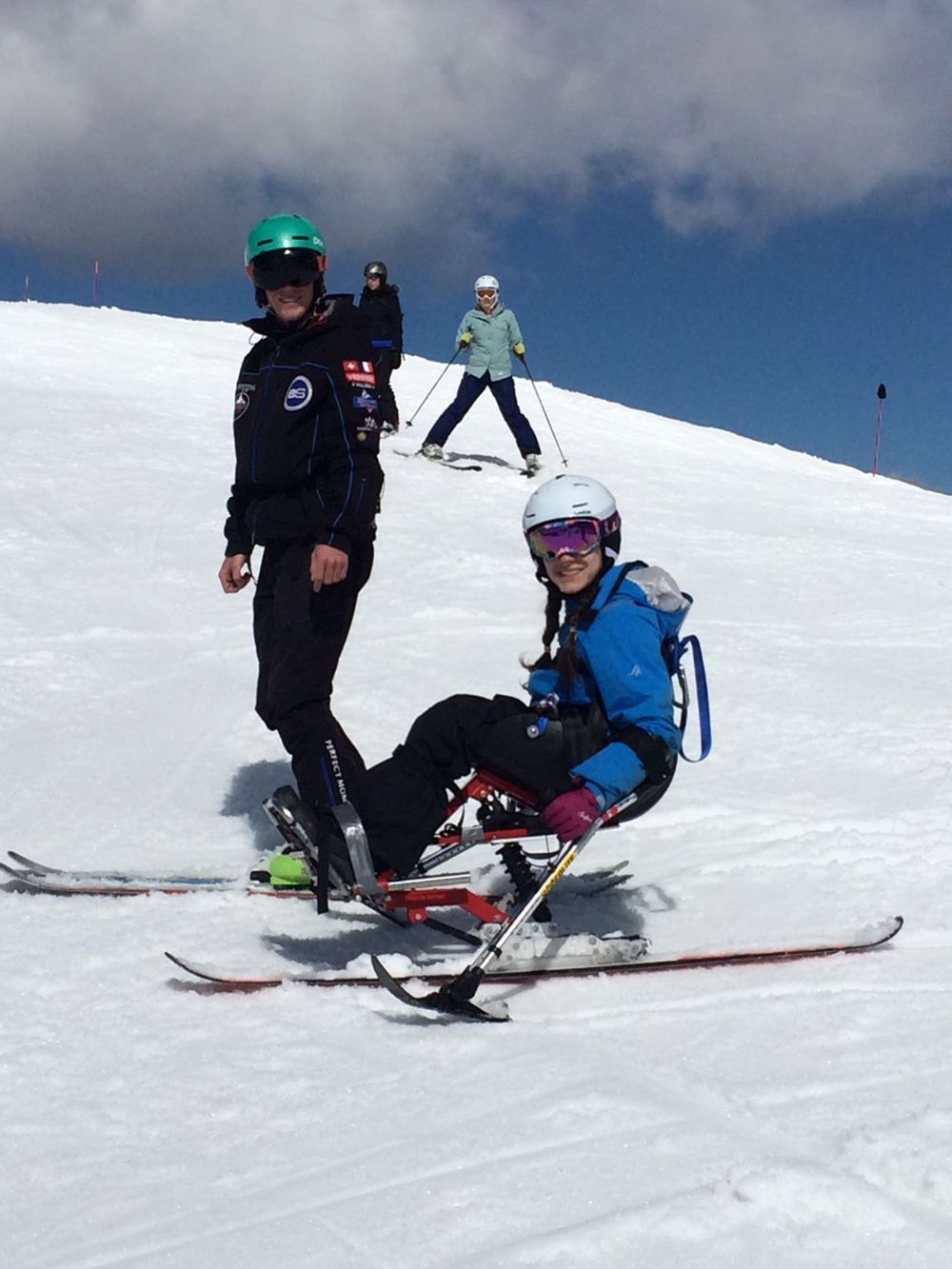 Ella skiing with her family (PA Real Life/Collect)
Moving in with her parents, who also live in Berkhamsted, as lockdown came into place, she struggled with being unable to visit the gym or play basketball.
"Exercise is such an important part of anybody's routine," she said. "It keeps me fit and releases all the stress that is building up."
"When I saw my mum and sister getting involved with at-home workouts, I figured there must be something for people like me – but I was shocked to see that wasn't the case."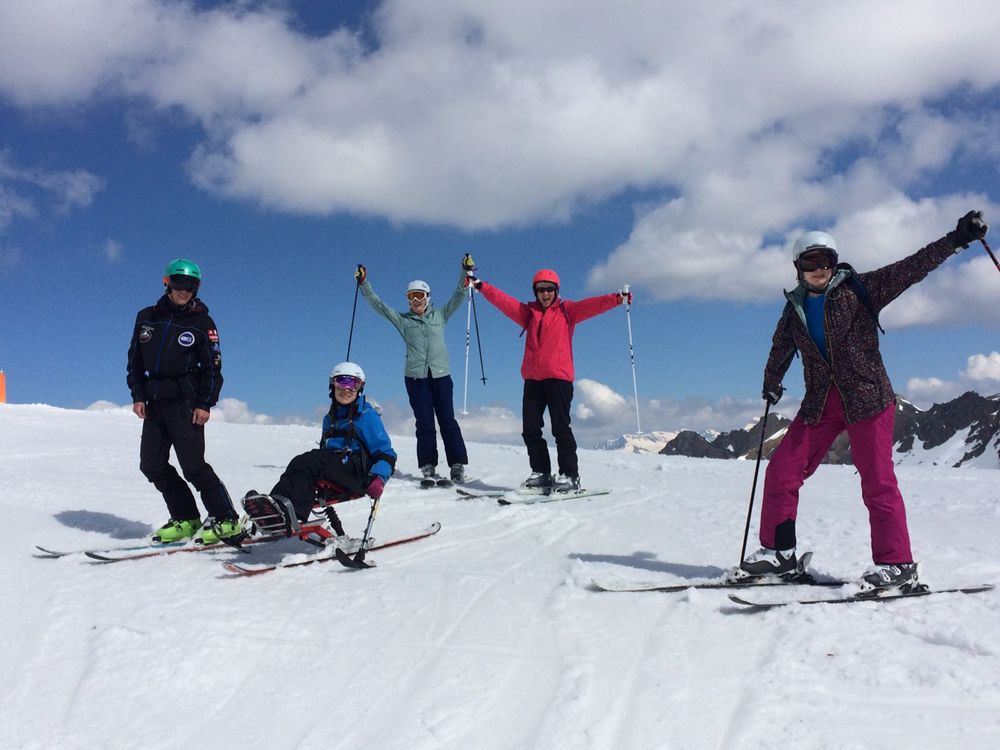 Ella skiing with her family (PA Real Life/Collect)
So, using her expert knowledge of TV production, Ella set about creating her own custom classes for other disabled people.
A true one-woman show, the workouts are not only thought out by her, but she also films and edits all the footage herself, mostly by using her smartphone.
She then uploads the finished products, which are usually 20 to 30 minutes long, to YouTube every Tuesday, where they attract hundreds of views.
Explaining how she draws on the work of celebrity instructors like Joe Wicks, but adapts moves to be suitable for wheelchair users, Ella said:
"The first video took an awful lot of takes to get right."
"It probably took about three days of work getting that first workout together, but it got easier as the weeks went on."
"Now, two months in, I am still uploading videos every week."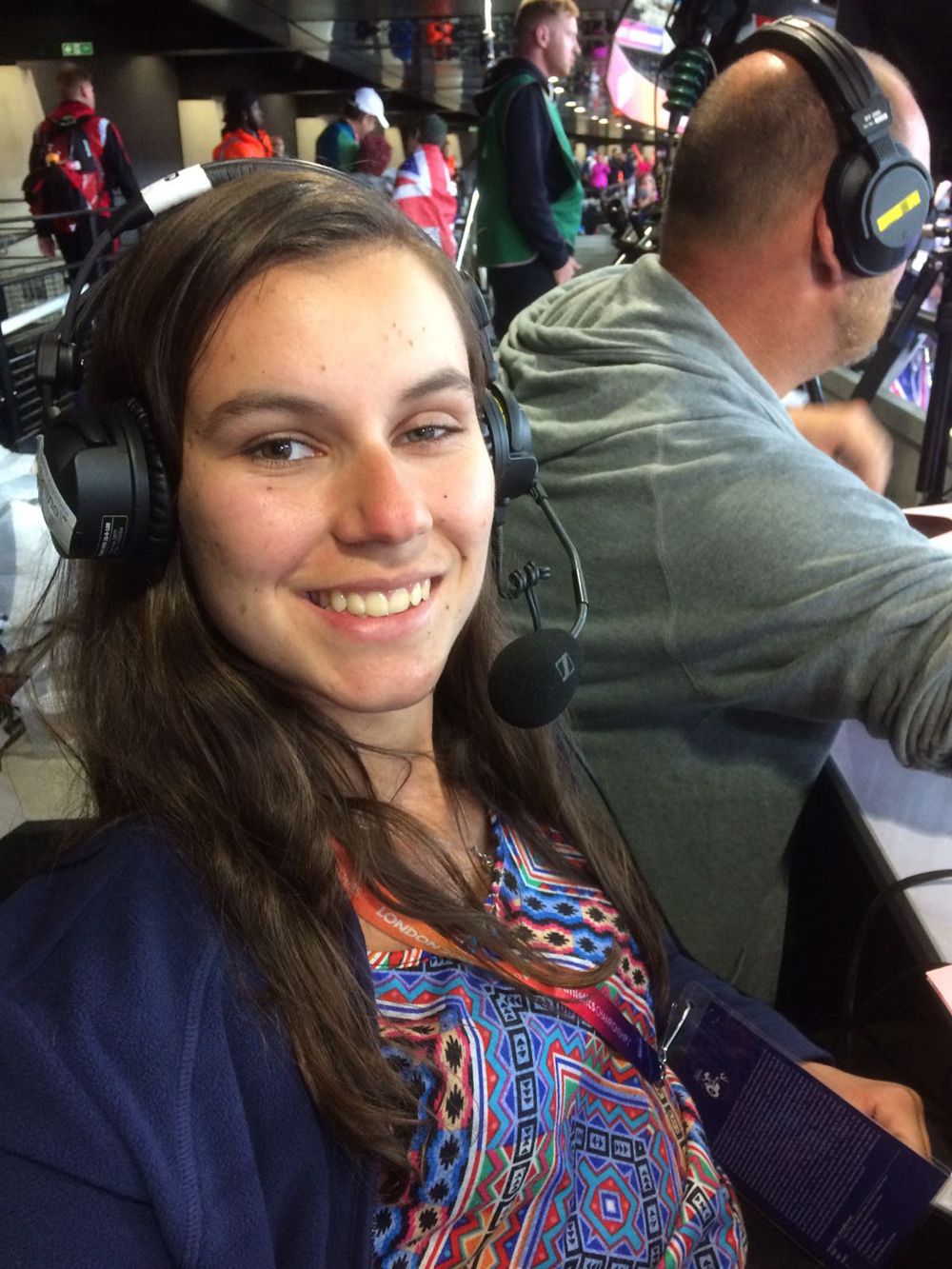 Ella is a researcher for sports TV (PA Real Life/Collect)
She continued:
"The aim was never to get a lot of likes or followers, but to help active people like me who were struggling with lockdown."
Mostly, Ella's workouts focus on cardio and strength-building, incorporating moves like shoulder presses and bicep curls.
With her first upload amassing nearly 2,500 clicks, she has been overwhelmed by the positive feedback so far.
Hoping to carry on producing videos in her spare time when she returns to work, her ultimate aim is to one day land a presenting gig.
"People are getting in touch to let me know how much the videos have helped them through lockdown and that they really like my energy," she said. "It's so rewarding to hear."
"It was quite a daunting process at first but I'm really enjoying it and would love to carry on."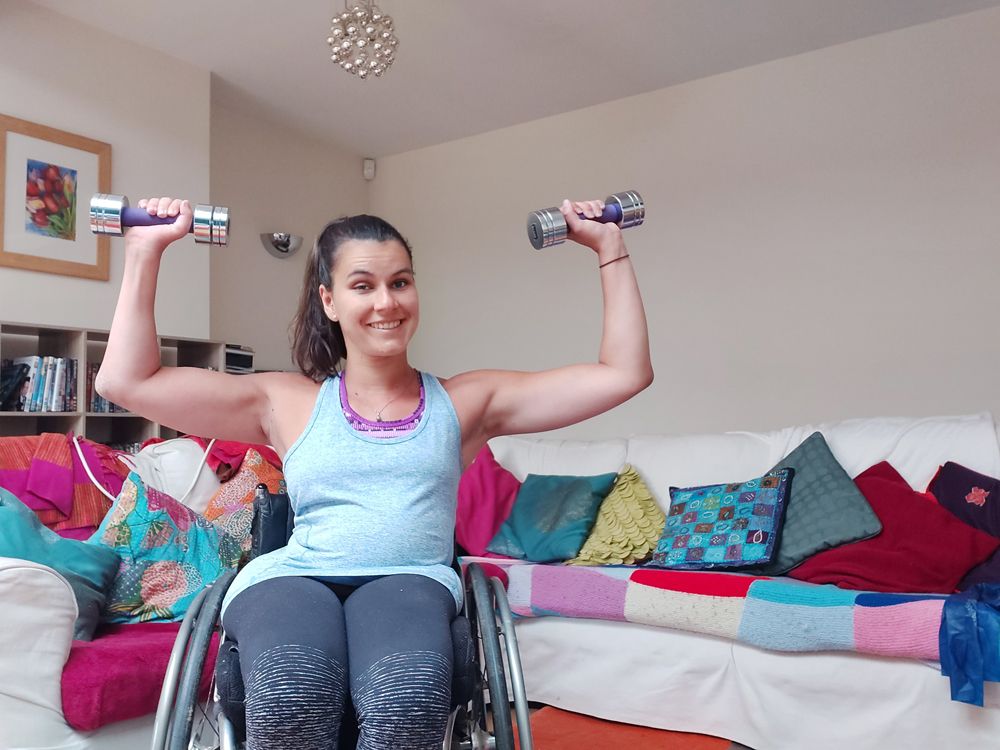 Ella uploads a new workout video every Tuesday (PA Real Life/Collect)
She concluded:
"People across the country have been working extra hard to help others during lockdown, but sometimes disabled people can be forgotten when it comes to fitness and exercise."
"I hope my videos help change that."
To follow Ella's workouts, click here.