Van Gogh, Hemingway, Lohan: some of our most cherished artists found their greatest inspiration while drunk, and now there's a new addition to the canon.
---
Whittier, California's Faustino Limon, Jr. was drunk after a lively family event, and found himself answering the siren song of McDonald's at 4am. (Whom amongst us hasn't?) Because Limon is not an amateur, he ordered breakfast--the only suitable choice, because McDonald's breakfast is perfect food in every way, mainly because of the hashbrowns. Who knew a simple deep-fried ovular potato cake could be so transcendent? (Mr. McDonald, that's who.)
But Limon's hashbrowns were special: they came in a red french-fry box instead of the usual paper sleeve. And suddenly, inspiration struck: Limon had to document this beauty. Limon had to make art.
Like some kind of fast-food Diane Arbus, he grabbed his camera and started shooting. And the results... well, they're spectacular:
My fatass was drunk last night and had a photo shoot with my McDonald's hashbrown at 4AM https://t.co/8iz80eXsEY

— Faustino Limon Jr (@Faustino Limon Jr)1542480906.0
Here's a closer look: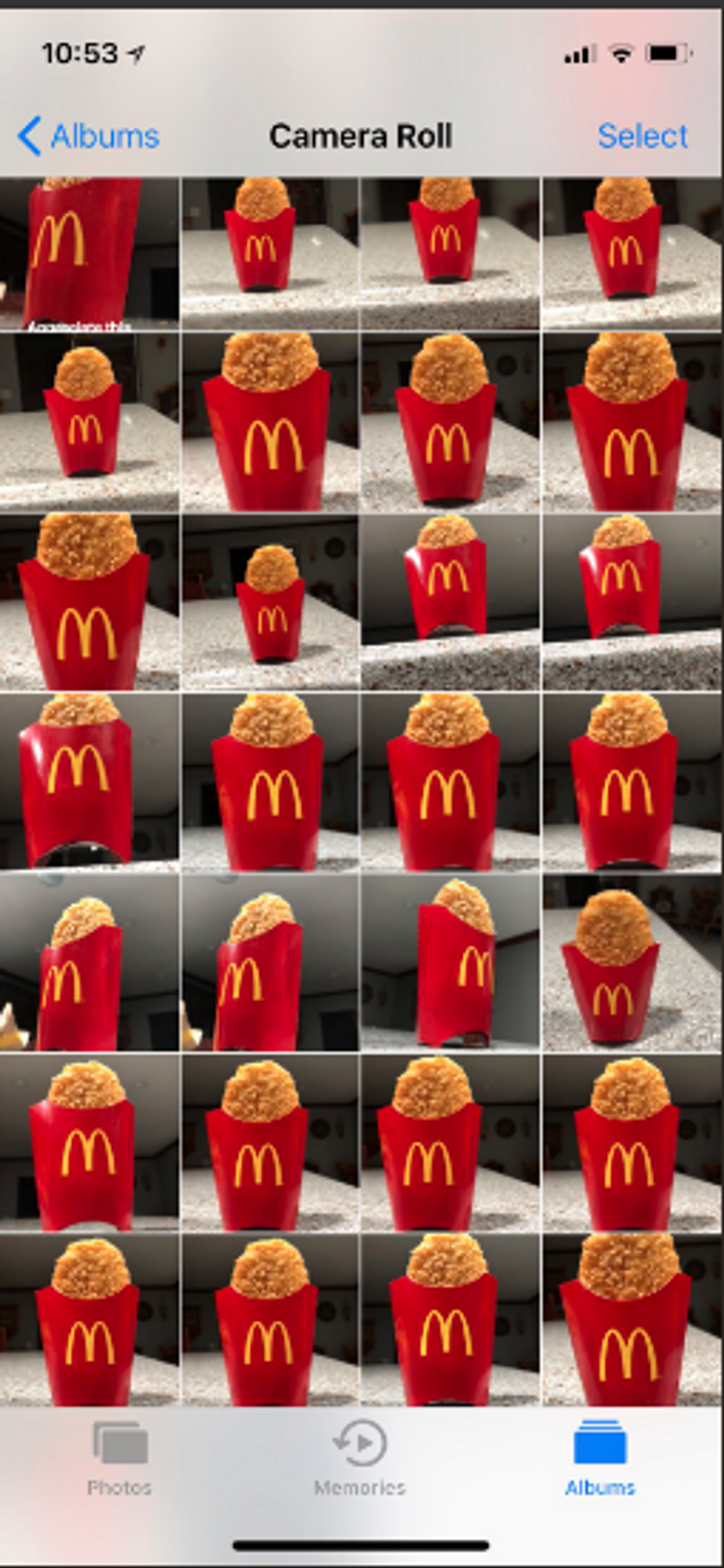 Twitter
My personal favorite is this one--simple, unadorned, the hashbrown simply speaks for itself, and what it's saying is, "Yes hello I am a hashbrown thank you."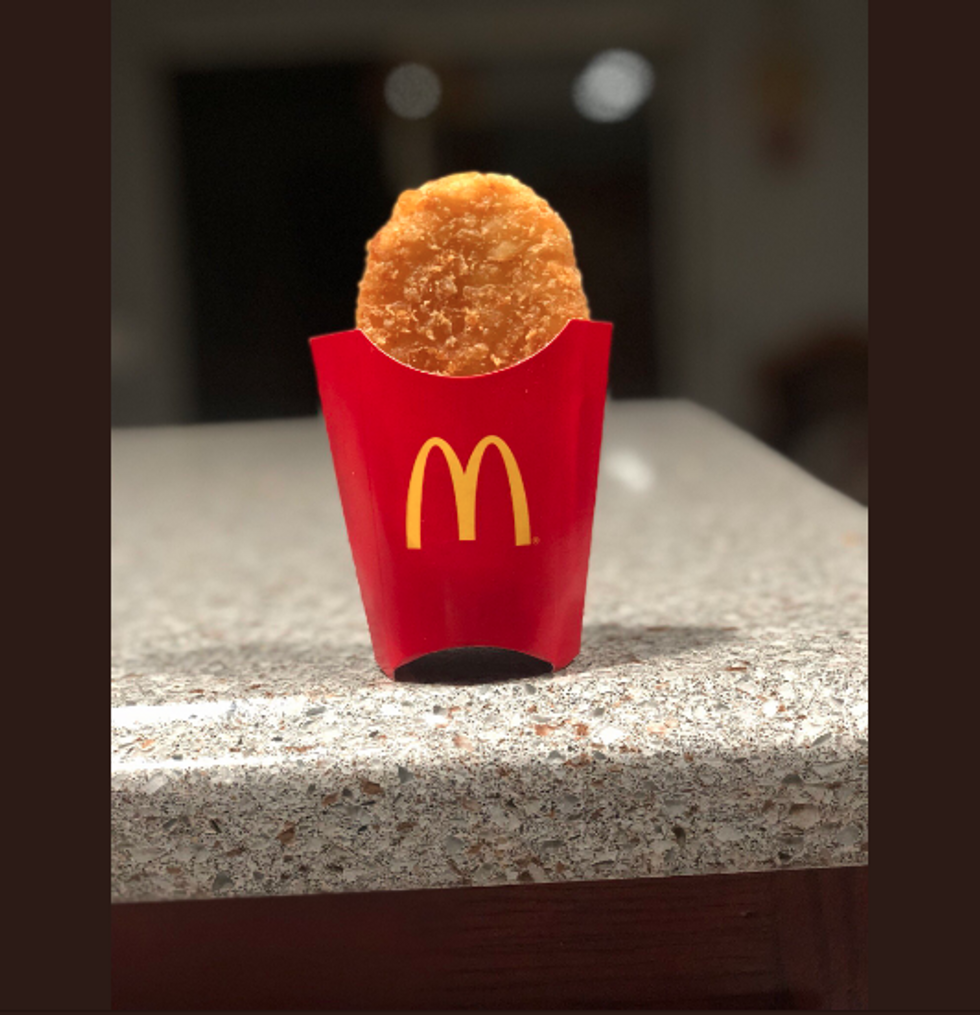 Twitter
But then there's this one, which almost contradicts the previous one. It conveys so much power, so much ... elemental strength. Notice, won't you, the stoic dynamism of its stance--"Look at me," it says, "but I shan't look at you."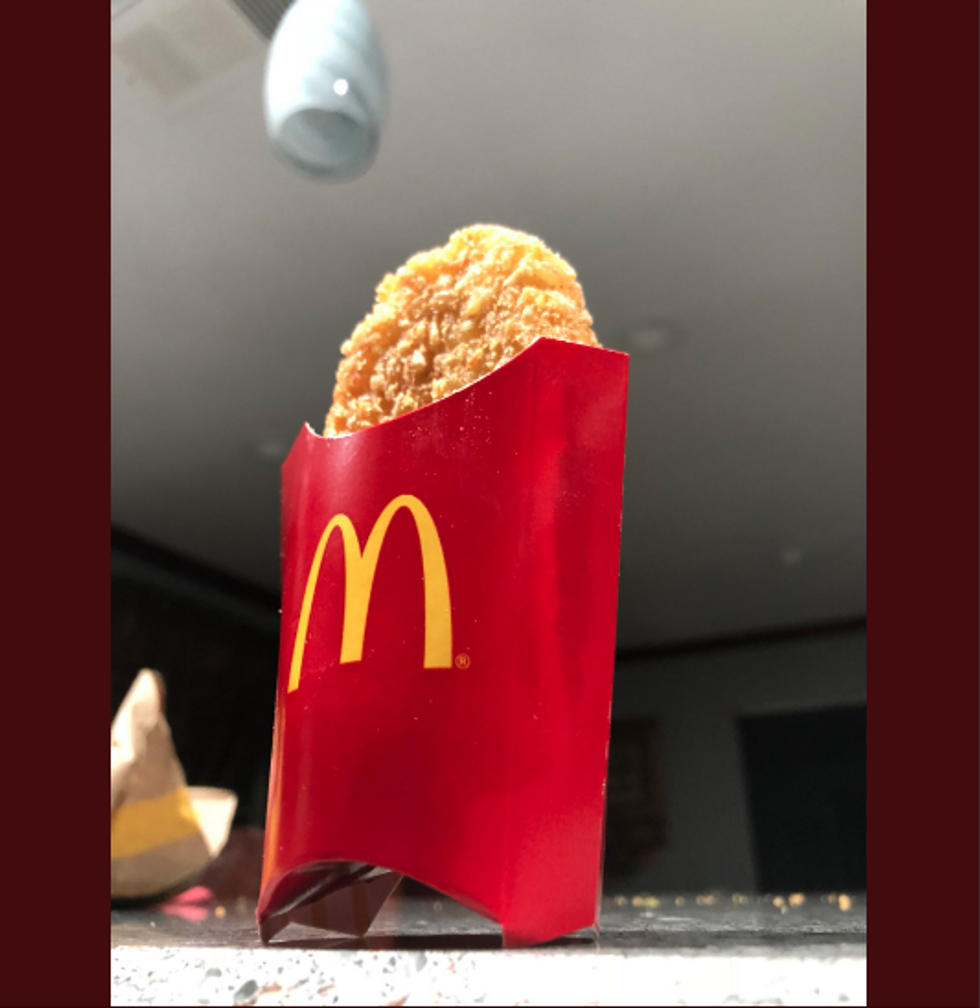 Twitter
It really says something about our world, and I do not know what that thing is, because it is a hashbrown, and that is the genius of this work. That is the power of art. Also, as a lifelong fatass I can tell that this hashbrown is the extra crusty kind you get when McDonald's hasn't changed their oil in a while and that is the real thing of beauty here.
Anyway, Limon's masterpieces quickly went viral, and it's safe to say that Limon's art has really touched some souls:
omfg m e https://t.co/IzswD9BCf1

— cottoncandy🌸 (@cottoncandy🌸)1542657612.0
Most relatable thing ive ever seen on twitter 😂😂 https://t.co/5g8cAGA4gW

— Estella Jones (@Estella Jones)1542733637.0
I'd do this sober soooo https://t.co/FjyX2NBt7T

— 🥀leighnuh🥀 (@🥀leighnuh🥀)1542645884.0
When I ask someone to take my picture THIS is what I mean https://t.co/BJiieYjWkd

— sassy sunflower (@sassy sunflower)1542645850.0
And many could not believe the beauty.
That thing looks sexy as hell though https://t.co/sUybnJC6M1

— Pete Blackburn (@Pete Blackburn)1542586782.0
Lowkey fire pics tho https://t.co/l3LYqfnXFw

— xana (@xana)1542679293.0
who is she? https://t.co/Xki6Yh9kVF

— Ren ♏ (@Ren ♏)1542652190.0
It even inspired other artists:
@FLJBieber @McDonalds Ok McD's, this dude deserves a giftcard, coupons, or something. He advertised for yall & now… https://t.co/lekVgD21DK

— Solenya - the pickle man (@Solenya - the pickle man)1542631246.0
@FLJBieber @McDonalds Pow. Tho tbh, it wouldve happened, pics or no pics. Cuz i was gettin my damn mcgriddle this m… https://t.co/jbRBvDPi8V

— Solenya - the pickle man (@Solenya - the pickle man)1542636249.0
While some fell into the trap that has vexed the artistic for generations: comparing onself to other artists.
Jesus even hashbrowns are more photogenic than me. https://t.co/4ybN67hF19

— JΛKE BUCKLEY 🇦🇺 (@JΛKE BUCKLEY 🇦🇺)1542627430.0
RT if this hashbrown is more photogenic than you https://t.co/j1adDQyyQO

— Miles Stepherson (@Miles Stepherson)1542532693.0
This hash brown looks more beautiful than I ever had. And it can serve all kinds of looks https://t.co/3ULyOu2HPV

— Yan xo (@Yan xo)1542736356.0
This one hash brown has more good photos of itself from one night than I have from my entire life so far https://t.co/xR9NIDpYrk

— Hamoodi (@Hamoodi)1542596293.0
But I don't think that's what this piece is about at all. I think we are all hashbrowns, in beautiful red boxes, and one day, we fall into the hands of the right vessel for our perfectly fried magnificence. Just hang in there. Your day is coming.
Thank you, Faustino Limon, Jr., and namaste.
H/T Mashable, Independent Ireland