When Walt Disney Chairman and CEO Bog Iger announced back in August 2015 that a new Star Wars themed land was going to be built as part of an extension of Disneyland, fans drooled over the game-changing news that will forever alter the competitive landscape of the theme park industry.
But, even though the opening is scheduled for some time in early 2019, it still seems like "Star Wars: Galaxy's Edge," the namesake of the new 14-acre expansion inside Disneyland, is in a galaxy that is still far, far away.
However, thanks to a drone that flew and filmed over the construction site for the ambitious project, we can enjoy an aerial view of what Disney has built so far.
---
Construction seems to have progressed at a furious pace since the announcement. Towering rock formations from the planet destination of Batuu have forever altered the park's horizon.
In the breathtaking video, the drone flies over the construction zone and we can instantly see the massive scale of the land that carved into a portion of the park's nearby Rivers of America.
Although Batuu is not a familiar destination in the Star Wars canon, guests will be able to create and experience brand new adventures of their own that have never before been imagined.
Once completed, Batuu will be a fantastical landscape dominated by elements of mountain and forest as depicted in artist renderings, and the land will be split between light and dark, with the Resistance side anchored by an attraction where guests will have the opportunity to pilot the Millennium Falcon.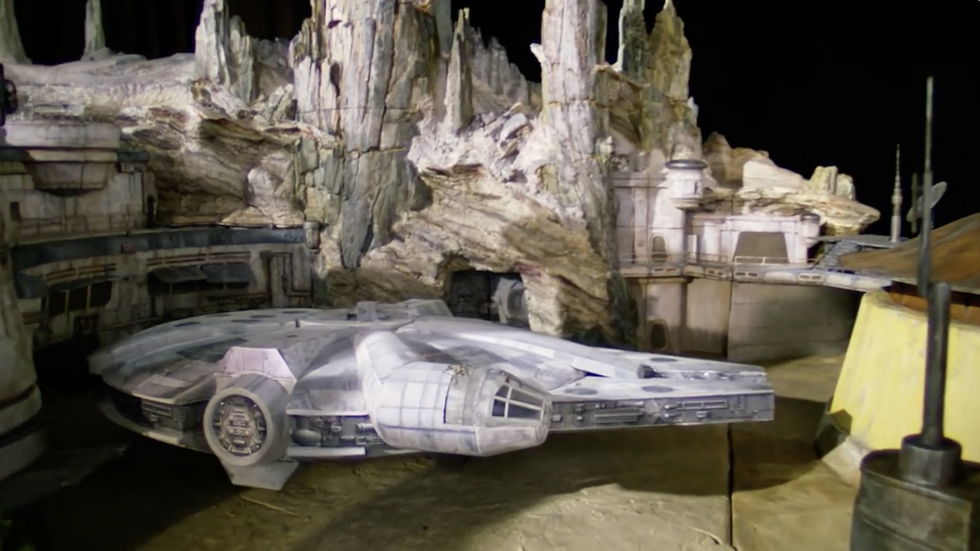 Millennium Falcon attraction.(Disney Parks/YouTube)
In the area that will dominated by the dark side, a different attraction will put riders in the middle of a climactic battle between the Resistance and the First Order.
Disney claims this ride is being built at a scale unlike any other in which guests will be whisked into a hangar bay inside a Star Destroyer and transported throughout the building that is jam-packed with physical sets, projection effects, and an impressive roster of audio animatronics.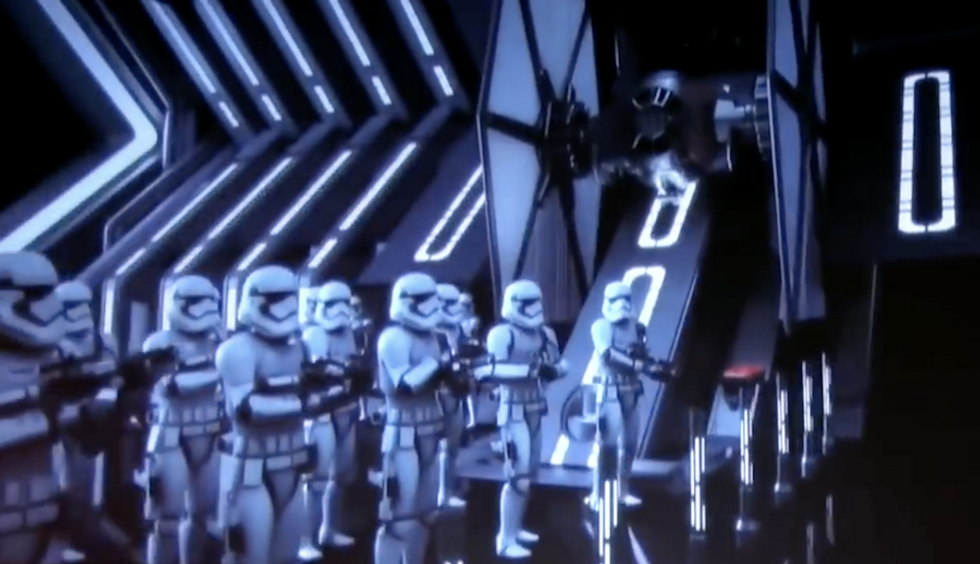 Concept art inside the massive First Order attraction.(DSNY Newscast – The World of Disney News/YouTube)
Across the country in Orlando, Florida, "Galaxy's Edge" is also being built inside Disney Hollywood Studios park simultaneously with Anaheim's Disneyland – although the latter is said to have made more progress months ahead of the former.

Future park goers might recognize some of the denizens on Batuu, according to the Disney Parks Blog.
Guests will also encounter many familiar faces inside Star Wars: Galaxy's Edge, including BB-8, Chewbacca, members of the First Order and – among many others – Rex, the troublesome pilot you may remember from the previous version of a certain Disney attraction who takes on a new role in this land as the DJ at the cantina.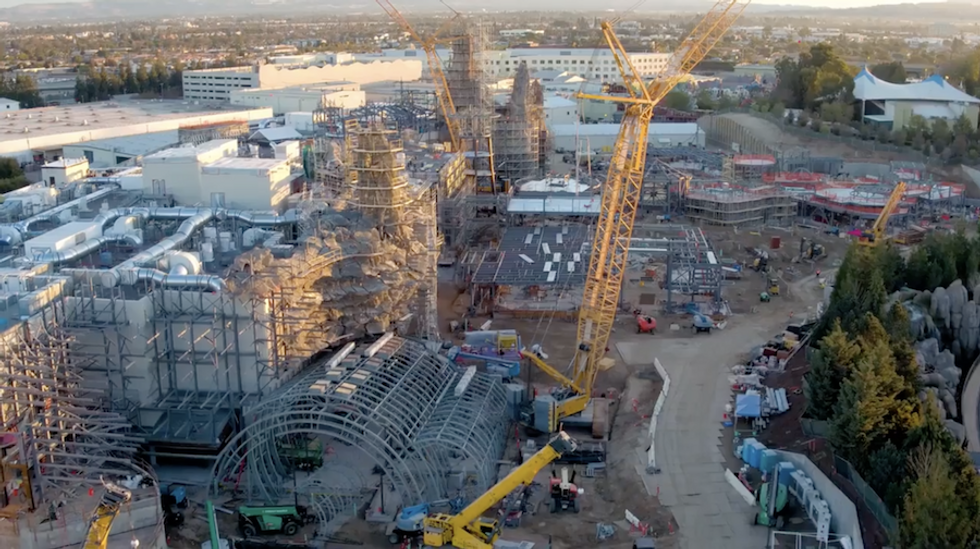 An aerial view.(DisneyExaminer/YouTube)
And speaking of a cantina, "Galaxy's Edge" will also incorporate unique dining and shopping experiences. One restaurant will be similar to the Mos Eisley cantina featured in Star Wars IV: A New Hope where Han Solo had the famous standoff with Greedo. Blue milk, anyone?
We hope Universal Studios is enjoying the successes of their "Wizarding World of Harry Potter" that was injected into Hollywood's fledgling theme park in April, 2016, because it looks like the upcoming Potter swatter that is Disney's "Galaxy's Edge" will be quite the contender.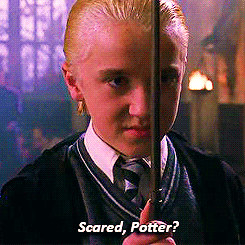 It's going to be game on.Giphy
There is hardly any doubt "Galaxy's Edge" will smash records within the theme park industry. Disney and Lucas joining forces to flesh out real worlds like this for us to explore will be epic in scale and scope.
The park is already anticipating crowd overflow. If you need to experience "Galaxy's Edge" in 2019, arrive at the park way before opening time or you'll be stuck in Fantasyland.
The competition will reach new heights.
It wouldn't be surprising.
Potential residents are lining up.

Almost needs to happen faster.
H/T - Twitter, YouTube, DisneyParksBlog